Cultivating with the Kelly Disc Chain
---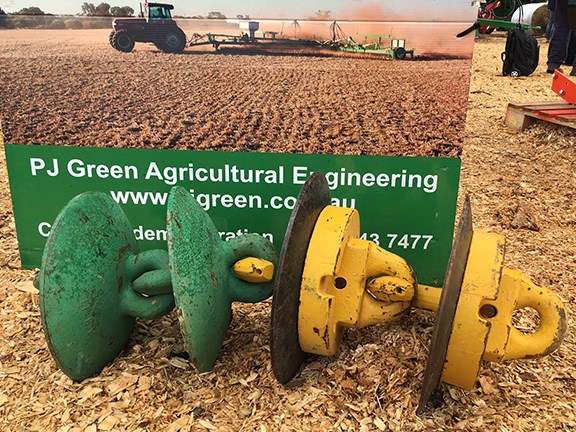 The Kelly Disc Chain was designed to mulch and incorporate stubble, but is now being used to knock down weeds and cultivate prior to sowing.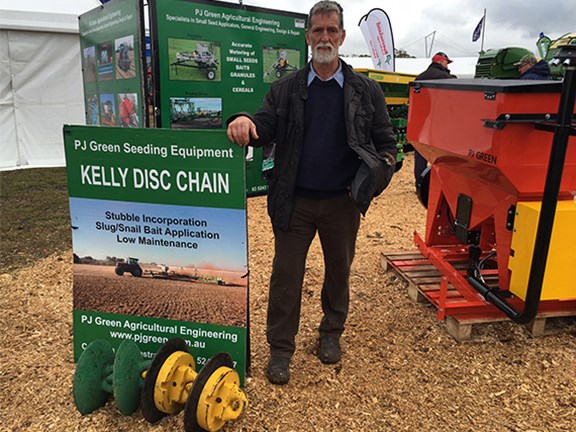 Harry Green alongside the Kelly Disc Chain, which he helped to develop.

Agricultural machinery manufacturers P.J.Green and Kelly have combined their machines to come up with the Kelly Disc Chain, an all in one low cost, low maintenance cultivation and seeding unit, which was on display at the 2016 Agfest in Tasmania.


Originally designed to mulch and incorporate stubble, it is now being used to knock down weeds and cultivate prior to sowing.
It ranges in width from four to 24 metres and uses curved discs with varying degrees of aggressiveness to work the ground
Mounting a P.J.Green engineering small seeds airseeder kit to the Kelly disc chain means operators can sow canola and other small seed simultaneously during seedbed preparation.
The airseeder kit blows small seed directly onto the surface where nature intended.
P.J.Green is a family owned and operated company established in 1981 in Geelong, Victoria. 
With over thirty years' experience the Green family pride themselves on tailoring a solution to suit your specific needs.
Father and son team Harry and Luke Green specialise in the design and manufacture of custom built air seeders for sowing small seeds.
The small seeds unit consists of a 330-litre seed tank as standard or upgraded to either a 660-litre or 880-litre tank.
The fan can be driven by the tractors hydraulics or independently by its own 5hp petrol motor. P.J.Green fit all the componentry including the distribution hose, distributor heads and deflector plates evenly across the width of the machine.
The units can be bolted to the side traditional airseeders, power harrows, multidiscs, rotary hoes or in fact any cultivation equipment capable of carrying the extra apparatus.
At the Agfest field days held last week in Tasmania, P.J.Green founder, Harry Greene told Tom Dickson that he is getting great results from a Kelly disc chain that has been fitted with one of his small seed applicators.
It is fitted with a concave replaceable disc mounted in a heavy cast steel boss with a hook and eye to link each one together to form the whatever length chain.
According to Harry the thin, sharp disc provides penetration into the toughest of soils, while the weight and shape of the boss keep the disc cutting and control the working depth.
"They chop up and incorporate heavy stubbles back into the soil really well and are great for reducing weeds prior to sowing," he says.
"We are hearing from farmers who are getting great results with canola crops that have been sown with the Kelly chain and airseeding unit combination."
The Kelly Disc Chain works best at high speeds are built strong and relatively easy to pull which in turn equates to faster work rate minimal breakdowns and reduced fuel usage. 


If you're looking for farm machinery for sale, check out our listings.
Subscribe to our newsletter
Sign up to receive the Trade Farm Machinery e-newsletter, digital magazine and other offers we choose to share with you straight to your inbox
You can also follow our updates by liking us on Facebook. 

Graders For Hire | Cranes For Hire | Telehandlers For Hire | Excavators For Hire