RoGator RG1300B sprayer embraced
---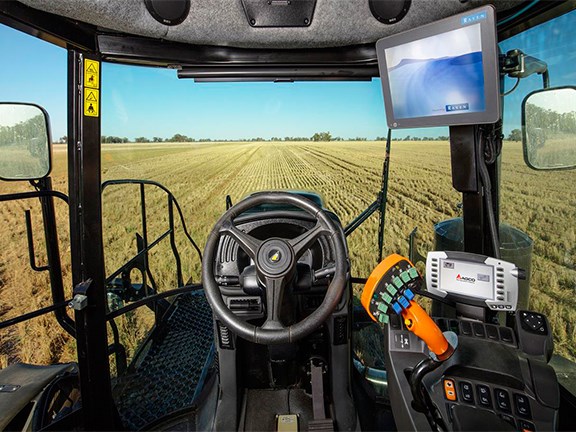 The RoGator 1300B sprayer has been embraced by large scale crop farmers, according to its Australian dealer Croplands.

Croplands officially released the RoGator RG1300B sprayer in Australia last year, and since then feedback has been good, with farmers and contractors pleased with the machine's fuel consumption and performance, according to the company.


Croplands have modified the quality American machine especially for Australian conditions by incorporating its own spraying systems, which the company says has improved the machine's spraying precision at a wide range of speeds.
"The RG1300B RoGator has been the most successful model RoGator sold since the inception of the RoGator range of sprayers into Australia in 1996," Croplands self-propelled specialist John Griffiths says.
"They are proving to be very trouble free, easy to use, and extremely economical. This is the most productive sprayer Croplands has ever sold."
In rugged terrain, the latest model of RoGator automatically changes to a lower pump displacement, reducing load on the engine for a faster recovery and as field conditions improve, the machine returns to a normal pump displacement.
The 339hp AGCO Power engine and tandem hydrostat cross-drive transmission, coupled with the new swash plate-type wheel motor and the reduction planetary hub enables consistent engine RPMs and optimal power to the ground, without sacrificing fuel efficiency.
"RoGator owners can instantly see the benefits when comparing their hectares covered per hour and their fuel consumption to that of their old sprayer," Griffiths says.
A 6300-litre tank is standard on the RG1300B to further improve productivity and reduce the amount of time spent refilling.
The RoGator booms have a reputation for durability and the three-section boom breakaway is a standard feature that, according to Croplands, helps to avoid downtime.
The RG1300B has a variety of boom size options, from 27.4 metres, to 30.5 metres, and 36.6 metres and the Air Pro 3 tiered boom system automatically switches a second and third-tiered set of nozzles via air valves at the nozzle body.
"This has created very fast spray on and off times and, combined with up to 16 boom sections, it provides extremely accurate auto-section response and application," Griffiths says.
"It's especially useful for farmers with paddocks of an irregular shape to practically eliminate the double spraying of sensitive crops."
The Air Pro system can be fitted with a range of nozzles to ensure constant and reliable application in virtually any spraying scenario, including in hilly terrain or contours, Croplands says.
The RoGator boom, in conjunction with the Air Pro system allows the use of 10'' nozzle spacings across the boom, enabling a wide range of nozzle types, to achieve the better coverage and drift control.
The Air Flush system that has made decontaminating the sprayer faster, by evacuating all chemical and boom cleaners from the boom lines using air pressure.
RoGator RG1300B units now run the upgraded Raven technology package, which includes the new Viper 4 console and has features including mapping, record keeping, Smartrax hydraulic steering, auto shut off, a five sensor boom level system, weather station and remote boom section control up to 16 sections.
The Raven system also includes the Slingshot Field Hub, which combines wireless connectivity with web based record keeping and remote service support.
Croplands says it is committed to assisting its customers and helping the, learn how to get the most out of any equipment they purchase in 2016.
"Dealer knowledge and skill levels have been boosted by training courses from Croplands and their international partners," Griffiths says.
This forms part of an ongoing commitment to increase knowledge across their dealer network, and subsequently the machine owners."
Croplands provide a service technician to assist dealers and farmers with the installation of the RoGator, to ensure users have a good working knowledge before they put it to use.
The first RoGator was conceived in America's mid-west in 1969, as a self-propelled machine designed to improve upon the row crop sprayers of that day. The design has been improved upon ever since in line with feedback received from crop farmers all around the world.

If you're looking for crop sprayer for sale, check out our listings.
Subscribe to our newsletter
Sign up to receive the Trade Farm Machinery e-newsletter, digital magazine and other offers we choose to share with you straight to your inbox
You can also follow our updates by liking us on Facebook. 

Graders For Hire | Cranes For Hire | Telehandlers For Hire | Excavators For Hire