Flexi-Coil releases 80-foot 5500 air drill
---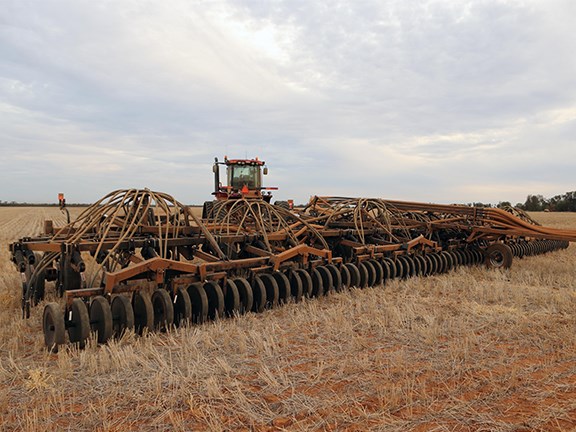 The Flexi-Coil 5500 air drill is the largest in the range at 80-foot.

Flexi-Coil has released its biggest air drill yet, the 80-foot (24m) 5500 air drill in Australia.

New South Wales crop-grower Chris Condon trialled the air drill on his broadacre farm this year and saw a 33 per cent boost during his trial period.
Condon and his mother Jan own an 8000ha farm near Griffith, and drilled 4,000 hectares with the new Flexi-Coil 5500 air drill in combination with a Flexi-Coil 60 series air cart.
He sowed the remaining 2,000 hectares of the cropping programme with his existing Flexi-Coil ST820 precision cultivator.
"We have had the ST820 for five years and we have been very happy with it," Chris says.
"But we are now in the market for a new machine to expand our operation and I've looked at every brand that's on the market.
"We tried out the 5500 air drill in April-May and did about 70 per cent of our wheat, barley and oat programme with it."
The new 80ft Flexi-Coil 5500 is a step up from Chris's 60ft ST820 machine, and says it gives him the ability to cover a third more ground in the same time.
"The 80ft air drill was really impressive and productive," Chris says. "We were averaging about 22-23ha per hour, compared to about 18ha with our old machine, so we noticed a big difference. We need to be in 40ft or 12m increments, so it works in well.
"There are a lot of 80ft machines on the market but this is the only one that is not a parallelogram. This is a straight-tyne machine. We like it better as it has really good trash clearance, which is a big thing."
The 5500 has a unique configuration consisting of two front ranks, which follow the contours of the land at a depth set by the nearby castor assemblies, plus two rear ranks, which follow the ground.
"I was impressed with the way it contours across the ground. It did a good job and was easy to level to start with," Chris says.
"Once you have it levelled, it follows the contours well. We had good germination with it and our crops are all up and going."
Single-point depth setting provides simple control of depth across the entire machine, and Flexi-Coil's variable packing pressure system allows weight to be transferred between the front and rear sections.
The Flexi-Coil 5500 air drill is easy to transport and is the only 80ft air drill on the market to fold down to the size of an articulated tractor with front and rear dual wheels, according to the firm.
"It has a narrow folded width for travel when you're going from farm to farm and it's lower than the height of your tractor," Chris says.
"Having the weight spread evenly across 12 wheels on the ground for travelling is also better than the wing-up style, where all weight is carried on the centre section.
"We're really impressed with it. It will suit our operation well and it's a good solid, simple drill that should last the distance.
"We plant about 6,000ha at the moment, and for the first year we will be happy to get things in a lot more efficiently and on time."
Flexi-Coil has 50 dealers Australia-wide. You can check out the Flexi-Coil 5500 air drill in South Australia at Eyre Peninsula Field Days from August 9 to 11; in Western Australia at Mingenew Midwest Expo from August 10 to 11; in New South Wales at Henty Machinery Field Days from September 20-22 and in Victoria at Mallee Machinery Field Days from August 3 to 4. 


Looking for used John Deere air seeders for sale? Check out our listings here.
Subscribe to our newsletter
Sign up to receive the Trade Farm Machinery e-newsletter, digital magazine and other offers we choose to share with you straight to your inbox
You can also follow our updates by liking us on Facebook. 

Graders For Hire | Cranes For Hire | Telehandlers For Hire | Excavators For Hire