Baldan products keeping Serafin customers happy
---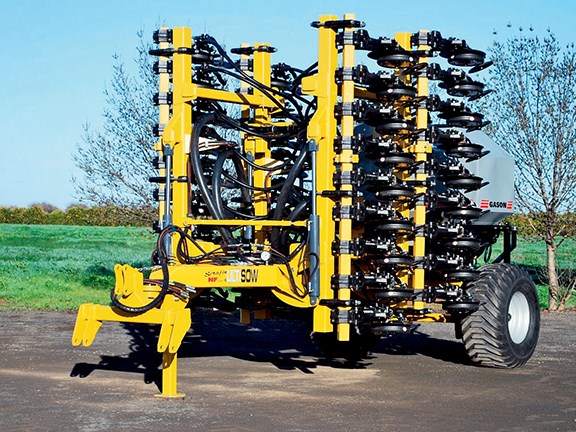 Serafin's own Ultisow Narrow Fold Series 2 single-disc seeder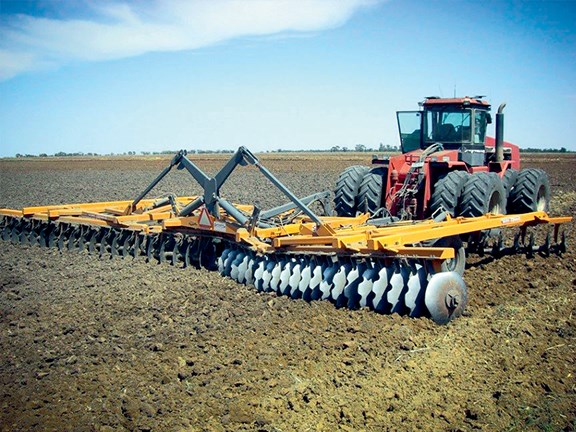 The Baldan GCRTI 70 tandem offset disc plough

Tillage and seeding products from South America's Baldan and Semeato are proving their worth in Australia.

A Brazilian-made Baldan GCRTI 70 tandem offset disc plough has been improving a Griffith farmer's dryland and irrigation cultivation since he bought it through Serafin Machinery in 2013.
With the frame being manufactured from 10mm and 12mm steel, the implements are both structurally sound and heavy enough to enter hard ground at a respectable depth. They are also able to get deeper into the soil due to smaller spools, and can handle wet soil and heavy residue thanks to disk-cleaning scrapers.
"When I need to work up ground prior to laser-levelling my bays, I put the GCRTI in deep and it does a great job," farmer Robert Arminini says. "Penetration is excellent and leaves a very level finish.
"And the oil bath bearings are great," he adds. "They are very low maintenance; much better than previous ploughs I have had with greasable bearings. No matter what situation I have put the Baldan into, regardless of soil type, it has performed very well."
Serafin says this ability to perform excellent work in all types of soils is due in large degree to the special concavity of the Baldan discs which align to the weight of the disc x-working angle.
Baldan has been building agricultural equipment since the 1950s, and now has a presence in over 60 countries. Griffith-based Serafin Machinery has been Australia's sole importer of Baldan equipment since 2008, and says the build quality of Baldan's ploughs has helped drive customer satisfaction over the past decade.
Fewer passes
Another customer happy to provide a testimonial is Frank Quarisa from Bilbul, just outside Griffith, who has been a fan of tandem discs for a while but was interested in seeing how an offset performed.
He ended up only needing one pass with the Baldan CRIA-48 to achieve the same result as two passes with his previous tandem.
"It was exactly what I was looking for – a level job with excellent burying of stubble," Quarisa says. "The Baldan CRIA-48 is one of the best purchases I have made on my farm."
Quarisa has also been contracting with his new offset Baldan for his neighbours, who are just as impressed with the job quality.
Word of mouth means a lot in the agriculture industry, and Serafin dealers regularly report customers walking in specifically asking about Baldan products after having the brand recommended to them.
Seeding accuracy
Baldan ploughs, while a large part of Serafin's business, aren't the only products the dealer provides. Increasing numbers of farmers are beginning to understand the importance of accurate seed placement, which is providing improved germination, consistency and early crop vigour.
Serafin says the Semeato double disc opener – which is also-Brazilian-made – provides some of the most accurate seed placement available on the market, as well as the versatility to suit almost any sowing condition.
One customer who bought a Semeato TDNG 420 no-till seeder from Serafin is Balmoral livestock farmer, cropper and contractor Justin Weaver, who says he was drawn to the machine for its design and its narrow 3m transport width.
"It is amazing the amount of time I save by having the hydraulic end tow," he says. "It's great being able to change from working to transport position in 60 seconds; nothing on the market comes even close."
Weaver says the TDNG 420 also handles the varying types of ground it has to contend with in the South-Western Victorian region.
"Around here we have a wide variety of soil types, and the Semeato can handle them all," he says. "I have found the more cover it has got to sow through, the better the job it does."
Into the Fold
On Serafin's 20th birthday, the company launched one of its own products, the Ultisow Narrow Fold Series 2 single-disc seeder.
Serafin Machinery sales manager Rodney Dunn says the Narrow Fold is convenient and accurate.
"With a working width up to 7m, narrow transport width of 3m and row spacing down to 165mm, the Narrow Fold is proving itself to be the perfect planter for pastures as well as winter cereals," he says.
In Victoria, the narrow fold has already made a good impression on Greta South contractor Scott Flannigan, who, after purchasing his machine in early 2015, did over 1800 hectares within the first 12 months.
"I wanted something that had close row spacing, was strong and reliable, and something that was easy to transport," he says. "The Ultisow Narrow fold ticks all these boxes.
"This is the only machine I have ever used where I can leave a paddock and be completely satisfied with the result. The germination is the best I have seen and I am picking up more work because of it."


Subscribe to our newsletter
Sign up to receive the Trade Farm Machinery e-newsletter, digital magazine and other offers we choose to share with you straight to your inbox
You can also follow our updates by liking us on Facebook. 

Graders For Hire | Cranes For Hire | Telehandlers For Hire | Excavators For Hire