Drago GT corn head designed for maximum yield
---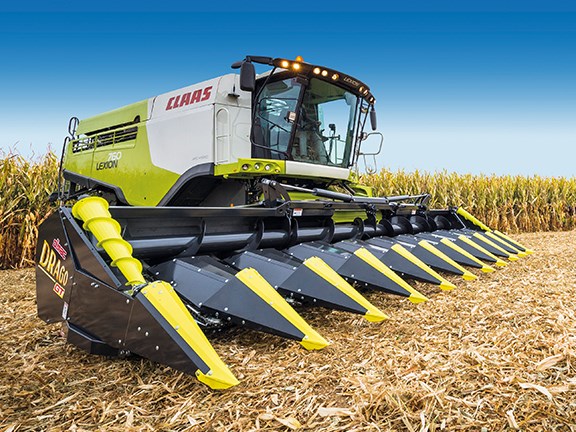 The Drago GT corn head from Global AG Trading is a high-tech machine with features aimed at capturing maximum yield for more return.
"What sets the Drago GT corn head apart from the rest is its automatic, self-adjusting suspension deck plates and scissor-like double stalk choppers," Global AG Trading's Tony Rocca says. "Plus you're getting amazingly high build quality for a very affordable price."
Using German technology, the Drago range is made by Olimac, which has been producing innovative corn harvesting designs for over 50 years. They are the only corn heads built with ISO and TUV certification, putting them in a class with Ferrari, Mercedes and BMW.
"These products are built at Olimac's amazingly high-tech plant," Tony says. "It's one of the best in the world. Everything is built using robots, and the automated warehouse has to be seen to be believed."
The Drago corn heads' automatic self-adjusting suspension deck plates are equipped with a special suspension device able to absorb the impact of ears on the same plates. The ears separate more gently, avoiding losing kernels among the plates, and the ears do not bounce out.
The Drago GT pairs that innovation with an industry first it calls QuadSuspension – integrated 'ear shocks' under the deck plates that work to reduce ear 'butt shelling', a significant source of yield loss at harvest.
In addition, the stalk rollers are longer compared to normal corn heads, allowing a lower peripheral rotation speed and allowing the ear to separate more gently from the plant.
As mentioned above, the Drago GT is equipped with a unique Double Stalk Chopper Scissor Effect. There are four blades working on each row – two on one side and two on the opposite side, but with inverted rotation, like a scissor. This patented device reduces power consumption and means stalks are doubly shuttered, resulting in a shorter, finer result that decomposes easier.
The Drago GT Corn Head includes a hyper-dimensioned, 500mm-diameter auger which allows for a higher forward speed in down and dry corn, to avoid obstruction and lose of kernels. In addition, its oversized 200mm-diameter auger tube is designed to limit potential ear loss from combine backfeed through the feederhouse.
Also helping in the harvesting of down corn is the low 18-degree row-group working angle. This also stops ears from bouncing out of the machine.
The 18-degree working position is capable of being maintained regardless of the height of the combine harvester wheels, meaning the Drago GT can be used with any type and brand of combine.
"We do a lot of ag machine trading around the world," Tony says. "We discovered the Olimac range after coming across it on farmers' forums in the US, where the feedback was overwhelmingly positive. So we contacted them to become a distributor.
"Since then we've sold a lot of Dragos across Australia – New South Wales, Victoria, South Australia, South East Queensland, all along the Murray River – and have had nothing but positive feedback. Our customers are 100 percent happy."
One of those happy customers is Andrew Pursehouse of Breeza Station in NSW. After buying a 12-row Drago GT he emailed Tony to say they were all very impressed with the corn front.
"Finished our corn at 3.30 this morning," Andrew wrote. "Certainly mows the corn off; we were pulling 95-110 tonne per hour. Certainly keeps the chaser bins and trucks on the hop! Very happy customers."
Andrew tells us he was looking for a front with 1m spacings and had seen the Drago GTs at the Farm Progress Show in Des Moines, Iowa.
"They seemed to be very well constructed and very popular," he says, so he bought one from Global AG. "It's a beautiful front. We used it for the first time this year and we're very happy with it."
The Drago GT's  gearboxes feature the industry's first spiral-cut gears – common in the aviation and automotive industries – to deliver power more efficiently, reduce gear maintenance, significantly increase gear life and reduce noise levels.
This was one of the factors that influenced Andrew's decision.
"We went with the GT version rather than a standard front because we wanted to eliminate the use of chains – it's all gearbox-driven," he says. "That's the next step in corn fronts, and Drago seems to be right up there.
"It's a beautifully made bit of gear and the results have been excellent," Andrew adds. "It does a really good job of getting the corn off the plant.
"You can buy them with cutters underneath for mulching but we like to leave our corn stalks standing. If we decide later that we want to go that way it's just a matter of bolting the gearboxes and blades on there."
The Drago GT is available in models ranging from four to 24 rows and 500mm to 1m row spacings. Folding models are available in rows of six to 18 as well.
"Basically, this product is all about increasing profits," Tony says. "The Drago GT can harvest all corn without losing ears and kernels."

Global AG Trading is an Australian privately owned business specialising in the international movement and sourcing of machinery. It is also Australia's sole Olimac distributor. For more information call 1800 899 885 or visit www.globalagtrading.com or find them on Facebook.
Subscribe to our newsletter
Sign up to receive the Trade Farm Machinery e-newsletter, digital magazine and other offers we choose to share with you straight to your inbox
You can also follow our updates by liking us on Facebook. 

Graders For Hire | Cranes For Hire | Telehandlers For Hire | Excavators For Hire