Innovate Ag to launch Sero-X bio-insecticide
---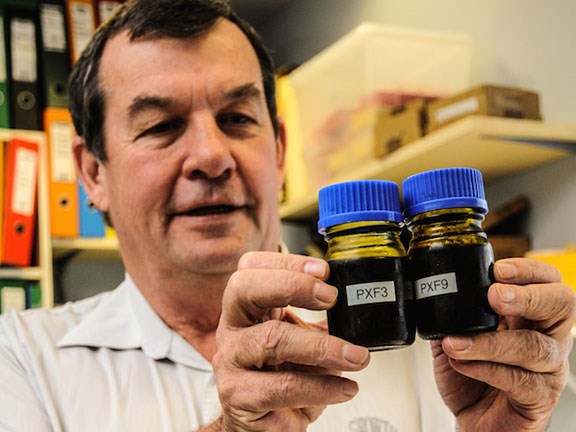 Innovate Ag chairman Kerry Watts with butterfly pea extract.
Innovate Ag's world-first plant-based insecticide Sero-X is set to be launched at the company's headquarters in Wee Waa, North West NSW, on Friday, May 12.
The company says that Sero-X is the result of over 15 years of trials and research into the insecticidal properties of butterfly pea, which led to the identification of peptides and cyclotides found in the legume.
Innovate Ag director Nick Watts says the non-toxic, bee friendly product is set to revolutionise food and fibre production worldwide by offering an extremely effective organic alternative to traditional synthetic pesticides.
"It is the beginning of a journey which will allow us to harness naturally occurring plant extracts and compounds – much like the discovery of Pyrethroids which eventually saw DDT removed from the market," Watts says.
"Plant extracts and peptides will allow the development of naturally occurring pest control methods which will reduce if not eliminate our reliance on synthetic chemistry.
"The launch of Sero-X will one day be a point on a timeline that marks the moment at which botanical products, that have peptides as their primary active ingredient, were first commercially available," he adds.
 Watts says the company expects that this research will allow greater insight into how we can harness the power of plants to aid in the development of human health products and systems.
One Australian farmer who is already using Sero-X is Queensland macadamia farmer James Thomas.
"It essentially gives us an effective, soft option against a broad range of pests without impacting the beneficial insects that we release within our orchard," he says.
"The premium paid for organic product is $1.50 higher per kilogram, and it seems to yield really well because when Sero-X breaks down it becomes an amino acid which the plant uses as a growth promotant, so the nuts seem to be bigger where we use Sero-X."
Butterfly pea's ability to naturally protect itself was first identified and scientifically investigated by Dr Robert Mensah, from the NSW Department of Primary Industries, while he was working at the Australian Cotton Research Institute near Wee Waa.
Through extensive scientific trials, funded by the Cotton Catchment Communities Co-operative Research Centre (Cotton CRC), he was able to prove that insects did not eat and, in fact, actively avoided the plant, choosing alternative sources nearby.
Mensah's discoveries were the basis for a joint commercial venture called Innovate Ag, which formed between local Wee Waa company Growth Ag and another locally owned family business.
While his work on the project concluded in 2010, Mensah is listed as the inventor of Sero-X on the original patent, which forms the basis of Innovate Ag's patent family.
Based on his recommendations, Innovate Ag pursued the idea of using a butterfly pea extract as a bio-insecticide and managed to secure a grant from the Commercialisation Australia Programme in March 2012.
While the insecticidal properties of butterfly pea had been identified, it wasn't until a chance meeting with an analytical chemist from The University of Queensland's Institute for Molecular Biology that Innovate Ag was able to single out the active ingredient in Sero-X – cyclotides.
Professor David Craik and his research team study natural cyclotides and engineer new cyclotides that can be used as insecticides or to treat diseases.
"Cyclotides are peptides, or mini-proteins, that are naturally found in plants and have a diverse range of biological activities, including insecticidal activities," Craik says. "Innovate Ag's product uses an extract from the butterfly pea plant that contains cyclotides.
"We've been working with Innovate Ag to understand which cyclotides in the extract are active and how we can optimise the harvest of the plant so that the extract is more potent."
An Australian Research Council Linkage Project funded a three-year research program to support the collaboration between Innovate Ag and UQ's IMB.
Innovate Ag says Craik's research, along with Mensah's early research, proved critical to securing approval for registration from the Australian Pesticides and Veterinary Medicines Authority and investment from Bi-Pa, a Belgium based company specialising in biological products for agriculture.
Subscribe to our newsletter
Sign up to receive the Trade Farm Machinery e-newsletter, digital magazine and other offers we choose to share with you straight to your inbox
You can also follow our updates by liking us on Facebook. 

Graders For Hire | Cranes For Hire | Telehandlers For Hire | Excavators For Hire