Cummins and Eaton: package deal
---
In a blatant bid to battle the Europeans at their own 'vertically integrated' game, Cummins and Eaton have developed a linehaul powertrain package with the specific aim of delivering top fuel economy without any compromise on performance. It's called 'Cummins Integrated Power' and early reports suggest it's right on the money. It is, however, just the tip of the iceberg.
Two years ago, Cummins Inc. paid a big heap of money – around US$600 million (A$851 million) – to consolidate a joint venture with transmission and drivetrain specialist Eaton Corporation.
The result was an entirely new division called Eaton Cummins Automated Transmission Technologies.
In many minds, including this one, it was one of the smartest moves by Cummins in decades. Nor was it naïve for Eaton to strengthen ties with its fellow American to shore up defences against the rampant rise of European interests.
'Fortress America' fighting back, so to speak!
Sure, Eaton and Cummins have worked closely for decades, but never this close and never with the complete intention of creating advanced powertrain packages developed as a single integrated unit.
Overdue? Probably!
Necessary? Absolutely!
European truck makers are, of course, the masters of vertical integration – using in-house engine, transmission and driveline equipment – and their influence on the global trucking industry and North America in particular has never been greater.
Take Freightliner, for example. It now dominates the North American heavy truck market with a massive majority and like stablemate Western Star, is owned by Germany's vast Daimler organisation. So, too, is Detroit Diesel a key part of the Daimler empire and it doesn't take a genius to see the corporate and commercial inevitability of a Detroit engine powering an all-Daimler driveline under a Freightliner.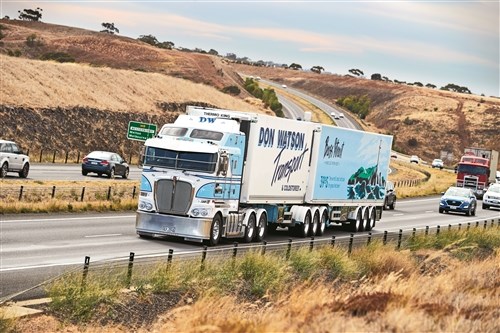 Obviously, it's an almost identical scenario with Volvo and Mack, using in-house hardware, suitably branded to protect the integrity of each nameplate. Notably Mack!
Even Paccar, that fountain of American fervour, is now entrenched in pushing the vertically integrated line, increasingly promoting its own self-described Paccar powertrain in both Kenworth and Peterbilt brands. It all
starts with the DAF-designed MX-11 and MX-13 engines built
in purpose-built facilities in the US, driving through the so-called Paccar transmission.
Yet such are the contortions – if not contradictions – of modern corporate life that the Paccar transmission is actually a rebranded version of Eaton's new 12-speed Endurant automated box which is, in fact, one of the first creations to emerge from the Eaton Cummins joint venture.
Meantime, gawking from the gloom is Navistar's International. Formerly fighting tooth 'n' nail with Freightliner for US heavy-duty supremacy, International's fortunes have waned dramatically over the past decade or so. In many estimations, its long range future is tenuously tied to the hope that German giant Volkswagen will eventually come to the rescue by fulfilling its intention to be a big player in North America's big truck business.
But what if VW does ultimately increase its present stake in Navistar and take full control? Surely the long-range plan will be to favour powertrains developed within its Scania and MAN divisions rather than maintain reliance on traditional suppliers. Suppliers like Cummins and Eaton.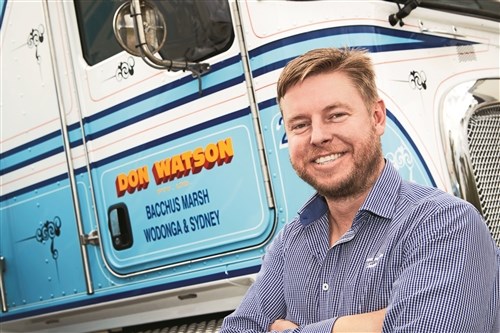 Given all these factors, sceptics might view the future for specialist truck industry suppliers like Cummins and Eaton
as none too bright. It would, however, be a shallow view.
Paccar, for argument's sake, says it has no intention of building a bigger bore engine than its current MX-13,
publicly stating it will continue to rely on Cummins for high-end horsepower.
What's more, the extent of customer loyalty and confidence in the Cummins and Eaton brands, as well as their individual technical skills, cannot be ignored, especially as new initiatives come on stream: initiatives such as the coupling of the light and lively X12 engine to the Endurant automated shifter.
For instance, and surprising as it may seem given Daimler's ownership, a press release in January this year from Western Star in the US confirmed the North American availability of the Cummins X12 in Star's utilitarian 4700 model. It'd be short odds the engine will be coupled to Eaton's Endurant.
So, in the wake of the US press release, it seemed fair to ask Penske's people in Australia if an X12-powered 4700 was eventually headed our way, offered in addition to the existing Cummins ISL nine-litre engine. After all, an X12 and Endurant combination would certainly give the somewhat under-utilised 4700 the capacity to be more things to more people and perhaps more critically, provide Western Star with a genuine challenger to Kenworth's new T410 with its all-Paccar powertrain. Even better, it could be just the thing to give Star's Australian sales
a desperately needed shot in the arm.
Nonetheless, the decidedly hesitant response from a local Western Star insider was, "No, the US will not build a righthand-drive, X12 version of the 4700 for the Australian market."
Still, who's to say the X12 and Endurant combination couldn't be fitted here in 4700 glider kits? After all, the potential is obvious and what's more, it wouldn't be the first time Cummins and Western Star have conspired on a glider project for the Australian market. Time will tell but for now it remains nothing more than speculation.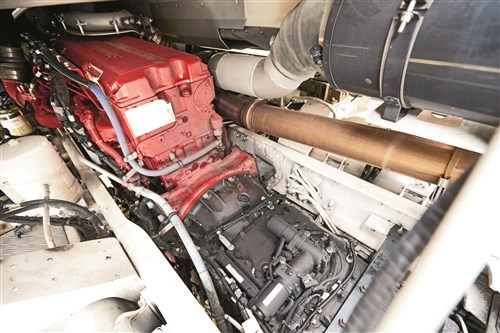 Speculation or not, Cummins South Pacific director of engine business, Mike Fowler, refuses to take 'no' for an answer when it comes to the X12.
Despite the disappointment of failing to have the X12 offered as an option in Kenworth's new T410, an adamant Fowler declares, "I have no intention to stop pushing until I get this engine into a truck.
"Granted, it's taking longer than expected (for a local truck supplier to offer the X12) but our tests have shown just how good this engine is in every respect.
"It's simply too good a product to leave on the shelf when all our customers are in search of better fuel economy and productivity."
Way beyond speculation, however, is the shared commitment of Cummins South Pacific and Eaton Australia to consummate their corporate connection with the development of an engine and transmission package aimed squarely at top-weight linehaul B-double roles.
It's known simply as 'Cummins Integrated Power', based on a high torque version of a 550hp (410Kw) X15 engine coupled to a specially calibrated Eaton UltraShift-Plus automated 18-speed transmission.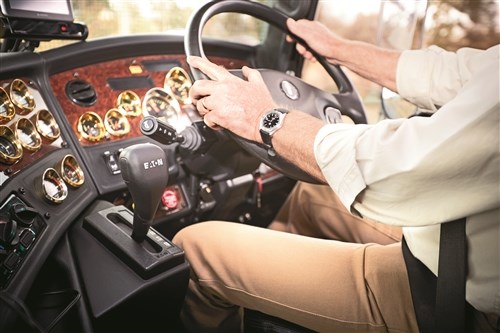 Yes, it's lightyears short of where the Cummins and Eaton joint venture will eventually evolve but right now it is exactly what both outfits need to prove to linehaul B-double operators that an integrated powertrain is no longer the exclusive domain of continental corporations, and most importantly, that high performance from a big bore engine need not be compromised in the pursuit of good fuel economy.
And that's the point: While American and European linehaul industries are suited to engines in the 12- to 13-litre class, Australia remains a special and highly unique case. Simply put, our long distance road freight business is like nowhere else in the world.
B-doubles dominate the heavy end of the interstate freight market and nowadays, large swathes of the shorthaul business as well. Consequently, with gross weights forging ever closer to 70 tonnes, bigger bore engines – American or European – provide the durability, performance and in many cases, fuel efficiency, their lesser cube counterparts struggle to attain.
It is, perhaps more than ever, a case of horses for courses.
B-double business
The essence of Cummins Integrated Power is an old idea with a new formula. And by 'formula' I don't mean those early Cummins 14-litre engines like the Formula 290 and its marginally more muscular kin which sought to save fuel by limiting governed engine speed to 1,900rpm, running through the wide steps of an Eaton nine-speed shifter into a relatively tall rear axle ratio.
With performance taking a very distant back seat in the hunt for a thimble-full of fuel, Formula engines were generally sluggish and decidedly 'doughy' things to drive. Even so, fleets bought heaps of them, though my memory isn't good enough to recall anyone actually laying claim to substantial fuel savings. Whatever, Formula engines were at least durable and did nothing to damage the allegiance of an army of Cummins devotees.
To state the obvious, much has changed since those days, nowhere more than in the heavy end of the trucking industry. Linehaul gross weights have exploded, power and torque peaks have skyrocketed, electronics oversee almost every aspect of powertrain performance, automated transmissions now comfortably outsell manuals, and the focus on fuel economy
is as great now as anytime in modern history.
The thing is, though, the fundamental premise for fuel efficiency still rides on keeping engine speed as low as practically possible. Cummins calls it 'downspeeding' based on the simple, irrevocable facts that  the faster a crankshaft goes round and round, the more a piston goes up and down, then the more an injector spits a spurt of fuel. And so on and so forth.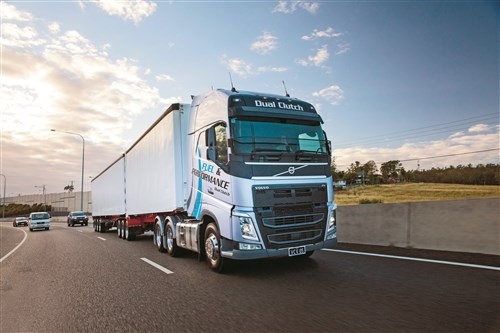 Yet from a truck operator's viewpoint, time demands on freight are today more critical than ever. It's one thing to pursue enhanced fuel efficiency through lower engine speeds, overdrive gearboxes and tall diff ratios, but it's something entirely different to miss a time slot or earn the ire of a customer because a truck doesn't have the powertrain to maintain an adequate average speed. Nowadays, fuel economy cannot be considered in isolation or, more to the point, at the expense of performance. Times have changed, indeed!
For people such as Mike Fowler, and the technical team of Eaton Australia headed by engineering manager Graeme Weston and his Cummins counterpart Neil Husband, the prospect of working closely in the wake of the joint venture announcement in 2017 was a win on all fronts.
It was, said Mike Fowler, the perfect opportunity (and no doubt, the ideal motivation) to kick start a project with the singularly focussed intention of producing an integrated powertrain package dedicated to the performance and fuel efficiency requirements of arguably Australia's most demanding truck market – top-weight linehaul B-doubles.
Obviously enough, the prime B-double recipient of a powertrain based on the Cummins X15 and Eaton UltraShift-Plus automated 18-speed transmission is Kenworth's enduring K200 cab-over. However, as Mike Fowler was quick to emphasise, while there was much to be gained there was also much at stake in a fiercely competitive market where the likes of Volvo, Mercedes-Benz and Scania aren't shy about tackling each other or Kenworth's premier place in linehaul B-doubles.
In addition to detailed analysis of various ratings and drivetrain ratios by Cummins and Eaton, intensive field tests were deemed essential to verify the 'real world' returns of the different software calibrations and hardware combinations. Consequently, the last two years have seen a number of test units start work in linehaul fleets, including the high profile operation of Don Watson Transport where Cummins Integrated Power first went to work in June last year and is now established as the fleet standard after recording consistently improved and altogether impressive fuel figures.
A specialist refrigerated linehaul transport company based at Bacchus Marsh, about an hour west of Melbourne, a detailed report on Watson's  experience with Cummins Integrated Power in a K200 appeared late last year in the high class 'Cummins Commentary' magazine.
"We definitely have a more fuel efficient truck," said fleet business manager Lyndon Watson, citing fuel gains from seven percent in 68-tonne B-double work to a staggering 18 per cent in single-trailer roles.
With around 100 trucks in the fleet, he added, "just a one per cent improvement in fuel economy across our fleet would give us an annual saving of more the $100,000."
Cummins concedes that while there's nothing particularly new about 'downspeeding' as a concept, there's certainly plenty new about this modern approach to the idea. For starters, the company explains a special calibration has been developed to not only reduce engine cruise speeds for fuel economy but also provide the grunt to meet driver and trip time expectations.
During early development of the strategy, torque output was thrown under the spotlight, resulting in a 550hp X15 having its peak torque bumped from the standard 1,850ft-lb (2,508Nm) to the hefty 2,050ft-lb (2,779Nm) normally accompanying the 600hp (447kW) rating.
What's more, the 2,050ft-lb output is on tap from 1,500rpm right back to 1,000rpm, while governed engine speed has been pulled back from 2,000rpm in a standard X15 to 1,800rpm in the 'downspeeding' version.
Running through a 3.73:1 final drive ratio, 100km/h has been pared down to 1,410rpm in the 'integrated' package.
The critical link, of course, is the transmission and with automation providing the key to tailoring shift points where they need to be for both fuel efficiency and performance, Eaton's UltraShift-Plus 18-speed overdrive box was as much under the microscope as the engine attached to it.
A significant feature in the transmission's tool chest is a 'Dual Mode' system which automatically adjusts shift points to cater for loaded or unloaded operation while the X15 also sports Cummins' ADEPT – Advanced Dynamic Efficient Powertrain Technology – software. It's an awful acronym but ADEPT at least provides advanced cruise control and torque delivery features which, according to Cummins, "further underpin the fuel economy approach".
In its current form, however, UltraShift-Plus sits outside the joint venture between Cummins and Eaton. It'll be a different story when the next generation of UltraShift stirrers now under development in the US become available in a few years' time, but as local representatives of both companies were keen to point out, the 'downspeeding' exercise was able to bring the technical expertise of the two companies together in a joint effort to develop a genuinely integrated Cummins-Eaton powertrain
for the first time on the Australian market.
Drive Time
Son of the late Don Watson, who took over the proud family business from his father George in 1948, Lyndon says the company first started moving towards Cummins around 2003 with the release of the Gen II Signature engine. It was a move further cemented when the ISXe5 version with 550hp and 1,850ft-lb of torque, driving through Eaton's 18-speed overdrive manual shifter into 4.33:1 rears – a combination that delivered 100km/h at 1,650rpm – was deemed the 'sweet spot' for Watson's linehaul work.
However, times have changed yet again and in the pursuit for the best balance between fuel and performance, Lyndon Watson quickly confirms the integrated powertrain headed by the 550hp X15 pumping 2,050ft-lb of torque through a critically calibrated Eaton UltraShift Plus transmission into a 3.73:1 drive tandem is hitting the nail square on the head. Spot on!
The results speak for themselves, he insists, reporting a consistent average of 1.9km/litre on east coast B-double work at gross weights up to 68 tonnes. By comparison, a 'standard spec' ISXe5 averages around 1.75km/litre on the same work.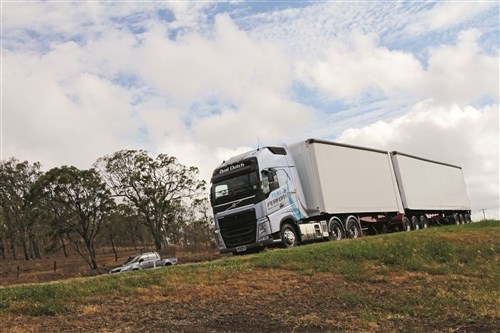 Cummins reports the savings are even more impressive in single trailer work where the new powertrain is achieving 2.5km/litre compared to 2.05km/litre with the ISXe5 and manual transmission combination.
On the strength of such a marked improvement in fuel economy without any loss of performance – as one company driver enthused, "the truck wants to go through hills rather than over them" – there are now six Cummins Integrated Power packages in the Watson operation with more to come, all in K200 'King Cab' models.
Meantime, the Watson engines are specified to the Euro 5 emissions standard but as Mike Fowler was keen to point out, the X15 is also available at the Euro 6 standard. Importantly, each standard is achieved without any EGR input. There is, however, no mention of how much AdBlue is being used by the SCR engine at either emissions standard, though some X15 reports suggest a rate of between five and seven percent of fuel consumption.
Whatever, Lyndon Watson gratefully handed over one of the first K200s with the integrated package for a few hours behind the wheel from the company's depot at Laverton, west into the Pentland Hills, a detour to company headquarters at Bacchus Marsh before returning to Laverton.
Gross weight was around 61 tonnes and from the outset it was apparent this was unlike any X15 UltraShift combination I'd driven before.
Even in the dense truck-choked traffic around Laverton with its multitude of roundabouts and traffic lights, the smoothness and synergy between engine and gearbox were exceptional. And unusual, with none of the irregular and frequently unnecessary downshifts, which in past experience have occasionally marred the relationship between engine and automated transmission.
But the best was waiting in the climb over the Pentlands where the combination's intuition was remarkable and to my mind, finally delivered the finesse and operational 'smarts' to put an American engine and automated transmission pairing into the same league as its continental counterparts.
Sure, the Yank combination does it differently with a typically deep-throated, brawny rumble but that said, the smoothness and timing of the shifts coupled with the formidable grunt of over 2,000ft-lb of torque regularly applied all the way back to 1,000rpm was impressive by any measure.
In this package, Cummins and Eaton appear to have it right like never before.
Subscribe to our newsletter
Sign up to receive the Trade Farm Machinery e-newsletter, digital magazine and other offers we choose to share with you straight to your inbox
You can also follow our updates by liking us on Facebook. 

Graders For Hire | Cranes For Hire | Telehandlers For Hire | Excavators For Hire