Smooth Operator, Celli range of cultivators
---
Italy's Celli range of cultivators is back in Australia and its new machines are helping farmers prepare soil for sowing like never before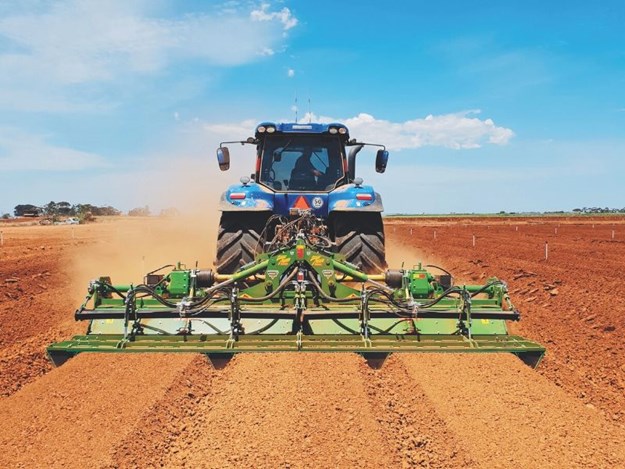 The Rotary Hoe Combovator in Action
The story starts with grader blades – specifically, the ones developed over 40 years ago by a New Zealand inventor trying to help them penetrate better into the soil.
Those blades became the foundation of Farmgard, one of NZ's most successful agricultural manufacturers and importers of international machinery brands.
The company's business development manager, Russell Dalziel, says the family business has always been very focused on getting the little things right.
"We don't have 20–30 franchises, we only have six brands and our real specialty is cultivation, slurry distribution and animal feeding," he says. "We are very much a machinery business." 
Aside from its grader blades, Australians might best know Farmgard as the local distributor of Ireland's Abbey range of mixer wagons and slurry tankers.
True to its ideals, Farmgard brings in only seven effluent disposal units and two feed mixers from the manufacturer's extensive range, though Dalziel says the company is always able to import bespoke units on request. 
"We bring in two sizes of feed mixers – a 12 cubic metre single auger unit and a 24 cubic metre twin auger unit," he says.   "They've got 15mm augers with 20mm floors – very low height augers which means there is not a lot of stress on the gearboxes." 
"We also have options of side door and front door discharge and if customers want extended elevators we can build them locally – up to 3m," he adds. 
Dalziel says Farmgard has been selling the Abbey models in Australia for over 10 years, after first setting up here about 12 years ago through a third party distributor.
 Since deciding to expand further in Australia, the company has extended its local product offering to include the Stanhay precision planting range and, in 2017, the Celli range – which it had distributed in New Zealand only for the previous 40-odd years.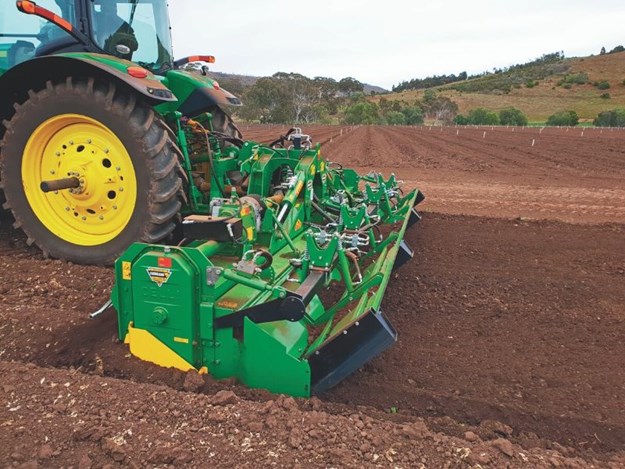 The Power Harrow Combovator
A CULTIVATED SELECTION 
The Celli range, much of which comes with a two-year warranty, comprises power harrows, rotary hoes, spading machines and rippers, among others.
But Dalziel says it is a new combination of two cultivating devices that has generated the most excitement in recent months. 
Celli's Combovator bed-forming system combines soil cultivation and raised bed formation in one pass – by bolting on a bed former or roller to a power harrow or rotary tiller.
 Dalziel says it was a design developed after tests in New Zealand and Australia – with designers coming up with new ways to deal with local soils. 
"In most cases what has happened in the past is growers have purchased a cultivation machine, like a rotary till or a power harrow, and built their own bed formers on the back, and that still goes on today," Dalziel says.  "Often the weight is increased and normally they are fixed so you don't have a lot of room for adjustments in them. 
"With the Combovator it is ex-factory, so it is built specifically to fit onto that machine – which means they can minimise the weight carrying to get the best efficiency out of it." 
Combovators are developed in consultation between the farmer and Celli; to help, the company can match the customer with the right cultivation equipment for their desired bed sizes.
Farmgard says that the Combovator has a horsepower rating of 250hp (186kW) and up, but Dalziel says that smaller single row machines, with lower horsepower requirements, will also be available soon.
Dalziel adds that the Combovator is also designed to allow the bed former to be lifted and/or removed, meaning the rotary hoe or power harrow can operate as a cultivator only – or to attach a standard roller to the end in its place.
Being able to operate as a 2-in-1 unit helps reduce capital investment costs and provides better resale value and flexibility of use, Farmgard says.
Depth control is maintained through Farmgard's Z link hydraulic system, which can also raise the bed former out of the way when needed as a cultivator only. 
"It gives us a lot of flexibility in adjustments," Dalziel says.  "We can adjust the pressure we use on the bed, to the depth we actually run the cultivator, so it gives us quite a versatile machine."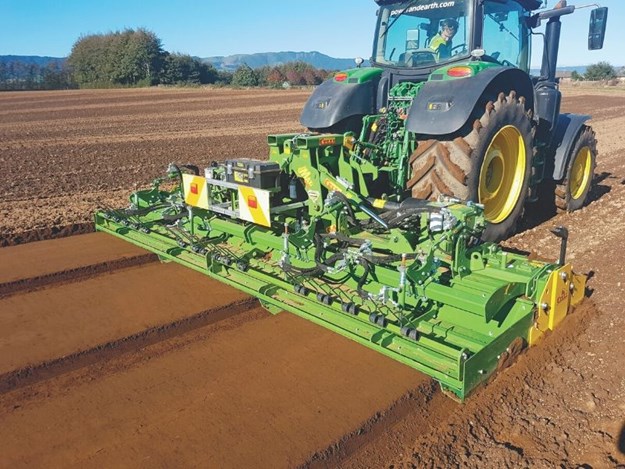 Used as a rotary hoe only
The Z link also allows the operator to control the tilth of the soil and how much is held inside the machine, while downward pressure on the bed can be changed on the go.
The bed former pontoons have a bolt-on design, meaning they can be changed as desired to suit different crops, and for different wheel centres, bed heights and wheel track angles. 
Celli power harrows and rotary tillers range between 1.0m and 7.2m wide, with all folding units having a 2.5m transport width.
Farmgard has dealers in every Australian state and distribution hubs in Melbourne and Brisbane, with an extensive array of spare parts available when you need it most.
For more information, visit the Farmgard webpage at http://farmgard.com.au  
Subscribe to our newsletter
Sign up to receive the Trade Farm Machinery e-newsletter, digital magazine and other offers we choose to share with you straight to your inbox
You can also follow our updates by liking us on Facebook. 

Graders For Hire | Cranes For Hire | Telehandlers For Hire | Excavators For Hire