Hustler Equipment RX Combi feed wagons released
---
Hustler Equipment's new combination feed wagon range helps save on time, fuel and maintenance costs.
New Zealand manufacturer Hustler Equipment has reinvented its Combi feed wagon as a versatile and cost effective alternative to total mixed ration (TMR) wagons.
The updated range consists of three models – the Combi RX148, RX178 and RX218, each able to fit an eight foot (2.44m) hay bale and with capacities of 14.2 cubic metres, 17.6 cubic metres and 21.4 cubic metres respectively.
The new wagons are the successor to the original Robertson Comby wagons, widely considered the most versatile on the market, and which Hustler acquired in 2016.
Despite their versatility, "a bit of operator technique was required with the original design", Hustler says.
"This meant some farmers who only fed grass pit/clamp silage and who had a number of different staff taking care of the feeding out duties would resort to a basic silage wagon to eliminate the need for good operators," the company adds.
Hustler says it rethought the way Combi feeders operate when designing a new model – combining the simplicity of a silage wagon with the versatility of the Combi wagon.
"The RX range is a game changer when it comes to feeding grass silage and any other type of supplementary feed," the company says.
"Grass silage, bales square or round, root crops, feed waste, maize silage you name it – the RX feeds it; and thanks to the durability of the new 15mm-thick high-density floor loading of heavy root-crops no longer damages the floor."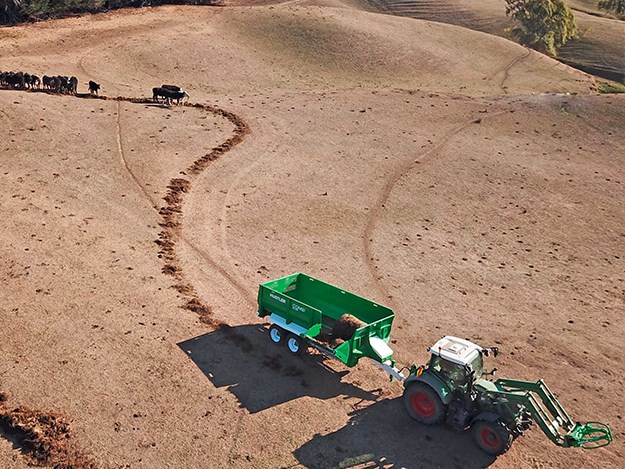 Much of this is down to the unit's new FeedControl system, which lets the operator switch between bale mode, giving them control over movement of the floor, while the silage mode activates load sensing on the tilting elevator.
This means FeedControl can automate floor and elevator movement at the flick of a switch, ensuring windrow consistency and simplicity of operation.
Hustler business development manager Australia Jordan Cornes says operators can put "some tricky rounds and squares in the same load then simply flick the switch and you get full control to save blocking, unlike a conventional wagon".
"Depending on the load against that tilting elevator, that side floor will actually speed up or slow down," he says.
"So there is a lot more automation in that side forward move – what it means is you get a nice even windrow, exactly the same as stringing it out in the paddock."
Hustler Equipment chief executive Brent Currie adds that automation at the front of the machine means the Combi operator can use its hydraulic rams to push material from the rear while it feeds out – ensuring there is no break in feed flows.
"This is a major breakthrough for the Combi, some of that has never been possible previously and that is quite a cool thing," he says.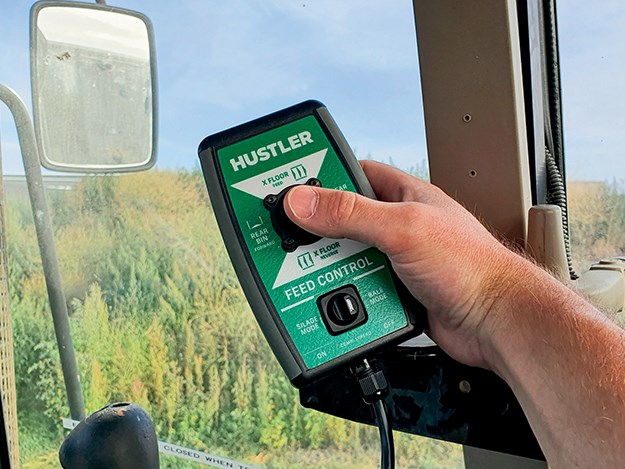 The optional FeedLink feed management system, which comes with scales and GPS technology, can help with reporting of target vs actuals and feed routines and be operated from a phone or tablet device.
Also new to the RX is its 15mm puckboard floor – a highdensity polyethylene that is sometimes used on Ice Hockey rinks but which here provides a thick surface that is more slippery and better able to withstand damage from heavy root crops.
Its redesign means there is no variation in floor height, limiting spillage in feed pad situations and, with its twin speed chainless rear floor, reducing the number of moving parts in the unit.
Hustler global business development manager Angus Hewetson says this helps to reduce the amount of power the unit needs to operate, as well as reducing daily start-up times by as much as 10 hours per month.
"As we all know if something is quiet it isn't really working that hard, and that is not wearing parts out as fast as some other machines," he says.
"You are only working with the load that is in front of the machine and when that load is empty you move the load forward."
Hustler says its unique load-dividing system reduces the stress on all the drives, allowing a tractor to operate the machine on just 30–60L/min of oil flow – not much more than an idle.
A number of other design changes sets the Combi wagons apart from silage wagons – the hydraulic tilting elevator drops feed off at a higher point, keeping it from being run over and letting the operator fill hay racks or hard against a fence.
The wagons have a high ground clearance, while its unique drawbar, compact design and tough axle design with 2.2 square metres of pivot surface area makes it more nimble in paddocks, reducing the turning circle from 20.8m to 7.8m.
The front spill panels have been redesigned to give the operator better visibility and its low loading height makes it easy to fill – while higher sides prevent bales from spilling during transport.
The new range of Combi wagons are currently available from Hustler dealers across Australia.
Find out more on hustlerequipment.com or contact Jordan on 0435 371 311.
Subscribe to our newsletter
Sign up to receive the Trade Farm Machinery e-newsletter, digital magazine and other offers we choose to share with you straight to your inbox
You can also follow our updates by liking us on Facebook. 

Graders For Hire | Cranes For Hire | Telehandlers For Hire | Excavators For Hire