Deutz-Fahr debuts 8280 TTV tractor
---
Targeting an all-but forgotten horsepower segment, the new 287 horsepower Deutz-Fahr 8280 TTV tractor is set to arrive Down Under early next year.
Local distributor PFG Australia's product manager for Deutz- Fahr, Anthony Darveniza, says the new model is very much a drivers' tractor – with a top speed of 60km/h and dry disc brakes as standard.
"They have aimed this tractor at contractors or arable farmland users," he says, following the global launch of the model in early September.
"We are just finalising the spec that we think the Australian farmer needs and hopefully have a product land in the early part of next year."
Equipped with a Deutz twin-turbo charged 6.1 litre engine delivering 1,226Nm of torque, the new model fills a gap between Deutz-Fahr's 7 Series, which topped out at 246hp (183kW), and the 9 Series that starts at 336hp (251kW), he adds.
"The market in that 280hp [209kW] segment – between 280 and 300hp [209 and 224kW] – is quite big in Australia, so that will give us an opportunity to get into that marketplace that we haven't been able to get into beforehand," he says.
A key to that, and its new top speed, is a new tractor transmission variable (TTV) that Darveniza says can handle both roadwork and heavy duty work.
"The big thing we are excited for now is that they have made the internals more efficient, so it runs more mechanically, and it has better efficiencies inside to get the power to the ground and be more efficient in fuel usage as well," he says.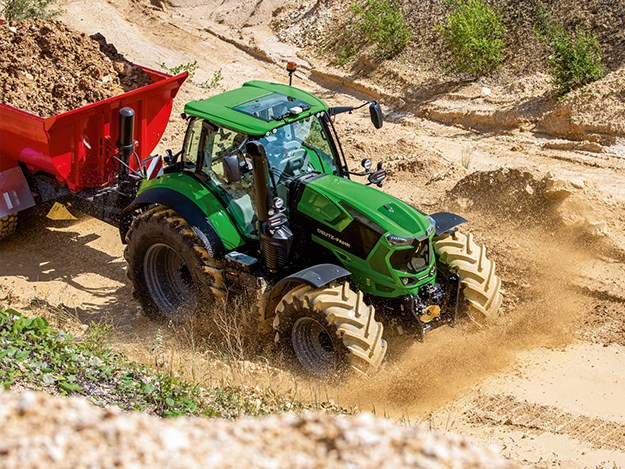 The tractor is equipped with the SDF T7780 continuously variable transmission, complete with a multi-stage epicyclic gearbox, together with a clutch unit and two hydrostatic units.
It also offers a two-speed front power take-off (PTO), three rear PTO speed modes, rear lift up to 11,100kg and a CleanOil hydraulic system of 210L/min – with 90L removable hydraulic oil.
Darveniza adds that the unit is easy to clean, offering service intervals of 1,000 hours for engine oil and 1,500 hours for CleanOil in the hydraulic system.
The cooling pack radiator can be opened by the user with a single lever to make cleaning and maintenance quick and simple, while oil levels can be checked at a glance.
For the Australian version of the Deutz-Fahr 8280, Darveniza adds that while the engine will remain the same, local buyers will have the option of buying the tractor factory-direct without the high-maintenance emissions-treatment technologies such as a diesel particulate filter or AdBlue that are compulsory in Europe.
"We are still getting all the same technologies within the engine, but we are just not having all the after treatment side of things that we need for emissions control that they need over in Europe and America," he says.
The engine and transmission isn't the only part of the tractor equipped with new technologies, Darveniza adds, with a new Topcon-based steering system – the AgroSky GPS – also available as an option going forward.
Using ISOBUS connectivity and being tractor implement management (TIM) certified, this enables the tractor to communicate with equipment, offering variable rate control for up to 200 sections.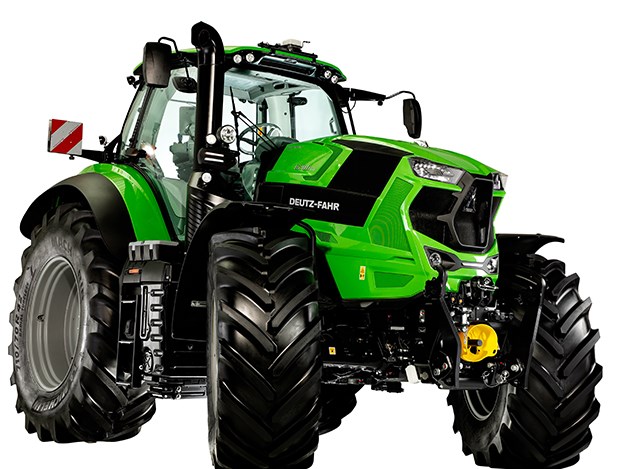 "A lot of implement manufacturers are getting into this, where the implement will tell the tractor how to drive and to react accordingly, so all the driver is really doing is pointing the tractor and steering it if need be," Darveniza says.
"There are a lot of other flexibilities for the iMonitor 3 [screen extension for tablet and smartphone] – they have improved the speed of it as technology improves, the speed and the amount of memory," he says.
That said, Darveniza adds that the company can adapt a Trimble-powered GPS solution as well as many other makes.
"We are going to be flexible with our GPS side of things, which just gives the owner some flexibility without reinvesting in a new GPS system if they have something already set up in their farming operation," he says.
On top of these, Darveniza adds that Deutz-Fahr will offer an intelligent front axle suspension with three different settings to use on different ground conditions.
Its Maxi Vision II cabin also has air sprung suspension and is detached from the hood by a roughly 7cm gap – helping to reduce noise from the engine bay.
"Then you also get less heat transfer coming from the engine bay, which is not heating up the cab, which is great, especially in Aussie conditions where we are so hot already to have all that extra stuff that the systems are fighting against, it makes a big difference," Darveniza says.
Subscribe to our newsletter
Sign up to receive the Trade Farm Machinery e-newsletter, digital magazine and other offers we choose to share with you straight to your inbox
You can also follow our updates by liking us on Facebook. 

Graders For Hire | Cranes For Hire | Telehandlers For Hire | Excavators For Hire