WEED-IT updates features of Quadro system
---
WEED-IT has announced a new set of features for its latest Quadro system, all designed to make weed control easier and more accurate.
The technology update includes what the company says is a world first; with the introduction of stepless nozzle control which ensures the chemical application rate is constant and on target irrespective of speed. 
When turning, it works to adjust the flow and timing across the boom, to hit the target weed with a constant application rate. There is also added capability for full coverage spraying plus a turn compensation speed limit warning system.
Australian managing director Brendan Williams says the improvements are part of the company's commitment to ongoing product development.
"WEED-IT delivers world-leading spot spray technology and proven performance, and with these new features we are making the system even more accurate and easier to use," he says
"Trusting that your chemical application is accurate and effective is fundamental to any spray operation. These improvements mean greater accuracy when cornering and changing speed, so growers have flexibility, control and efficiency.
"This is especially important when using residual herbicides as they stay active in the soil for a long time, so they need to be applied at the right rate."
World first in stepless nozzle control
WEED-IT is the first spot spray system in the world to introduce continuous variable technology, Pulse Width Modulation (PWM), nozzle control.
When blanket spraying, farmers are accustomed to using controllers that maintain a constant application rate as travel speed varies. However, until now automatic spot sprayers needed to be operated at a constant speed and pressure to maintain a constant rate.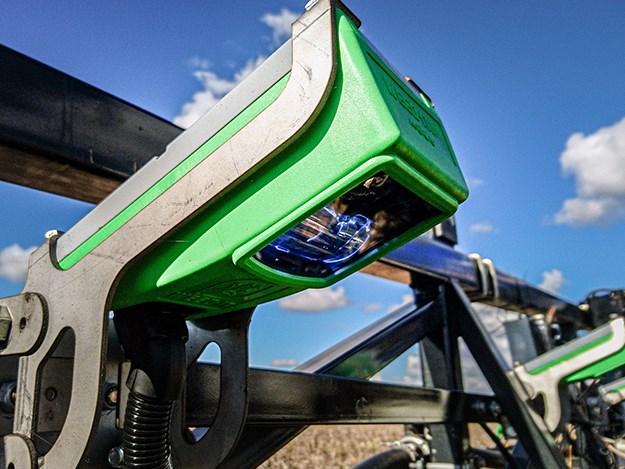 WEED-IT Quadro's PWM solves this problem, with the application rate maintained and on target regardless of speed changes, even when turning.
The flow rate to an individual nozzle is controlled by varying the PWM signal going to each solenoid.
Constant pressure holds the fluid speed constant, so timing is maintained to correctly to hit the weed. PWM control technology is the only way farmers can maintain a constant application rate when spot spraying.
Spot and full coverage flexibility built in
Utilising WEED-IT's PWM feature, the latest software release allows operators to use the Quadro for both spot spraying, to target all weeds on fallow ground, as well as for full coverage in-crop spraying.

Applicators can accurately apply blanket crop protection chemicals with speed and turn compensation.
Another advantage is that the PWM nozzle control allows precise application at any rate without having to swap or turn nozzle bodies manually, saving time and increasing both sprayer and treatment efficiency.
Turn compensation speed warning
Each individual WEED-IT Quadro sensor knows its position on the spray boom and the speed of each sensor and corresponding nozzle can be calculated exactly.
In a fast turn or with very wide spray booms, it may be that an outer sensors is travelling too fast, making the flow is beyond reach – the nozzle is 100% open, but the flow is too low to maintain correct application rate.
If this occurs, a warning will show and sound on the terminal, so the operator can respond by decreasing driving speed. This ensures the application is always successfully sprayed on target.
The new software release, version V4.12 for terminals and version V3.42 for sensors, is standard on new WEED-IT Quadro systems with immediate effect, and can be retrofitted to terminals with version V4.10 and higher and Quadro sensors with software version V3.40 and higher.
Subscribe to our newsletter
Sign up to receive the Trade Farm Machinery e-newsletter, digital magazine and other offers we choose to share with you straight to your inbox
You can also follow our updates by liking us on Facebook. 

Graders For Hire | Cranes For Hire | Telehandlers For Hire | Excavators For Hire