Review: CF Moto Z6 UTV Quad
---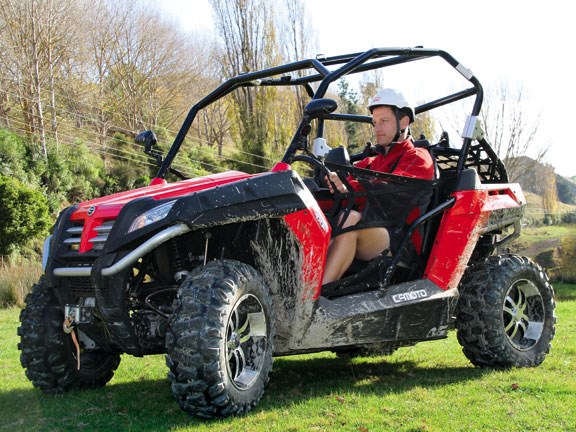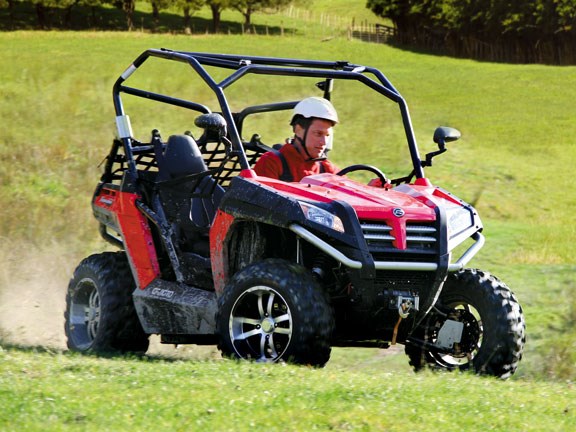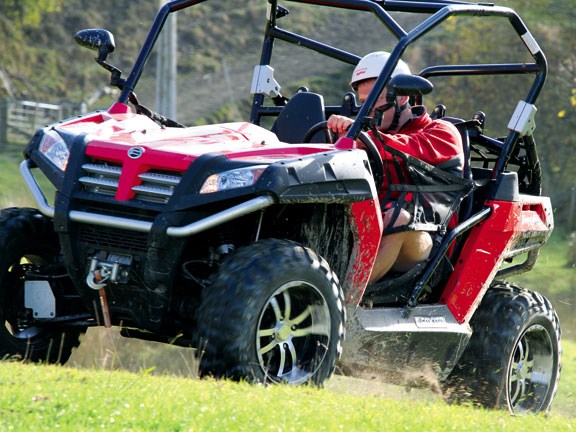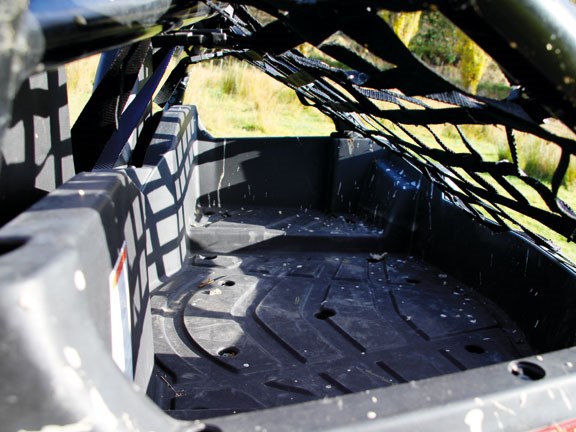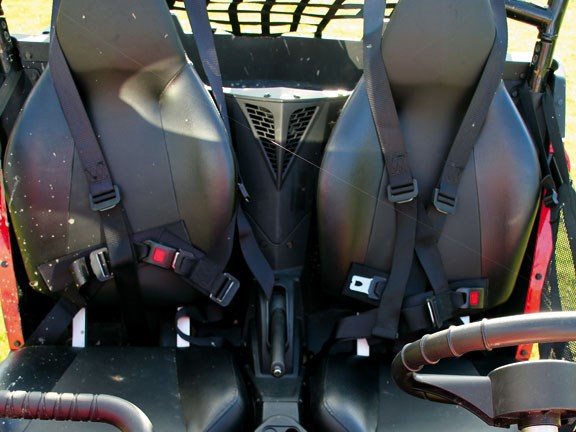 There appears to be two distinct types of UTV's; those designed to have a practical on farm application and those destined for explosive off road mayhem in the "Mad Max" vein of vehicle.


This new offering definitely falls into the latter category. Dubbed the Terracross, the CF Moto Z6 is a wolf in wolf's clothing. With striking lines, aggressive features and a distinct scorching red colour the first impression leaves you in no doubt as to the off road capabilities. It looks like a concept dune buggy that has been secretly snaffled and made available to the public.
Farming or fun?
As mentioned above, the Z6 is a serious off roader. Those looking to use one in a utility application on farm should probably forget about it, unless it is for super speed mustering or hill climb competitions. The rear cargo tray is made of injected plastic, and is only really big enough to hold a lunch bag and toolbox. It features security webbing that secures anything in place. In terms of payload, the Z6 is also a lightweight. The cargo tray is only rated for 100kg, towing capacity is a tiny 125kg and all up cargo weight including driver, passenger, cargo and accessories is only 250kg. So it is simple, this beast is designed to carry two people and little else. But it's the way it carries that is the selling point.
The initial eye catching design is further enhanced once the key is turned. The 595cc engine literally growls into life upon ignition, and burbles away with a note that sounds like pure testosterone. The sports styled seats are fitted with four point harnesses to keep occupants strapped firmly in place. Controls are refreshingly simple and easy to use starting with the adjustable steering wheel column. The flick of a paddle on the right hand side of the steering wheel is all it takes to position it depending on your height and reach. Being strapped securely gives the impression of confidence in the off-roading ability, which is evident once the hammer goes down.
What a ride!
Under heavy acceleration the Z6 tears up the turf, with the adjustable independent front and rear suspension handling big obstacles with ease. Hydraulic disc brakes on all four wheels also give a bucket load of stopping power. Although there are five settings on each side of the suspension, it comes set on the softest from the factory, which is appropriate for nearly all conditions. The only time you would change the suspension settings would be to maintain vehicle clearance when carrying a load. There is selectable 2wd/4wd with the push of a button, which must be done at a standstill, and a flick of another plastic cover unveils a diff lock button. This should only be engaged when traction is likely to be lost, and disengaged once the sticky situation is negotiated.
The gear selector between the seats is a T bar auto shift with High, Low, Neutral and Reverse. The CVT transmission did sometimes take a few seconds to engage with a slight "clunk" before locking in gear. The electronic dash displays gear choice and also other vital instruments such as 4wd/2wd, engine temperature and fuel. There is a 12V plug for all those toys that you may take off-roading, and to the right of that on the dash is a female socket for plugging in the winch cable.
Staying safe
Driving such an aggressive off roader, it could be tempting to let testosterone take over. CF Moto offers some timely advice on driving safely in their handbook for the Z6, which is applicable to all UTV's. It should not be operated by anyone under the age of 16 or without a valid drivers licence. When the temptation to attempt donuts, jumps or power slides kicks in, resist the urge. Although the machine has a full roll cage, the manufacturers would prefer it not to be tested. Passengers have the same safety features as the driver and also a handlebar to grab onto if things get a little hairy.
Pulling power
I have always been fascinated by vehicles with winches. For some reason the image of an off roader up to its guts in mud with a winch straining but ultimately recovering the vehicle seems like the ultimate manly scenario.
The reality is a little different. Although the winch on the Z6 is rated at 1361kg, or 3000lb, that is not an advertisement to test to those limits. The 12-volt DC, 1.8hp motor can get you out of some sticky situations but it is designed for intermittent use only. Being electric it does not like getting wet, and the rope needs to be kept lubricated. Here are some useful tips when contemplating a pull: keep hands clear of the rope, hook and drum; avoid pulls from extreme angles as the wire will pile up on one end and cause a jam and don't think the winch will pull you out of every bog hole. It is far better to exercise caution when driving and avoid getting stuck than betting the farm on the winch being able to get you out of the crap. Likewise is it probably not a good idea to slip the end over a bogged cows neck and try and extract it. Chances are you will end up with a decapitation and a freezer full of beef. Common sense should be the yardstick to measure use on, and if you are lacking in that you shouldn't really own this type of vehicle.
Verdict
As explained above, the Z6 is not as practical in farming terms as some others on the market, but in its defence it is not designed to be. What it is designed for is serious fun in off road applications and it sure delivers. The ride is comfortable and with a low centre of gravity and serious safety, suspension and stopping power it conveys a sense of off road potential. This machine is fun on four wheels personified and you get a real kick out of driving it.
Good
Safety features
Power to weight ratio
Ride handling
Great sound
Comfortable
Bucket loads of fun
Two year limited factory warranty
Not so good
Sometimes clunky CVT changes
Very limited cargo space
Tiny mirrors
Subscribe to our newsletter
Sign up to receive the Trade Farm Machinery e-newsletter, digital magazine and other offers we choose to share with you straight to your inbox
You can also follow our updates by liking us on Facebook. 

Graders For Hire | Cranes For Hire | Telehandlers For Hire | Excavators For Hire