Review: New Holland T7.185 tractor
---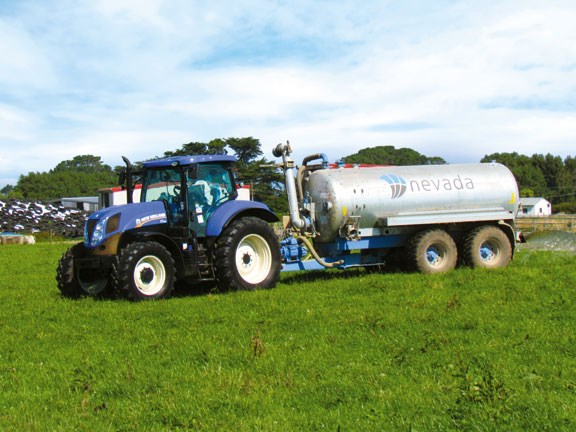 New Holland T7.185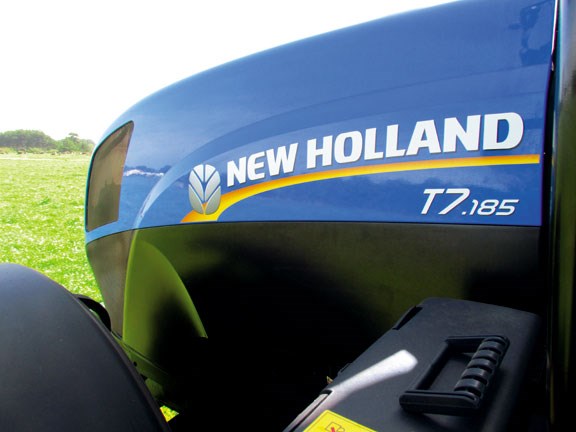 T7 range feature 6.7-litre six-cylinder turbocharged engine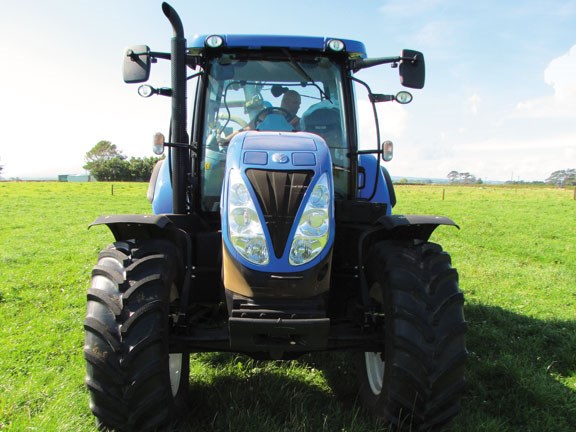 New Holland T7.185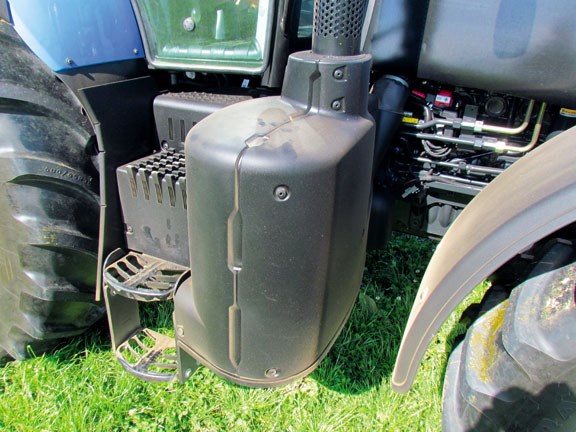 New Holland T7.185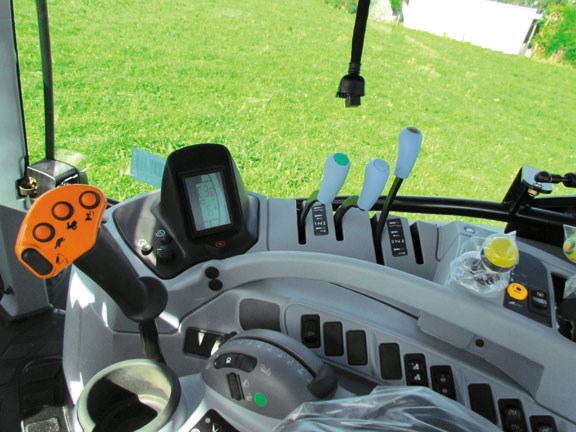 The cab is very open and practical

T7.185 New Holland tractor test with SCR (Selective Catalytic Reduction).


The T7 is the first tractor I have had a real good drive of with AdBlue, and although it has been around for a little while, more and more tractors will be sold with this feature, to the point where for your standard farmer, buying a new tractor in the not to distant future is likely to have AdBlue as a separate fuel source. I will quickly discuss some of the facts around SCR (Selective Catalytic Reduction) for those who are unfamiliar.
Why do we need SCR engines?
In a nutshell, it is to save the planet and keep the greenies happy. Aside from that, the Americans, Canadians and the EU have got together and come up with new standards for engines to meet, dubbed Tier 4.
The regulations will be introduced in two phases: Tier 4A was introduced in 2011 - which is what we are seeing in the New Holland's, for example; and Tier 4B regulations coming into effect at the beginning of 2014. In more simple terms, to meet Tier 4A standards, particulate matter and nitrogen oxides are reduced by 10 percent compared to Tier 3 engines (so the original T6000 and T7000 series are Tier 3).
What is AdBlue?
Diesel Exhaust Fluid (DEF) is actually the scientific name for it, with AdBlue and GoClear just trade names for the product. It is a solution of 32.5 percent high purity urea and 67.5 percent de-mineralised water. DEF is a key element of SCR systems that reacts with engine exhaust gas in the presence of a catalyst, breaking down nitrogen oxide into harmless nitrogen and water vapour, which both occur naturally in the atmosphere. Urea is a key component of DEF and the SCR process, and is much more pure than urea used in fertiliser.
Agricultural urea should never be used in a SCR system, so I am about to give you a Farm Trader top tip: urea and diesel make a bomb. No matter how much you back yourself as a rocket scientist, for the love of God don't try and mix your own AdBlue - it will not work. Instead, it will probably rearrange your face and make your tractor T for toast.
During this 'changeover period', it may be a pain for contractors as they will be running some tractors with AdBlue and some without which is another potential headache if the tractor starts derating itself until the AdBlue is refuelled when they are an hour from the depot. For farmers, the decision whether having two fuel sources is right for your system will have to be made, as some models can still be purchased in the Tier 3 configuration which will be easier for staff.
Back to the tractor. First impressions are it performs quiet well in some areas and there are parts that I feel could be improved which I will expand on shortly.
Engine and performance
The entire T7 range feature 6.7-litre six-cylinder turbocharged engine developed by Fiat Powertrain Technologies (FPT), and comes equipped with high-pressure common rail, four valves per cylinder and, as mentioned earlier, benefits from SCR technology to achieve Tier 4A compliance. You can confidently buy one of these engines without having the stigma that it is new to the market - no need to wait a year for any problems to be ironed out - as, fortunately for you, Fiat invented common rail technology in the 80s, and was the very first to introduce it on agricultural machines. FPT has already produced over 150,000 SCR engines in the last five years for trucks so any glitches have well and truly been ironed out.
The entire SCR system is managed by a Dosing Control Unit (DCU) which uses a sensor to monitor the exhaust gases. The DCU receives this information, and uses it to calculate the precise amount of DEF that needs to be added to the mixture. DEF has already been in use for over four years in the trucking industry.
New Holland claims a further 11 percent fuel saving over and above the already frugal T7000 series. This has been backed up further with the T7.270 and T7.260 setting new fuel efficiency records for the segment in the DLG PowerMix test - the T7.270 Auto Command consumed 261g/kWh and the T7.260 Power Command 259g/kWh. These test results are legitimate and they were the clear winners but in some respects can be taken with a grain of salt as the tractors they were compared with were a Fendt 820 and a John Deere 7530, both Tier 3 engines and also in the fine print explains that the consumption and cost of AdBlue has not been taken into consideration.
Having said that, everyone you talk to who owns a SCR AdBlue engine raves about lower fuel consumption which means fewer phone calls for urgent diesel refills. You only need to fill your 48-litre AdBlue tank once every two diesel refills, if the tractor is working hard, but the digital read-out will update you on this.
Engine Power Management is a renowned New Holland tractor feature. In a nutshell the engine develops more power and torque according to the load on the transmission, hydraulics and PTO. On our test T7.185 tractor, EPM will deliver up to 48hp which allows for your smaller more nimble loader tractor to peak for those few demanding jobs, but only when it is needed.
Comfort and layout
This tractor was of more basic spec, so the inside represented what people will be more familiar with in the T6000 series, but with the added bonus of the Range or Power Command transmission option. Mechanical remotes and rocker switches perform all of the functions on the right hand console. In the higher spec version, an integrated control panel is available, and is very simple and self explanatory to use. The beauty of this panel is that no features are hidden in menus that you need to scroll through; with this system you can easily find the symbol you want, push it and go.
Cab suspension on this model worked well and with just the standard two rear springs, it soaked up most of the bumps. The cab is very open and practical, but I feel it needs to be updated slightly, having been around since the TSA days. The passenger seat restricts access and the colour of the cab shows marks too easily. It also has a kind of plastic feel to it and little things like the seat hitting the right-hand console when you go over a bump shouldn't happen when spending this sort of money.
Personally, I don't like it when things beep at me and the New Hollands I have driven seem to beep a lot. I know this because I have spent a lot of time in them, but if you haven't rest assured they are almost idiot-proof to drive, but only once you are moving.
New Hollands seem to be the only tractors that you have to have your foot hard on the clutch, face Mecca, balance on one leg, touch your nose with your tongue and then turn the key in one swift motion to start it - it doesn't need to be that complicated.
Although the New Holland could do better in the cab department, it still gets a pass mark due to the extremely comfortable seat and the low noise levels, which make driving it a breeze and, if we are to be honest, that is what it is all about.
Transmission
Our test tractor was spec'd with the Range Command 19x6 transmission with 40km Eco feature, which has been around since the early TM days and has proven to be very reliable and user-friendly. If I was to buy a New Holland I would opt for the Power Command trans, as it gives you up to 19 gears on the move with no interruptions - you simply cannot get a better and easier to use powershift transmission.
The major two functions of the transmission (apart from the up and down button) is the Auto Transport and Auto Field modes, which are essentially just fancy ways of splitting up auto shifting. With Auto Transport, the tractor will shift gears depending on the load and will even take into account if the tractor is being pushed by a loaded trailer while descending a hill. Instead of shifting up, giving you more momentum, it holds the current gear to provide engine braking.
Auto Field mode, when the PTO is on, will keep engine revs constant and vary the transmission. But for linkage or tillage work, the opposite applies: it will keep the gear constant and let the engine lug down to tap into some of the torque on offer.
Verdict
In reality, New Holland is onto a winner here. You can spec the T7-series up with everything you could possibly want on a tractor, and with the advancements in engine technology (which have been extensively tested in the trucking industry) combined with up to 51hp boost, gives you power when you need it.
New Hollands are popular farmers' tractors and this T7.185 is really a 140hp tractor puffing its chest out, so it remains nimble for the larger farmer market with a loader but can be ballasted up enough for heavy tillage work for the contractors - the complete package.
Positives
Logical cab layout with comfortably positioned gear lever on armrest
Large comfortable seat
Very Quiet cab with good visibility
Long linkage arms allow easy and safe hitching of implements
600hr service intervals keeping running costs down
Excellent power to weight ratio of 25.8kg/hp
Negatives
The cab interior gets dirty very easily and has a cheap feel to it
Passenger seat makes cab access narrow
Seat armrest hits side console if you go over a large bump
Subscribe to our newsletter
Sign up to receive the Trade Farm Machinery e-newsletter, digital magazine and other offers we choose to share with you straight to your inbox
You can also follow our updates by liking us on Facebook. 

Graders For Hire | Cranes For Hire | Telehandlers For Hire | Excavators For Hire