Review: Kioti Mechron 2200
---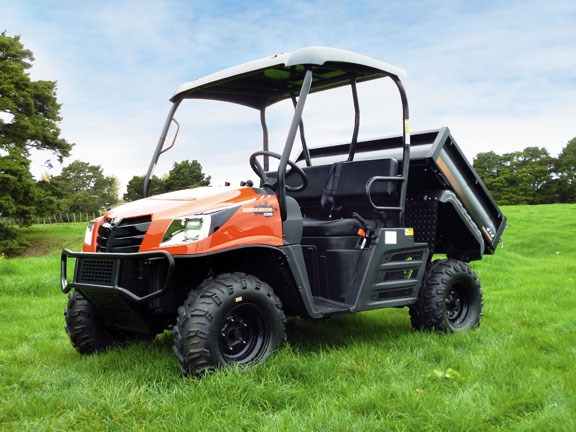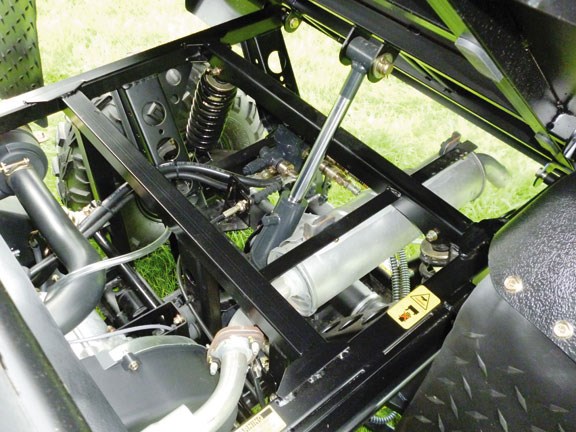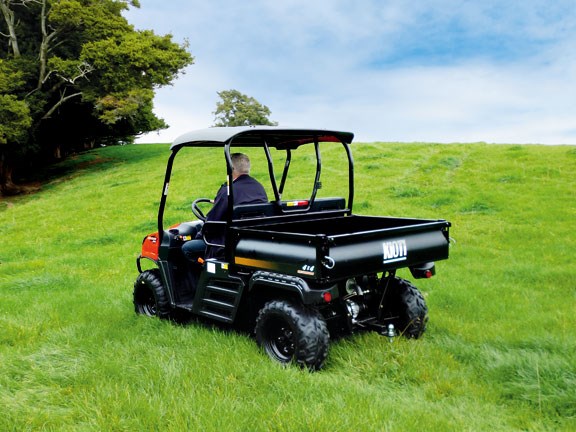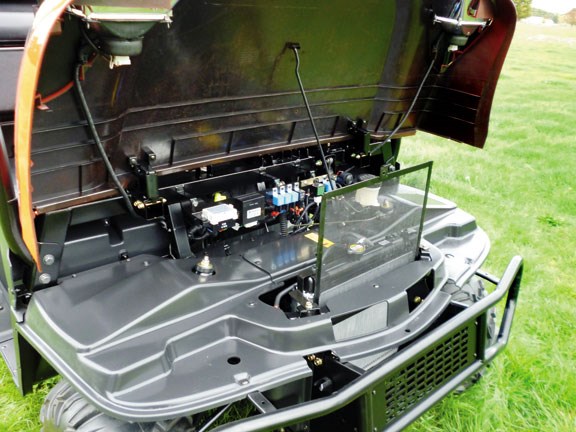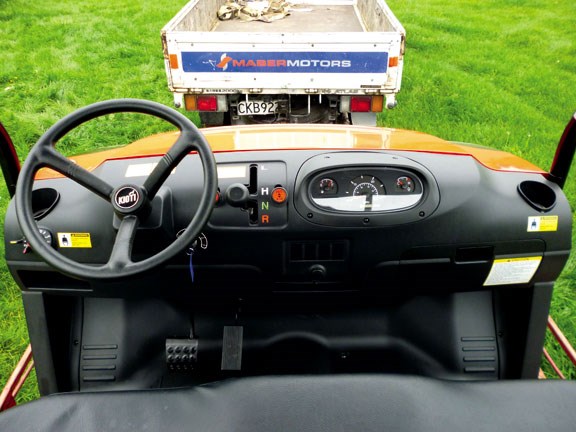 It now seems like every bike manufacturer is offering a side-by-side or UTV option in their range. Brent Lilley has checked out a lot of bikes recently, so when the offer arose to try a Kioti Mechron 2200 UTV, he was very interested – and a little sceptical if we're to be honest.


When I was asked to take the Kioti for a test drive I had my reservations, especially as I hadn't heard much about the quality and functionality of these machines and about it being an emerging brand. Farmers like myself are naturally a little wary. Many would assume from the name that Kioti is a Chinese brand but, in fact, the first Kioti compact tractor was introduced in the US in 1986 - already some points on the board.
The test
Brett Maber of Power Farming kindly organised a paddock to carry out the test and got a couple of guys from Maber Motors to deliver the UTV to the test location. The area we tested the Mechron on was fairly flat, which was unfortunate as I would have liked a few steep hills to test it on, although we did manage to find a bit of a slope and a small gully down the back of the property.
Engine
The Kioti Mechron2200 UTV has a 1000cc, three cylinder, water cooled diesel engine, which is straight out of their smaller model tractors, giving Mechron its power. The diesel engine has been well proven in the Kioti tractors and develops an impressive 22 hp while still maintaining fuel economy.
I believe having a diesel engine in this type of vehicle to be a huge benefit, providing much lower running costs and it's simple to maintain and service. I guess the trade off for this is the increase in noise levels from the diesel engine located under the seat. Although there's plenty of grunt for towing or getting up a small hill, the acceleration definitely leaves a lot to be desired, I guess if we had to compare UTVs to horses then the Mechron is more of a Clydesdale than a thoroughbred.
Transmission
The Kioti Mechron uses a continuously variable transmission (CVT) through a two-speed gearbox with hi, lo, neutral and reverse. This set-up works well, with hi and lo giving a good range of controllable speeds. Top speed is theoretically 40kph, although I imagine you would need a fairly long stretch of flat ground to hit 40kph. It's good to see the CVT in the Kioti rather than the hydrostatic drive found on some other machines on the market.
The one problem I found with the transmission is the same problem I have seen from a lot of manufacturers using a centrifugal clutch and a CVT: the machine will free-wheel when you are going downhill, unless you accelerate a little to engage the clutch for the engine braking to work. This is not a major problem but it is a little unnerving to begin with. In response to this, Kioti's representatives suggest two things: first, that the Mechron has extremely good brakes that will stop it on a hill anyway; and second, as an option, they can fit a hand throttle that can be set just above idle when the machine is being used on hills.
Drive train
The Mechron has selectable 2/4WD, with a lever on the dash next to the gear shift, there is a limited slip differential in the front and the mechanically lockable differential on the rear axle that can be engaged with a lever on the dash also.
In the front, there are independent MacPherson struts that are mounted on single A-arms. In the rear are independent adjustable shocks mounted on double A-arms to give a smooth ride whether loaded or not. The drive comes out to the wheels through booted drive shafts and there are hydraulic disc brakes on all the wheels and a mechanical handbrake on the rear wheels. The chassis is built out of strong steel box section, with a ROPS frame built from tubular steel to protect the driver and passengers, this also so comes with a tough plastic canopy on top for shelter.
Controls and layout
The layout is fairly good, with a flat walk through floor platform and comfortable contoured bench seat that can easily seat three decent sized guys safely with three seat belts. The controls are all within easy reach of the driver and the display on the dash includes a speedometer, hour meter and fuel gauge. This model had power steering as an option but on all new Mechrons going forward, power steering will be standard. The plastic bonnet on the front opens to give access to the radiator. There is a filler bottle for the radiator level that can be seen under the wheel arch without having to open the bonnet, a fine removable steel mesh screen on the front of the radiator was also good to see.
The load bed is where the Kioti is really impressive, it has steel sides with a tail gate that can be opened and the floor is constructed of sturdy checker plate steel. The deck itself is quite large and has dimensions of 978mm long by 1427mm wide and with a rated load capacity of 500 kg, it is big enough and strong enough to cart most things around the farm.
Hydraulic tipping comes standard on the Mechron and this is very well set up. There is a hydraulic pump driven off the engine that pumps though a spool valve block above the rear axle of the machine. The tipping ram for the load is plumbed into the spool block with 3/8 inch couplings. This, in my eyes, is one of the standout features on the machine as the pipes for the load bed can be uncoupled and essentially you have a auxiliary hydraulic valve that can be locked into constant pump or float. This could be used to power implements like a wood splitter, a trailed bale feeder or anything else you feel like putting behind your Mechron. There is also an option of an extra hydraulic slice that can be fitted to give two sets of spool valves.
Verdict
After having a good look over the Kioti Mechron 2200 UTV and driving it around in the paddock, my initial thoughts of the machine have definitely changed. The build quality and the thought that has gone into it is impressive. The Kioti is a workhorse that's low maintenance and has low running costs, while the ability to carry a large load and three people safely and within regulations is a huge plus in my opinion. Ideas like the hydraulic tipping load bed that can be uncoupled and then used as auxiliary spool valve, plus the mesh screen on the radiator and a rear diff-lock, all add to value of the Mechron. As I've mentioned, having a diesel engine means it's not built for impressive speed and acceleration so if you like to race around the paddocks, you're best to look elsewhere. However, overall I believe this is a sound investment and would be suitable for a wide range of applications and situations, from large and small farms to lifestyle blocks, orchards and even construction situations.
Subscribe to our newsletter
Sign up to receive the Trade Farm Machinery e-newsletter, digital magazine and other offers we choose to share with you straight to your inbox
You can also follow our updates by liking us on Facebook. 

Graders For Hire | Cranes For Hire | Telehandlers For Hire | Excavators For Hire