Review: Giltrap six-tonne tip trailer
---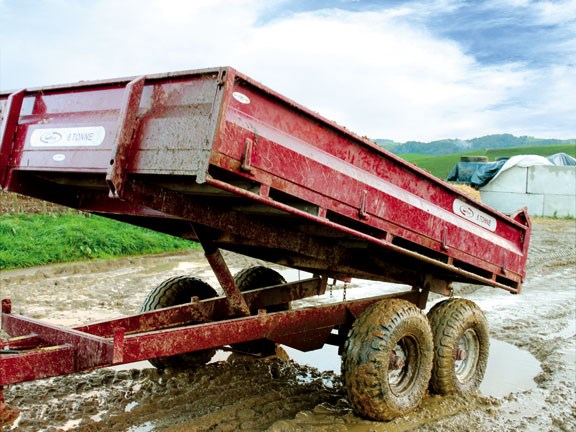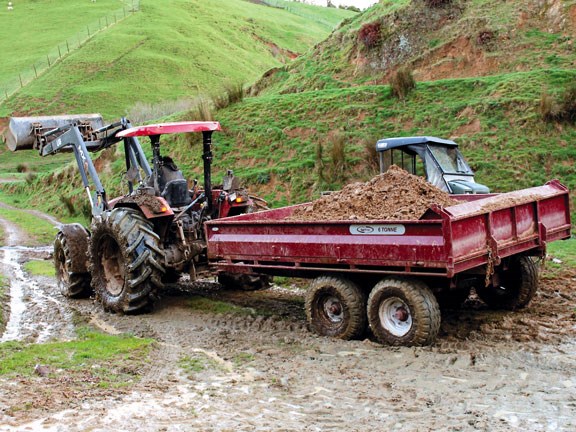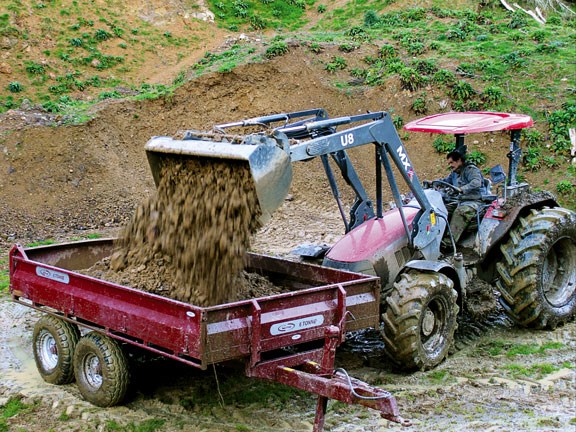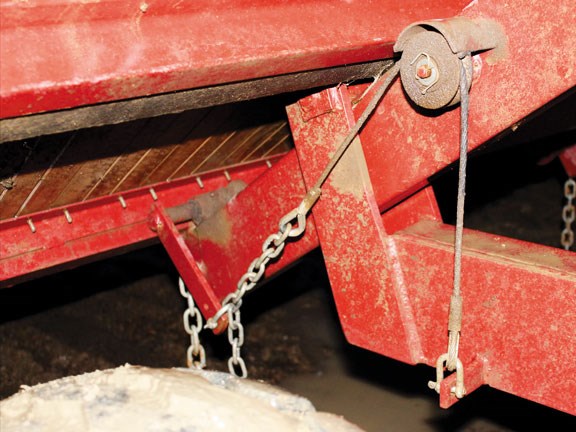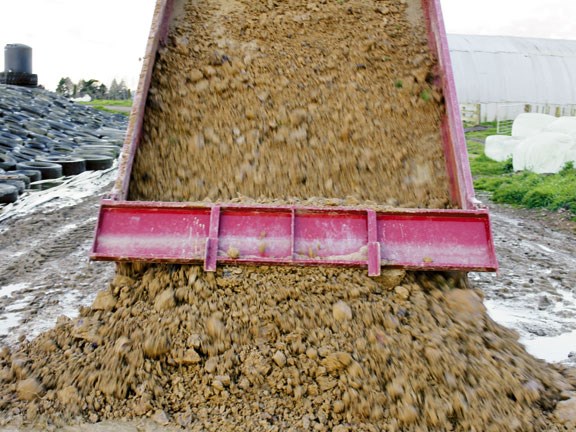 This month Mark Fouhy decided to take a closer look at what goes into making what he considers some of the best farm tip trailers on the market.


Where I currently work, we have a number of Giltrap machines, including a six-tonne tip trailer bought 18 months ago, which replaced a smaller three-tonne Giltrap trailer. So having had a fair bit of hands-on experience with the Giltrap product, I was keen to see what goes on behind the scenes.
On my 20km road trip to catch up with Craig Mulgrew, managing director of Giltrap Engineering Ltd, I counted roughly six to eight Giltrap trailers/tankers on different properties along the way - a true testament to the quality and reliability of these machines.
Construction
Giltrap Engineering has been manufacturing farm equipment for over 50 years and trailers since 1959. Over this time, the team has worked hard to refine and almost perfect their designs in order to provide farmers with the extensive range that's available today.
The 70-odd staff employed by Giltrap make all Giltrap trailers (and other machines) on site at the factory in Otorohanga New Zealand- 900 to 1000 of them each year. Among the staff is a team of designers responsible for making sure your trailer has maximum strength, low tare weight, the ability to handle heavy workloads and minimised excess weight for fuel savings.
All Giltrap machines are CAD designed before going into production.
The steel used on the tip trailers is medium-tensile grade-350, which is used to prevent cracking. I like the standard 35mm treated shiplap pine - a little thinner than some other brands (40mm). Given some of the large gum logs I have loaded and tipped off our six-tonne tip trailer, it still looks like new.
With the standard timber option, operators can replace the floors themselves, as and when necessary. There are a couple of options for the steel floors, either 2mm overlay or 4 to 6mm high-tensile plate, with extra cross members in the full steel floor option.
All the raw steel goes through a sandblaster before being painted with a two-pack primer. Before it is completed, a two-pack polyurethane gives the trailer a tough, hardwearing finish, which will keep it looking good for years.
The construction of a standard trailer from start to finish takes between two and five days and a little longer for a custom build.
Trailer range
As I mentioned, I've been using a Giltrap six-tonne trailer for the past 18 months, usually pulled with a 105hp tractor or sometimes the 125hp Case. Both tractors cope with the load relatively easily and could pull an eight-tonne unit pretty well also.
Giltrap Engineering's selection of farm tip trailers ranges from three to eight tonnes. The size that will suit you depends on what you plan to do with the trailer and how many horsepower you have to pull it with.
I asked Mulgrew whether Giltrap has a suggested horsepower requirement for each trailer size. He answered "no", because no two owners are going to use their trailers in exactly the same way. However, Giltrap does feature a calculator on its website so customers can work out the carrying capacities for each model with a variety of products/loads.
The 10 to 16-tonne range is aimed at contractors and larger dairy operations, with a heavier build construction as standard in order to cope with higher day-to-day workloads.
The 10 to 14-tonne HD (heavy-duty) series targets small-scale quarries or serious off-road dumper work and requires a high-horsepower tractor to pull it with.
Giltrap six-tonne tip trailer
Let's be honest: most farmers don't give their farm trailers a whole lot of care and attention. Luckily for us, our Giltrap six-tonne tipper has grease nipples on all the moving parts, is made of quality steel and has a quality paint job, so it will take a fair bit of punishment, which is what you want in a farm trailer.
I would have thought that the weight of the gum logs we cart or the wet rubble used to build up the holes around troughs and gateways would have been the limit for this trailer, but I haven't yet had trouble tipping a load. The wide wheelbase also adds stability so you never feel like it's going to tip over when dumping on uneven ground.
I find the spreading chains and auto-release tailgate very handy. If you are filling round a trough, you can dump some or all of your load, depending on what you require.
Quick-hitches can also be a handy tool for towing implements. Giltrap has a relatively new model quick-hitch, rated for use on trailers up to 12,000kg GVM which can cope with the RF21 (Giltrap's biggest silage wagon), so it should handle all other Giltrap trailers, no worries - as long as it isn't used for dumping loads because you don't have downward pressure on the three-point linkage.
The quick-hitch can be a great time saver and is excellent when self-loading balage. Over the summer, I shift 400 to 500 3ft x 6ft square balage bales and can carry eight/nine at a time, depending on where I am and where they are going. This is about 7500kg - as much as the trailer can carry.
Another great feature are the easily adjusted sides. I can get these on and off by myself, without tools. The six-tonne model has the longest sides of the range and I wouldn't want them any longer as they'd get too heavy. The eight-tonne is designed with two-piece sides, which are slightly easier to handle, with an extra stay post in the middle as well as at the back adding strength.
The only thing I would like but don't yet have is a foot for the quick-hitch, which goes under the drawbar.
The one downfall of our trailer is cracks that have formed in the jack mounts. I spoke with Mulgrew about this and he suggests a bigger jack, but I also think a few support brackets through to the other side of the drawbar would do the job, as even fully-loaded, the current jack has worked fine when the foot has sunk into the ground. It has just needed to be wound out some more to get back on the tractor.
Options
Although Mulgrew says the company doesn't make 100-tonne trailers, the team is happy to discuss pretty much any other options you would like for your farm trailer. If the one straight off the shelf is not quite what you're looking for, they'll be happy to cater to your needs.
For example, if you're a farmer doing your own silage and want to add a silage crate, you can order a lighter option that can be pulled apart, making for easy storage in your shed. If you are a contractor wanting a silage crate that's being used 12 hours a day for 12 weeks straight or even longer, it would be built stronger in order to cope with those demands. This is where the CAD design programme comes in handy and can help design a trailer to suit your requirements.
The six-tonne trailer's tandem, oscillating axle and big tyres provide a much smoother ride than a single axle, making it perfectly fine for farm use. But for contractors, a preferred option would be sprung suspension or hydraulic suspension, like the big trucks use, which would provide ride height options and even pressure on all wheels, making them safer should a wheel go down a hole in a rough paddock - hopefully saving time, accidents, and money.
Braking options are also important, as we know it's not how fast you can pull something but how fast you can slow it down. Full brakes, hydraulic and/or air options are available, too.
The price
The cost of a standard six-tonne Giltrap trailer is $17,700 (ex gst). At this price, they are not the cheapest but not the most expensive, either. However, with a Giltrap trailer you not only get a well-built piece of machinery, you also have a nationwide backup team to support you through local dealers. Local dealers store all the parts you need and if they don't have it on location, they courier it out to you within 24 hours.
Wrap up
The quality level and lifespan would leave a lot to be desired. So if you want a quality unit that will handle all that Australia's agricultural conditions can throw at it, year after year after year, I suggest you have a look at a Giltrap trailer.
The longevity of these machines is impressive. In fact, I recently saw an old three-tonne Giltrap trailer for sale. It had been rebuilt, re-painted and had new side boards. Not quite new anymore but good for another 10 to 20 years.
I have now seen for myself the work that goes into these hardy trailers. With equipment such as the robotic welding machine, sandblaster, computer-controlled bending equipment and CAD design software, it is no wonder Giltrap Engineering makes such robust and reliable trailers for Australian, New Zealand and international conditions. I think the old saying 'Nobody ever regretted buying quality' is quite true here!
If you're looking for used farm trailers for sale, check out our listings.



Subscribe to our newsletter
Sign up to receive the Trade Farm Machinery e-newsletter, digital magazine and other offers we choose to share with you straight to your inbox
You can also follow our updates by liking us on Facebook. 

Graders For Hire | Cranes For Hire | Telehandlers For Hire | Excavators For Hire