Review: Polaris Sportsman 400 H.O. ATV
---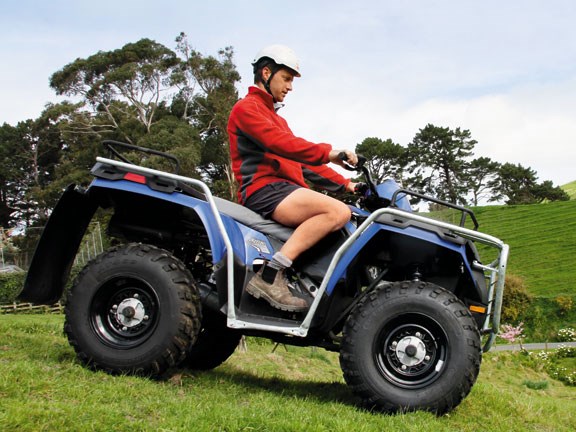 Polaris Sportsman 400 is a lot bigger and wider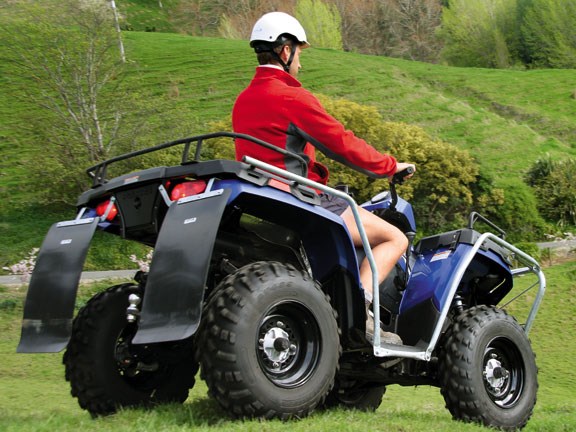 Polaris Sportsman 400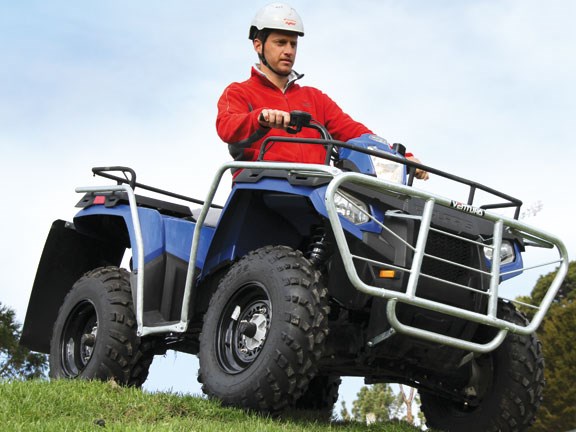 Polaris Sportsman 400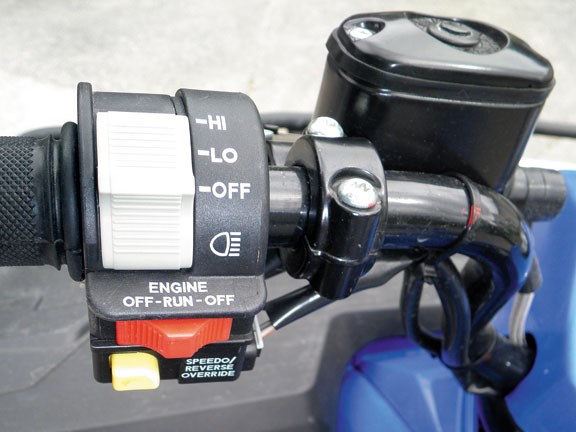 Polaris Sportsman 400 left thumb button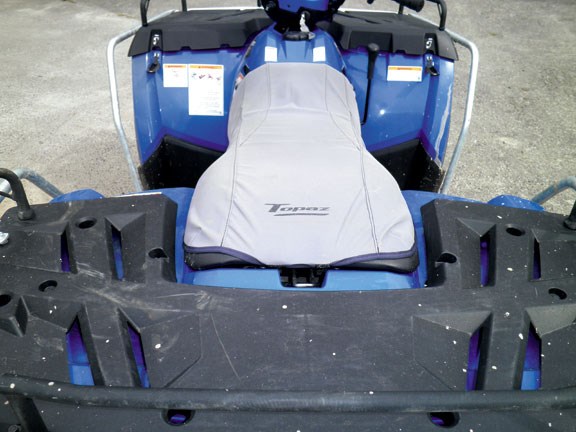 Polaris Sportsman 400

First impressions count for a lot, especially when it comes to physical attributes. The same can be said when appraising the vital statistics of a new quad bike model.

My first impression of the 2012 Polaris Sportsman 400 H.O. was of a bike that was a lot bigger and wider than expected. For some reason, the vision I had in my head of Polaris' smallest farm quad was quite small, so seeing the wide track and elevated height of the seat was a pleasant surprise.
Once seated on the bike, the height and width becomes even more apparent. Some larger quads I've ridden have felt too high off the ground for their mass. The risk with raising the seat height is that if you don't have the centre of gravity low enough, the quad can be top heavy. This in turn causes stability issues, especially when traversing around the side of hills. The Polaris 400 H.O. appears to have got the mixture spot on. Wide foot wells offer good space for your feet and the simple controls are more than enough for farm applications.
Simple but effective
The dash is very simple, with the key and choke the only features present apart from the digital display. This has a speedo, tachometer, trip and hour meter, which is switchable with a left thumb button on the handlebar. This button also doubles as a reverse speed override. When you engage the reverse gear, speed is limited to next to nothing, unless your thumb is depressing the yellow override button. Not only does this make you think about your backing, it prevents jerking backwards at speed if you happen to forget you are in reverse. Yes, that does happen!
The front carrier has been completely redesigned to incorporate a new storage facility. A couple of latches undo to allow the carrier to rise up, revealing a 22-litre storage compartment. In practical farming terms, this would hold a hammer and some fencing gear on one side and a pretty hearty lunch bag on the other. Having a waterproof storage compartment built into the quad saves the need for buying a front carrier box, preserves forward visibility, and also frees up carrier space.
Handling and comfort
Once underway it soon became apparent that the handling of this model is superb. The Independent Suspension offers 240mm of travel, evident when under heavy acceleration across rutted ground. Not only does it offer a smooth ride, the quad accelerated without any raising or lowering of the seat height.
But it was riding around the side of some reasonably steep hills where the Sportsman 400 H.O. showed what it's really capable of. I was a little apprehensive about how it would handle, but I needn't have worried. As always I raised my body position to the topside of the bike while sidling, and at no stage did I feel the dread of having a top-heavy quad.
The bar has been raised in terms of ground clearance, with this model offering 286mm. The radiator has also been lifted about 70mm higher to keep it clearer of mud and water. These two features are especially beneficial during the winter months, and could well be the difference between getting stuck and getting home.
In terms of power, the thumb throttle delivered the grunt crisply and without fail. The H.O. of the 400cc H.O. stands for 'high output'. Many quads have slightly less engine capacity than they advertise, but this Polaris is different. It has a 453cc engine, which may explain why it felt like it had more grunt than a normal 400cc quad. Hitching up a trailer with some fencing gear made very little difference to the engine, even when climbing hills.
Engine braking
Polaris offer a range of ATVs with engine braking, including the Sportsman 550XP, 550XP EPS, XP 850. The standard model Sportsman 400 I was testing didn't come with engine braking, and the manufacturers reasoning is that it's been designed for flat to rolling properties. The lack of engine braking only became an issue when I negotiated a steep decline. When in high gear I approached a downward path and it felt like there was going to be some assistance from the engine. As with other CVT transmissions, I knew that I had to keep a little throttle on in order to keep the engine working, and hopefully braking. Alas, this just kept increasing my forward speed until I was reluctantly forced to rely on the brake lever for my descent. Trying the same thing in low gear made no real difference and left me frustrated that I had to place so much emphasis on the brakes. According to the Polaris website, an engine braking system is available as an accessory and would be a no brainer for anyone looking to buy one that lived on anything other than a flat to rolling property.
On a positive note the Sportsman 400 H.O. has an excellent braking system. The left-hand brake lever controls all four wheels hydraulically, with the right foot-lever just controlling the rear brakes. As with the acceleration, the braking is crisp and powerful if needed without moving the chassis into a sudden nosedive.
Summary
Even with the lack of engine braking - which is available as an accessory - the Sportsman 400 H.O. is a very capable quad. It's ideal for flat to rolling properties, but also performed well on the hills. It has exceptional suspension, plenty of power and great features. 

If you're looking for used Polaris ATVs for sale, check out our listings.


Subscribe to our newsletter
Sign up to receive the Trade Farm Machinery e-newsletter, digital magazine and other offers we choose to share with you straight to your inbox
You can also follow our updates by liking us on Facebook. 

Graders For Hire | Cranes For Hire | Telehandlers For Hire | Excavators For Hire