John Deere Gator 855D XUV Review
---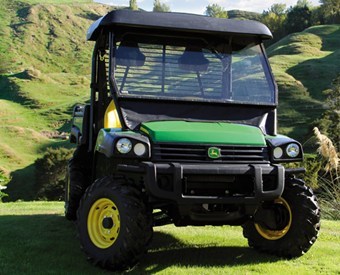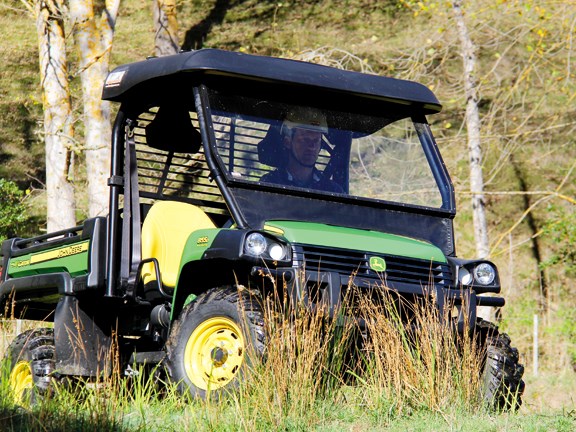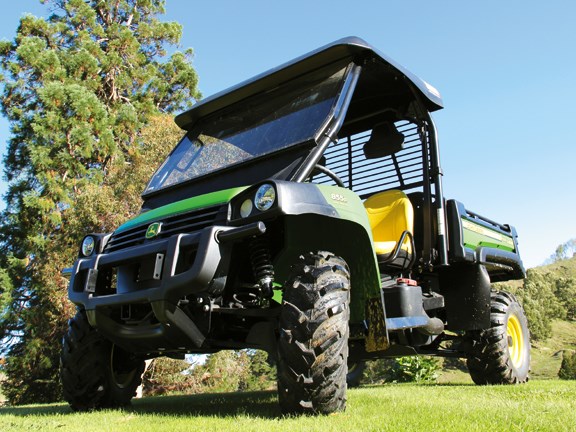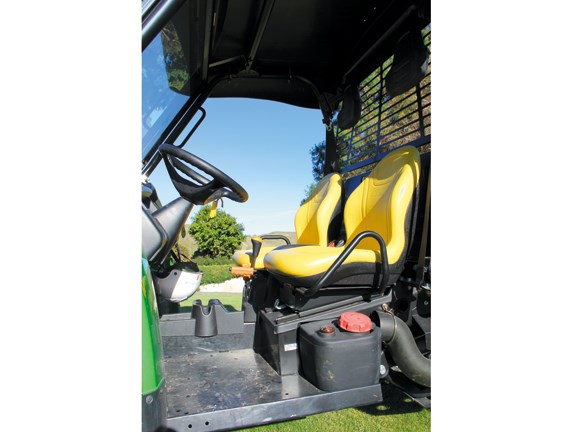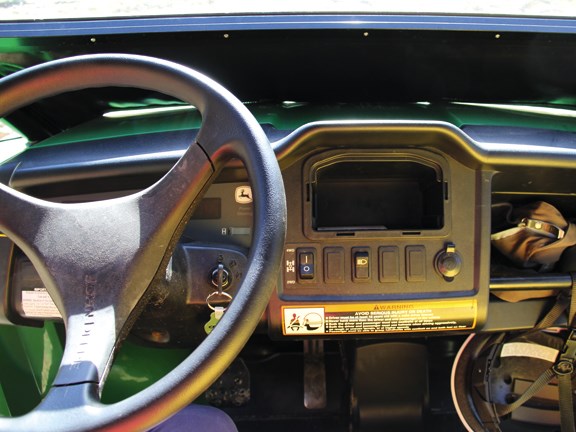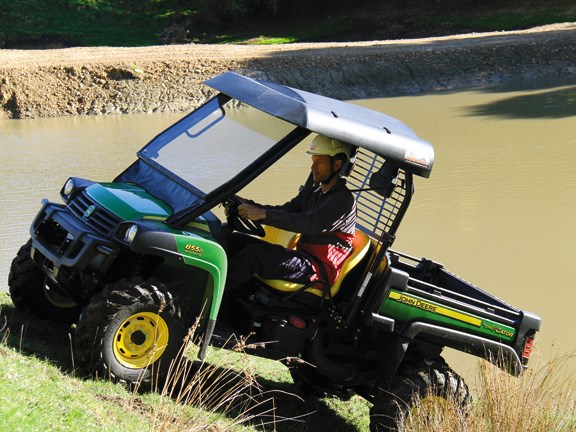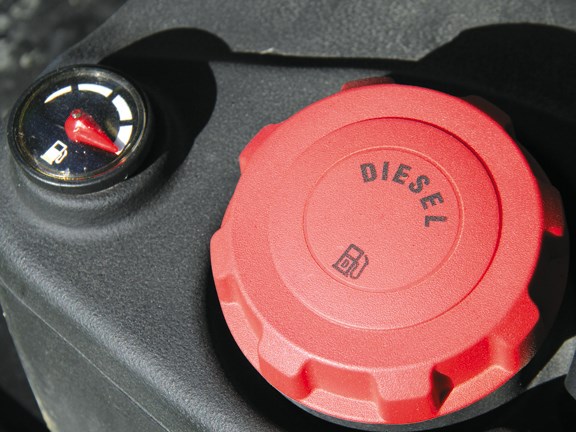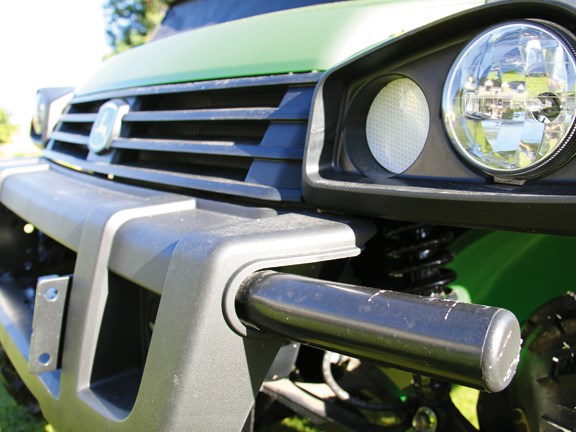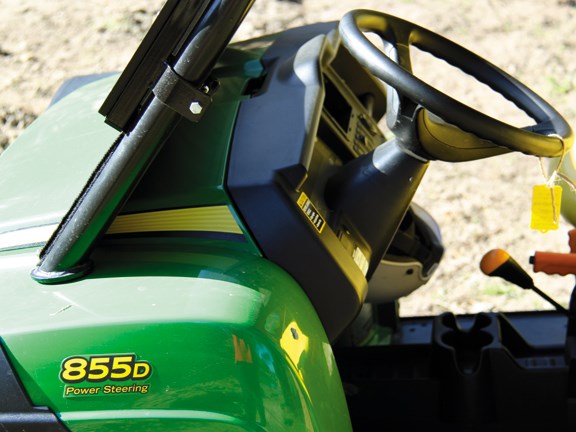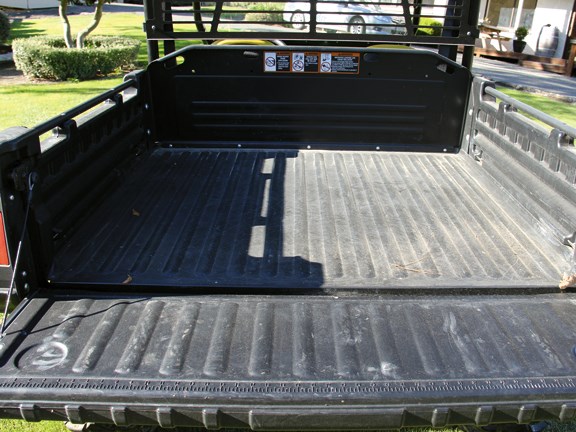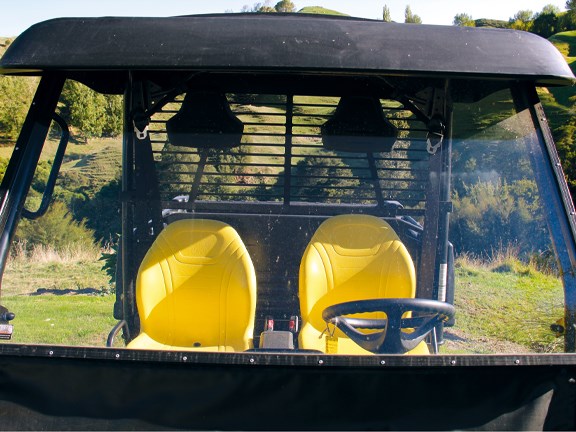 John Deere has long enjoyed a reputation for building bomb-proof machinery. So it should come as no surprise the range of XUVs carries on this tradition.
The Gator 855D XUV (crossover utility vehicle) is a no-nonsense green machine with serious off-road ability. The model tested by Trade Farm Machinery came equipped with windshield, roof and back mesh screen — no-brainer accessories for anyone considering a side by side.
Cockpit comfort
Most farms have plenty of gates to open and close as workers go about their daily business. So getting in and out of a vehicle becomes a big deal when you have to do it many times. The Gator 855D has addressed this issue in spades and you could fire a shotgun through the cabin at knee height without hitting anything. "But what about mud flinging up from the front wheels?" I hear many farmers ask. Well, the John Deere boffins have addressed this as well by building bigger wheel arches to stop splattering in wet conditions. This simple process should make other side by side manufacturers sit up and take notice. There is nothing more frustrating than slamming down the throttle to get through a wet spot in winter and giving yourself a mouthful of crap in the process.
There's something going on here
I have owned and operated my share of off-road machines over the years. So when it came to taking the Gator 855D for a spin I wasn't expecting many surprises. Heading up and over a hill from the woolshed, the machine performed to expectation but there was something nagging me as I jumped out to open the first gate. The Gator felt different to drive yet I couldn't put a finger on what it was. Dropping down into a farm gully, it wasn't for another couple of kilometres that the penny finally dropped. It was the power steering. Having only ever owned 'arm strong' off-roaders with no power steering, finally driving one with this option was bliss. Not only was the steering lighter and crisper, it almost meant you didn't even have to think about steering as any sort of kickback from bumps was eliminated. I had previously dismissed power steering as being an optional extra I could do without but after driving the Gator 855D, I can certainly see the merits.
If you are looking for high-end top speed, this model of Gator may not be for you. It tops out around the 50km/h mark, but this is ample for farm applications. One aspect of this machine I did appreciate was the throttle control. At low throttle, the Gator 855D is still responsive and can easily be handled by drivers lacking in confidence. Some side by side machines have a tendency to be a bit touchy on the gas which can put inexperienced operators in sticky situations. This machine has a steady throttle offering and still delivers speed and power but you have to bury the boot to find it, which is the way it should be.
Switching from 2WD to 4WD is as easy as flicking a switch on the dashboard. When the Gator 855D was put into a wet creek crossing, traction remained constant and the machine continued unchecked.
Like many John Deere models, it is easy to see the Gator 855D is built to work. It has a large tray capable of holding 450kg and the overall payload is 635kg. So I loaded some fence posts on the back and hooked up a farm trailer to see how it performed. Under load and pointed at a reasonable hill, the engine knuckled down and went to work. There is plenty of torque on offer and the extra weight had no discernable effect on handling. If there was one gripe I had with this machine, it would be the engine braking, or lack of it, during descents. Even though there is some, there could be more and I found myself relying on the brake pedal a bit more than I would have liked. The tray also has a gas-assisted strut to help unload the tray quickly.
John Deere Gator 855D XUV
There are various acronyms and nicknames for side by side off-road vehicles. The Gator XUV is specifically aimed at being a dual-purpose machine. Whilst having the goods to deliver across a range of farm applications, the XUV range is also designed with recreational purposes in mind. It boasts good ground clearance and a comfortable ride thanks to independent dual-arm suspension both front and rear. The wide wheelbase provides excellent stability when driving around the sides of hills and having a fully-sealed clutch system means wading through water nearly two-feet deep is possible.
The cabin almost has a car-like feel with the roof, windscreen and back mesh added on, and chances are this is what John Deere was trying to achieve with its design. The seatbelts, gear selector and hand brake could all be straight out of a sedan and bring a comfortable sense of familiarity to the cockpit. There are also two drink bottle holders in between the seats for holding beverages whilst driving.
Summary
As you would come to expect from a machine made by John Deere, the Gator 855D is incredibly well built. Its ease of use and comfort means it has a wide range of applications, from moving hay around stables to being a fencing carrier. It is a good solid performer that shouldn't let you down provided it is used in the way it is designed. It has more than enough capability to be used as a recreational vehicle as well, and would provide an entertaining and comfortable ride. The power steering makes driving a dream and this aspect alone should make the Gator 855D popular with farming folk.
Highs
Built tough
Easy to use for inexperienced and experienced operators
Great clearance and carrying capacity
Plenty of grunt
Diesel efficiency
Lows
Subscribe to our newsletter
Sign up to receive the Trade Farm Machinery e-newsletter, digital magazine and other offers we choose to share with you straight to your inbox
You can also follow our updates by liking us on Facebook. 

Graders For Hire | Cranes For Hire | Telehandlers For Hire | Excavators For Hire