Deutz-Fahr Agrotron 620 TTV tractor review
---
The Deutz-Fahr Agrotron 620 TTV tractor is what happened when Deutz-Fahr designed a tractor with advanced technology, common-sense simplicity and an engine that could function on 100 percent biofuel. In doing so they set a new standard for an increasingly environmentally- and cost-conscience farming sector.
Deutz-Fahr's new Agrotron TTV 620 tractor has been designed with the new generation of computer-savvy farmers firmly in mind.
For those more accustomed to using clutches, gears and accelerators, this is a completely new driving experience. However, the layout, colour coding and convenient positioning of function controls makes adapting to this hightech machine relatively easy, a recent test by NewFarmMachinery found.
In fact, the tractor takes care of most of the engine and transmission functions, giving the driver more time to concentrate on the correct operation of ,the implement they are using.
Anthony Darveniza, Ag Tractor Division Product Manager at PFG Australia, Deutz-Fahr's Australian distributor, says the Agrotron TTV 620 was introduced into the Australian market early this year after requests from farmers for a technically advanced mid-size tractor that was easy to operate. 
He points out the Agrotron TTV 620 has been designed with three key factors in mind: economy – the aim was to simultaneously increase power output and reduce fuel consumption; techno-friendliness – incorporating the latest technology while maintaining ease of operation; and comfort – keeping in mind that farmers and contractors spend many hours in the cab, a strong focus has been maintained on comfort to aid in reducing fatigue for the operator.
"PFG Australia has recognised this and specced up a tractor standard with a 50km/h infinitely variable TTV transmission, cab and front suspension,
120l/m closed centre hydraulic system and which is, most of all, easy to use,"
he says.
ENGINE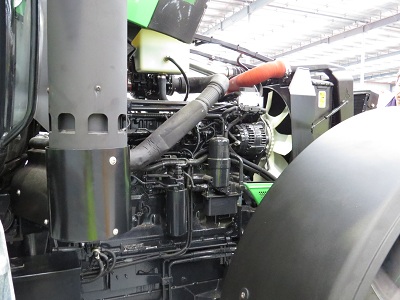 With 184hp (135kW) to draw on and capacity to produce up to 693Nm of torque the TTV 620 delivers all the power required of this class of tractor.
The six cylinder, liquid-cooled turbo diesel engine is fed by a state-of-the-art Deutz-Fahr common-rail fuel delivery system (DCR) which provides highpressure fuel injection (up to 1,600 mbar) using two fuel pumps working in tandem to deliver a constant fuel supply to the motor under all conditions.
Reliability of the fuel pumps is further enhanced as they are constantly lubricated by engine oil rather than the more traditional means of diesel fuel, thereby removing the chances of water and other contaminants finding their way into the fuel and compromising the working efficiency of the pumps.
By combining the DCR with electronic engine control (EMC) the innovative Deutz-Fahr power control (DPC) system has been achieved, giving the engine the built-in capability of supplying added power precisely when required.
Built to 2012 Tier III emissions standards, the TTV 620 also delivers environmental benefits; and performs equally well running on 100 percent biodiesel or conventional diesel fuel.
"This technology delivers the highest and most economically-efficient power
at all times depending on the load situation. The driver can, therefore, relax while working because the engine offers sufficient reserves of power, excellent flexibility and reduced fuel consumption at all times," Darveniza says.
TRANSMISSION
An infinitely-variable transmission, developed in collaboration with ZF, delivers a "new dimension in step-less transmission technology", he adds.
"Practical operating convenience, maximum efficiency and exemplary economy are the main characteristics [of the transmission]," Darveniza says.
With this transmission operators can select from three modes of operation: 'automatic', which lets the tractor do all the thinking; 'PTO', which allows economical operation of the tractor at constant engine speeds; and 'manual', which gives the operator more control of the machine.
To put the Agrotron TTV 620 to work the operator simply selects the desired working speed and then sits back and lets the tractor's on-board computer adjust the revs required to achieve that speed in the most fuel-efficient manner. If the going gets tough revs increase and then accordingly the revs decrease as working conditions get easier.
Different tasks require different driving techniques, so Deutz-Fahr has fitted a function which controls the rate of acceleration. I found working with a front-end loader in a tight space required much slower acceleration. When baling or cutting hay this function also prevents undue stress being applied to the implement by placing too much load too quickly.
Conversely, when carrying out farm duties where it is important to reach optimum speed as quickly as possible, the operator simply turns the acceleration control knob fully clockwise for maximum response.
"The demands made of a modern, infinitely variable transmission are clear – high
attractive force with a low hydrostatic involvement, maximum economy and most importantly, user convenience," Darveniza notes.
PTO/3-POINT LINKAGE/ HYDRAULICS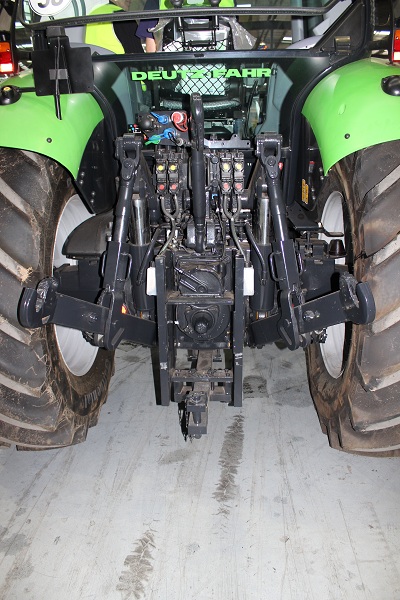 While we didn't have the opportunity to get our hands on an implement to hitch up to and fully explore the TTV 620's capabilities, from inside the cab operation of these functions was easily identifiable through colour matching and in no way complicated to engage for the operator.
Two yellow levers control PTO functions. One selects either 540 or 1,000rpm; while the second allows the operator to work the tractor in 'normal' or 'economy' mode depending on conditions. It is then as simple as engaging the PTO via an electronic button on the control panel. The hydraulics (blue lever) and the linkage (green lever) are all activated through simple touch buttons on the PowerComV joy-stick.
Adjusting oil flows to these functions and setting lifting heights can all be fine-tuned from the control panel. These functions can also be easily controlled from outside the cab via conveniently placed buttons on the rear mudguards.
"With the Agrotron TTV 620 you get a pressure and volume-controlled hydraulic system with a pump flow capacity of up to 120l/m and a system
pressure of 200 bar.
"Combining this with large dimension lifting cylinders gives the TTV 620 a tremendous lifting force of 9,200kg on the rear and 4,000kg on the front
linkages," Darveniza says.
THE CABIN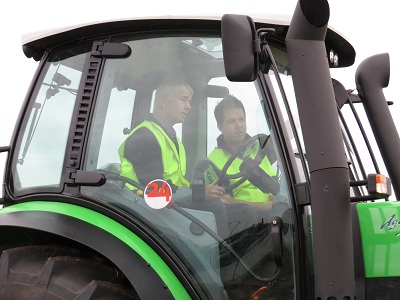 The huge single-panel glass doors on either side of the tractor, combined with well-placed hand grips, allows for easy entry into the cabin.
After adjusting the air pressure in the seat to suit my weight and bringing the steering wheel down to my desired height it became obvious a lot of
thought had gone into the cabin design.
All gauges and screens are within easy vision and levers and dials are close at
hand, providing me with confidence that I was well and truly in control of the
tractor at all times.
Deutz-Fahr's focus on driver vision is clearly evident. The large side doors hinged on pillars are situated behind the head and shoulder line of the operator; while the narrow front support pillars mean vision to side and front is virtually
unobstructed.
Slide back the shade on the sunroof and the hassle of losing sight of the front-end loader at full height is gone. Instead of leaning forward over the steering wheel and straining my neck to see if I was about to hit the roof of the hayshed I could lean back and remain in a comfortable position at all times.
Driver comfort is further enhanced with the combination of hydraulic  suspension on the front axle, mechanical or pneumatic (on request) suspension on the cab and pneumatic seat suspension, all coming together to ensure I had the smoothest ride under the roughest of conditions.
The TTV's high level of driver comfortallows for easy use of the colour-coded controls on the PowerComV joy-stick and control panel, including: engine and transmission management (orange); three-point linkage (green); hydraulics
(blue); and PTO (yellow).
Most common functions can be carried out via one-hand operation.
In addition, repetitive functions can be programmed into the tractor's memory
via the PowerComV joystick and the Comfortip function. Here individual operating sequences can be installed and reactivated by pushing the operating lever.
For example, when approaching a headland the tractor can be slowed, implement raised, direction changed, implement lowered and normal working speed restored all just by tapping joystick to the left. Driving made easy!
THE FINAL WORD
A tractor manufacturer can produce a machine that includes every conceivable technical capability but you can guarantee that if it is too complicated to use many of the functions won't be utilised.
The Deutz-Fahr Agrotron TTV 620 includes an excellent balance of high-tech functions that are easy to understand and use.
With a starting price of around $150,000 plus GST and statutory and dealer delivery charges, the Agrotron TTV 620 presents good value for money.
HIGHS
• Comfortable, spacious and well-ventilated cabin
• Excellent vision
• Simplicity – all the necessary functions without going over the top
• Sight glass for hydraulic/transmission oil level
• 100-percent biodiesel compatible
LOWS
• Poor vision of draw bar hitch from within cab
• Daily maintenance points could be identified more clearly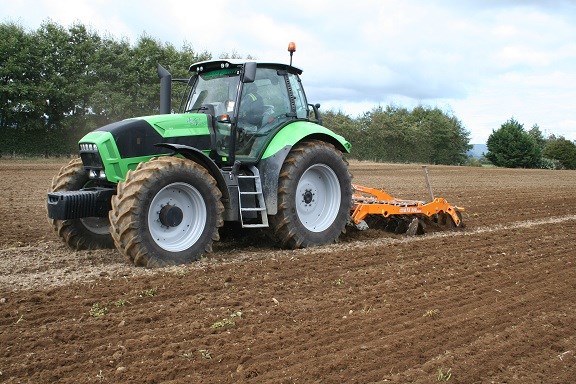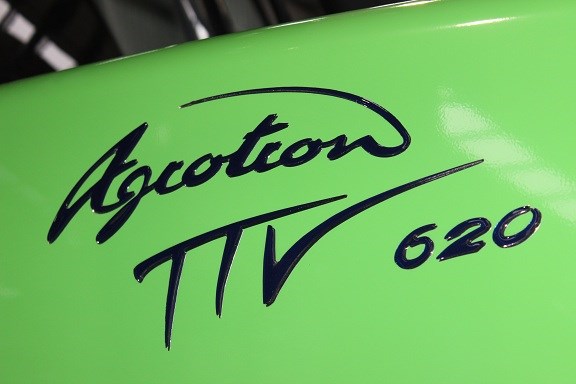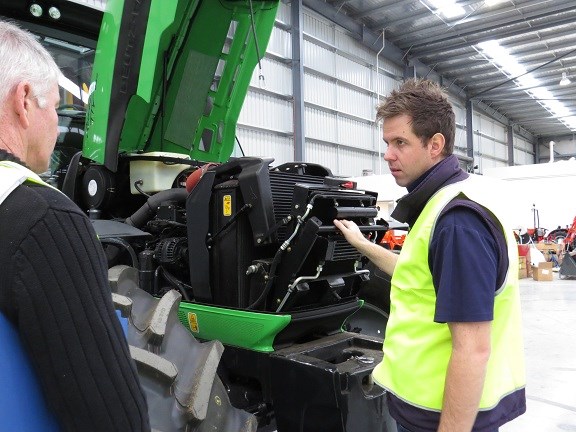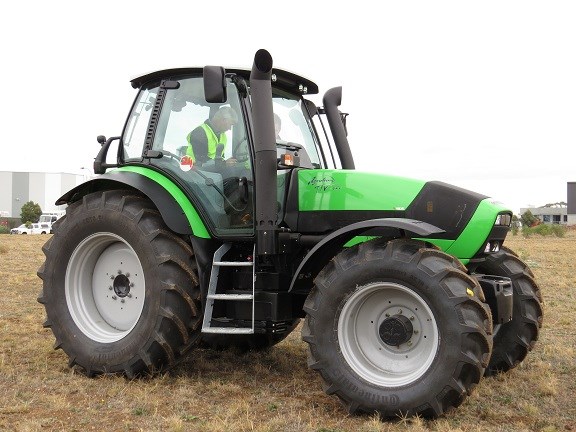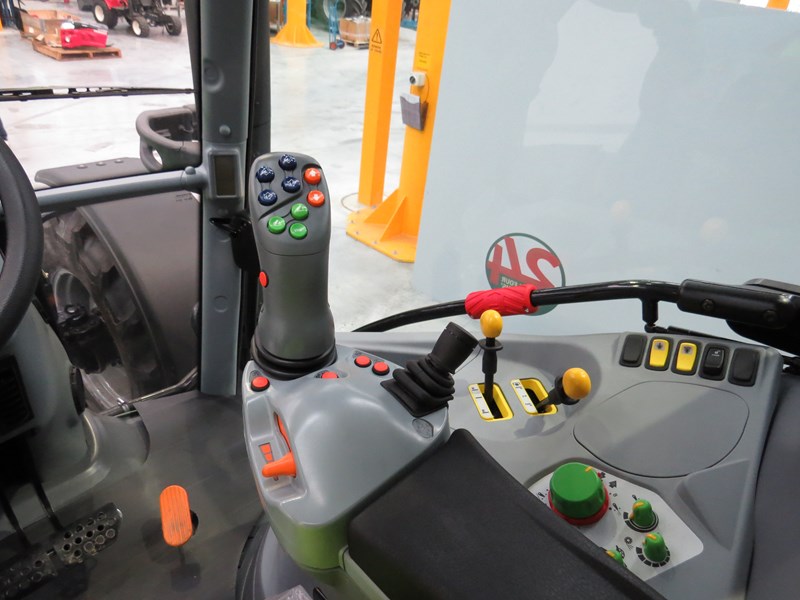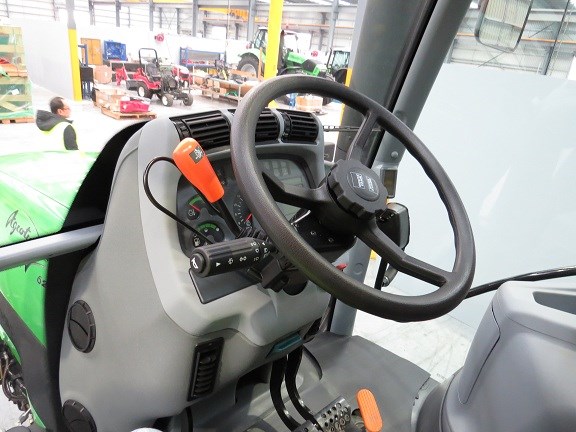 Subscribe to our newsletter
Sign up to receive the Trade Farm Machinery e-newsletter, digital magazine and other offers we choose to share with you straight to your inbox
You can also follow our updates by liking us on Facebook. 

Graders For Hire | Cranes For Hire | Telehandlers For Hire | Excavators For Hire