Review: Massey Ferguson MF4609 tractor
---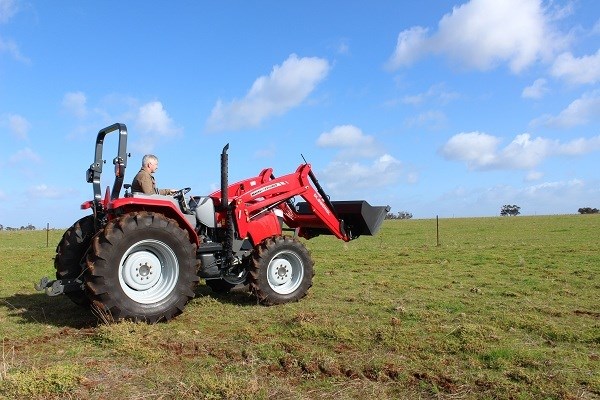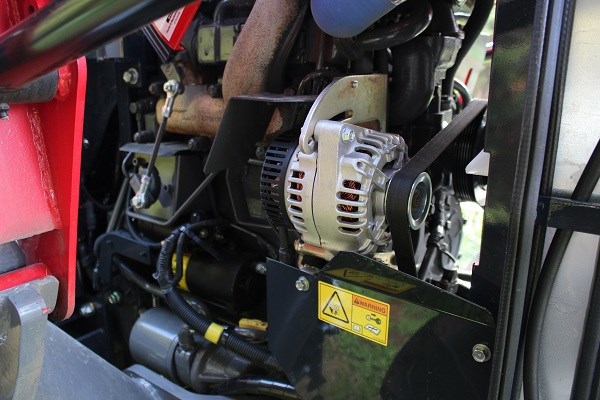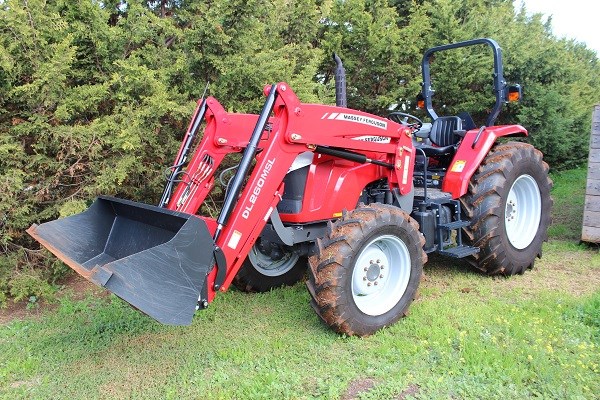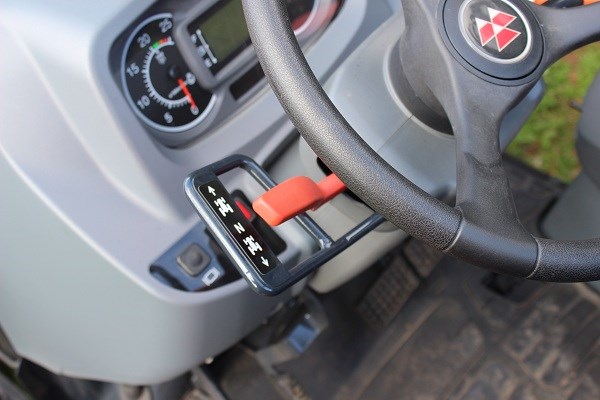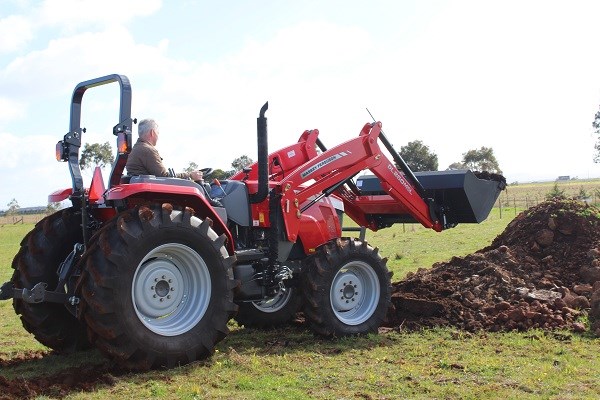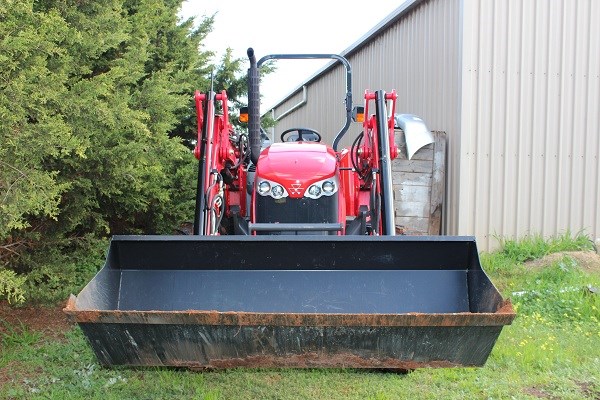 Anticipating a lightweight tractor largely suited to hobby farms, Tom Dickson was surprised to discover Massey Ferguson's new 4600 series are much larger, sturdier farm tractors powerful enough to take on most tasks.
As I turned into the driveway of the neatly-manicured Rokewood property where I had arranged to test drive the new Massey Ferguson 4609, I began to form an image in my mind of a lightweight runabout tractor that services the requirements of an extensive garden and lifestyle farm.
What I discovered, though, could not have been further from the truth. The large doors were rolled back on the machinery shed and there before me stood a much larger farm tractor, sturdier in appearance and set up with a loader that looked powerful enough to take on most jobs asked of it.
Fitting comfortably into the small to mid-range horsepower category, the 4600 series of utility tractors are well-equipped to service the ever-increasing demand from hobby and small-scale farmers through to the larger operations that require a second tractor to perform lighter duties on the property.
Available in three models – MF4608 (80hp), MF4609 (90hp) and MF4610 (100hp), with the option of either ROPS or cabin configuration, the MF4600 series is adequately powered by the new three-cylinder Agco Power engine.
Combined with the 12F/12R power shuttle transmission and ample hydraulic capabilities, the MF4600 is more than capable of carrying out all the tasks required of a tractor in this size bracket. Indications are there may be a creeper gear function added, thus increasing the transmission to a 24F/24R.
"The hydraulic power shuttle on the MF4600 series is one of the best on the market. Its modulation, even at faster speeds, allows for smooth shuttling between forward and reverse, making back and forth loader work even easier," Agco Australia Product Manager Saviour Mangion says.
Massey Ferguson 4600 Engine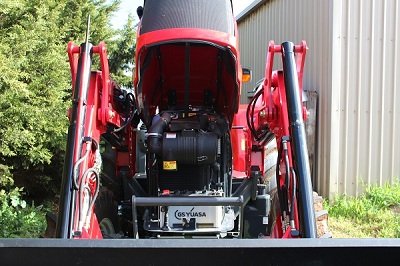 Massey Ferguson claim its new Tier 4i Agco Power 33 engine generates torque levels that are the same or better than comparable four-cylinder engines.
Each of the three cylinders is provided with four valves that allows for much better air flow through the engine, which in turn results in optimum power, improved fuel economy and lower emissions.
High-pressure common rail (HPCR) fuel injection atomises the diesel during injection for improved fuel/air mixing and more complete and powerful combustion.
The engine does not use a diesel particulate filter, so there is no need to regenerate the filter, saving time and money.
While a strong focus has been placed on simplicity of operation, advanced technology has been included in the MF4600 range.
The SisuTronic EEM4 electronic engine management system monitors all the engine's operations, adjusting fuel flow, injection timing and various other functions to optimise power and save on fuel.
I found it refreshing to jump on a tractor that was not overburdened with technical functions that many don't understand and never use.
With the tractor in park, a safety requirement for starting, a simple turn of the key fired the 90hp engine into life. Engine revs can be set via a lever on the right-hand side of steering column or foot pedal throttle.
Massey Ferguson 4600 Transmission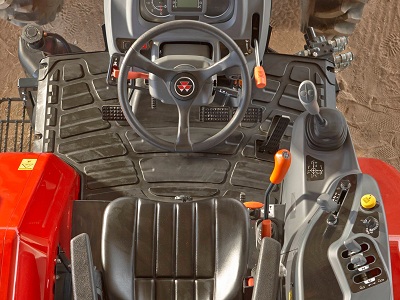 The MF4600 comes standard with power shuttle transmission providing 12 forward and 12 reverse options.
The six-speed fully synchronised gearbox with high and low ratio allows for smooth gear selection using the foot clutch while on the roll.
The forward /reverse shuttle lever allows the operator to quickly and effortlessly change direction without engaging the clutch. This significantly reduces operation time for tasks that require multiple directional changes and thus aids in the reduction of driver fatigue through undue energy usage, both physical and mental.
For me the transmission was the highlight of the MF4609. Keeping in mind that all new transmissions can seem to be a bit tight in the beginning, I found gear selection from a stationary position and on-the-go changing smooth and, while firm, gave me little resistance at all.
With engine speed at about 1,000rpmand transmission placed in low range the first six gears gave me all the control I needed to carry out jobs that required low speed and accuracy.
Whether navigating carefully between the narrow corridors of vineyards and orchards, or stacking hay or pallets in the tight confines of a storage shed, rest assured in this range you will have more than enough options available to complete the task both safely and efficiently.
When higher speed is required simply move to high range and the same six-speed gearbox gives appropriate speed for the multitude of other jobs that require faster operation.
Capable of reaching speeds up to 40km/h, the MF4609 makes road work or shifting between properties hassle free and time efficient. This will be of particular appeal to contractors who spend much of their time on the road.
Massey Ferguson 4600 Hydraulics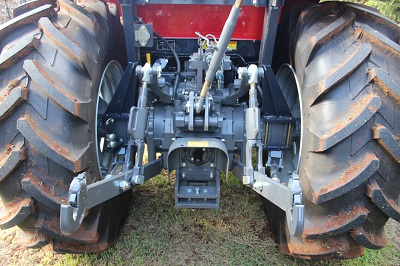 The MF4600 comes standard with an open centre hydraulic system with gear type pump that delivers a healthy 65lpm of oil flow, enabling quick response for front-end loader work.
When utilising hydraulic implements on the rear it is imperative to have efficient oil flow supply to ensure tasks are completed in the shortest possible time.
Standard features on the three-point linkage include category ll quick release linkage hitch that can lift up to 2,500kg. At the purchasers request a high lift kit can be fitted increasing the lift capacity to 3,300kg.
As standard a two-speed PTO is fitted, providing the operator with the option of selecting either 540/540E.
Engaging the PTO is done from the driver console via a twist-knob and switching between 540 and 540E is achieved by sliding a lever at the rear of the tractor.
I found the performance of the power shuttle to be outstanding. The clutchless transition from forward to reverse and vice-versa using the steering column shuttle lever is one of the smoothest that I have experienced.
We took the 4609 out into the field to try a bit of loader work to see how it would perform and I can say all of the boxes were ticked.
In four-wheel drive, low gear selected and at 1,500 revs it pushed effortlessly into a pile of firmly packed soil and completely filled the bucket in one attempt.
At 1,500 revs there was more than enough hydraulic oil flow to provide excellent response speed to the loader. I did notice that as engine speed was lowered response speed slowed marginally but still remained within acceptable boundaries.
The combined performance of the front-end loader with a lift capacity of 1,588kg and the power shuttle transmission qualify the MF 4609 as an ideal main tractor on a smaller enterprise or secondary machine used for loader work on larger properties.
Mangion says the loader used on all of the tractors in the 4600 series is an ALO loader branded as MF916. Features include Euro hitch, soft drive capability and a joystick with third service functionality.
With its clever location inside the cross tube, the soft drive function reduces the stresses on the loader and attachment as well as on the tractor and driver. But, above all, you don't lose any valuable load or concentration in your work. The new location also gives better protection and vision. The controls are also new with three manual positions, an electrical off/on function from the driver's cab (optional) and progressive damping.
Sometimes it's the little things that provide the biggest impact. The four-wheel drive front axle is positioned above the centre of the front wheel, therefore increasing ground clearance.
Massey Ferguson 4600 servicing and maintenance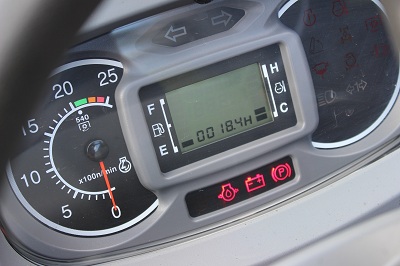 I have not driven a ROPS tractor for quite a while so I had forgotten how much better the vision is for loader work with unobstructed viewing all around and upwards.
The flat-deck foot platform not only provides a comfortable work space it also eliminates the potential of tripping on obstacles while boarding and exiting the tractor.
Servicing and daily maintenance points have been kept to a minimum which will encourage the checks to be carried out. The engine oil filler and dip stick are coloured yellow for ease of vision but I would have liked to have seen a bit more space to allow easy access.
In contrast the combined hydraulic oil filler and check point were easy to get at and greasing was minimal and easily accessed.
If you are an experienced tractor operator you will recognise all modern functions are available at your disposal but their usage has been kept in many ways conventional.
Even for the inexperienced the simplicity of the MF4609 will put you in control in no time; if you can drive a manual car you will be fine.
MF4609 Hits
Smooth forward/reverse shuttle
40 kmh top speed
Uncomplicated functions provide easy operation
Flat deck foot platform
Good ground clearance
Manoeuvrable even with four-wheel drive engaged
MF4609 Misses
Does not have rear guard PTO off button
Engine oil dip stick a little tight to access
Currently does not have speedometer
Subscribe to our newsletter
Sign up to receive the Trade Farm Machinery e-newsletter, digital magazine and other offers we choose to share with you straight to your inbox
You can also follow our updates by liking us on Facebook. 

Graders For Hire | Cranes For Hire | Telehandlers For Hire | Excavators For Hire