TGB 550AR ATV review
---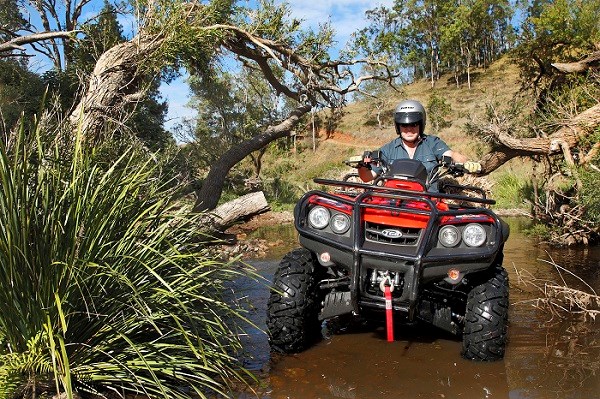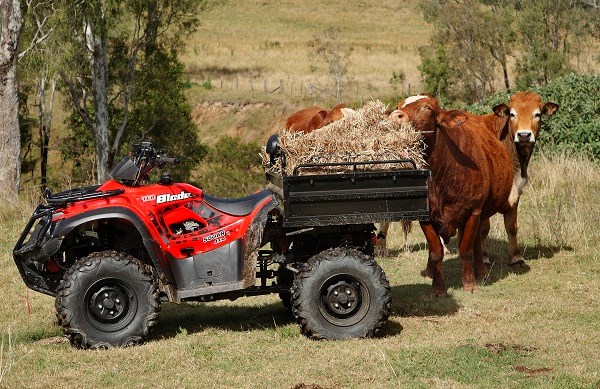 The tipping tray-back has a load capacity of 200kg and is very useful for small jobs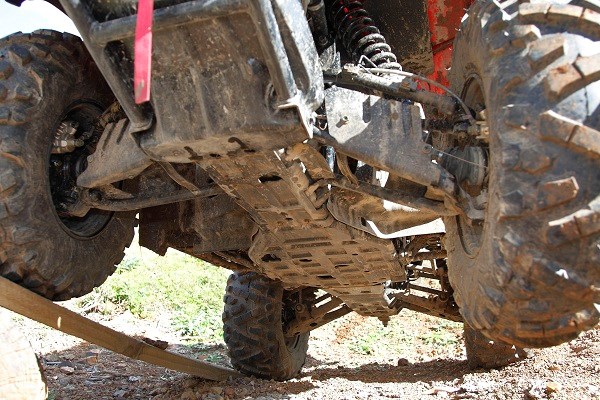 Full-length chassis and suspension armour is standard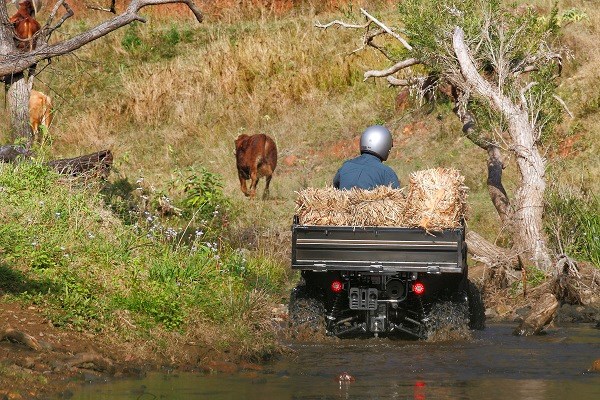 This is not a hard-core 4WD but it'll handle most terrain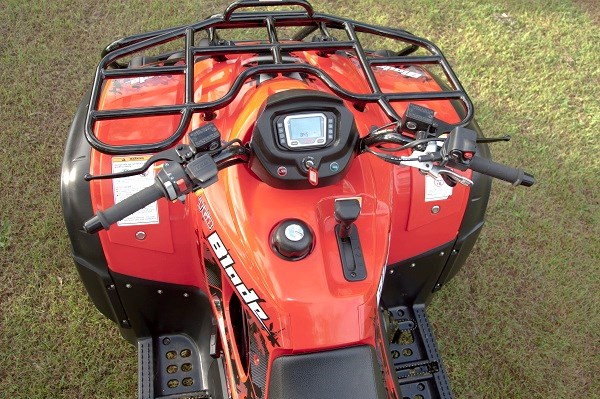 nothing quirky about the control layout and everything works very well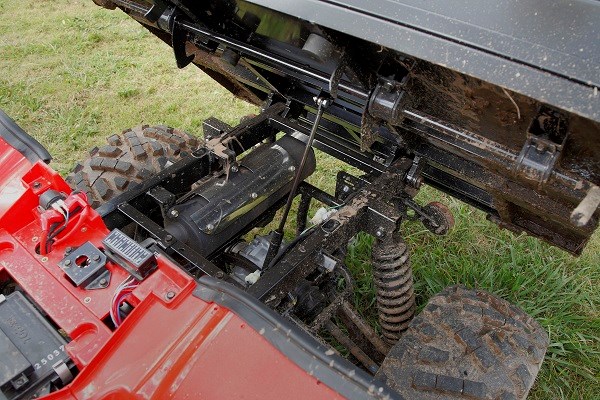 Suspension is independent, with preload adjustment only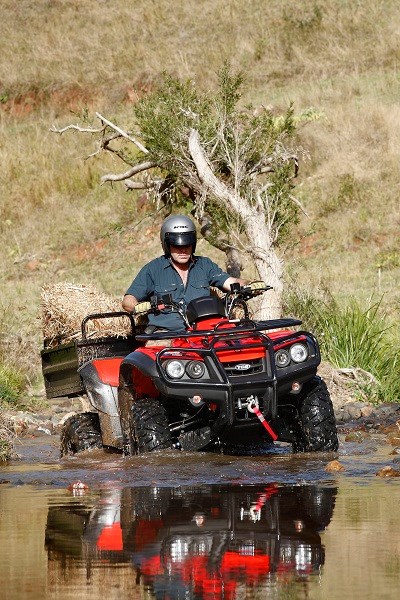 The TGB BLADE 550AR ATV might lack some of the refinements of far more expensive equipment from the Americans and Japanese, but it's an impressive spec nonetheless, and at $10,000 is good value for money.
There was a time not so long when the only all-terrain vehicles (ATVs) you'd see as you drove through farming country were all Japanese. Honda had Godzilla's grip on this slab of the market and wouldn't let go, while Yamaha and Suzuki, and to a lesser extent Kawasaki, gave spirited chase.
But things have certainly changed since then. The past decade has seen the emergence of Polaris and Can-Am as serious contenders in the working ATV market, and now we have a determined effort from several Asian manufacturers, among them Kymco, CFMoto and TGB. (Believe it or not, 'TGB' is an acronym for Taiwan Golden Bee.)
The outfit got its start in1965 as the Taiwan Vesper Company, producing various parts - flywheels, shock absorbers, starter-motors and so on - under licence for the Italian scooter manufacturer Piaggio. It was a sound investment. The Taiwan Vesper Company grew to become TGB, with two plants employing about 440 people in the business of making ATVs, motorcycles, engines and transmissions. Big names on the client list include Rotax, Peugeot, Morini, and Polaris.
The company has ISO 9001 and QS 900 certification and says that all its products meet European and United States environmental standards.
TGB Blade 550AR ATV features
Our initial impression, later verified by evaluation, is the TGB BLADE 550AR (Agro Carrier – and no, I don't understand that either) is very well put together.
The plastic fits nicely, finish is good, the controls are well laid out and easy to use and all the welding is neat.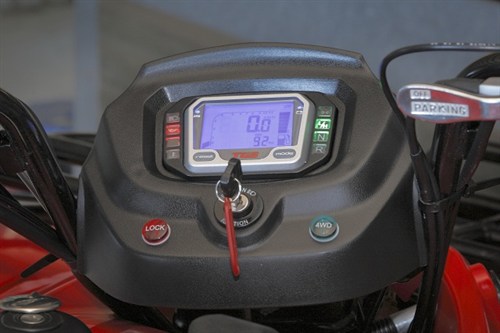 This ATV also has a full complement of warning lights, as well as road-going equipment like a horn, indicators and hazard lights, indicative of its role in an export market in which some European countries allow ATVs on public roads.
The control layout itself is conventional. There's nothing here to surprise you, unless it's the dual handbrakes, one of which looks very much like a Yamaha component. The right-hand brake lever activates twin-vented discs up front, while the left-hand lever (and footbrake) activate a single rear disc mounted on the drive shaft.
Apart from any other benefit this feature might bestow, it helps the disc 'self-clean' by spinning off mud and gunk.
Body work is open at the back but we have no problem with that. The only observation we'd make here is that TGB might like to relocate the brake slave unit to a spot where it'd be less vulnerable to protruding vegetation and debris thrown up by the tyres.
That the brake lines were braided steel impressed us to no end. So did the large and well-drained foot wells, the degree of protection provided by the front guards and their extenders, the solid bash plates on the lower suspension arms and a full-length metal bash plate on the underside of the chassis. Someone at TGB thought long and hard about serious armour for this ATV and did a conscientious job of making it happen.
The manufacturer has done another favour for land owners by placing the top of the CVT breather up high near the floor of the tray where it's unlikely to ingest a lot of water during creek crossings - unless of course the local water authority opens another dam and floods half the state again.
On the not-so-pleased-to-see list, we were disappointed to find front and rear suspension bushes with no grease nipples, or none that we could find. In the interests of impressing Australian operators, TGB might like to remedy that.
TGB Blade 550AR ATV engine and performance
The engine is TGB-designed and manufactured but based on a Suzuki original. It's not actually 550cc but 503cc. It's common practice for manufacturers to exaggerate engine capacities but that's no big deal.
The engine is carburetted too, not fuel injected, which means you have at least a thin chance of fixing a fuel delivery problem that you wouldn't have a hope in hell of fixing on a fuel-injected engine.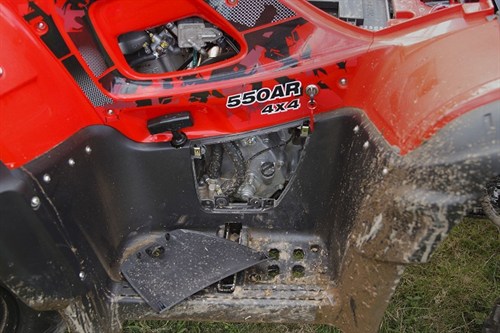 Ease of maintenance is enhanced by quick access to the oil and radiator filler points and, under the seat, the fuses. (A word of warning though: it's possible that in your haste to remove the seat you could inadvertently dislodge the top of the fuse box as well, so be careful.) Getting at the air filter under the seat takes a little more time but that won't challenge your skills as a home mechanic.
A sticker on the machine warns operators not to 'exceed 165km/h'. Frankly, if they can do that they deserve a Nobel Prize for Engineering. But I'm being flippant and I apologise. In fact, there's no reason in the world why a farm quad designed for light carrying duties should be fast. Loaded up with three feed bails, and in high range two-wheel drive, our test bike topped out at 70km/h and in our opinion that's plenty fast enough for a bloke and his Kelpie.
The engine is a little noisy compared with some small-capacity powerplants in my opinion, but power and torque are appropriate to the quad's calling. It climbed all the hills on the cattle property where we carried out the evaluation, chugged quietly through creek crossings too, and despite conveying an impression that it was revving hard, particularly in high range, it never showed any signs of strain, like overheating.
Power is delivered through a continuously variable transmission (CVT), pretty much standard issue on ATVs these days, and in this case operated by a gear selector with a linear L-H-N-R shift pattern. Gear selection on the brand new machine was very notchy but that's to be expected. It should operate more smoothly when the driveline beds in, at least that's been our experience.
Four-wheel drive is selected with a button on the right-hand switch-block and the machine should be stationary when 4WD is engaged. The diff lock was simple and direct, just how we like it. Every now and then it asked for a couple of seconds to properly engage but that was no big deal either. At the end of the day, we'd describe the driveline as medium rather than heavy duty. True, an experienced operator could make this vehicle climb over intimidating obstacles, in fact he did, but the TGB is designed for delivering feed and firewood, not for climbing vertical rock walls topped with barbwire and gun turrets.
We were impressed by this machine, and I suppose that's obvious, but if we have a criticism it would be heavy steering with the diff lock engaged. On a loose surface the trait isn't as noticeable but it kicks in strongly on any surface offering reasonable traction. Without the diff lock engaged, the differentials allows the wheels to rotate at different speeds when the vehicle is cornering (because the outside wheels have to rotate faster) but with it engaged the wheels all rotate at the same speed and this is what causes the heavy steering. This is not an uncommon characteristic, in fact it manifests itself in some front-wheel drive cars with transversely-mounted engines in a phenomenon known as torque steer.
Power steering helps overcome the problem, hence the introduction of PS on working ATVs, but in this case there's simply no way to get around it since hydraulically-assisted steering is hardly an option on a machine costing $10,000.
Burly blokes might not be too worried by the physical effort involved here, we admit, but it could certainly deter women to jump on-board if their planned route included a lot of rough terrain pulling and pushing.
Actually it's a shame this, because for a host of reasons the TGB is otherwise comfortable and easy to operate. Independent front and rear suspension provide a ride that if not equivalent to the most expensive Polaris is nonetheless comfortable and predictable.
The machine does wander a little at higher speeds on gravel roads but I've never ridden a working ATV that didn't.
The tyres were well matched to the machine too. Up front we had 8-ply 26x8-14 Innova Xtremes and 26-10-14s on the rear. I might as well add here, for those who are interested, that these tyres look very much like Innova's version of the popular Maxxis Bighorn.
For years ATV manufacturers have played around with various auto descent devices to help control their machines on steep grades. I can confidently report that some of these devices have worked – kind of - and some have been a waste of all that engineering effort.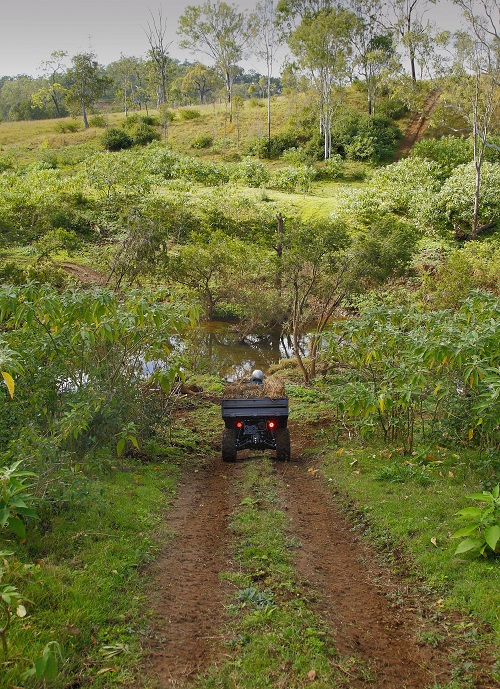 Despite years of devoted application by the manufacturers, the best form of descent control still seems to be common sense and good engine braking. In this respect we'd give the TGB a solid seven out of 10. It's engine braking won't throw you over the bars but if you get the speed right at the top of the descent – one secret to safely descending any hill - and use the brakes to manage your speed, you won't get into too much trouble.
The Verdict
TGB product has been coming to Australia for three years and is distributed here by the Paul Feeney Group through 35 national dealers. To name a machinery company after an insect is a very Asian thing to do but there's nothing miniscule about the effort that goes into these ATVs.
The 550AR might lack some of the refinements of far more expensive equipment from the Americans and Japanese but it's an impressive spec nonetheless, and at $10,000 is good value for money. That it comes with a more than useful tray-back enhances its appeal among small property owners who can't see the sense in firing up a $50,000 Land Cruiser to go get some firewood.
TGB Blade 550AR ATV Hits
Excellent fit and finish
Well designed for the job
Large fuel capacity (18 litres)
TGB Blade 550AR ATV Misses
Heavy steering with diff lock engaged
Vulnerable brake slave cylinder


Subscribe to our newsletter
Sign up to receive the Trade Farm Machinery e-newsletter, digital magazine and other offers we choose to share with you straight to your inbox
You can also follow our updates by liking us on Facebook. 

Graders For Hire | Cranes For Hire | Telehandlers For Hire | Excavators For Hire