Review: Case IH Farmall JX80 tractor
---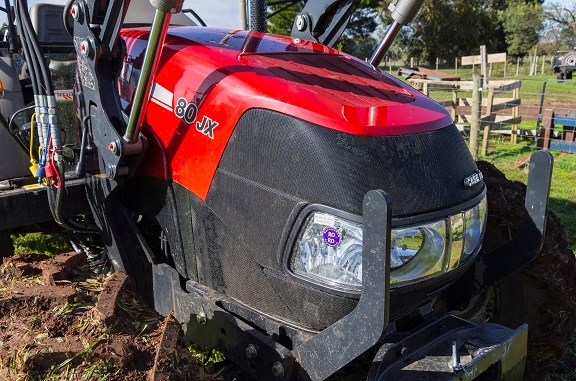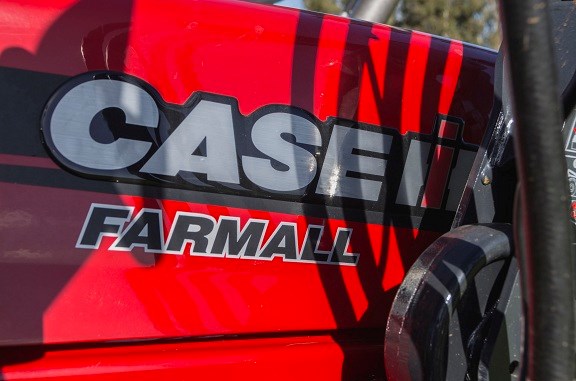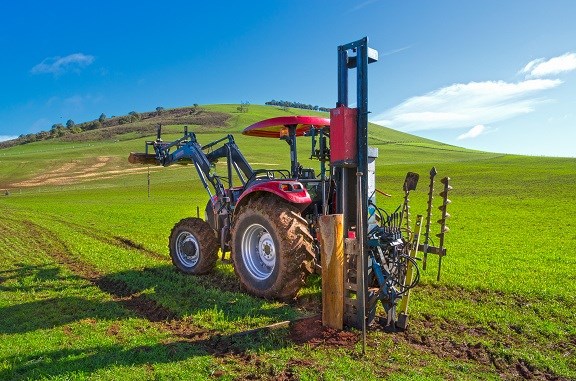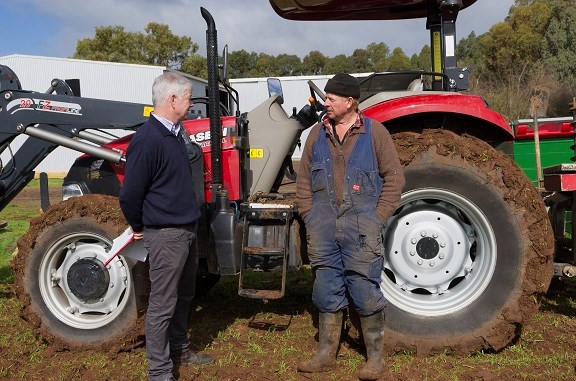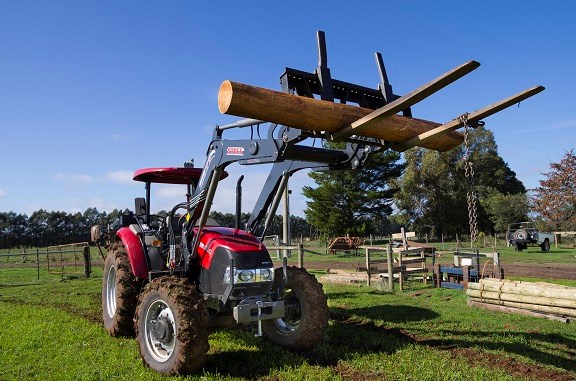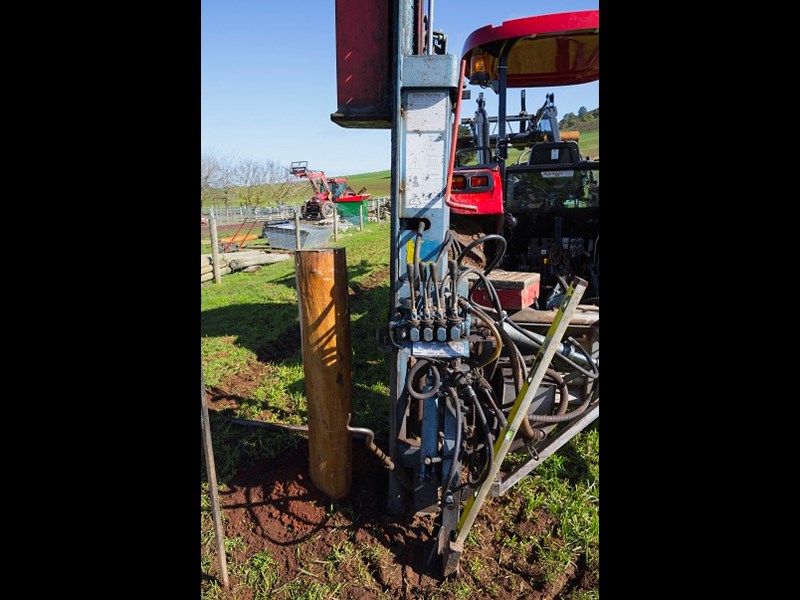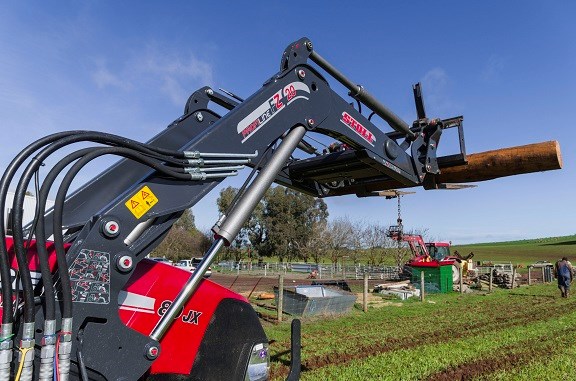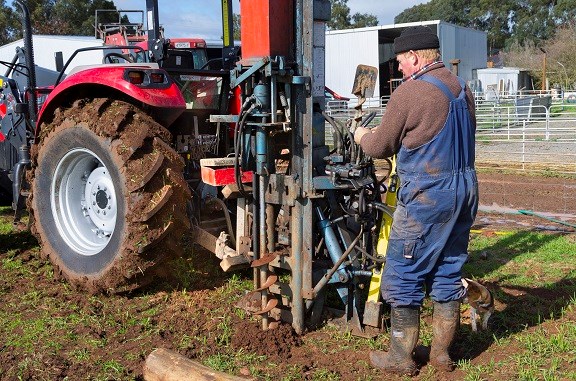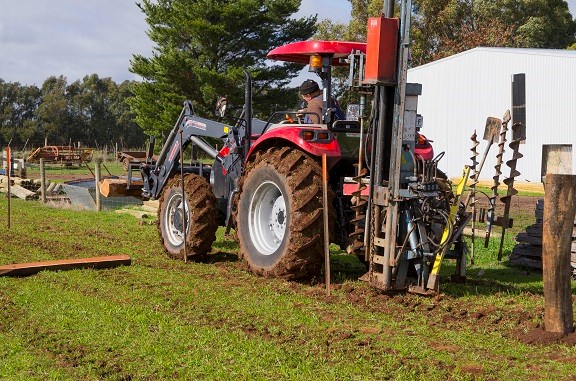 Case IH launched the legendary Farmall tractor almost a hundred years ago and after a few stints on and off in the Australian market, the range made an official comeback in 2013 with its Farmall B and JX range. Tom Dickson got his hands on a Farmall JX80 tractor to test.
In 1923, when International Harvester first lodged a patent application for the Farmall tractor, even it probably didn't dare to dream that nearly 100 years later the name would still be at the forefront of agricultural machinery.
The concept for the original Farmall tractor was to design a machine that could be fitted with a variety of implements to perform multiple tasks around the farm.
Today Case IH has maintained that original idea of versatility by reintroducing the iconic Farmall brand onto the market with the release of the JX Series of tractors.
Standard features on all Farmall  tractors include: Tier 3 emission controls; 12x12 shuttle transmission; four-wheel drive; hydraulic oil flow of 51.7l/m and three-speed power take-off (PTO); making it well equipped to service the small to mid-size operation including hobby farms, vineyards and orchards.
The versatility and manoeuvrability of the Farmall range makes it ideal for navigating around the tighter working environment.
Standard features do vary within the range and a variety of options may be added to suit particular requirements.
All tractors within the range can be supplied in either a cabin or ROPS configuration.
Case IH Farmall JX 80 Engine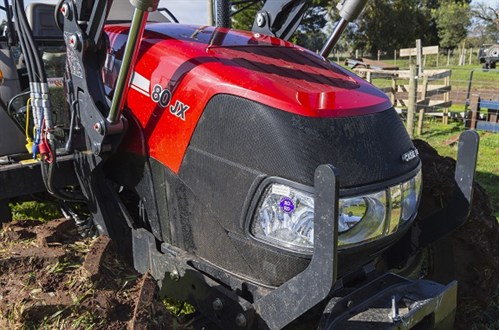 The Farmall JX range, released in Australia earlier this year, offers six models ranging in size from 70hp to 110hp.
All tractors bearing the JX badge are powered by an upgraded 8000 series Tier 3 turbocharged diesel engine.
The Farmall JX 70 and 80 engines comprise three cylinders; while the JX 75, 90, 100 and 110 feature four-cylinder engines. The Farmall JX 80 has a 2,930 cubic-metres engine with a power output rating of 80hp.
Andrew Prendergast, of A&J Prendergast Fencing Contractors, who works in and around the Ballarat region of country Victoria, took possession of a brand new JX 80 ROPS tractor in July to replace the Case JX 80 he had been using for the past six years. He says there were numerous upgrades to his new machine, but the most impressive change was the noticeable increase in power and fuel economy.
The new model also includes improved servicing and maintenance features.
Under the bonnet there's a large air cleaner canister mounted prominently at the front, providing easy access for routine cleaning; a radiator cap positioned within easy reach and extra dust screens fitted to the front of the radiator to reduce the chance of blockages within the cooling fins.
Engine oil can be checked without having to raise the bonnet, however, this is made less accessible when a front end loader is fitted.
An under-cabin fuel tank allows for easy filling and the 110-litre capacity means there is more than enough fuel to complete a full day's work.
On the downside, checking hydraulic oil levels requires a spanner to undo the screw-in dip stick. A larger cap that can be accessed by hand would be more appropriate.
Case IH Farmall JX80 Transmission
Prendergast's JX 80 came standard with a 12F/12R (three range x four-speed) synchro gearbox with mechanical forward/reverse shuttle.
He says a clutchless power shuttle would have been preferable, however, his work does not require continual directional changes so was not a priority.
Case IH Agriculture Product Specialist, Peter Elias, adds that the Farmall JX 75, 90, 100 and 110 models feature a 12x12 hydraulic powershuttle.
Under test, a minimum speed of 1.82km/h was achieved by selecting first gear in low range. This option was great for manoeuvring through tight turns in and around Prendergast's  sheds.
Medium range provided plenty of options once away from the yard into the more open spaces of the paddocks.
Out on the road the clutch felt very predictable. Clutching was firm without being heavy and each gear change offered little or no resistance.
Somewhere between 20km/h and the maximum 30km/h every piece of fertile red Ballarat soil that had been stuck to the tyres began dislodging and firing off in all directions, providing great amusement to Prendergast and our cameraman.
Changing down through the gears on a tractor often provides a true indication of whether the driver is going to be in for a constant struggle with an uncooperative gearbox. The JX 80 passed the test with flying colours, giving little resistance at all. The real test came when shifting from second back into first and predictably it slotted into first with relative ease.
For specialist applications, optional creep speed provides an additional eight forward speeds and a minimum 250m/h at rated engine speed.
During operation, these ratios are engaged and disengaged by a separate lever, transforming the JX 80 into the ideal vegetable planting or harvesting machine.
Case IH Farmall JX80 Hydraulics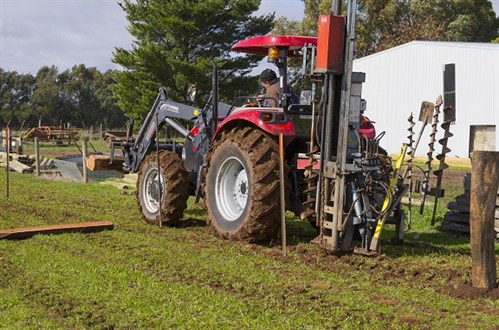 Farmall JX tractors benefit from the 51.7l/min high-flow pump and are fitted standard with two rear remote valves, with the option of a third, if required.
An additional two valves can be mid-mounted to the frame to provide hydraulic oil flow to a front end loader if installed.
Case IH dealership Agrimac fitted a ProfiLine loader manufactured by Stoll to Prendergast's machine. It is a self-levelling quick hitch loader with a third function hydraulic line installed to service a four-way bucket or grabs. A joystick controller was fitted during the installation process.
Prendergast's JX 80 has a huge rear linkage lift capacity of 3,565kg (3,000kg on the Farmall JX 70). He admits his old JX 80 had broken a lower linkage arm but points out this weakness had been rectified by installing much stronger arms on his new model.
The three-point linkage adjustment lever was mounted a bit low on the right-hand side beside the seat. Maintaining good vision of an implement while reaching for the linkage control lever may compromise the hitching process.
The three-point linkage is complemented with an auto lift and lower button mounted conveniently to the right of the operator. I had hoped the attached hydraulic post driver would give us a good idea of how the hydraulics would perform under working conditions. Unfortunately, Prendergast's  driver runs off a PTO-driven hydraulic power pack, which he says is a better option as it allows him to switch the PTO on the tractor to 1,000rpm to gain plenty of drive to the pump from a lot less engine revs, thereby increasing fuel economy and lowering stress on the motor.
To get some gauge of the tractor's hydraulic performance we stacked a load of hardwood fence posts onto the forks and observed terrific lifting and lowering rates at 2,000rpm. Even at lower revs performance was good.
PTO speed selection is courtesy of an easy-to-reach lever, with a choice between a mechanical or hydraulically-assisted PTO engagement.
A PTO with 540/1,000rpm working speed is standard and suits all applications. Ground speed PTO is standard throughout the range.
The verdict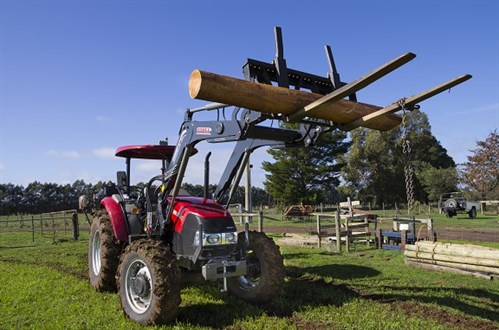 Prendergast says contractors demand a lot from their machines, with their livelihood dependant on maintaining maximum performance under all conditions.
As such, he requires a no-frills tractor that has minimal potential for breakdown.
The Farmall JX 80 has good manoeuvrability, 4WD and diff lock that can be engage on the go.
The set-up has good width Michelin radials (18.4 R 30 rear/12.4 R 24 front) that will handle boggy conditions.
While many prefer the comfort and protection that a cabin provides, Prendergast says a ROPS tractor gives him much better visibility and is easier to board and exit during a busy working day.
Despite discovering a couple of minor areas that could be easily improved, I have no hesitation in recommending the Farmall JX 80 to anyone who is looking for a tractor in this horsepower range.
Farmall JX80 Hits
Smooth gear selection
Electronic 4WD and diff lock engagement
4WD engages during braking
Good access for engine maintenance
Strengthened rear linkage arms
Electronic three-point linkage (3PL) lift/lower switch.
Farmall JX80 Misses
Hard to check hydraulic oil
Height control lever positioned low.
Subscribe to our newsletter
Sign up to receive the Trade Farm Machinery e-newsletter, digital magazine and other offers we choose to share with you straight to your inbox
You can also follow our updates by liking us on Facebook. 

Graders For Hire | Cranes For Hire | Telehandlers For Hire | Excavators For Hire