Review: CFMoto X-Lander 500 Farmer ATV
---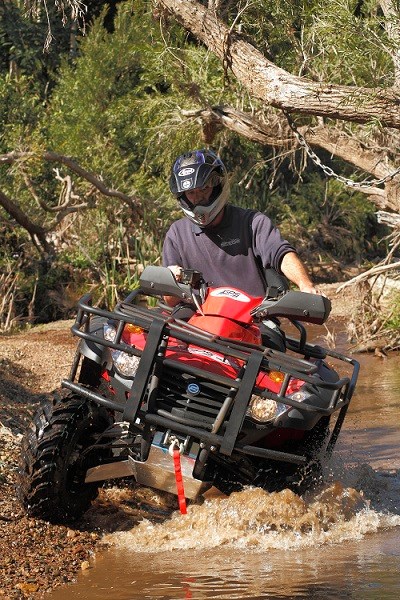 Hard working torque and aggressive rubber give the X5 good all-round ability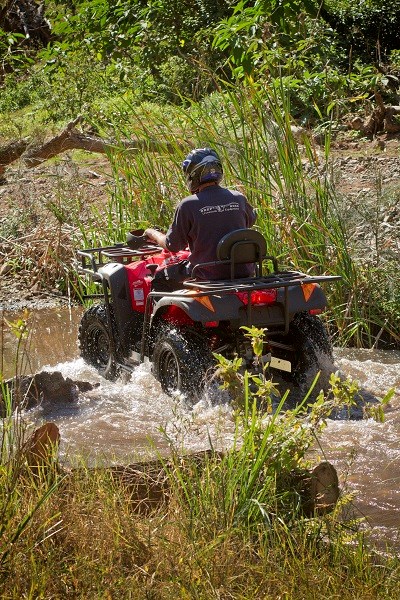 The 360-degree rail kit protects the vehicle and gives you plenty of places to secure a load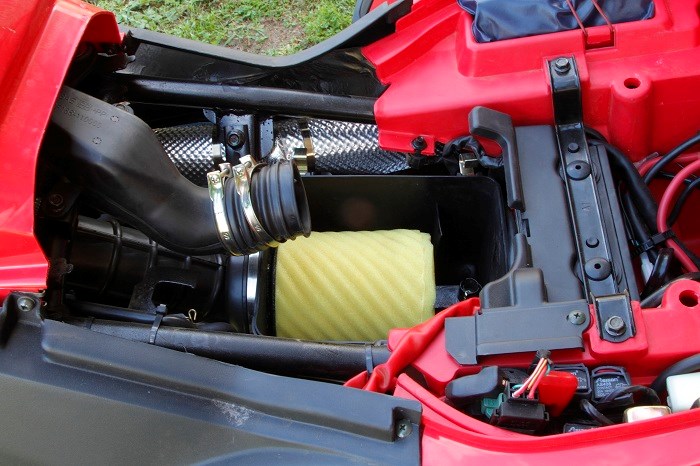 The air filter is certainly large enough but getting at it is a fiddly business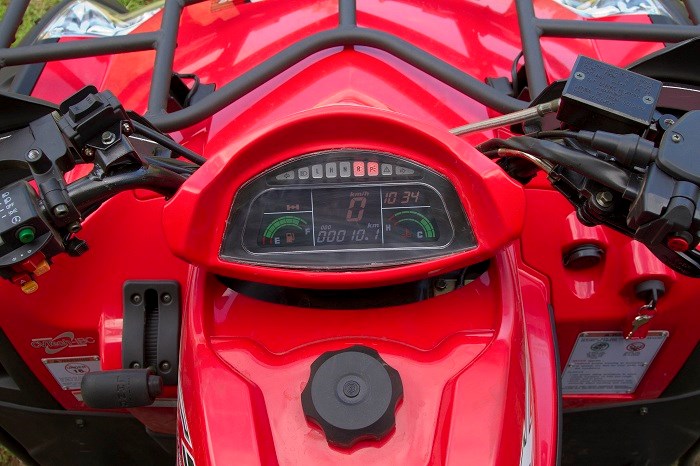 Instrumentation has everything you need and is easy to read on-the-fly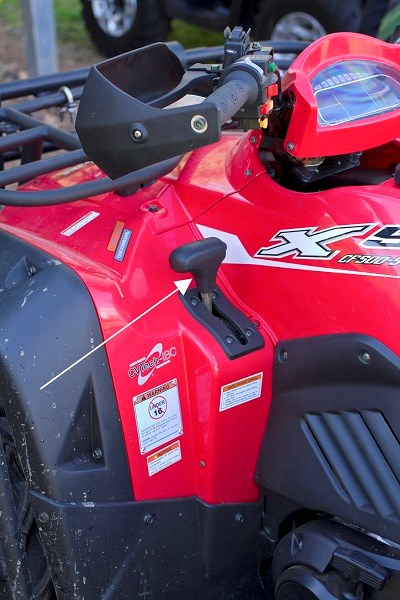 The only operational problem we had was a shift lever (arrowed) that occasionally refused to budge from the Reverse position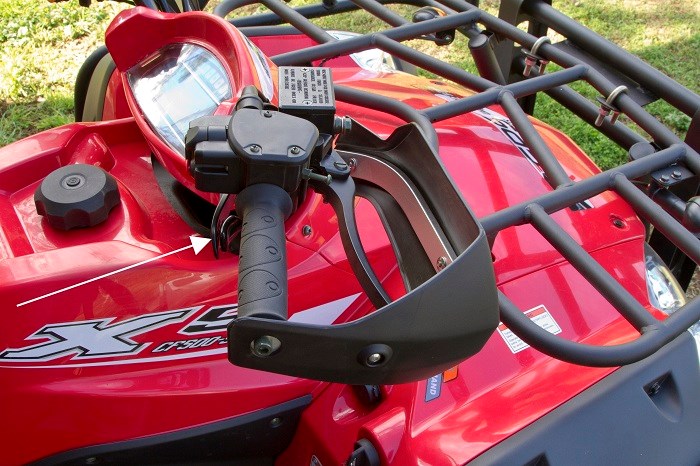 The park brake (arrowed) blocks access to the throttle, a useful safety feature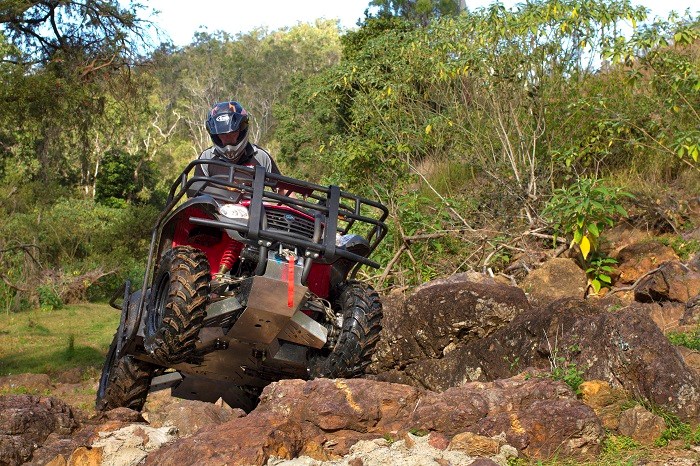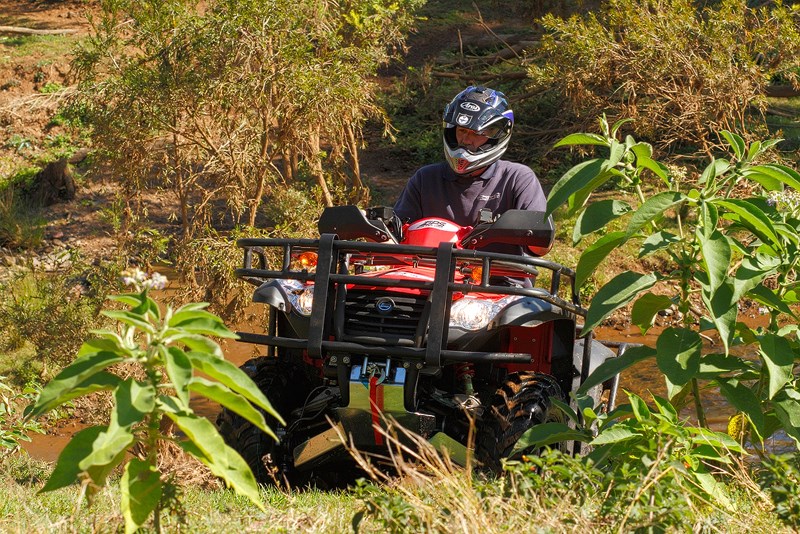 The CFMoto X5, four-wheel drive ATV all-terrain vehicle hopes to broaden its appeal among rural operators by turning up for work with a practical 'farm pack' and a budget price.
The Australian all-terrain vehicle (ATV) market seems to grow every month, and sometimes, for a novice anyway, it can be difficult picking the difference between brands that on the face of it look identical.
Presented with, say, a TGB, a CFMoto and a Kymco, prospective buyers with little knowledge of the species would have bugger-all chance of telling the difference. But differ they do. Put your glasses on and you'll find that small things make a big difference, like the quality of the welding and the fittings, the standard of finish, the general robustness of the components, and how easy or fiddly it will be to service each machine.
CF MOTO X5: THE MACHINE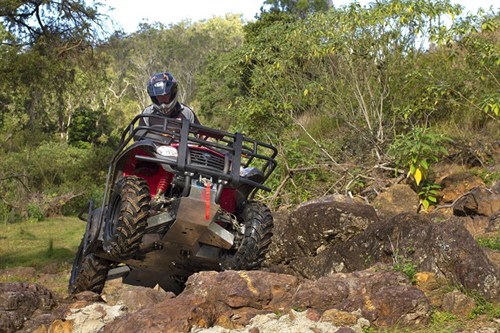 There are two versions of this model, a long wheelbase two-seater, and the short wheelbase model with a 'farm pack' comprising a full-length skid plate and a brush and rail kit, which we are testing. The farm pack adds only $300 to the cost of the X5 so it's easy to see why most operators would opt for this practical set-up.   
The X5 is built for anyone needing a 4x4 machine that can carry a load at relatively low speed around largely flat terrain. We make this bold statement because unlike the Can-Am 500 (which we've also tested) the X5 is not a dual-purpose sports-farm quad.
Dairy farmers not addicted to Hondas should take a close look at the CFMoto, if only to confirm that red offers more choice than they thought.
There's nothing wrong with the X5 drivetrain, in fact it strides a well-worn path from which few manufacturers stray. A 493cc, single-cylinder, liquid-cooled carburetted 4-stroke drives through a conventional CVT (constantly variable transmission) with high and low range and switchable four-wheel drive.
This combination has proven itself over many years of selfless toil and is obviously the specification most Australian farmers prefer.
The X5 has aggressively ribbed Innova Mud Gear tyres on steel rims, 25x8-12 6-ply up front and 25x10-12 6-ply on the rear, all tubeless of course. These tyres look like an ITP copy, and maybe they are, but they're good copies because they claw their way over gnarly obstacles and gain persistent traction on anything slippery, which on a dairy farm would be everything.
These tyres are exactly what this quad should be wearing and we can only commend the manufacturer for showing common sense where it was needed.
When we picked up the X5, the tyres had 14psi front and rear. Higher than normal pressures made the ride hard and jittery so we lowered the pressure to 5psi front and rear. This improved ride quality no end but added to the physical effort required to steer the machine when all-wheel drive was engaged.
CFMOTO X5: THE RIDE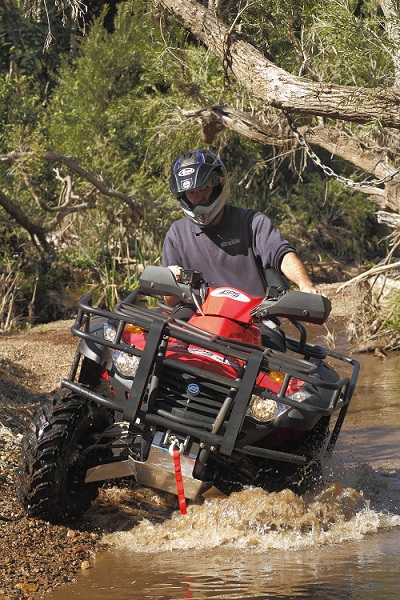 The X5 running gear is also conventional, though not what you'd call highly developed, a trait common to several Chinese and Taiwanese working ATVs.
The shocks have limited preload adjustment and cannot be rebuilt. Each has an air valve on the oil side of the reservoir, which led us to the mistaken presumption that it was a bleed valve.
However, during one of the aforementioned discussions with Gatton Power Sports, we were informed that these are the valves through which nitrogen is inserted into the shock during manufacture, "so please don't fiddle with them".
Suspension front and rear uses dual A-arms (also known as double wishbones) with the top member made from aluminium. Given the type of work for which the CFMoto was designed, and the people who are likely to buy it, we see no real need for more suspension adjustment, although a rider pushing hard will soon encounter the suspension's limit.
The heavily ribbed Mud Gear tyres also make it difficult to slide, even in two-wheel drive. In short, if you can see yourself setting a world speed record between the house and the front gate, with a lot of sliding in between, go get a YFZ450.
To its credit the X5 steers nicely in that it goes where you point it and doesn't weave all over the place like some working ATVs on low pressure tyres.
The hydraulic brakes are good as well, with one lever for the front discs and another, plus a pedal, for the rear brake, in this case a disc mounted on the driveshaft.
CFMOTO X5 ATV ENGINE BRAKING
We employ several steep descents on our test track for the purpose of assessing engine braking, or the lack of it. Engine braking is a contentious issue among ATV manufacturers, mainly because some of their 'descent control' inventions have worked and some most certainly have not.
Promising buyers that they will be safe on steep descents because your useless invention with a fancy acronym is watching over them is a marketing strategy with no conscience.
Can-Am's V-twin Rotax has the best engine braking in the business, end of story. The Can-Am is the only ATV we know that will crawl down the steepest hill with no help from the brakes.
This is not a product of a clever invention but of the V-twin's inherently strong engine braking. We rode the CFMoto down the same steep hills we took the TGB 550 a few weeks earlier and would say their engine braking is comparable.
They weren't V-twin tough and needed occasional application of the brakes to control descent speed. Both would have scored about six out of 10.
CFMOTO X5 ATV OPERATION AND CONTROLS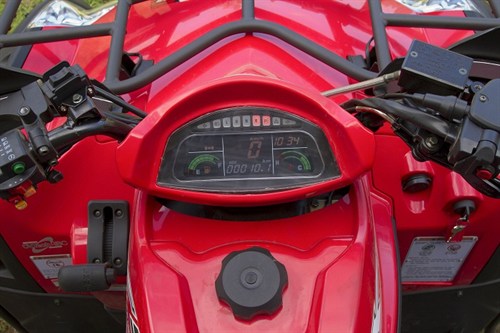 Discounting any need for power steering in an ATV such as this, we believe that the ergonomics are pretty good and the machine easy to operate.
It comes with indicators, which you won't need, but also with a lot of stuff you will need, like sturdy Bark Buster-type hand protectors, full instrumentation, brake lights, headlights, a 19-litre fuel tank, a tough steel bullbar and brush-rail that circumnavigates the machine, a horn and a 12-volt socket.
Surprisingly though – and we can't understand this – there is no provision for dry storage on this machine. No lockable boxes, no non-lockable boxes; nothing.
Still, we liked the control layout. Conventional switch-blocks house all the buttons and switches. On the right of the bars you have the throttle and transmission controls, and on the left the switches for pretty much everything else.
As an active safety measure, the engine will start in gear but only with the brakes engaged. We also noticed that when the park brake is engaged it blocks access to the throttle. This is a smart safety feature as well, but only if the operator chooses to use it.
The main instrument cluster is large, colourful and legible, though in honesty the only instrument I ever look at is the fuel gauge so all the colour is wasted on me.
CFMOTO X5 ATV TRANSMISSION
Shifting is done with a T-bar lever in a vertical L-N-H-R pattern. We had trouble with this. The lever refused to budge from Reverse on several occasions, rude behaviour by the machine accompanied by rude language from me.
It became a two-handed job in the end, which led me to discuss the problem with the supplier. I was told that the engine had 'freed up' after several hours operation. As a result, and because of the nature of centrifugal clutches, the idling speed had increased to the point where shifting had become difficult.
The supplier assured us that had we been aware of this, and tweaked the carburettor's idle screw, the problem would have disappeared.
You get a strong and well mounted bullbar and brush-rail on this machine, a boon to people who tend to carry everything on an ATV that will fit if secured with 50 occy straps. The rack has a capacity of 35kg on the front and 70kg on the rear.
We were also impressed with the effort that CFMoto has expended on behalf of the full-length alloy skid-plate, a feature you once had to pay for, and not with a trifling amount.
THE VERDICT
We drove the X5 through creeks, one of them quite deep, without ill effects, proof that the CVT breather is certainly high enough. If there's one thing we'd really like them to fix on this machine though it's the awful airbox.
If you're disinclined to service your ATV regularly, this will make you even less inclined. For a regular maintenance item the box is poorly designed. The filter itself is huge, which is good, but the airbox lid is difficult to get off and can only be removed by first unscrewing the induction plenum attached to it. That's silly. It's also difficult to be sure the lid is sealing properly when you're reinstalling it.    
Still, we have a positive attitude to this hard working little 500. We flogged it mercilessly and it kept plugging on. True, the heavy steering would be a problem if you were using this machine on steep and rough terrain, but that's not what the X5 was designed for.
It might not be fast, as we've pointed out, but the 35hp (25.7kW) engine certainly produces plenty of useable torque, along with top speed of around 75km/h. The ATV handles deep water, it's capable in mud, and it suffered no drive-belt or overheating problems and had very good ground clearance.
That's a lot of good stuff for just over $8,000.
This article was initilaly published in NewFarmMachinery magazine issue 3, October 2013.
Click here to find CF Moto ATVs for sale.
Subscribe to our newsletter
Sign up to receive the Trade Farm Machinery e-newsletter, digital magazine and other offers we choose to share with you straight to your inbox
You can also follow our updates by liking us on Facebook. 

Graders For Hire | Cranes For Hire | Telehandlers For Hire | Excavators For Hire