REVIEW: Combilift SC3 T container handler review
---
Irish Materials Handling manufacturer Combilift's new SC3 T container handler could hold a lot of potential for agri-business exporters. Matt Wood reports.
All indications are that we are not only using more containers, we're also handling bigger and heavier containers as well. The containerisation of our supply chain over the last 50 years has meant that small and medium sized businesses have also had to come to grips with shunting these large mostly heavy metal  boxes around.
Large companies with a lot of real estate to work with have invested in reach stackers, and top lift container handlers to increase their efficiency. Historically these machines have been more common in port precincts and at rail heads; however they are becoming more common outside these areas in transport yards, major warehouse yards and in regional areas.
With large volumes of produce from regional areas now required at ports already containerised Australian Agribusinesses are seeing a rise in the associated challenges. Tractor based container handlers have admittedly become quiet, ergonomic and efficient machines, adept at the high speed turn-around of containers, but they are very expensive.
They are also very heavy; requiring a significant further investment in reinforced concrete hard stand  areas able to deal with the footprint of a machine that can tip the scales at between 70,000kg-80,000kg unladen and over 100,000kg tons fully laden.
COMBILIFT SC3 T CONTAINER HANDLER: THE MACHINE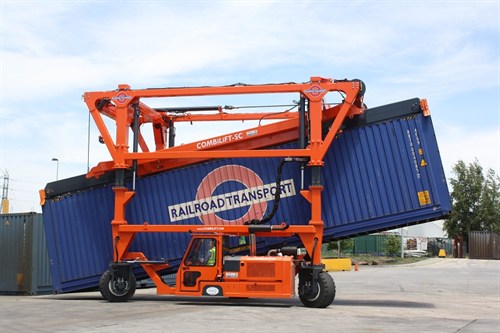 But what if there was a cheaper machine with a lighter footprint that could operate on different surfaces, from gravel hard stand to uneven asphalt? This is what Combilift's new straddle carrier (SC) concept has been designed for. The Irish materials handling equipment manufacturer has just launched the Combilift SC3 T in Australia.
At first the SC seems a bit ungainly and remarkably like an escaped piece of factory equipment making a bolt for freedom. But as weird as it looks, the SC3 T fills a gap for businesses with limited space and hardstand who need to handle containers from 20-48 foot in length. It also has the potential to stack two or even three high depending on specification.
Even with the extra fruit, the fully-optioned SC3 I met up with recently still only tipped the scales at a tare weight of 22,000kg. With a working load capacity of 35,000kg, the SC 3 T has a gross working weight up to 57,000kg, a little more than half the weight of many container handlers when loaded.
COMBILIFT SC3 T CONTAINER HANDLER: POWER, LIFT AND SAFETY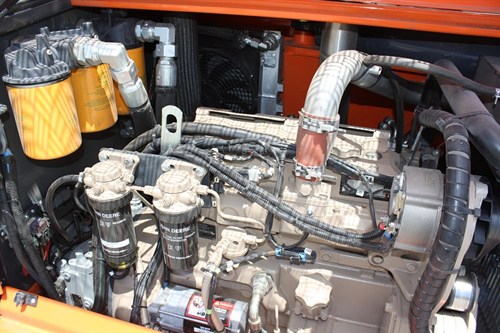 Fans of the big green machines will be happy that a four litre 130hp John Deere turbo diesel engine provides power to a central hydraulic pump on the SC. This in turn provides power to the hydrostatic drive wheel motors and to the lift and side shift mechanism. Two wheels drive the machine as standard; however, a three wheel drive option is available.
The base model SC uses a basic cable and winch set up on all four corners for lifting containers, however, local OH&S demands have led to the development of Combilift's telescopic (T) version. This uses a toplift frame and spreader that can be operated from the cab keeping operators out of harm's way in busy manufacturing and transport environments.
The addition of the toplift spreader and the ability to stack containers two high provided by the telescope function really takes the straddle carrier concept to a new level. Combilift claims an experienced operator in a toplift equipped SC can perform 20 container movements in an hour. 
COMBILIFT SC3 T CONTAINER HANDLER CONTROLS AND COMFORT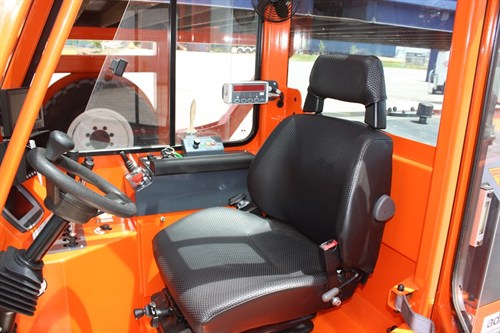 Two wheel steering makes the machine quite nimble, it can nearly turn on the spot swivelling on its one fixed outrigger wheel. The ground level cab means that drivers aren't climbing ladders and stairs to get in and out of the cab.
And while this may look a bit odd it also means that trailer beds are at eye level when loading and unloading trucks, the line of sight and the side shift function also makes it easier for lining up container twist locks.
The large cushion tyres spread the machines footprint across a wide area, but, the combination of hydrostatic drive and its footprint means the SC3 can easily operate on uneven and soft surfaces, and even ramps. Its simple structure also makes it very easy to customise to specific site requirements.
This means this machine can be specified to clear doorways and factory awnings for indoor use, and it can also tilt containers (48 degrees for a 20 footer) making for a very quick way to unload grain or even bulk chemicals in ISO vessels.
COMBILIFT SC3 T CONTAINER HANDLER APPLICATIONS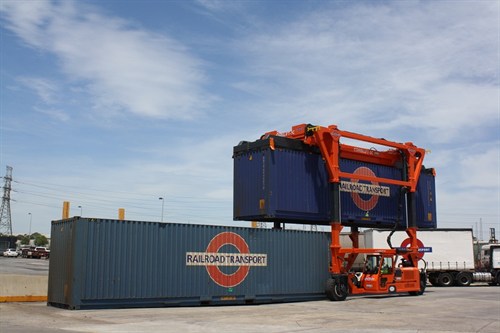 The flexibility of the Combilift design really lends itself to a number of different applications, from transport and logistics to agricultural and manufacturing environments. In fact, it can also double as a mobile gantry crane when required which only adds to its appeal.
While the assembly of container handling equipment on site usually requires a few trucks, and a crane or two, the SC3 fits into a 40 foot container itself, Combilift reckon the machine can be assembled in about a day. The entire machine itself fits into a 40 foot container when disassembled.
The modular nature of the SC's construction also makes it reasonably easy to dismantle and transport to another site if required.
THE VERDICT
The SC3 T is a novel approach to a materials handling task that is only becoming more wide spread. For some businesses this could also save them money in swing lifter hire when containers are being transported on site or indoors.
Regional businesses and agri-businesses could benefit from a lightweight straddle carrier that can operate on surfaces that don't need substantial reinforcement. At roughly two thirds the price of a full blown container reach stacker and less than half the weight, the economics of the machine start to look quite attractive indeed.
COMBILIFT SC3 T CONTAINER HANDLER SPECIFICATIONS
Engine: 4 litre John Deere turbo diesel
Power: 96 kW (130hp)
Drive: Two wheel hydrostatic (three wheel drive optional)
Length: 9148mm
Width: 4800mm
Tare Weight 22,000kg
Capacity: 35,000kg
To read the full review, pick up the February issue of NewFarmMachinery on-sale February 24. Subscribe to the magazine to have it delivered to your doorstep.
Look up straddle carriers for sale on TradePlantEquipment.com.au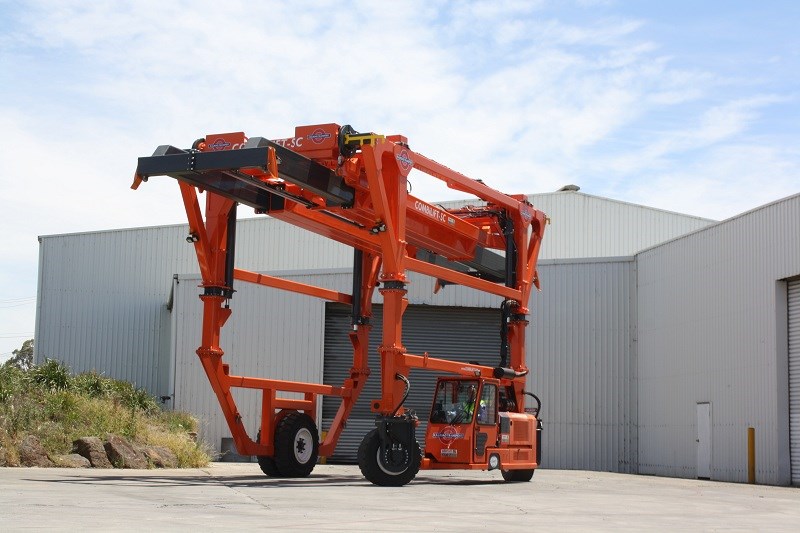 It may look like a runaway gantry crane, but the Combilift SC3T is lightweight option for container handling.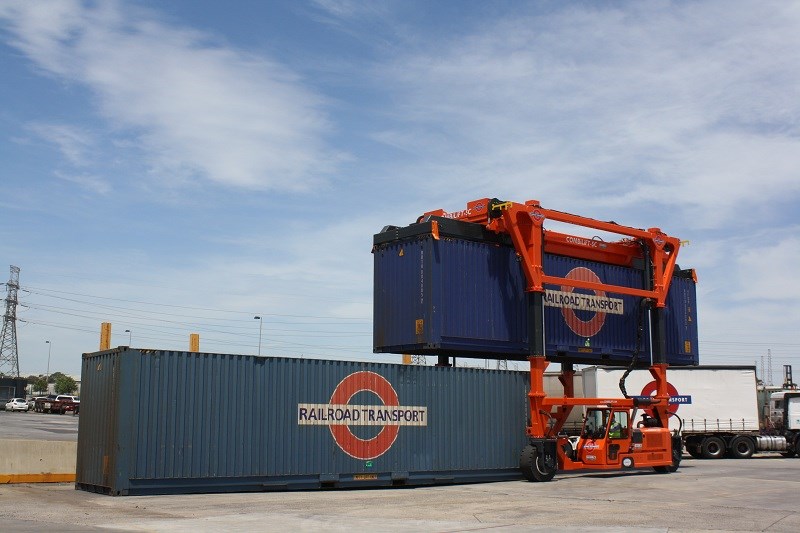 An optional telescoping frame enable two or even three high stacking.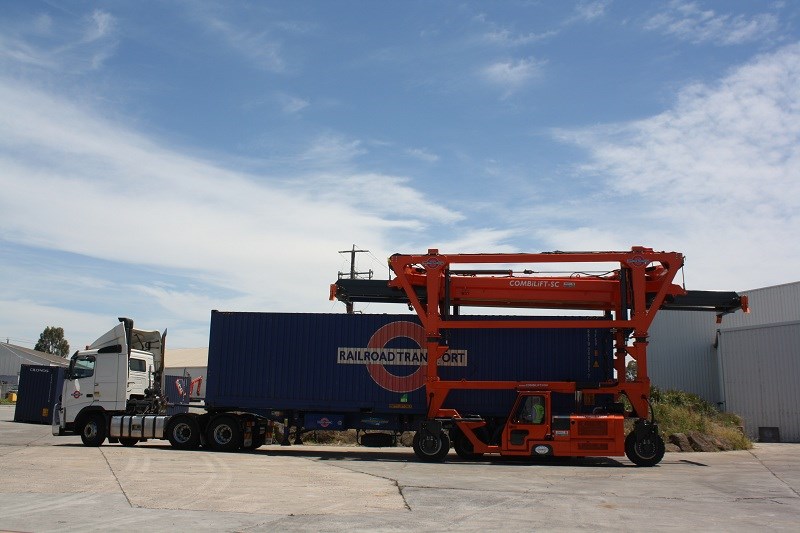 Having the cabin at ground level means that the driver doesn't have climb any ladders or stairs. The load is always kept above eye level for better visibility when loading trucks.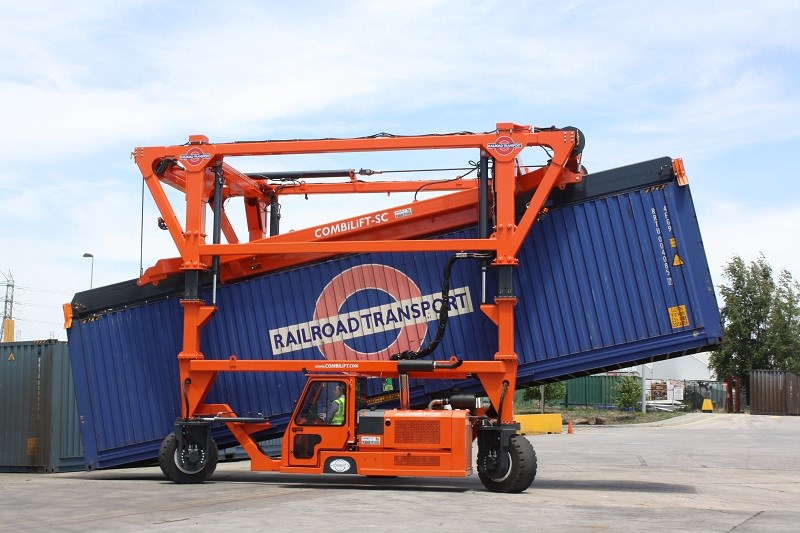 The tilt function makes unloading bulk commodities potentially much quicker and safer.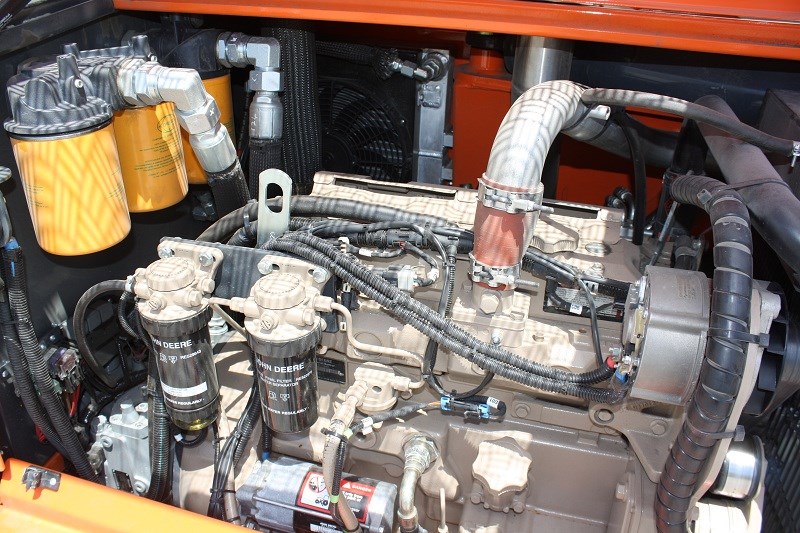 The 96kW John Deere engine is easily accessible for daily checks and maintenance.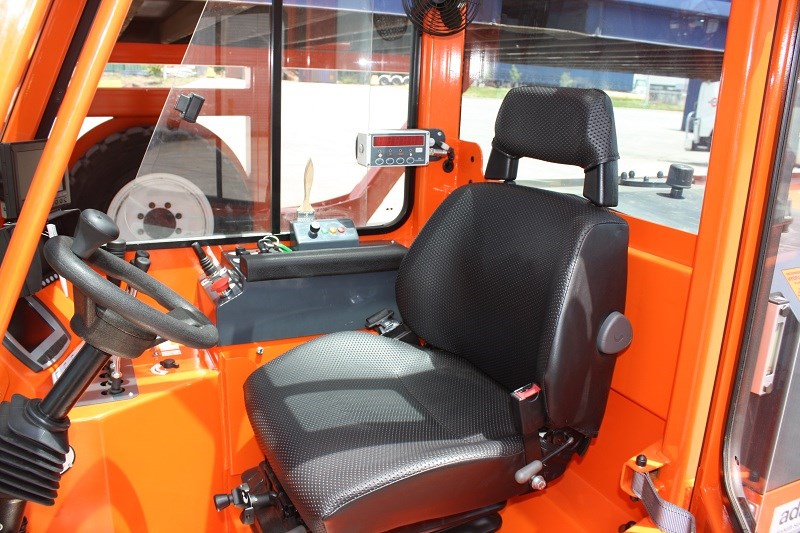 The SC3T's cab is reasonably Spartan, but can be air conditioned and is equipped with a KAB seat.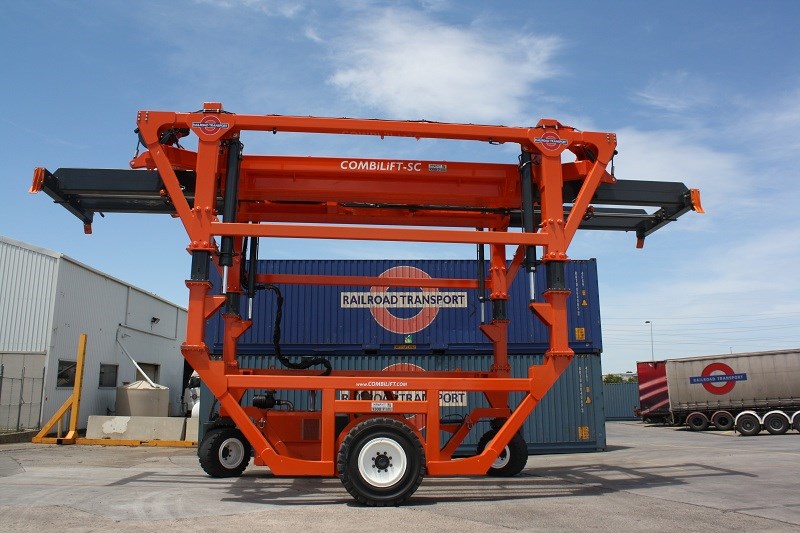 Two wheel steering make the machine quite manoeuvrable as it pivots on its lazy wheel. The SC3 can operate on uneven surfaces and even gravel hardstand areas and ramps.

Subscribe to our newsletter
Sign up to receive the Trade Farm Machinery e-newsletter, digital magazine and other offers we choose to share with you straight to your inbox
You can also follow our updates by liking us on Facebook. 

Graders For Hire | Cranes For Hire | Telehandlers For Hire | Excavators For Hire