FULL REVIEW: Polaris Sportsman X2 550 ATV
---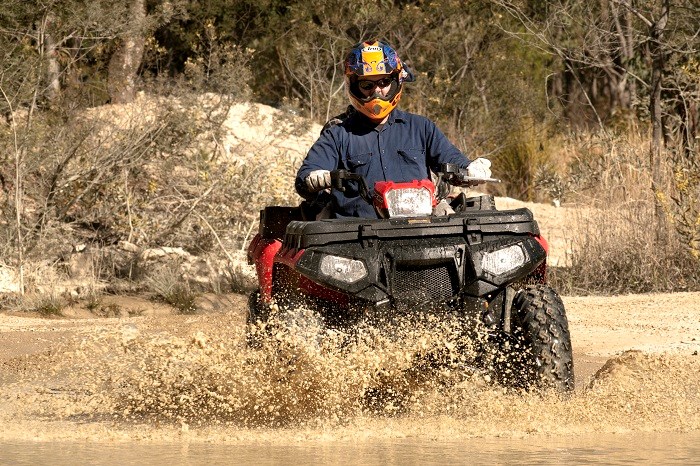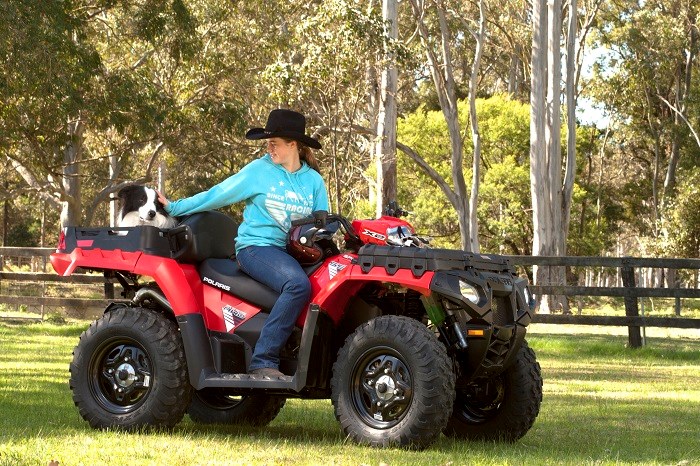 This is a true utilitarian quad with no desire to be anything else. It's easy to ride, comfortable, very capable in rough terrain, and the dog likes it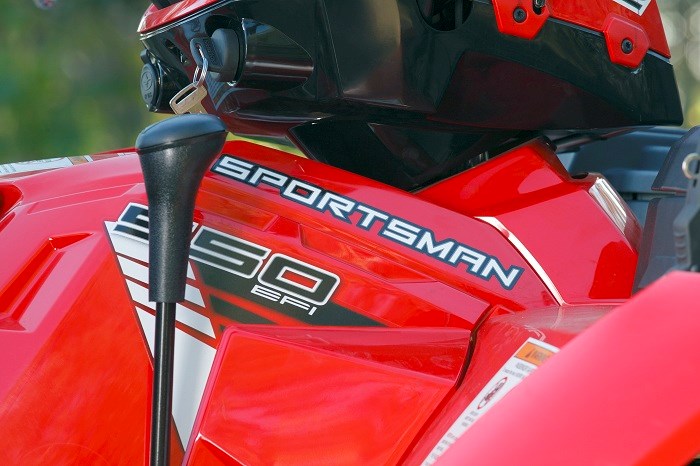 The gear selector looks clumsy but works better than most at finding the gear and making it stick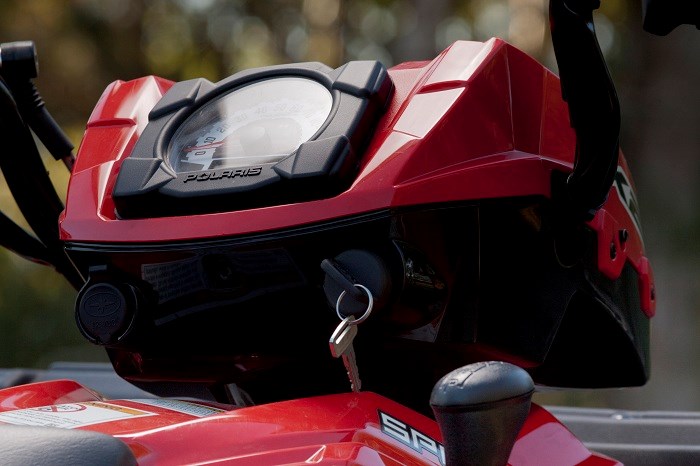 Analogue instruments tell you everything you need to know and are easy to read while you're on the move

Polaris's signature dual A-arm setup with the rear shocks rolled back slightly. The big Polaris under-steers but the ride quality is excellent
Two-seater all-terrain vehicles are not popular among conservative rural users but they might be if more operators examined the Polaris X2 and its relatives more closely. Barry Ashenhurst tests it out.
Typically, a two-seater is 200mm and 260mm longer than a short wheelbase model. The penalty is a wider turning circle, true, and you may have to 'back and fill' a few times to get around a tight turn, but this inconvenience is offset by the longer machine's allegedly superior stability.
Many owners believe their two-seaters are much more stable on steep hills, and in both directions.
There's also the weighty business of how much you can or should carry on a single-seater and how much more a two-seater is designed to carry. Some, like the Polaris X2, have a rear 'dump box' into which you can tip all manner of spiky stuff, and on the X2 this dump box has a load capacity of 180kg.
A two-seater's suspension is already equipped to carry a heavier load so you're less likely to overload it in the day to day business of looking after your property.
A Sportsman 550 single-seater can carry a payload of 261kg while the X2 is rated for 333kg.
POLARIS SPORTSMAN X2 550 ENGINE AND TRANSMISSION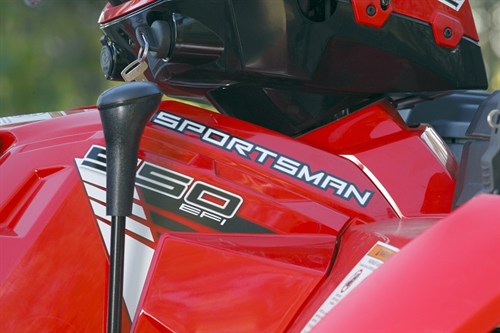 The engine in this ATV is the now legendary single cylinder, single overhead camshaft (SOHC) 4-stroke of 549cc, and it is legendary because it is so damn reliable.
It doesn't feel sporty, like Can-Am's 500 DPS, but then Polaris didn't intend it to.
This engine will putt around at low speed all day without overheating and the noise level generated is unobtrusive. There's ample torque on tap when you have to climb something slippery and/or steep.
While we're on the subject of engines, we liked the air filter arrangement. Some manufactures are determined to make filter maintenance difficult and even frustrating, but Polaris locates the huge air filter where it's easy to get at.
Checking the engine oil level and coolant level is easy too.
The transmission is what you expect, a continuously variable auto transmission. Gear selection is made with a lo-o-o-o-ng stick-shift.
It looks anachronistic, and it is, but it works better than many stubby stick-shifts. What I like about this Dr Who device is that it engages consistently.
When you select another gear, you know what gear it is and that it actually engaged; the transmission doesn't tremble and clunk while making up its mind whether or not to comply with your command.
POLARIS SPORTSMAN X2 550 DRIVEABILITY AND PERFORMANCE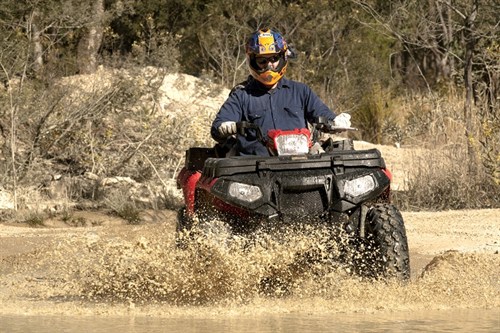 Ride quality is excellent. The dual A-arm set-up has 22.9cm of travel up front and just over 26cm down the back.
This amount of wheel movement enables the big Sportsman to float over most trail obstacles and there's little if any steering kickback. If some of your riding time is spent hunting or just trail riding for the pleasure of it, this is an ideal machine on which to do it.
When ridden fast the X2 tends to under-steer, a lot, but it's not designed to be ridden fast so that's an observation not an accusation. 
Cross-country performance is excellent. The Polaris four-wheel drive system is better than, Can-Am's, particularly when technical riding skill suddenly becomes important.
The Polaris diff lock does not require several revolutions of a spinning wheel before it engages, or continued pressure on the throttle to keep it engaged. With the 4WD button is pushed the transmission is actually in three-wheel drive, but when the transmission senses loss of traction it automatically engages the fourth wheel.
There's 'turf mode' too; literally, one-wheel drive that prevents damage to sensitive surfaces.
As we said earlier, the X2 is more stable than a shorter ATV so the only time it feels a bit of a handful is when you ask it to do something at which a shorter machine would be more adept. Approach and departure angles are pretty good too.
The X2 never bellied-out, but that's not surprising given a ground clearance of 28.5cm.
POLARIS SPORTSMAN X2 550 BRAKING AND DESCENT
The Polaris has single-lever braking in which all the wheel brakes are applied when the lever is pulled in. The only way to activate the rear brake alone is to step on the brake pedal. There's nothing wrong with this system and it certainly simplifies braking.
The brakes have plenty of feel and are quite strong.
However, I do wish that Polaris (and Can-Am) would adopt the standardised motorcycle layout and put the brake lever on the right-hand side of the handlebars where most of us expect to find it.
The park brake is a simple device and works well but the throttle is a simple device and doesn't.
The throttle lever itself is too far from the handlebars when it begins the movement to accelerate, forcing your thumb to work at an awkward and uncomfortable angle. If the lever were more in line with the bars when you start to accelerate, or close to it, the problem would be solved.
The X2 carries auto descent control (ADC), Polaris's means of limiting the speed on steep descents. We haven't always liked this system, because it hasn't always worked, but on the X2 it works very well.
Engine braking is reasonable in high range 4WD and excellent in low range 4WD. Thus equipped, the big X2 will crawl down steep descents with no correction from the brakes.
POLARIS SPORTSMAN X2 550: OTHER FEATURES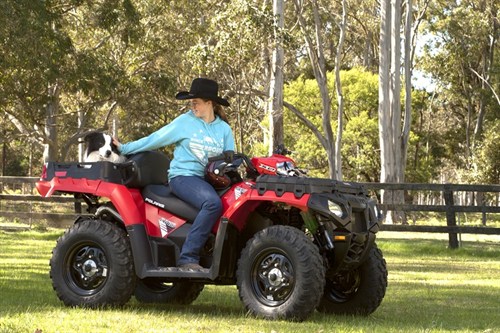 The dump box was more than useful. We used it to cart firewood and feed and a whole lot of stuff we wouldn't have contemplated had the quad we were using been any less utilitarian.
The X2 is four inches longer than a standard Sportsman (236.8cm versus 211.4cm) and 29kg heavier (362kg versus 333kg). It's a big machine. It feels that way when you're sitting on it and the impression of bulk doesn't diminish when you're moving.
There's no power-steering on this model and it's not an option. For lightly built riders, like my stick-figure daughter, the steering feels a little heavy but for blokes it is medium range. The only time I felt the bulk was when I was backing and filling or zigzagging between trees.
THE VERDICT
It would be cruel to describe the X2 as a big dumb draft horse but that's what we most like about it.
The engine is dogged and reliable. The transmission operates smoothly. The ride quality is first rate and the Polaris does everything the maker says it will.
With the exception of the silly throttle, and that we had difficulty getting the pillion seat to retract, everything worked as it was designed to. That's a high-flying a compliment and one not lightly proffered, even to jet aircraft.   
POLARIS SPORTSMAN X2 550 ATV Hits
Great utility ATV
Excellent 4WD system
Plenty of storage space
POLARIS SPORTSMAN X2 550 ATV Misses
Awkward throttle setup
Pillion seat difficult to return


Subscribe to our newsletter
Sign up to receive the Trade Farm Machinery e-newsletter, digital magazine and other offers we choose to share with you straight to your inbox
You can also follow our updates by liking us on Facebook. 

Graders For Hire | Cranes For Hire | Telehandlers For Hire | Excavators For Hire