REVIEW: Holden Commodore VF SV6 ute
---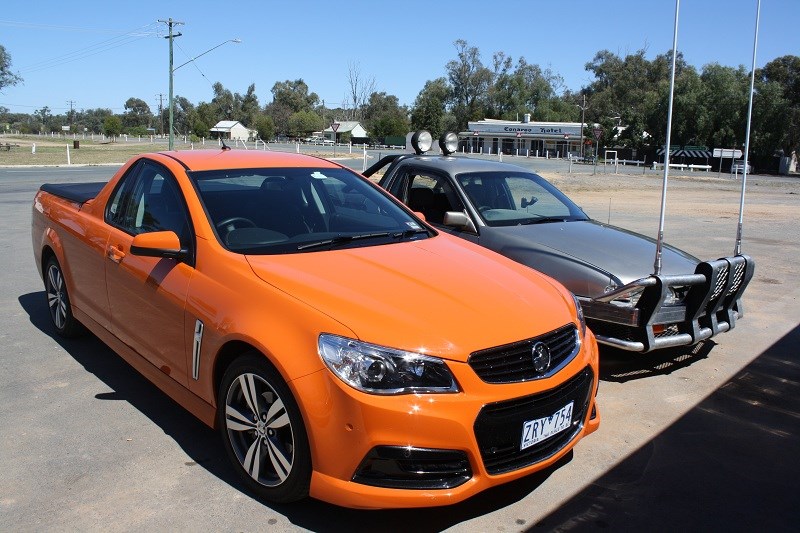 The old and the new: I reckon the VF's handling may suffer with the addition of a five post roo-bar. Still it would look the part if given the full 'inland fishing trawler look'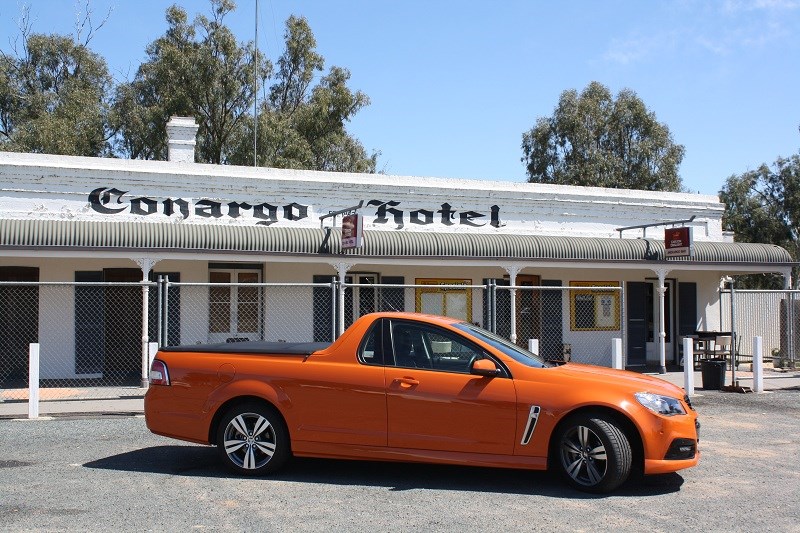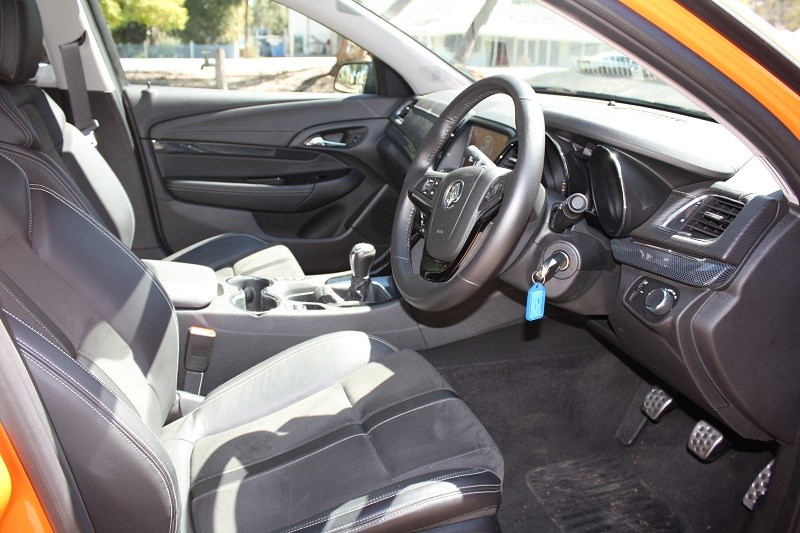 A very comfortable interior and very well appointed, the MyLink infotainment system is excellent and easy to use.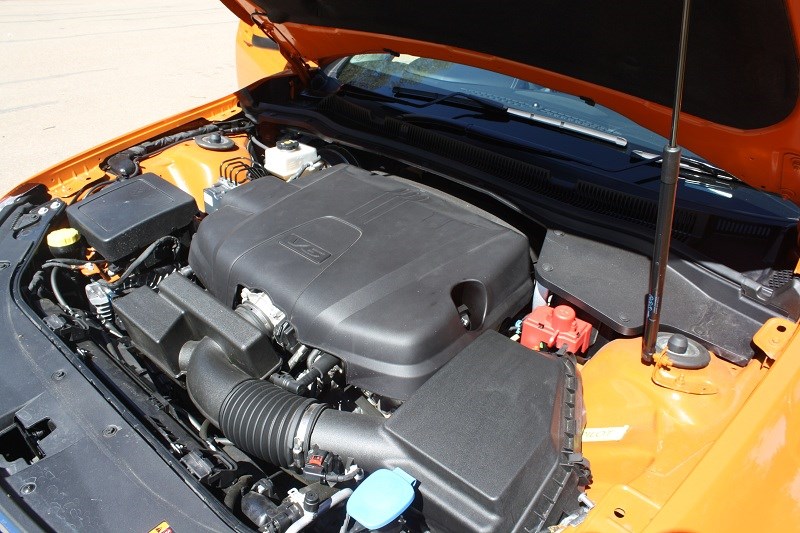 The 3.6-litre engine puts out an ample 210kW, it's also more fuel efficient than ever.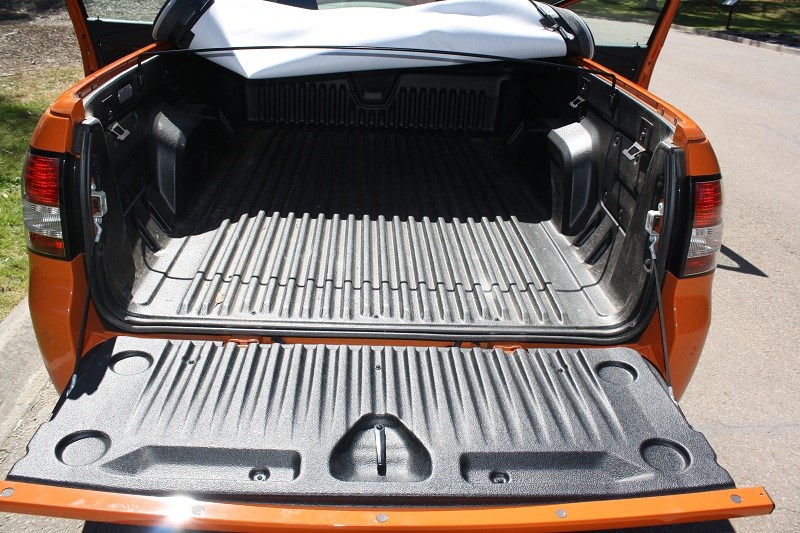 It may only be able to carry 700kg, but there's plenty of room for tools and toys.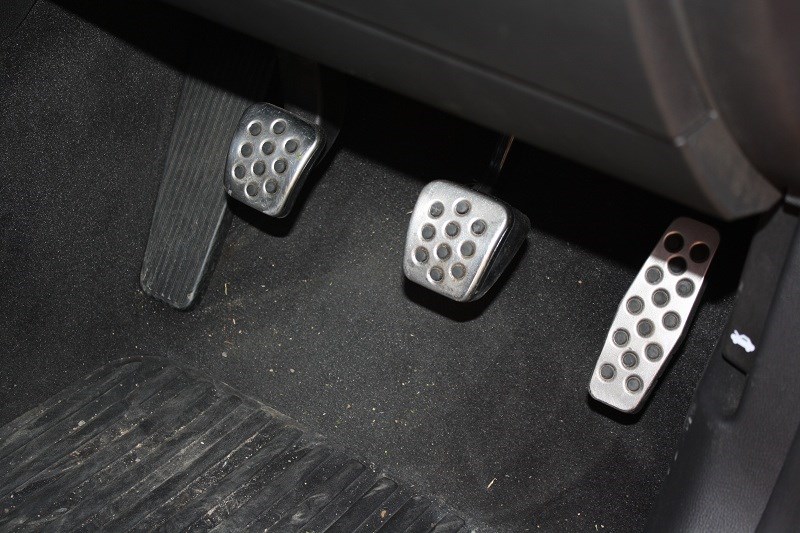 Drilled pedals are in keeping with the sporty theme.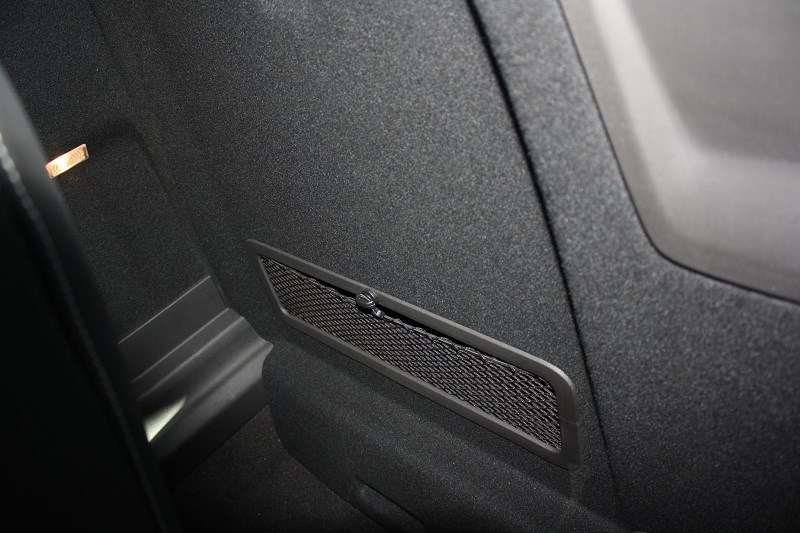 There's plenty of handy storage behind the seats.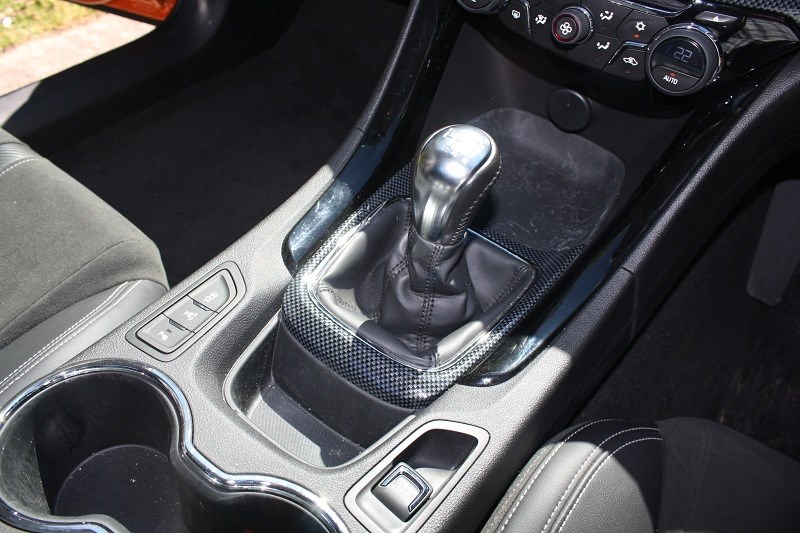 The 6-speed manual is a bit clunky.

The popularity traditional Aussie ute may well be on the wane, but Matt Wood finds the Holden Commodore VF SV6 excellent value while ticking all the boxes in the fun department.
At first glance, the VF Holden Commodore ute seems about as practical as a pair of budgie smugglers in a blizzard. For a start, in a jostling utility vehicle market brimming with 1-tonners it can only take a 700kg payload.
This market is also packed with extra-cab, dual-cab and four-wheel drive models, yet the Commodore is two-wheel drive and can seat only one passenger.
But, then you climb behind the wheel and drive it, and before you know it you start to find reasons to like it.
The VF Commodore actually has a seductive quality on the road that belies the meat and three veg image of the good old Aussie ute.
As much as I hate to admit it, I found myself getting all patriotic and sentimental as I looked at the lairy 'Fantale Orange'-coloured SV6 ute which would be my ride for the next few days.
From any angle, the new VF is a nice looking rig.
HOLDEN COMMODORE SV6 ENGINE AND TRANSMISSION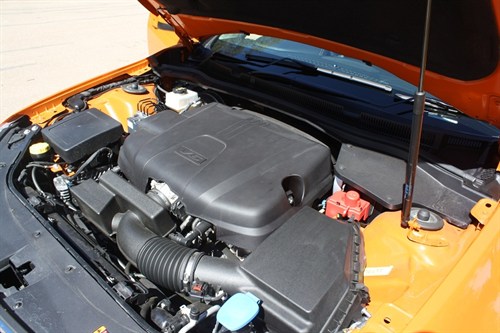 The 3.6-litre V6 SIDI donk may not have the street cred of its V8 bretheren, but the 210kW under foot was more than ample to get this baby boogying along at attention getting speeds. In fact, according to Holden only half of its ute sales are V8 powered.
 But what surprised me more was how much it liked a winding road, the electric power steering has just enough weight in it to kill any twitchy tendencies yet it transmits just the right amount of feel back to the driver, broken, potholed asphalt and all.
The tweaking of the V6 engine has seen a substantial increase in fuel economy. I'm not known for possessing the most delicate of right feet yet I still managed a very respectable fuel average of 8.8 litres per 100km which included a bit of start/stop traffic as well as open road driving.
All autos in the VF range come with a remote start function.
After a few days of driving around town I'd found myself wondering about the shift on the 6-speed tranny. I found it to be pretty easy to live with but I spend a lot of time behind the wheel of commercial vehicles so maybe I'm not the best judge.
HOLDEN COMMODORE SV6 FEATURES
With the introduction of the VF, Holden has slashed $5,500 off the list price of the Commodore meaning that the beast before me now sells for $32,990 without on-roads in manual guise (the Fantale Orange paint is a premium colour option at extra cost).
For that fist-full of dollars you get a swag of standard equipment such as a limited slip diff (manual only), dual zone climate control, Holden's excellent MyLink touch screen infotainment system, blind spot alert, reversing camera, electric power steering, funky graphite look inserts on the dash, 18-inch alloy wheels, electric auto release park brake, auto park assist, ESP, trailer sway control, a 6-speed manual cog box and 210kW of power.
Within minutes of driving the VF in traffic you start to appreciate the blind spot alert. The Commodore has blind spots everywhere, the mirrors are too small, you struggle to see over your shoulder or even see the furthest extremities of the ute, front and rear. The thick A-pillar also obstructs vision forcing you to look around it.
But, the proximity sensors dotted around the VF keep you in the know. Small icons in the side mirrors glow orange when there's a vehicle in your blind spot and the system will bleep at you if you're in danger off damaging the Commodore's delicate undergarments. 
It should be said that the blind spot alert is only standard on the Commodore from the SV6 model up. If you go for the base model auto 'ute' you'll be on your own and developing new levels of athleticism while changing lanes.
The base ute does however, have parking sensors and reverse camera, as well as auto part assist which is standard across the range.
HOLDEN COMMODORE SV6 CONTROLS AND COMFORT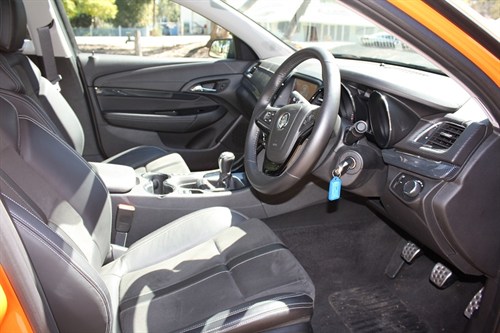 By today's standards the seating position seems quite low-slung, but after a few hours in the driver's seat I was still ache free and comfortable.
Once I neared the NSW border, the roads straightened out and the speedo needle crept higher. The leather-clad steering wheel (an optional extra) felt reassuringly chunky in my hand, while on the wheel were cruise control and audio/phone functions.
With my favourite tunes pumping I pointed the nose of the VF toward Deniliquin. The FE2 suspension does give a rather stiff, sporting ride however, I didn't find it overly uncomfortable on the long trip, it seemed a small price to pay for the on-road handling of the ute.
HOLDEN COMMODORE V6 PERFORMANCE
While the VF looks low there's a fairly decent whack of ground clearance at about 130mm, so I hit the dirt for a different perspective.
The sleek VF doesn't look like a dirt track machine and the firm suspension may seem a little harsh on corrugated gravel roads, but it handles beautifully on dirt despite quite a bit of chop and rumble back into the cab from the alloy wheels.
The VF's electronic stability control (ESC) has also been programmed to let you have a little bit of fun before straightening the whole vehicle out before things get too hairy. Of course you can always turn the stability program off.
 In fact now that the VF has auto park assist I reckon it should also have a Circle Work Assist function. With one touch of a button a driver could perform perfect doughnuts in the middle of a paddock with ease.
HOLDEN COMMODORE V6 LOADING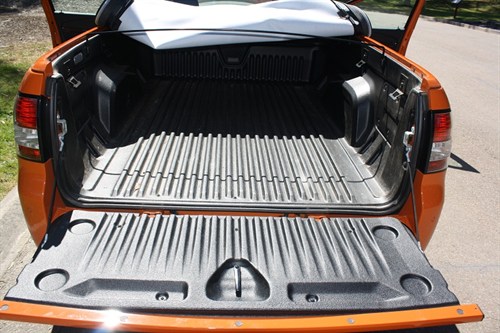 There's no doubt that the decent sized cargo area has more room than most for a load. There's even plenty of room for a couple of dirt bikes, tools, camping gear etc.
The VF however, faces some pretty stiff competition when looked at purely for work and that's the rub, really it's a lifestyle vehicle, and a bloody good one at that.
 The 1,600kg towing capacity makes it useful and the trailer sway control function helps make sure that nobody plants their ski boat upside down in the weeds.
The SV6's soft tonneau cover as standard makes it easy to throw things in the back and the sides of the ute body are low enough to reach into for work things if you must.
THE VERDICT
The uniquely Australian ute is an endangered species as the market shifts towards the more flexible dual cab and 4x4 or 4x2 high rider style utes.
This latest incarnation would have to be the ultimate evolution of the traditional Aussie ute.
Put simply, it's got to be the best ute on the Australian market in terms of performance, handling and comfort even if it does give points away for practicality. This Cowboy's hotrod just needs to get a few more bums on seats.
HOLDEN COMMODORE V6 HITS
A strong performer in V6 guise, yet quiet and civilised
Excellent road holding, well-tuned chassis for local conditions
Value for money
HOLDEN COMMODORE V6 MISSES
700kg payload only
Only room for one passenger
Manual transmission a bit clunky 
HOLDEN COMMODORE V6 SPECS
Make/model: Holden Commodore SV6 Ute
Engine: 3.6-litre SIDI V6 petrol
Power/Torque: 210kW @6,700rpm / 350Nm@2,800rpm
Transmission: 6-speed manual (6-speed automatic optional)
Safety: 5 Star ANCAP rating
Payload: 700kg
Towing capacity: 1,600kg
List Price: $32,990+ on roads (manual only)
Features: Blind Spot Alert, Reverse Traffic Alert, FE2 sports suspension,18 inch alloy wheels, chrome exhaust tip, limited slip differential (manual only), exterior sports styling and sports seats, projector headlamps, LED daylight running lights, soft tonneau cover. 6 airbags, ECS, ABS & TCS, Dual-zone climate control, electric power steering, auto park assist, rear view camera, front and rear park assist, automatic release electric park brake, hill start assist, trailer sway control, remote vehicle start (automatic models only), Holden MyLink infotainment system.
This article was initilaly published in NewFarmMachinery magazine issue 4, November 2013. For the latest farm machinery news and reviews, subscribe to NewFarmMachinery magazine.
Subscribe to our newsletter
Sign up to receive the Trade Farm Machinery e-newsletter, digital magazine and other offers we choose to share with you straight to your inbox
You can also follow our updates by liking us on Facebook. 

Graders For Hire | Cranes For Hire | Telehandlers For Hire | Excavators For Hire