REVIEW: Lely Tigo 40 SD Profi wagon
---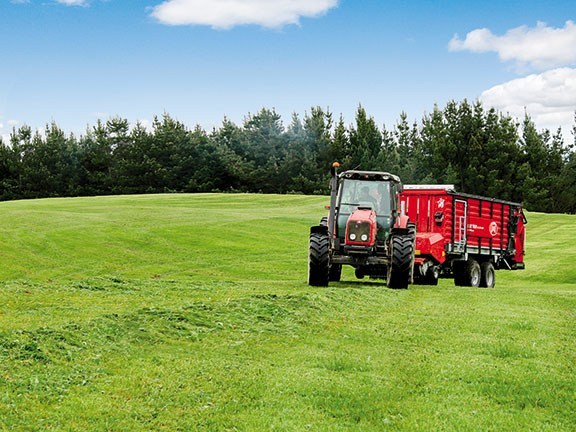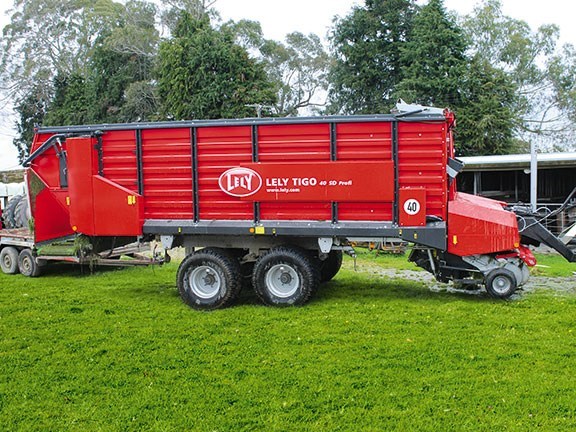 The Lely comes in solid silage or foldable side options (both removed to avoid shed damage on the test machine)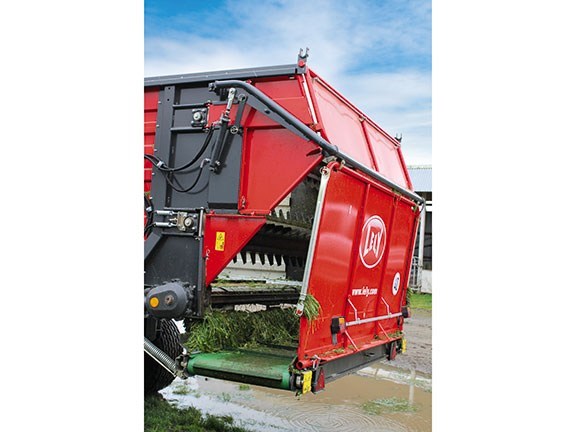 Left and right-hand feeding rear cross conveyor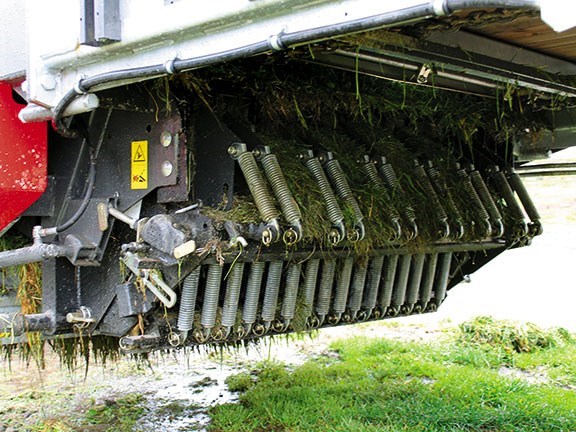 Selectable knife options for different grass lengths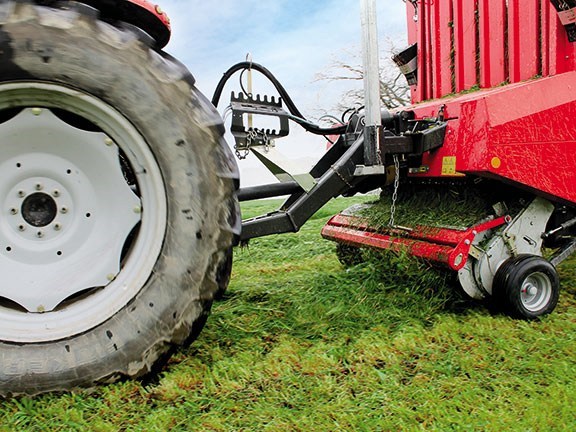 The camless pickup of the Lely does a tidy job in the paddock with fewer moving parts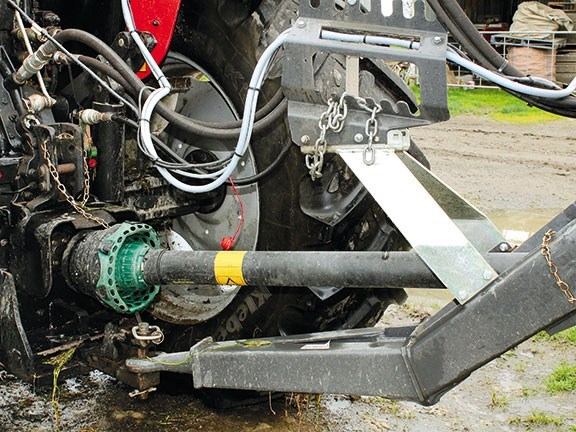 PTO setup allows for tight turns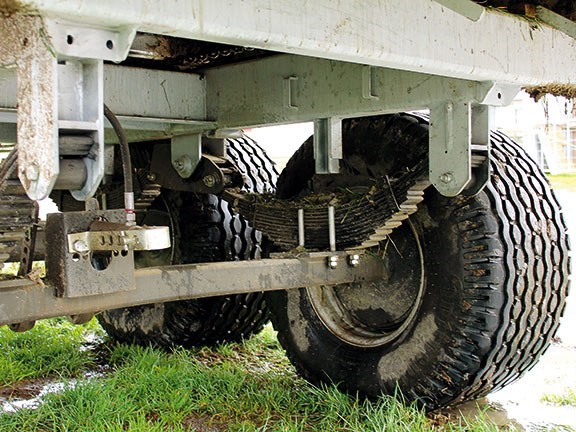 Solid double bogey tandem axle standard, steering rear axle optional

With the abundance of grass on the lands, Mark Fouhy went in search of a reliable wagon to pick it all up.

Goat farmer Kevin Roach took delivery of a new Lely Tigo 40 SD Profi wagon in June, from Piako Tractors. Roach, an ex dry-stock farmer, made the change to goat farming a few years ago and now milks around 700 goats on a 36ha portion of his farm that can be cut, harvested and fed under a zero grazing type system.
LELY TIGO 40 SD PROFI: THE TEST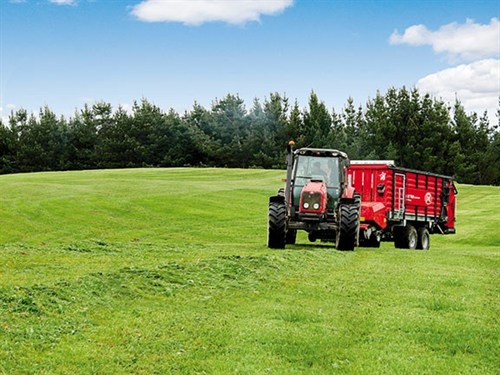 I caught up with Roach at his property about 15 minutes south of Putaruru. His goat milking platform consists of flat to rolling hill. The balance of the farm is either leased to a dairy-farming neighbour or runs trading sheep and beef stock.
Given the rolling undulation of his property, Roach is pulling the new Lely wagon with a 130hp Massey Ferguson 5465, which has plenty power for the job, but on the hills you can see why it requires the extra weight of a bigger tractor. If you were only operating the Lely wagon on the flat then a 100hp machine would be ample.
It rained the night before the test but, thanks to the free draining soils on the property, you couldn't even tell we'd been there the following day.
Roach said if he'd had an inch of rain in the morning we'd still get on the paddock for cutting in the afternoon, something many farmers would be envious of.
LELY TIGO 40 SD PROFI STABILITY AND VERSATILITY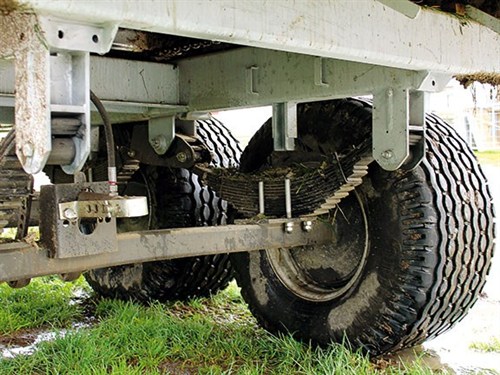 Although being bigger and taller than his last machine, the new Lely feels safe on the hills, possibly in part due to the tandem 14-tonne twist beam suspended axle fitted with 500/50 R17 tyres as standard.
The metal cage is standard, making the Lely 3.55m high. However, on Roach's machine the hydraulic foldable top has been removed, bringing the height back to around three metres. Roach has done this to make it fit inside his goat barns with low roofs.
Roach has also removed the foldable sides, which limits the maximum grass loading capacity, but increases its versatility and ability to be used as either a centre- or side-feed silage wagon. For use as a centre-feed silage wagon or for carting bulk pit silage you simply fold the rear feed conveyor in underneath, out of the way. With the contour of Roach's farm and the fussy nature of goats' eating habits, smaller loads work well.
This Lely Tigo was purchased to work in a cut and carry operation, so the ability to feed out the grass collected is rather important, which is where the 700mm cross conveyer mounted at the back comes in. With two metering rollers, the feed is fed evenly onto the conveyer, with the option to feed out to either the left or right, which will provide options as to which animals you feed first, or which way you travel through the sheds.
This model of Lely Tigo wagon can be fitted with the optional rear steering axle, which is great for tight shed work on hard concrete surfaces, along with reducing damage to paddocks when turning. This is the option I would choose, but it does add a few dollars to the purchase price.
LELY TIGO 40 SD PROFI UP KEEP
With regular attention from the grease gun the Lely Tigo wagon range should provide plenty of trouble free service. Given that in a cut and carry system you need reliable equipment, the galvanised pickup should cope with the corrosive nature of daily use well.
To get the best out of your machine it should have a service completed after the first 50 hours of operation and within the first 12 months of ownership. This will qualify your machine for an extra 12 months warranty on top of the standard 12 months offered. Servicing should be completed annually after that.
LELY TIGO 40 SD PROFI PICK UP
The performance of the pickup is one of the key features both Roach and I were really impressed with. The Lely Tigo SD40 Profi has a 1.8m-working-width, camless pick up. There are seven rows of tines spaced at 54mm. The extra tines on the Profi models allow the machine to perform a better job faster and more efficiently. With an extra two tines spinning around, there is very little grass left behind on the ground. Roach has fixed pick up wheels on his wagon.
Steering pick up wheels are an option that would make life a little easier on the pickup when turning. As I've mentioned, the paddock of grass we were collecting was still wet from the night before, with cover of about 2800kg dm/ha (12cm estimate), which isn't very long to be picking up — not ideal really, but the Lely Tigo did a very good job under the conditions. The pickup in action is also relatively quiet, due partly to the camless pickup design.
LELY TIGO 40 SD PROFI KNIVES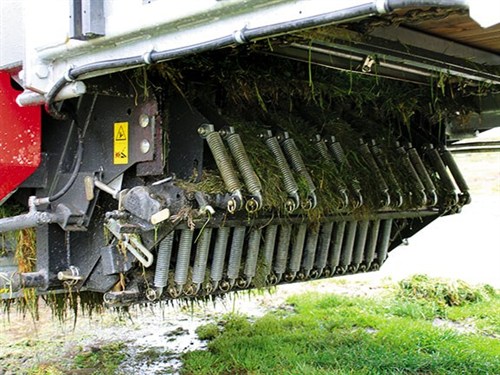 A 33-knife cutting unit can be fitted as an optional extra, giviing you five options between 0-33 knives. How many knives you have in will depend on the type of crop and the time of year it's being harvested. Roach has been running his new wagon with half the knives in, finding it better for feeding out in the goat barns.
LELY TIGO 40 SD PROFI CONTROLS
The Lely Tigo has simple, electro-hydraulic control as standard, with clear diagrams showing exactly what each of the toggle switches do, plus a dial to increase the speed of the floor. Those that have operated a loader wagon before will have no trouble picking up how to operate this one.
Roach has mounted his control unit on the bracket left from his old wagon's controls. A large red button for stop and the yellow illuminated buttons tell you whether the machine is on or off. Another feature I liked was the audible beep when the sensor was activated to tell you when the wagon was full.
THE VERDICT
If goat farming continues to grow in popularity, I can see demand increasing for smaller loader wagons, like the Lely Tigo 40SD Profi, that are fitted with rear feeding conveyers. These animals require a large portion of their daily feed intake served up on a plate in their halls of residence, so these machines are ideal — it'll pick up the freshly cut grass and spit it out to the goats satisfaction.
This style of farming is relatively new here, but has been successfully performed throughout Europe for decades, which happens to be where most loader wagon options are made — so you can be assured they're well suited to the task.
One of the most impressive features of this machine was its pick up action, which was quick and efficient (even with wet grass) and there's little wastage left in the paddock.
Subscribe to our newsletter
Sign up to receive the Trade Farm Machinery e-newsletter, digital magazine and other offers we choose to share with you straight to your inbox
You can also follow our updates by liking us on Facebook. 

Graders For Hire | Cranes For Hire | Telehandlers For Hire | Excavators For Hire