REVIEW: Can-Am Outlander DPS 500 ATV
---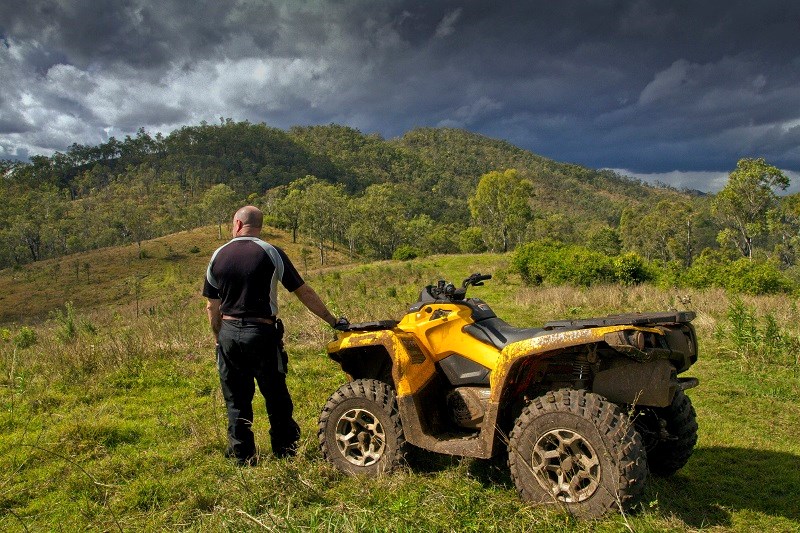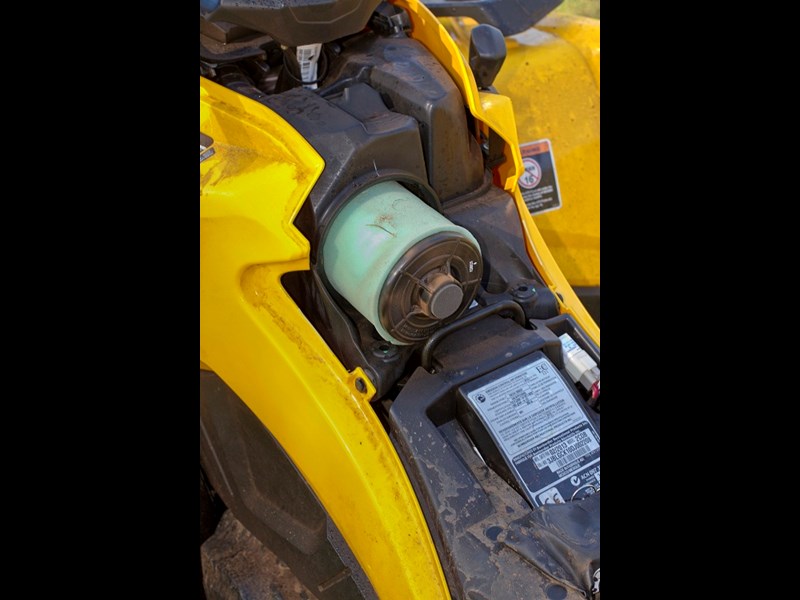 The large airbox, and the air filter within it, are placed high in the frame. The airbox is a new design that processes incoming and outgoing air more efficiently.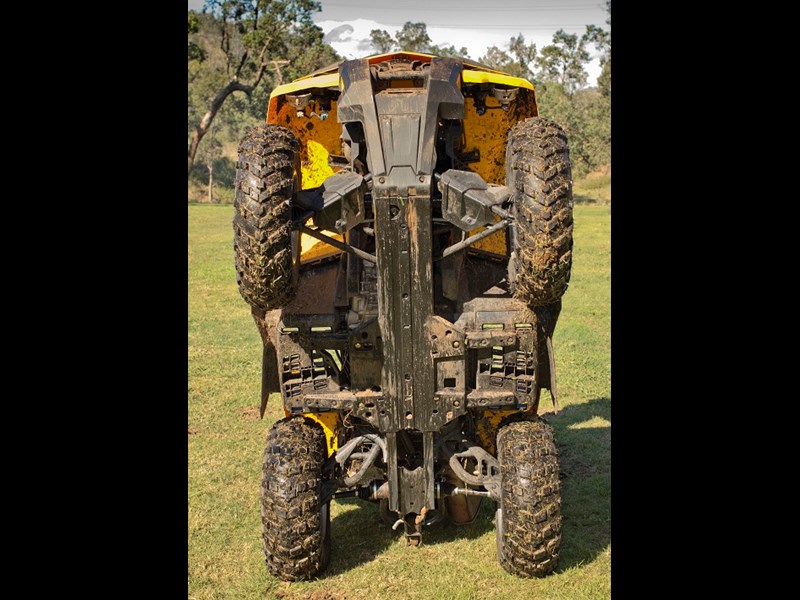 Plastic armour isn't all that tough and we've seen vulnerable sections of it fracture under stress. The floorboards drain quickly but sharp objects can penetrate the plastic.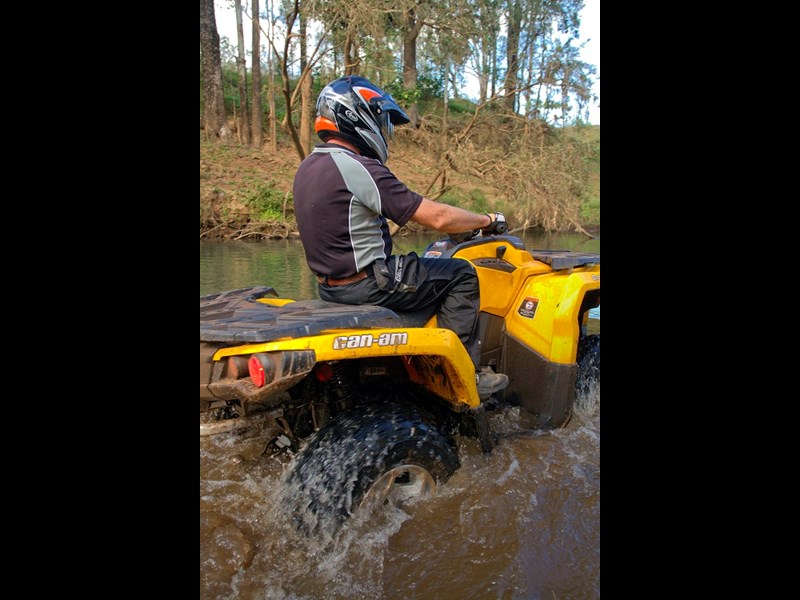 The Can-Am fords creek crossings confidently if you don't push your luck.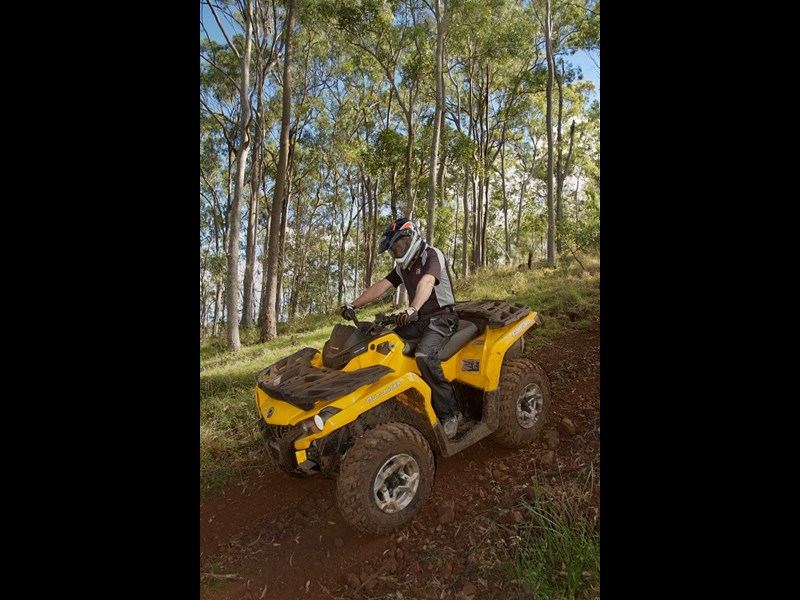 Powerful engine allows you to descend slippery hills safely without constant correction with the front brakes.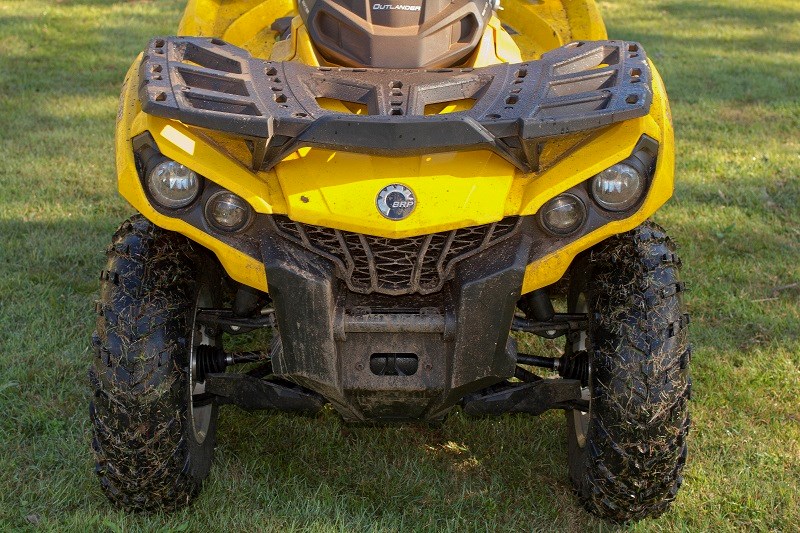 The budget spec precludes a front bumper but it can be retro-fitted. We'd recommend it for protection of the lights and grille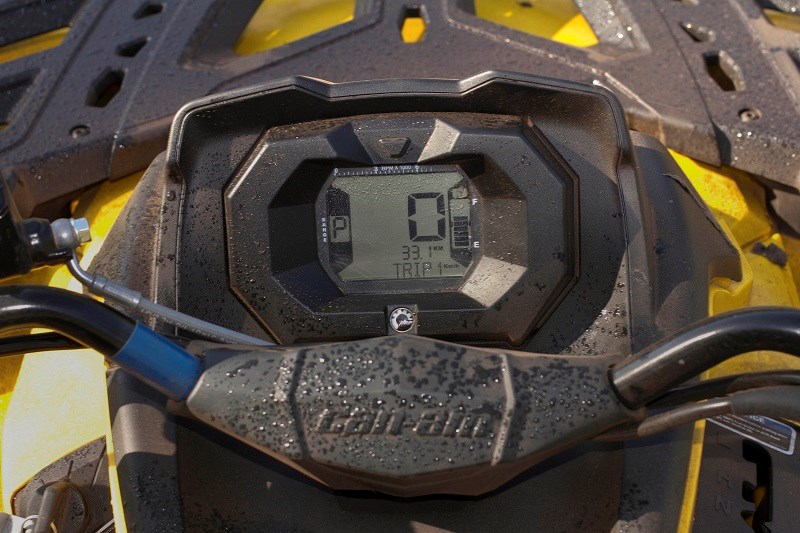 Modern instrumentation monitors wide ranging functions and, although you might use only some of them, the digital database teaches learners what's important on an ATV and what they should keep an eye on.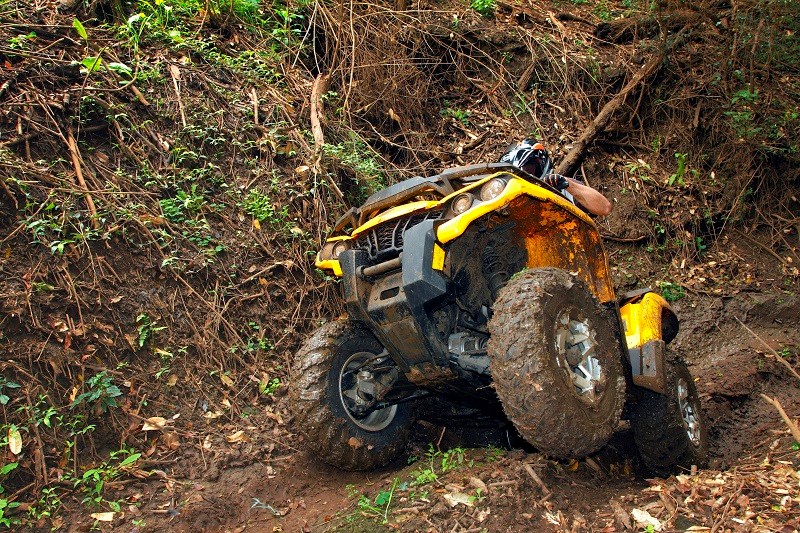 The cross-country performance is excellent and the sensible tyres help. Even under pressure this is an easy machine to operate. Good ride quality and power steering make a long day shorter.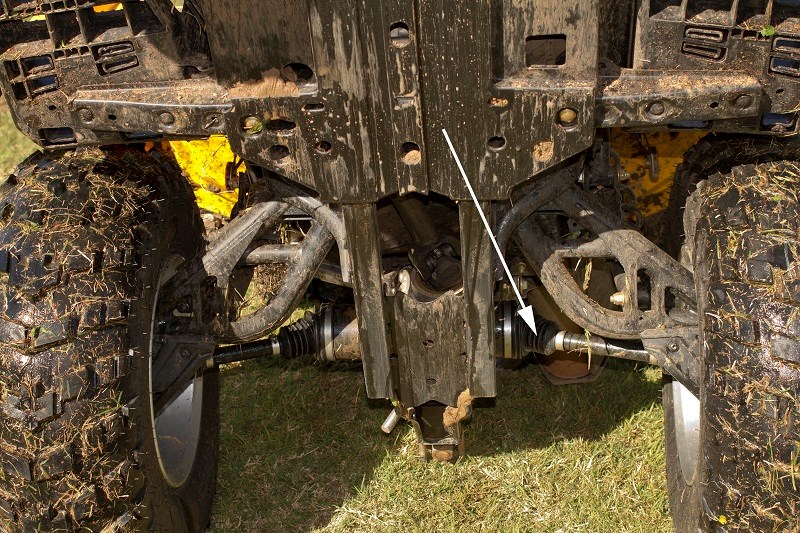 Rear CV boots (arrowed) would benefit from better protection.

Can-Am's Outlander 500 DPS is tough to beat, a fun machine with hard muscle. Barry Ashenhurst discovered this ATV can do everything as he took it for a spin.
Bombardier Recreational Products (BRP) doesn't build Can-Am all-terrain vehicles (ATVs) as other manufacturers build theirs.
Despite what you might read about Can-Ams being dedicated to hard work on the farm, if genes are made of DNA there's always a let's-go-play gene in there somewhere.
CONTENTS
Outlander XT without the bling
CAN-AM OUTLANDER 500 ENGINE, BRAKING AND POWER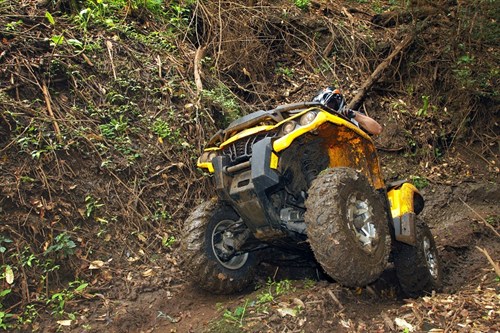 Thanks to a powerful V-twin engine made by BRP company Rotax, Can-Ams usually have "the most powerful engines of the industry" and the best power-to-weight ratios, so apart from anything else, they're fun to ride.
Thanks again to the V-twin, Can-Ams also have the most impressive engine braking, not because of some clever device with yet another silly acronym but because Rotax V-twins are born torquey.
BRP was also among the first quad makers to slip bigger engines into its 4x4 ATVs, sparking a horsepower race that's still raging.
Power on this ATV is deceptive. It doesn't exactly bolt out of the hole but it does wind out to a respectable 100km/h.
According to figures published by Hondaforeman.com, this 500 develops more power than the Yamaha grizzly (45.6hp) and the Honda 680 Rincon (38.5hp) which is quite an accomplishment considering the capacity deficit.
Comapre the Outlander DPS 500 with the Yamaha Grizzly
The 500 has enough torquey punch to get up hills that any man in his right mind would attempt. It will also haul heavy objects off the trail, but remember, select low range 4x4 first or you could fry the continuously variable transmission (CVT) belt.
Engine braking is first class, in fact it's the best in the business.
Big 800 and 1000cc engines have so much compression their engine braking is quite savage, and will almost send you over the bars, but that's not the case with 500cc, or to be precise, 499.6.
You might not be impressed with engine braking in high range but if you descend in low range 4x4 you could, with apologies to the Downhill Safety Society, remove your hands from the handlebars and listen to the cricket while the Can-Am idles gently to the bottom.
CAN-AM OUTLANDER 500: AN OUTLANDER XT WITHOUT THE BLING
One thing that makes BRP conspicuous is the company never stands still. It's always improving the spec or upping the ante in some way. Basically, the DPS 500 is an Outlander XT without all the posh stuff like factory-installed bumpers, a winch and fancy wheels.
Compare the Outlander 500 DPS with the Outlander XT.
The Outlander DPS 500:
•             This model gets what Can-Am calls Tri-mode power steering, which means you now have three power-assistance settings from which to choose
•             Dual A-arms replace MacPherson Strut suspension up front
•             The cargo rack design is new. So is the improved LinQ snap-and-go system
•             12-inch [30cm] cast aluminium wheels are stronger and lighter, with less unsprung weight
•             The G2 welded steel frame is said to be lighter and stronger, while being the source of more precise handling
•             The headlights have been improved
•             The airbox is larger and sits higher
•             Fuel tank capacity is now a larger 20.5 litres
•             The Visco-Lok QE differential is standard.
CAN-AM OUTLANDER 500 RIDE QUALITY AND SUSPENSION
In the Outlander 500 DPS, Can-Am has moved from a MacPherson Strut to dual A-arm front suspension.
This design allows the wheels to travel in a straight up and down movement when hitting a bump, and that in turn makes for better traction in slippery conditions.
Can-Am publicity material claims trailing-arm rear suspension "ensures the vehicle only moves in the direction you point it," which is probably going a bit too far, but there's no doubt that dual-A-arms are far superior to a McPherson Strut layout and this ATV is better for it.
The Outlander feels self-confident and capable in the scrub. The front suspension is plush, though the Outlander still tends to nose-dive under brakes when you're riding hard, but overall the ride quality is excellent.
CAN-AM OUTLANDER 500 POWER STEERING AND CONTROLS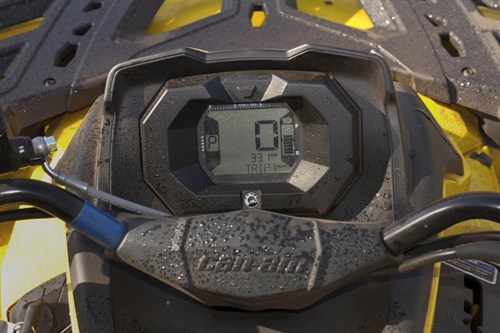 The Dynamic Power Steering (DPS) is 'selectable'; you choose the degree of assistance to suit the circumstances.
When riding slowly you dial in more assistance, less when you're kicking along a bit. As it turns out, all our testers own Can-Ams and each of them leaves the power-steering setting at maximum.
Adjustable power-steering eliminates the most physical aspect of riding a 4x4 ATV and so this one and others like it are an ideal choice for those learning to ride. It's also a less intimidating prospect for women because they won't have to fight it every inch of the way.
The Generation 2 range comes with a 'two-key' system which enhances its usefulness.
A black ignition key allows the engine to develop full power while a grey key electronically limits top speed to a sane 77km/h.
CAN-AM OUTLANDER 500 EXTERIOR
So the 500 DPS doesn't come with bumpers and winches and what not, but you can always retrofit them, in fact anything on the XT model is available as an option for the 500 DPS. We'd recommend at least a front bumper to lessen the risk of accidental damage in collisions with fences, stock and so on.
We like the air filter arrangement, as well. The big cylindrical filter is housed in a raised airbox and requires no fiddling or farting about to extract.
The plastic body armour like that worn by the Outlander isn't all that strong. What's more, it can be vulnerable on a machine that nose-dives under brakes.
This is a budget model though, that's why the armour is plastic, but we'd be fitting alloy armour if our everyday chores increased the chances of damaging the running gear or parts of it.
The rear constant velocity (CV) boots need better protection, too.
THE VERDICT
There's little we can criticise on this machine and feel we're giving you vital information you can't live without.
Like all Outlanders, this one is a pleasure to ride and goes about a day's work with the persistence of an indefatigable Kelpie.
Ease of operation is the most obvious strong point. You don't have to do much when riding an Outlander, because it does all the hard work for you, and if that was the chief engineer's intention then he deserves one of those really big Caramello Koalas.
CAN-AM OUTLANDER 500 DPS HITS:
•             Nice power
•             Strong engine braking
•             Ease of operation
•             Great machine for beginners
CAN-AM OUTLANDER 500 DPS MISSES:
•             Vulnerable rear CV boots
•             Still nose-dives under brakes.
CAN-AM OUTLANDER 500 SPECIFICATIONS
ENGINE
Type: Four-stroke V-twin
Displacement: 499.6cc
Cooling: Liquid
Starting: Electric
Fuel System: EFI
Transmission Type: Automatic CVT with high/low range
DRIVE TRAIN
System: Selectable two-wheel drive/ four-wheel drive, front differential lock
CHASSIS
Front Suspension: Double A-arms with preload adjustable shocks
Travel: 229mm
Rear Suspension: Torsional trailing-arm independent
Travel: 236mm
RUNNING GEAR
Front brake: Dual 214mm ventilated discs
Rear brakes: Single 214mm ventilated disc
Front Tyres: Carlisle Badlands 26x8-12
Rear Tyres: Carlisle Badlands  26x10-12
Wheels: Alloy
DIMENSIONS
Wheelbase: 1,295mm
Seat height: 877mm
Ground clearance: 279mm
LxWxH: 2,184 x 1,168 x 1,118mm
Fuel capacity: 20.5 litres
Dry weight: 324kg
Max cargo-rack load: Front 45kg/Rear 90kg
MISCELLANEOUS
Instrumentation: Speedometer, tachometer, rpm, odometer, trip and hour metres, diagnostics, gear position, engine-hour metre, 4x4 indicator, engine and temperature lights, fuel gauge, clock, auto shut-off after 15 minutes
Anti-theft: Digitally Encoded Security System (DESS)
Electrical: Prewired for winch
DC outlet: Lighter-type in console
Warranty: Six months limited
Extended warranty: Three years
Price: $11,990
The review was initilaly published in NewFarmMachinery magazine issue 5, December 2013. For the latest farm machinery news and reviews, subscribe to NewFarmMachinery magazine.
Click here to find Can-Am ATVs for sale.
Subscribe to our newsletter
Sign up to receive the Trade Farm Machinery e-newsletter, digital magazine and other offers we choose to share with you straight to your inbox
You can also follow our updates by liking us on Facebook. 

Graders For Hire | Cranes For Hire | Telehandlers For Hire | Excavators For Hire