REVIEW: Jeep Grand Cherokee Summit SUV
---
No, it's not a ute, but Matt Wood takes a look at the recently released special edition Jeep Grand Cherokee Summit 4x4 and finds it a worthy country contender.
For Fiat Chrysler, 2013 has certainly been a good year. The Jeep Grand Cherokee has topped the sales charts in the large SUV segment over the last few months and has sold over 10,000 vehicles.
It's even won a 4x4 of the year gong from our sister title 4x4 Australia.
The Grand Cherokee model range stretches from the base 4x2 Laredo which is powered by the 3.6 litre petrol Pentastar V6 which drives away for $45,000 to the stupidly powerful and fast SRT with its fire breathing 6.4 litre Hemi V8 which leaves the lot at $77,000.
While the SRT may be both well-appointed and fun, the gloss of feeding that bellowing powerplant within starts to wear off after a while.
If practicality is more your thing then the Overland version may well suit your tastes.
However, if you like the posh appointments of the flagship of the range but also some country economy, the newly released diesel powered Overland based Summit may fit your requirements.
CONTENTS
JEEP GRAND CHEROKEE ENGINE AND TRANSMISSION
Power is provided by a 3 litre turbo-diesel powerplant which delivers a healthy 184kW of power and 570Nm of torque and has a towing capacity of 3,500kg.
Transmission wise, an 8-speed ZF auto provides the spread of gear ratios to keep a healthy balance between torque, performance and fuel efficiency.
The electronic transmission selector is a little finicky to use at first but is easily settled into, though I did find it a bit tricky to go from auto to manual mode and back to auto.
On climbing in and firing up the common rail, direct injected V6 donk, apart from the brief clatter on start-up it is most un-diesel like.
The VM-Motori manufactured engine is extremely refined. I haven't always been exactly enamoured with some of the power plants that have emerged from this factory, this one is a very nice performer indeed.
Claimed combined cycle fuel economy is quoted at a measly 7.5 litres/100k though my lead footed antics couldn't match that.
Nonetheless anything between 8 and 9l/100k is more than respectable in a wagon that comes in at a hefty 2,300kg.
Plant the right foot and initially not a great deal happens, that's because the Summit has an Eco mode which is the default position, this brings the shift points of the gearbox closer together as well as taking some of the zip out of the accelerator pedal.
Driving around in traffic in Eco mode makes the hefty Jeep feel cumbersome and sluggish, by flicking the Eco button off the drivetrain comes alive and gives the 4x4 a bit of a shot in the arm at low speed.
Country drivers however, probably won't notice that much at all.
JEEP GRAND CHEROKEE SAFETY SYSTEMS
You also get a full suite of safety systems such as adaptive cruise control, blind spot monitoring, parking sensors, rear parking camera, forward collision warning, hill start assist, hill descent control, and rear cross path detection and of course Electronic Stability Control (ESC).
Which should mean the Jeep Garand Cherokee Summit is really really, hard to crash.
If you do happen to ignore every warning system aboard the Summit and hit something there are more airbags than a sitting of Parliament inside to stop you from getting hurt.
JEEP GRAND CHEROKEE COMFORT AND CONTROLS
The interior is well laid out. You get leather all round including the steering wheel, a suede type hood lining and a double deep electric sunroof.
By going for the Summit it gets that little bit more bling, you can even go for the classy timber look.
It seats 5 adults comfortably and the rear seats fold down to provide a decent load area if required.
I'm still not fussed on the foot activated park brake and this is a common source of complaint about models from the Chrysler Jeep Empire.
In fact, given the level of equipment offered elsewhere in this model I'm surprised it isn't equipped with an electronic park brake, though this may be seen as 'citi-fying' the SUV that bit much.
The Summit has push button start so you can climb on in as long as the key fob is in your pocket, and I only smacked my head getting in a couple of times on entry, though this is probably more of an indictment on my level of physical co-ordination.
The 8.4 inch Uconnect touch screen digital entertainment unit with Satnav and voice command also has a 19 speaker Harman/Kardon set up which delivers fantastic sound quality.
While the 19 speaker Uconnect sound system may be great for loud doof-doof music, it is however dismal for radio.
FM radio gets sketchy as you leave the city behind you and AM descends into static at the slightest provocation.
JEEP GRAND CHEROKEE EXTERIOR
Outside it gets a special chrome grille, wheel arch flares, 20-inch alloy wheels, some distinctive badging and some rather cool shaped twin exhaust tips out back which protrude through a custom fascia.
Parent company Fiat Chrysler hasn't exactly been renowned for making nice looking vehicles over the last few years, though admittedly much of that has come from the Chrysler part of the business.
The Grand Cherokee itself though is actually a good looking wagon, the tweaked exterior update with LED lights front and rear has helped accentuate what are pretty good lines.
The company may yet redeem itself over some of the styling clangers of the last decade.
JEEP GRAND CHEROKEE SUSPENSION
As far as the getting dirty stuff goes, the Summit is equipped with Jeep's Quadra-lift air suspension and the Selec-Terrain traction control system.
The Quadra-lift suspension gives the Jeep a maximum ground clearance of 287mm at full stretch.
The Jeep is a constant 4x4 with a two-speed transfer case and a rear electronic diff lock.
The rear wheels put 52 per cent of the power down in most cases while the remaining 48 per cent goes to the front.
This all means that it should be a capable off-road performer, but the reality is that most will rarely leave the blacktop as they shuffle through urban traffic on family truckster duties day in day out.
On the highway, the Cherokee sits on the road beautifully; the Quadra-Lift suspension actually lets the Jeep squat on its haunches to reduce its height.
This is meant to improve handling and reduce drag and thus, save fuel.
The air-suspension is a little squishy and the Jeep does rock and roll a tad, but the 20-inch rims go in the other direction and transmit quite a lot of pop and rumble into the cab as well as through the steering wheel.
JEEP GRAND CHEROKEE PERFORMANCE
Off-road
Outside of urban areas the Summit manages to ride hard and soft all at the same time.
The good news is that the Overland on which the Summit is based can be specced up with an off-road pack which includes an 18-inch wheel package.
This package, by all accounts sorts out the Jeep's ride and handling issues on rough roads.
Wheel package aside, the Jeep handles confidently at speed on dirt roads, and while it never lets you forget its size, the ESC does a smashing job of catching any drift or skid.
I won't keep banging on about the wheels because anyone who really wants to get off-road will sort that out when they spec up their vehicle.
The Summit will confidently crawl over most reasonable obstacles and even deal with soft sandy surfaces quite easily. A full sized spare wheel is a nice concession to country practicality.
Selecting one of the 5 off-road modes is just a matter of twisting the terrain dial to one of the settings rock, snow, sand, mud etc.
The suspension will then jack itself up to the required height for optimum ground clearance and selecting 4-wheel-drive low is done at the push of a button.
Downhill
The descent control function also comes in handy as the Jeep's heft means that it wants to slither down a slope rather drive down it.
Once the descent control has been selected it's just a matter of controlling your speed on the way down using the transmission paddle shift controls on the steering wheel.
This keeps your foot off the brake pedal on slippery slopes.
One thing I noted when off-road was the tendency for the suspension to bang and pop at times when at full stretch while negotiating obstacles which was rather alarming.
THE VERDICT
On the whole the Grand Cherokee may well spend more time clogging up shopping centre car parks than cruising down country highways.
But as a comfortable long distance cruiser it's well set up for this role indeed and the V6 diesel is a lovely, smooth and torquey bit of machinery which works in well with the 8-speed ZF auto behind it.
The electro-assisted power steering is comfortable in both urban and off-road situations and while it's no sports car it handles well enough for what is essentially a big diesel 4x4 and most won't find it wanting.
It's a flexible vehicle that's more than capable of towing a load or covering long distances without burning too much juice and all the while still catering to family transport duties.
At $75,000 drive-away the Grand Cherokee Summit is a screaming deal considering the level of equipment it arrives with.
Competing models from other brands are priced out of the ball park on a spec for spec comparison. And while it lacks finesse in some areas it makes up for this in performance and value.
JEEP GRAND CHEROKEE SUMMIT SPECIFICATIONS
Engine: 3 litre V6 Turbo-Diesel
Power: 184kW Torque: 570Nm
Transmission: 8-speed Automatic
Towing capacity: 3,500kg
Equipment: 20-inch alloy wheels, leather interior, dual zone climate control front and rear, 19-speaker Harman/Kardon sound system with Uconnect, full size electric sunroof, leather wrapped steering wheel, chrome grille inserts, wheel arch flares, custom rear fascia and twin exhaust tips, chrome accents to front bar and doors, adaptive cruise control, forward collision alert, blind spot warning, and rear cross path detection, Quadra-lift air suspension, Selec-Terrain traction control and Electronic Stability Control, LED external lighting.
Read the detailed review in the April issue of NFM Magazine, on-sale April 21. Subscribe to the magazine to recieve at your doorstep.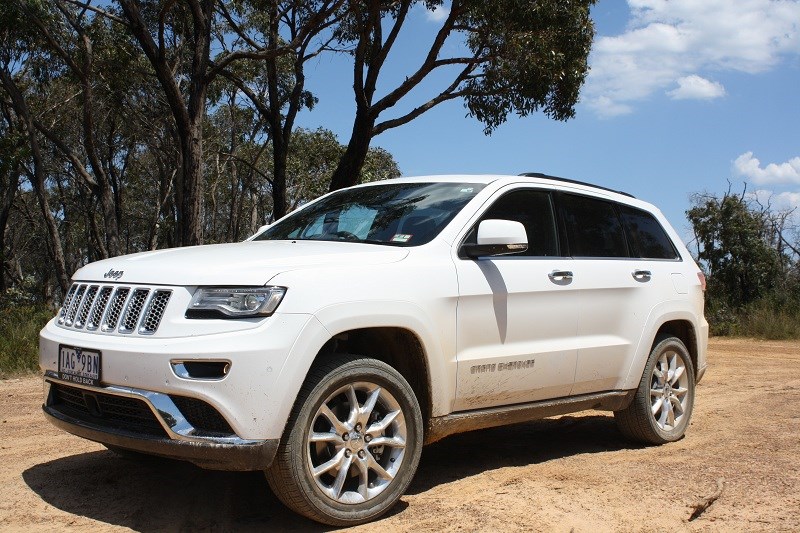 Without wanting to sound one dimensional it's quite a good looking bus even when its dirty.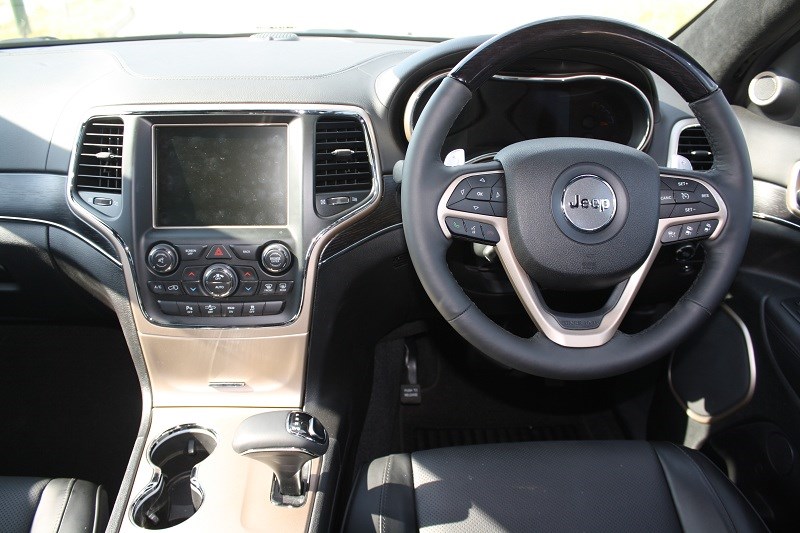 Comfy, well laid out interior.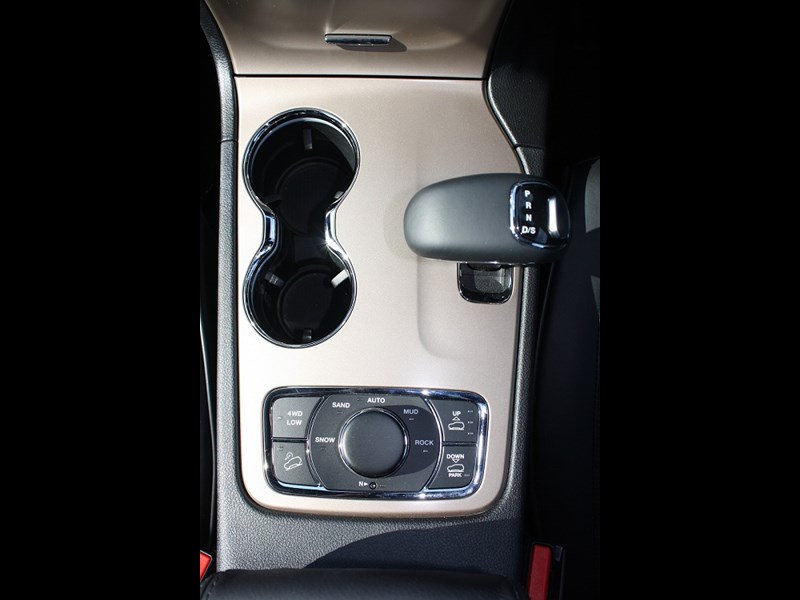 The electronic gear shifter is a bit fiddly until you get used to it.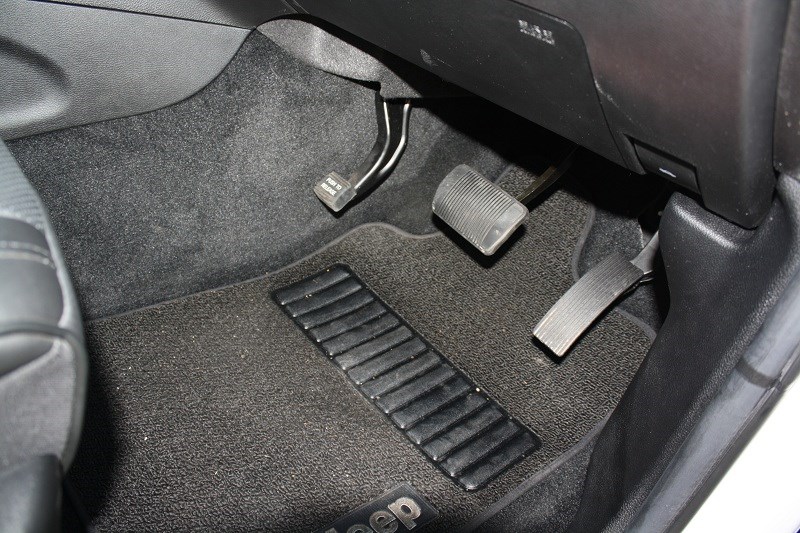 There's not a huge amount of room for the right foot and the park brake pedal is annoying.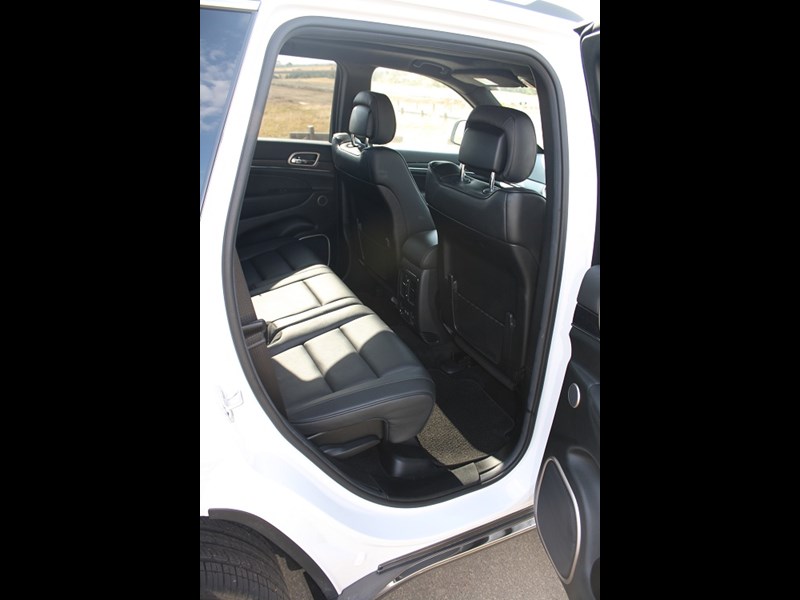 Rear seat passengers are also well accommodated.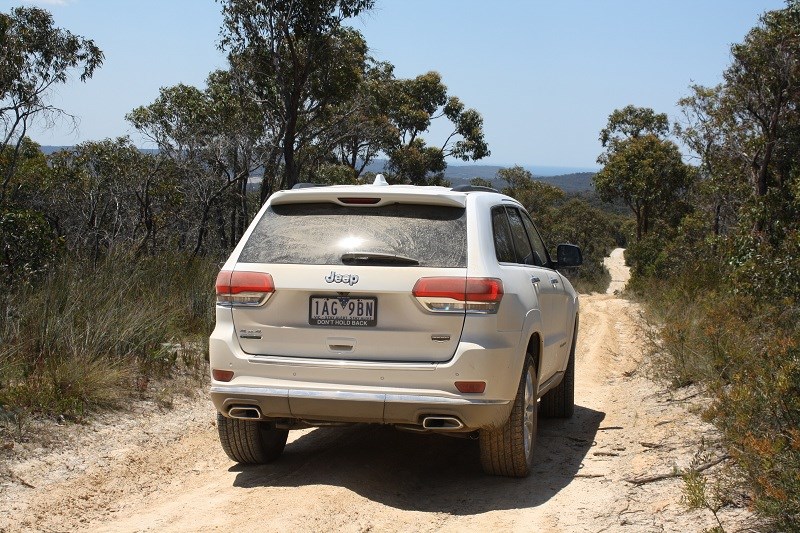 It even looks good from behind.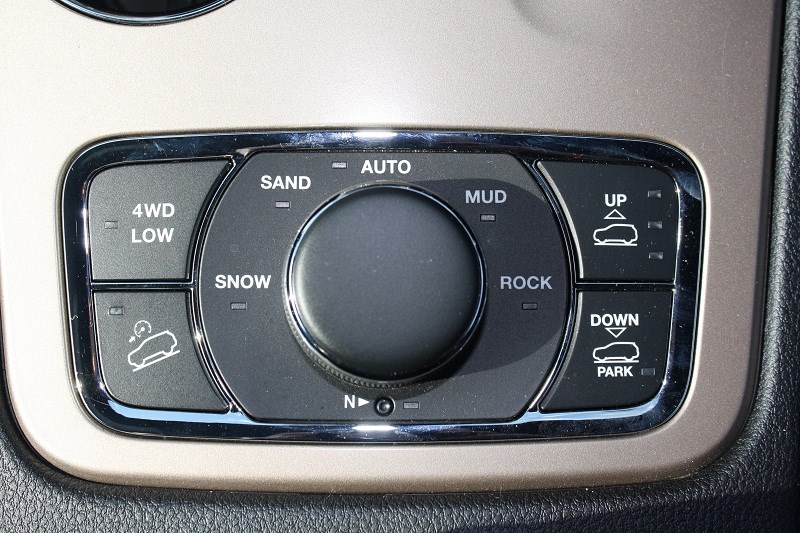 The Selec-Terrain system is easy to use and works in conjunction with the Quadra-lift air suspension.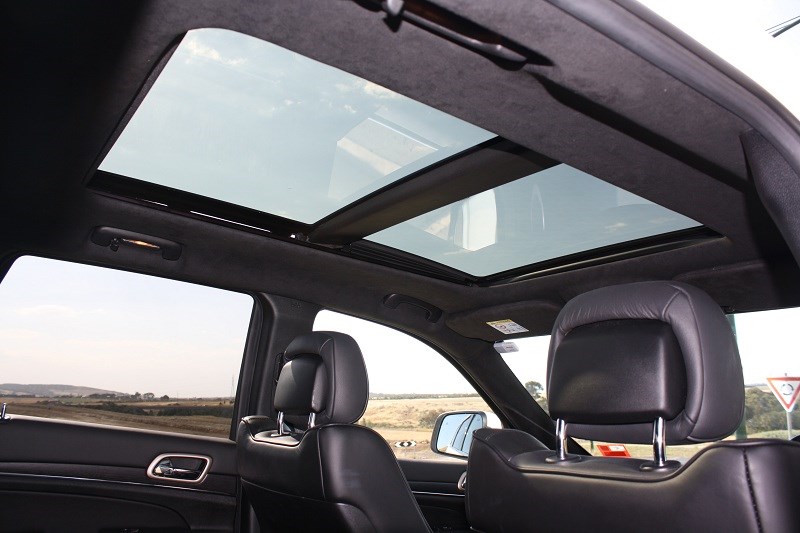 Huge sunroof opens right up in case you want the Jeep to double as a shooting brake.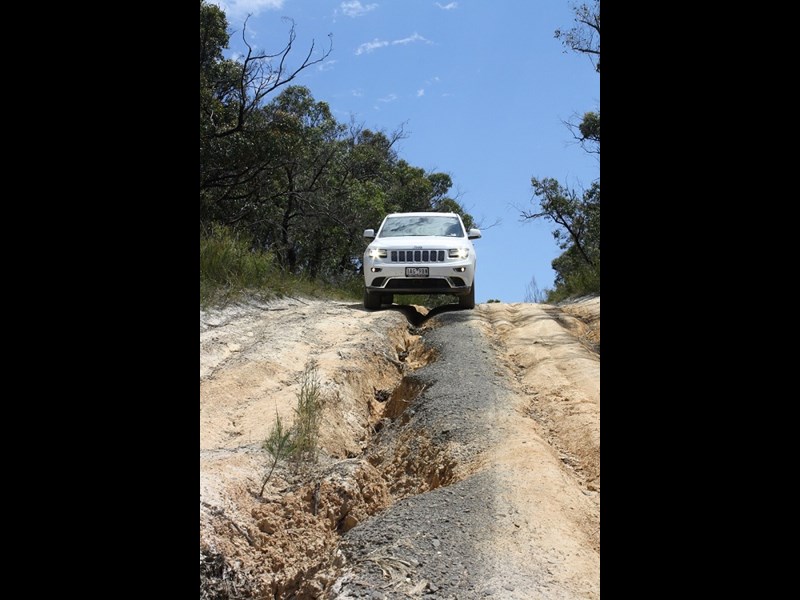 With the suspension jacked up to full height, the Summit will have a crack at most types of terrain.

Subscribe to our newsletter
Sign up to receive the Trade Farm Machinery e-newsletter, digital magazine and other offers we choose to share with you straight to your inbox
You can also follow our updates by liking us on Facebook. 

Graders For Hire | Cranes For Hire | Telehandlers For Hire | Excavators For Hire