Review: Yamaha Viking ROHV 4x4
---
Can Yamaha's brand new Recreational Off-Road Vehicle(ROHV) - the Viking outdo its brother, the Rhino? NFM ATV expert Barry Ashenhurst hops onto one to find out.
Yamaha hasn't adopted a 'one of everything' policy with its ROHV (Recreational Off-Highway Vehicles) range but over the past 10 years or so developed a replacement for the most famous ROHV of them all, the trusty old Rhino, an off-road legend that was used for everything, from gentle recreational riding to racing and EVEN chasing pigs across snake infested swamps.
The Rhino was a do-all. But even do-alls age, and in the end Yamaha had to come up with a more modern machine without alienating Rhino's traditional users.
That the Viking is 120mm wider than the Rhino is enough to alienate people who need a narrow(ish) machine for getting into and out of tight places. In our opinion, though, the extra width provides a noticeable improvement in stability, but we'll get to that in a minute.
From a basic spec point of view, the Viking has most things the Rhino didn't have, and as you'd expect is more in tune with current market expectations.
CONTENT
YAMAHA VIKING ROHV BODY
The Viking is a genuine three-seater with a walk-through cab, which means you can climb in on one side and exit on the other if you have to. There are three bucket seats, the centre one offset slightly to create more shoulder room. Each seat has its own three-point seat belt and head-rest.
A large bar helps anchor passengers and the cabin has doors as well as shoulder bolsters. You don't have to open and close the door every time you get in and out; most people with half-normal bodies can simply step over the lower part of the door.
A big steel bash-plate protects the central body section, while front and rear CV guards are made from injection-moulded plastic. Another good thing about a smooth, steel undercarriage is that it can be used to slide over obstacles.
Access to regularly serviced items, front and rear gear case oil, engine oil, driveshaft greasing, engine oil filter and so forth, is provided via windows in the bash-plates. The air filter is under the centre seat and you need no special tools to remove it.
YAMAHA VIKING ROHV LOADING
Down the back is a tilting, steel cargo bed designed to accept a standard pallet. It has a payload capacity of 272kg.
The bed is fitted with four tie-down points– thank you, we can use those - while lifting and dumping is made easier by a pneumatic damper. A two-inch receiver hitch is standard. Towing capacity is 680kg.
YAMAHA VIKING ROHV ENGINE AND TRANSMISSION
The Rhino was driven by a 686cc, single-cylinder four-stroke engine. So is the Viking, in fact it's the same engine, or it would be if Yamaha hadn't rebuilt the whole thing. Here's a short list of what they've done:
•             New forged piston
•             New combustion chamber
•             New 10:1 compression ratio
•             Stronger big-end needle bearing
•             New cam profile with different valve timing
•             New exhaust pipe (and catalytic converter)
•             New, larger air intake system
•             New large capacity oil cooling system
•             High placement of engine air intake and Ultramatic transmission cooling inlet and outlet.
Yamaha doesn't publish horsepower or torque figures, which is a shame, not to say slightly irritating. In publicity material for the Viking, Yamaha constantly compares it with the Polaris Ranger 800. For example, in one graph comparing power, the two curves are not referenced by numbers and so the comparison is a little shallow. 
Once again, Yamaha is being very conservative.
YAMAHA VIKING ROHV CONTROLS
It's a practical layout and we like it. The drive selector for 2WD/4WD/DIFF LOCK  is a big round knob to the left of the steering wheel. You can't miss it.
The handbrake and gear selector are positioned within easy reach to the right of the wheel, and the small but perfectly formed instrument panel is centred in the dash. You can, says Yamaha training instructor Rod Jenner, change from 2WD to 4WD on the fly, but it's probably a good idea to stop, or at least slow to a crawl before engaging the diff lock.
The Viking does not have power steering. That will surprise some people, given the current craving for EPS on smaller ATVs, but having driven the Viking it's my opinion that the Yamaha doesn't need it, even with the diff lock engaged.
I don't know why the steering is light, it just is. One thing though: don't drive with your thumbs inside the steering wheel. Without power-steering to subdue it, on a rough trail, whiplash can be savage. And painful.
YAMAHA VIKING ROHV PERFORMANCE
I reckon this vehicle has plenty of power and torque for farm work. While no-one was looking, I tapped it out on a long straight and saw 80kph on the speedo before the governor kicked in.
More importantly though, the engine has commendable lugging ability in steep, snotty terrain. At low revs it hangs on like a bush tick. You don't need enormous power and a hair trigger in steep country, you need plenty of torque through the bottom-end and midrange, and controllable acceleration, and the Viking has both.
Engine noise was noticeable but I didn't think it was annoying. The Ultramatic transmission, same as that used in the new Grizzly 700, is smooth-as, while again, Yamaha's On-Command four-wheel drive system is tough to beat.
There's no waiting for wheel revolutions to spin up while the four-wheel drive system makes up its mind; you simply turn the drive knob to '4WD' and you get four-wheel drive. Same goes for the diff lock; you turn the knob and get what you need - instantly.
The shocks are dual rate long-strokers with new settings. Tie-rods are longer and so are CV shafts. With 300mm of ground clearance (206mm wheel travel front and back) the Viking bottomed-out occasionally but only on the river boulders it had to crawl over.
On any sort of surface, I thought ride quality was comfortable but firm. Female drivers will like the Viking's car-like presence, and that the familiarisation period is so short.
Rod Jenner and I took the Viking up and down a long rutted hill that other journos were not privileged to see. This thing seemed to go on for ever but the bigger, better, wider Viking either straddled the ruts or dropped a wheel into the shallower ones and plugged on regardless.
Yamaha says they use a sprag-clutch layout to maximise engine braking and I have to say it works. Coming down the aforesaid snotty hill, the Viking needed only occasional correction with the wheel brakes, giving me the impression that everything was working as advertised, which is a nice change.
THE VERDICT
No-one can vouch for the durability of the Viking without using one for several months, and on terrain that would ask all the questions, but Yamaha has done the old Rhino proud by genuinely improving the breed and without raising the price.   
YAMAHA VIKING ROHV HITS
•             It eats off-road
•             It's comfortable
•             It's a great small-load carrier.
YAMAHA VIKING ROHV MISSES
•             Steering wheel whiplash
YAMAHA VIKING ROHV SPECIFICATIONS
ENGINE
Type: SOHC, 35 degree four-stroke
Capacity: 686cc
Bore and stroke: 102 x 84mm
Fuel delivery: Mikuni EFI
Ignition: Transistor Controlled Ignition
Cooling: Liquid
Fuel tank capacity: 36.7 litres
DRIVETRAIN
Transmission: Yamaha Ultramatic V-belt (H/L/N/R/P)
Drive system: On-Command 2WD/4WD/DIFF LOCK
SUSPENSION
Front: Independent double wishbones, 206mm wheel travel
Rear: Independent double wishbones, 206mm wheel travel
WHEELS AND TYRES
Front: AT25x8-12 Cheng Shin 4-ply
Rear: AT25x10-12 Cheng Shin 4-ply
Brakes: (front and rear) Dual hydraulic discs
DIMENSIONS AND CAPACITIES
Overall length: 3100mm
Overall width: 1570mm
Overall height: 1882mm
Wheelbase: 2135mm
Min ground clearance: 300mm
Min turning radius: 4510mm
Towing capacity: 680kg
Price: $18,999 (same as the Rhino!)
Warranty: Three year extended factory warranty
Colour: Yamaha Blue.
Read the detailed review in the March issue of NFM Magazine, on-sale March 24. Subscribe to the magazine to recieve at your doorstep.
Click here to find Yamaha off-road vehicles for sale.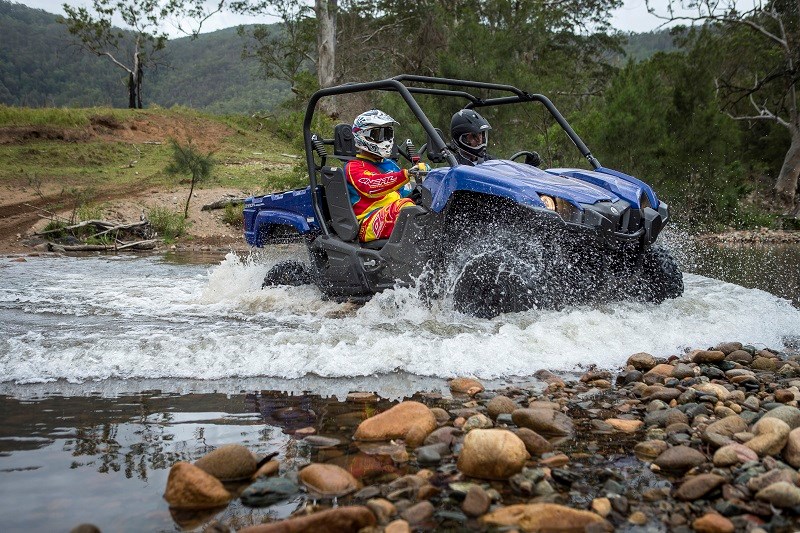 Yamaha's newest release - the Viking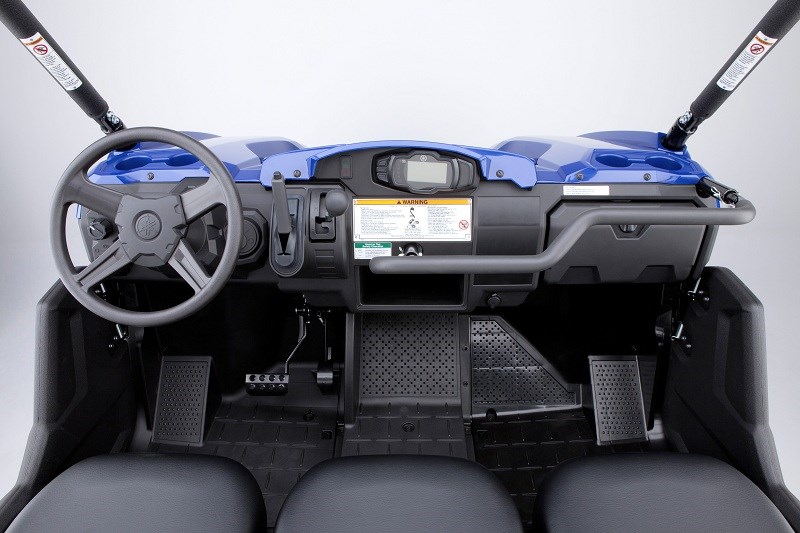 The new cab is wider, longer and lower. Yamaha says head and legroom beats the competitors'. Most important though, the Viking beats the Rhino on stability.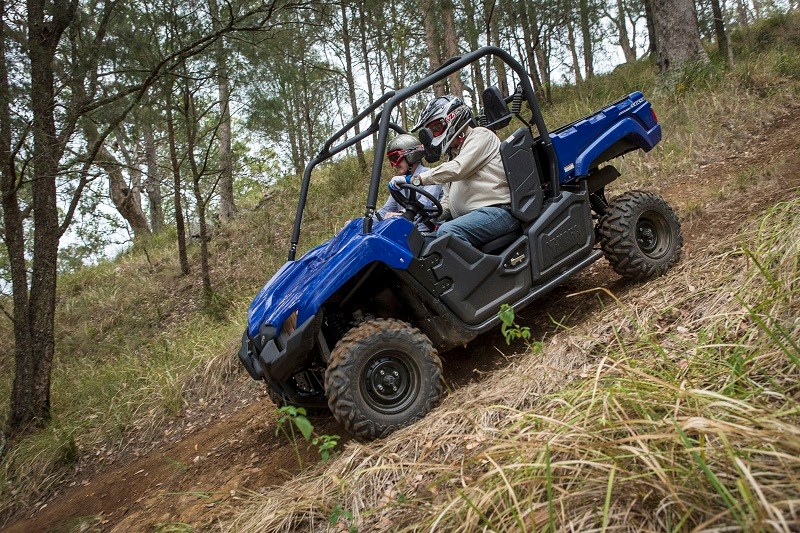 Two sprag clutches give better than average engine braking. There's very little body-roll either, and we think off-road performance is excellent, provided of course that you don't do anything stupid, like drink and drive. And please guys, learn to wear a helmet willya?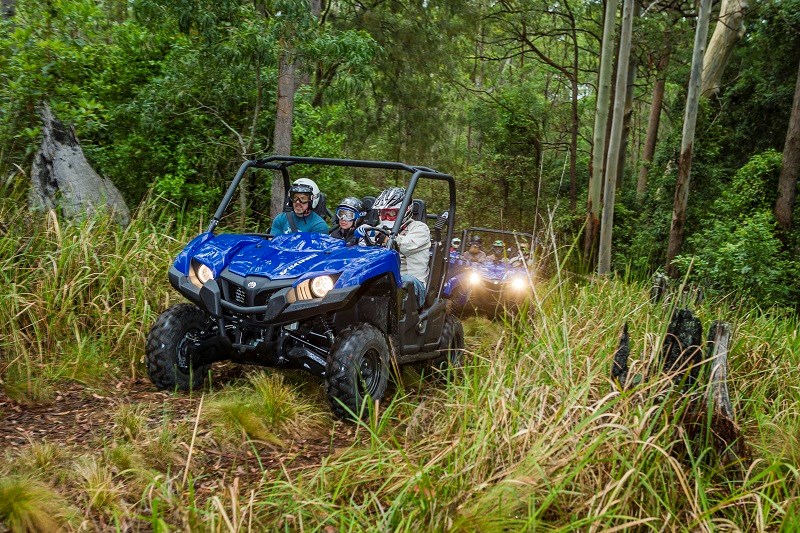 Three-up, no probs. Rural and recreational riders will like the Viking, but it's not just those guys who will find it useful. As a photographer who carries a lot of stuff everywhere, I'd love one.

Subscribe to our newsletter
Sign up to receive the Trade Farm Machinery e-newsletter, digital magazine and other offers we choose to share with you straight to your inbox
You can also follow our updates by liking us on Facebook. 

Graders For Hire | Cranes For Hire | Telehandlers For Hire | Excavators For Hire