REVIEW: CF Moto X8 Terralander 800 ATV
---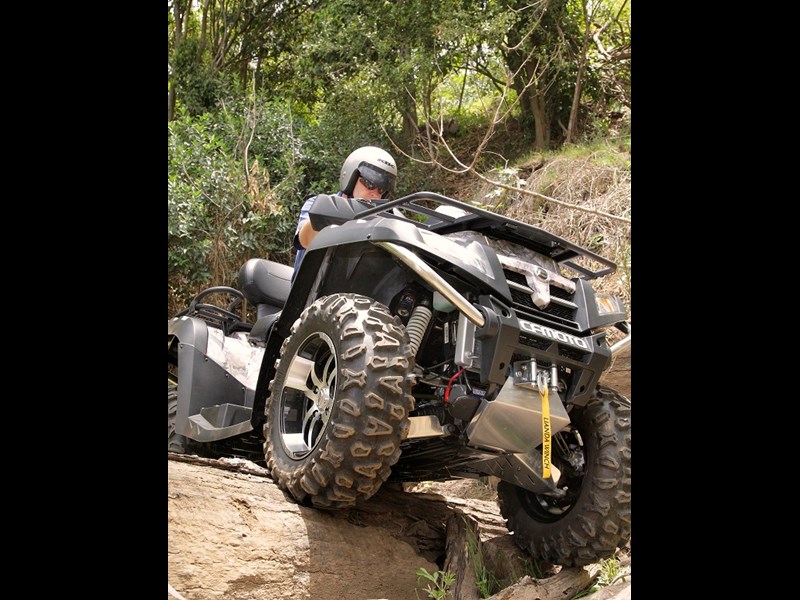 Sturdy enough for a wilder ride? Probably not, says NFM ATV expert Barry Ashenhurst of the CF Moto X8 Terralander 800 ATV.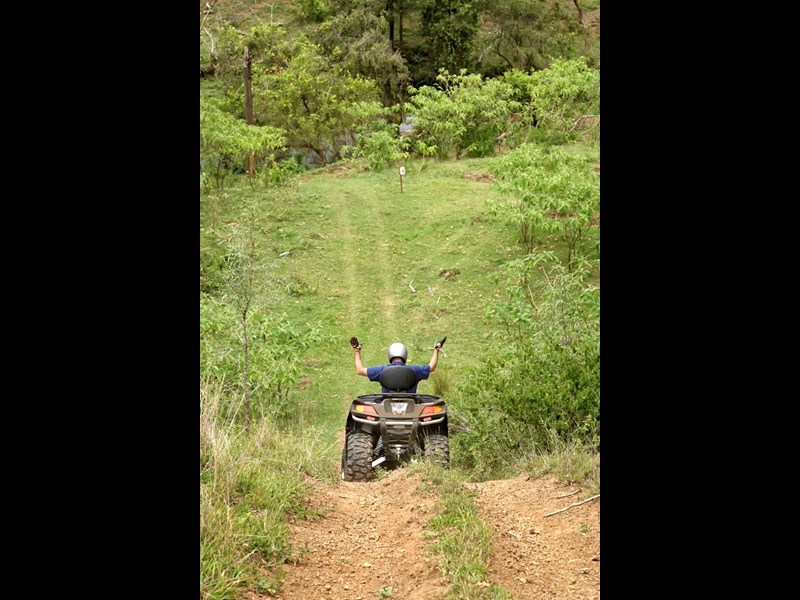 Engine braking in low range is safe and predictable.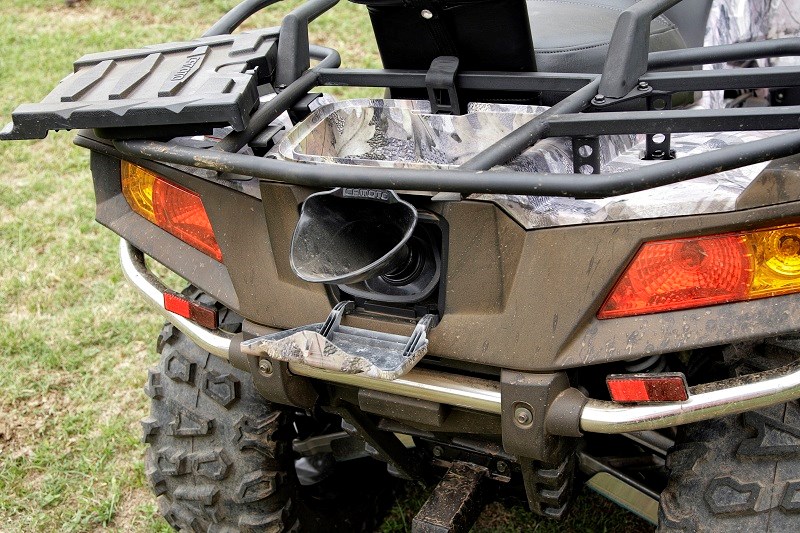 Now here's a smart idea, putting the fuel filler point at the rear so you don't spill fuel over everything.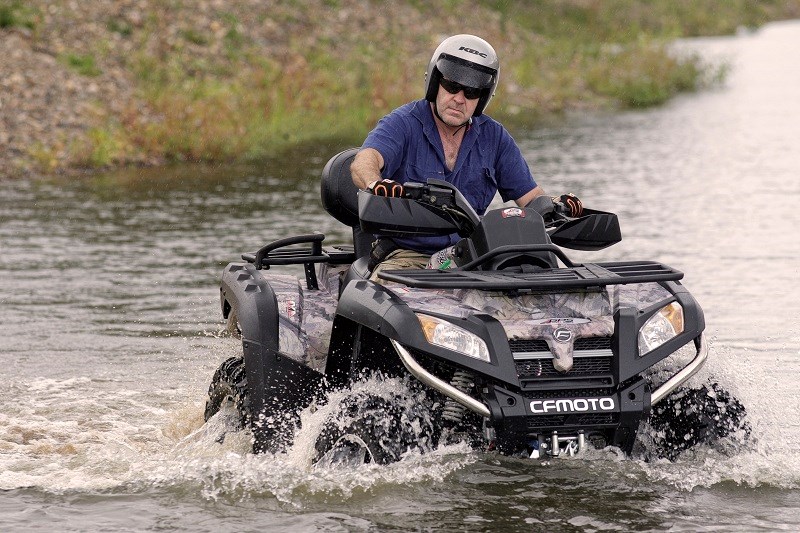 Of-road ability isn't hard corps but appropriate for buyers who'd be attracted to a machine like this. Comfort is excellent but power steering would round it off nicely.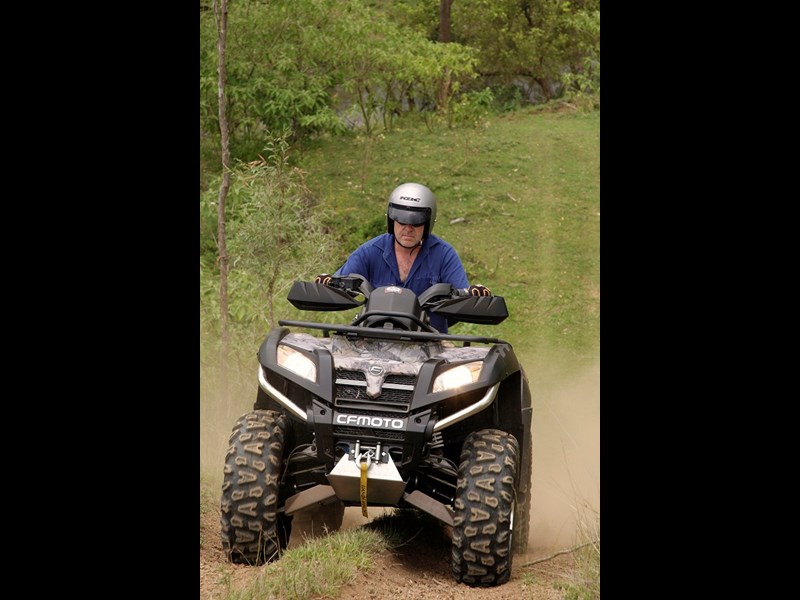 Hill climbing ability is as good as anything in this class. Brakes could use more bite though.

The CF Moto 800cc X8 Terralander two-seater is good value for money for those who need room for passenger, but it's not intended for people who thrash their ATVs. Barry Ashenhurst reports.
The name CF Moto should be familiar to Australian ATV users. After all, the CFM 500 Classic is, at the moment anyway, the most popular farm quad in the country.
The Chinese manufacturer is known for giving value for money too, and in a product that even by Japanese standards seems to be well built.
Little wonder that CF Moto sales are growing sufficiently well that they worry the opposition.
Reg Grant and I recently tested the CF Moto 800cc, X8 Terralander two-seater so why don't we have a closer look at the actual spec before moving on to a discussion of the X8's performance.
CONTENTS
CF MOTO X8 : AT A GLANCE
This is a glamour model with all the fruit, in fact the only thing it lacks is power steering and decent undercarriage protection.
It's not a 'convertible two-seater' like the Polaris X2 Sportsman; in other words the pillion seat is non-retractable.
The X8 doesn't come with a rear dump-box like the Sportsman either, but it does have solid racks front and back. 
Compare the CF Moto X8 with the Polaris Sportsman X2
Like just about every quad these days the X8 has double A-arm suspension front and rear.
But on this model the shocks actually had adjustable compression and rebound, something we see on very few farm ATVs and is a welcome addition to the spec.
The front CV joints are protected by solid-looking bashplates, so are the lower A-arms, and there's a military-grade metal guard at the front of the machine to prevent sharp objects piercing the radiator.
The standard X8 comes with a 3000lb winch. Fortunately we had no reason to use it.
The belly bashplate was made of plastic and shortly I'll tell you what happened to that.
The X8 is 52kg heavier than the Classic as well, but that's not all chassis and bodywork; remember, the X8 has a bigger, heavier engine.
CF MOTO X8 ENIGNE AND TRANSMISSION
The X8 has a fuel injected, V-twin four-stroke of 799cc.
Maximum power is claimed to be  46kW (67hp) at 6700rpm, and maximum torque 72Nm at 6300 rpm, which seems to be a misprint unless the X8 has an fiendishly narrow powerband.
Breathers for the engine and transmission were placed high in the chassis, which anyone who has to ford deep creeks will appreciate.
The airbox is humungous but you might need pliers to get the top off.  It's fiddly.
CF MOTO X8 WHEELS
The X8 is 190mm longer in the wheelbase than the single-seater CFM 500 Classic.
The wheels are alloy, fitted up with 6-ply Innova 'Mud Gear Lites', a shameless knock-off of the ITP Mudlite.
We're in two minds about alloy wheels on farm quads. Sure they look tough, but if they crack – and they do – how many farmers can weld aluminium?
What this suggests to us is that the X8 is intended not for people who thrash their ATVs, like most Australian farmers do, but for hobby farmers who putt around on flat ground at a leisurely pace.
CF MOTO X8 BRAKES
The braking setup uses twin hydraulic discs up front and single disc on the rear. The brake lines were braided steel and you don't see that very often on a farm ATV either.
There was no mechanical park brake. If you have to leave the quad on a slope you select P for Park in the transmission.
It's a slower process than flicking a mechanical park brake when you're opening and closing gates but you can't say it doesn't work. It does.
Switchblock controls are familiar to anyone who regularly operates a 4x4 quad, in fact the drive mode switch looked exactly like the same item you'd find on a Yamaha Grizzly.   
CF MOTO X8 STEERING
The V-twin is responsive and has plenty of power and torque. The quad goes where you point it and suffers no under-steer problems like some cross-country quads.
We think any ATV is better with power steering, simply because it makes life easier for people who have to operate a quad but don't do it every day.
PS also eliminates steering wheel backlash when the front wheels hit a rock or a stump. 
There's also the business of how to steer the X8 with the diff lock engaged. Basically, you can't.
The steering becomes so heavy it's extremely difficult to turn the bars with the lock engaged, and of course power steering would help alleviate this problem.
We also found on a couple of slippery obstacles where we needed the diff lock that we couldn't get enough traction to rotate the crown-wheel sufficiently to engage the lock.
Typically with this machine, we had to engage the diff lock before we hit an obstacle. 
However, CF Moto has expressed it will introduce power steering in 2014, which should reduce the physical effort required to steer this and other CFM 4x4 models when the diff lock is engaged.
CF MOTO X8 PERFORMANCE
The X 8's off-road ability was about average, and that's not a criticism.
Potential buyers of this machine are not looking for a killer 4x4 that'll climb over anything, they're looking for a comfortable way to transport two people around a smallish property on the way to a riverside pica-nic.
The model's plastic bashplate is a case in point. Plastic isn't good enough for our conditions and here's proof.
While crossing a shallow river, without smashing into or running over anything I might add, we ripped off a great chunk of the plastic bashplate, torn away simply by the force of the water running past it.
Since it's well known that Australians are tougher on equipment than anyone, this is one part of the CF Moto the factory must Australianise.
However, a stronger aftermarket bashplate is available for about $500. 
The gearshift mechanism could use some work too. It's stiff and clunky and difficult to move in any direction once the lever has passed through the reverse position.
THE VERDICT
The X8 is comfortable, no argument there. Having driven and been chauffeured around on it while shooting stills for this feature, I thought the pillion arrangements were pretty good.
There was ample room for my size 11 clod-hoppers, the backrest was large and well-padded and the grab-rail position spot-on.
We liked the big, solid hand-guards too, and the tubular bump-guards around the front of the machine below the headlights and across the rear end.
Ride quality was very good, in fact it was softer on your bod than a Can-Am Max.
Diff lock grumbles aside, we liked the way this machine steered and handled.
CF MOTO X8 HITS
Well made
Comfortable and safe
Reasonable off-road ability
CF MOTO X8 MISSES
Difficult to steer with diff lock engaged
Clunky gear selector
Brakes need more bite.
CF MOTO X8 SPECIFICATIONS
 ENGINE
Type: V-twin four-stroke
Displacement: 799cc
Bore and stroke: 91x61.5mm
Comp ratio: 10.3:1
Lube system: Pressure and splash
Fuel management: Delphi EFI
Starting: Electric
Fuel tank capacity: 23 litres
Final transmission: Driveshaft 
TRANSMISSION
Type: CVT auto
4x4 system: 2WD/4WD/4WD with diff lock
DIMENSIONS AND WEIGHT
Length: 2310mm
Width: 1180mm
Height: 1340mm
Seat height: 900mm
Wheelbase: 1480mm
Ground clearance: 275mm
Dry weight: 396kg
Warranty: Two years
Price: $11,490.
Read the detailed review in the April issue of NewFarmMachinery, out April 21. Subscribe to the magazine to have it delivered. 
Subscribe to our newsletter
Sign up to receive the Trade Farm Machinery e-newsletter, digital magazine and other offers we choose to share with you straight to your inbox
You can also follow our updates by liking us on Facebook. 

Graders For Hire | Cranes For Hire | Telehandlers For Hire | Excavators For Hire