REVIEW: John Deere 990 variable chamber round baler
---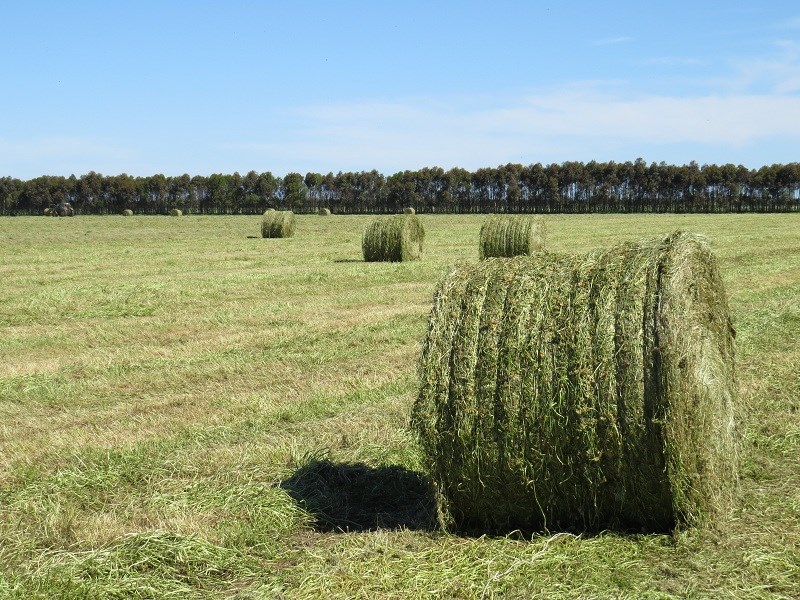 John Deere 990 creates a paddock full of perfect bales.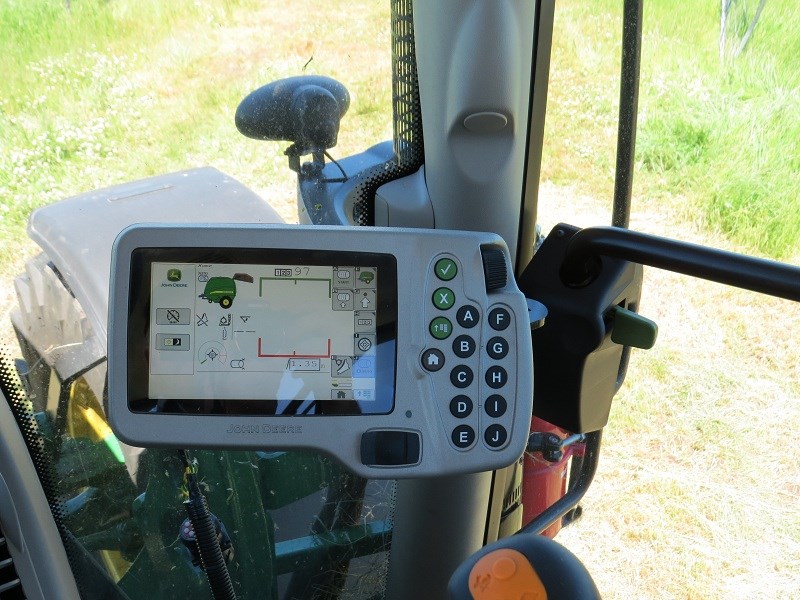 17.7cm full colour Greenstar 1800 display.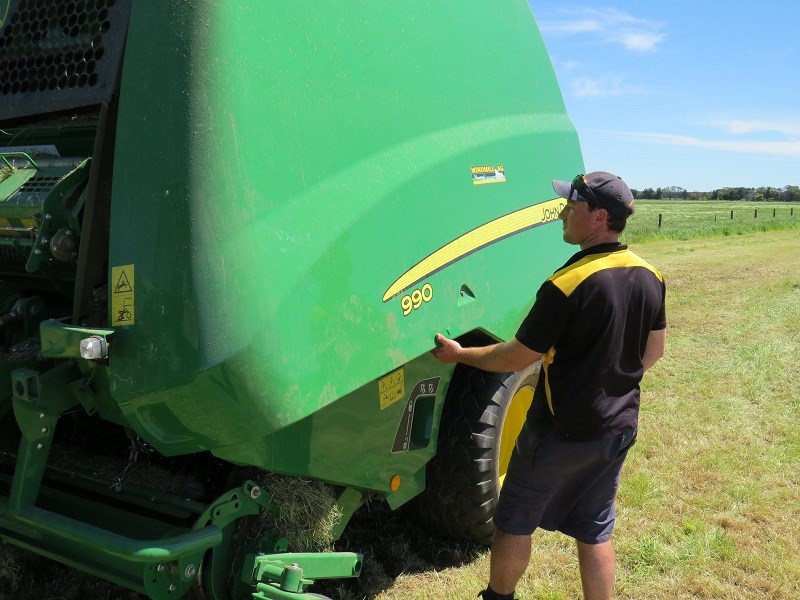 One latch releases side panel for servicing.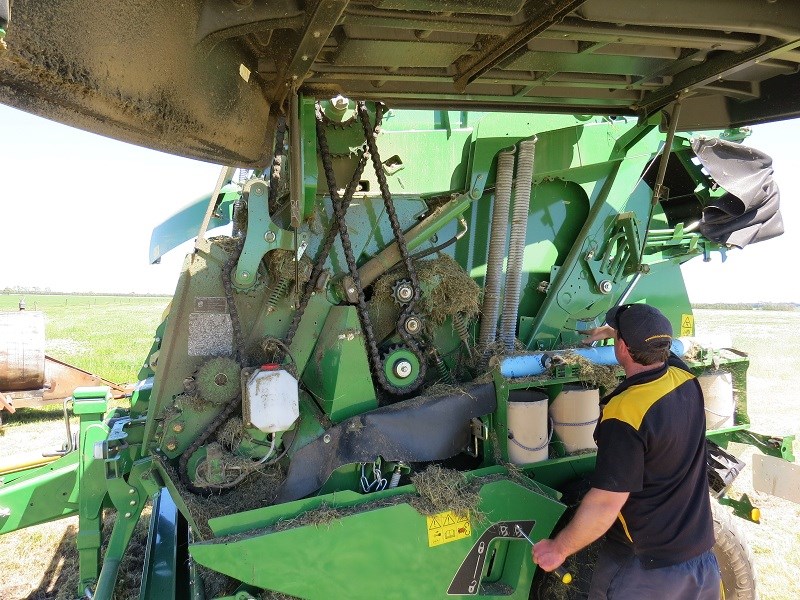 Large gull wing panels conceal a powerful mechanism.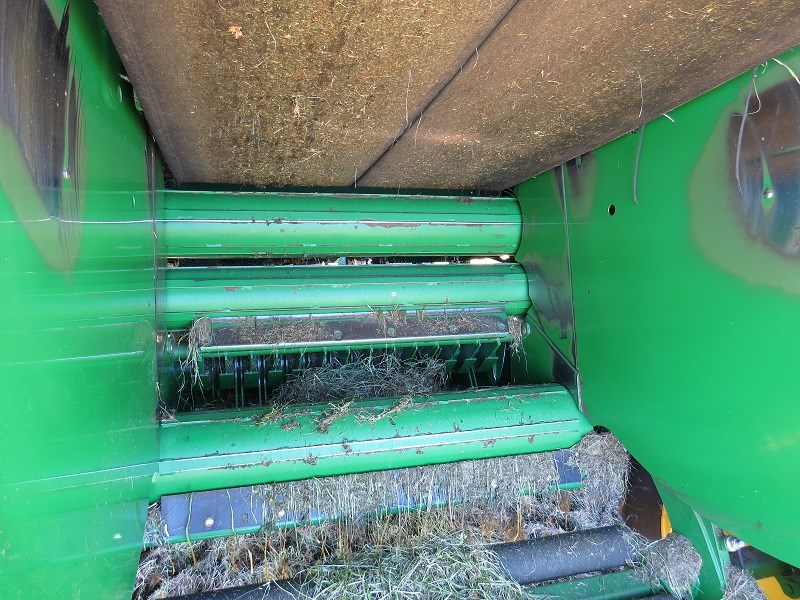 Sides of the variable chamber expand out to release bales easier.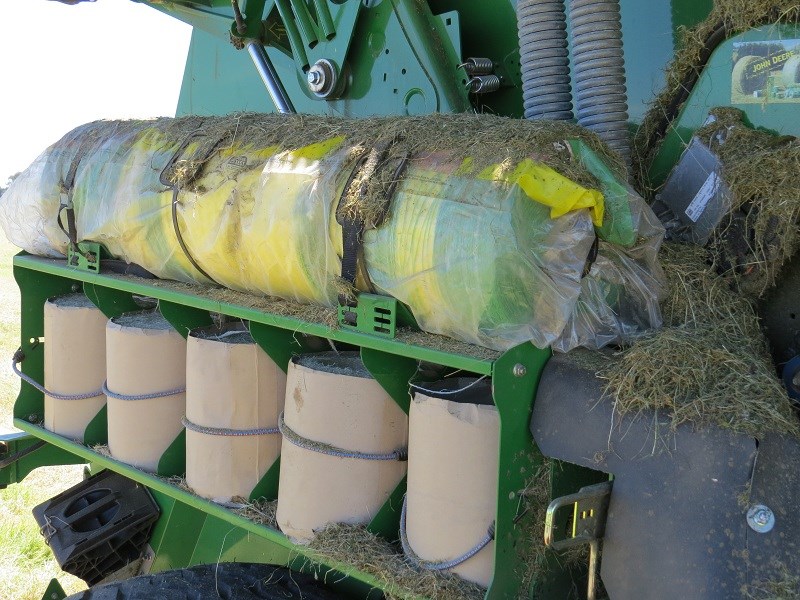 Room to store two extra net rolls and ten twine balls.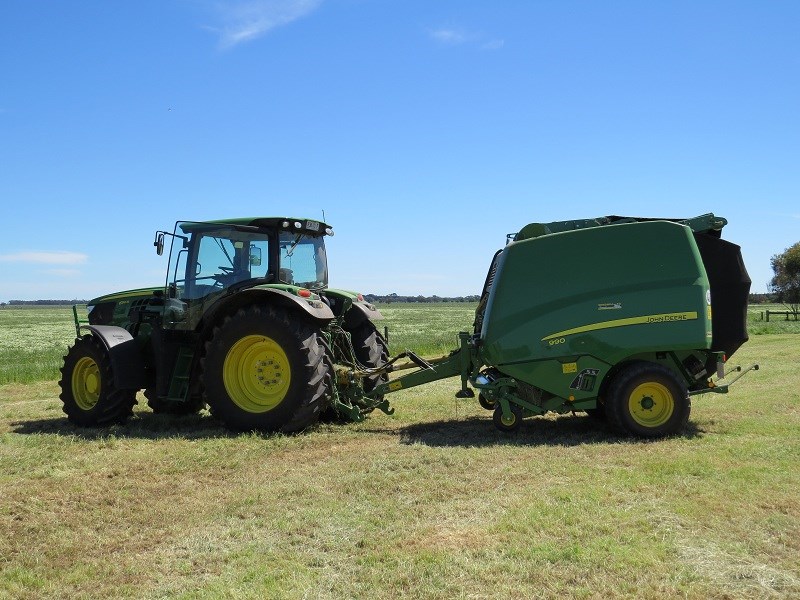 John Deere combination set for a day's work.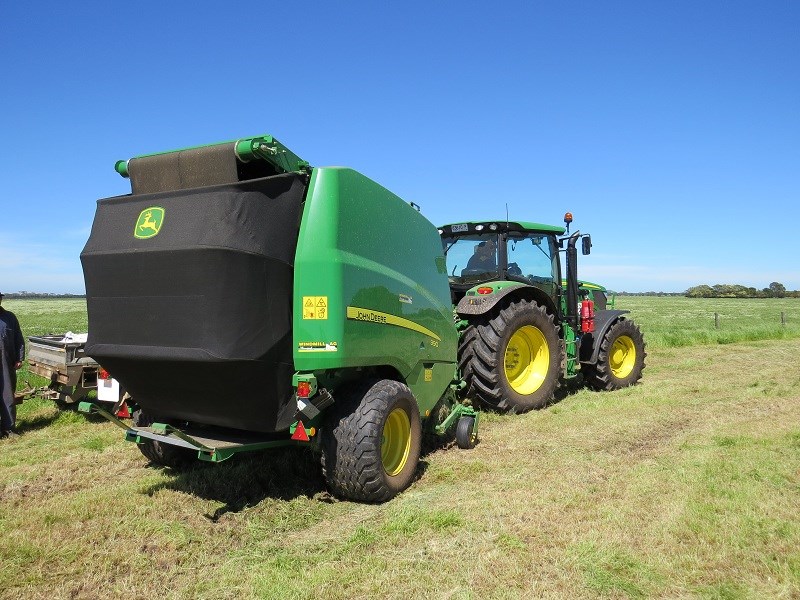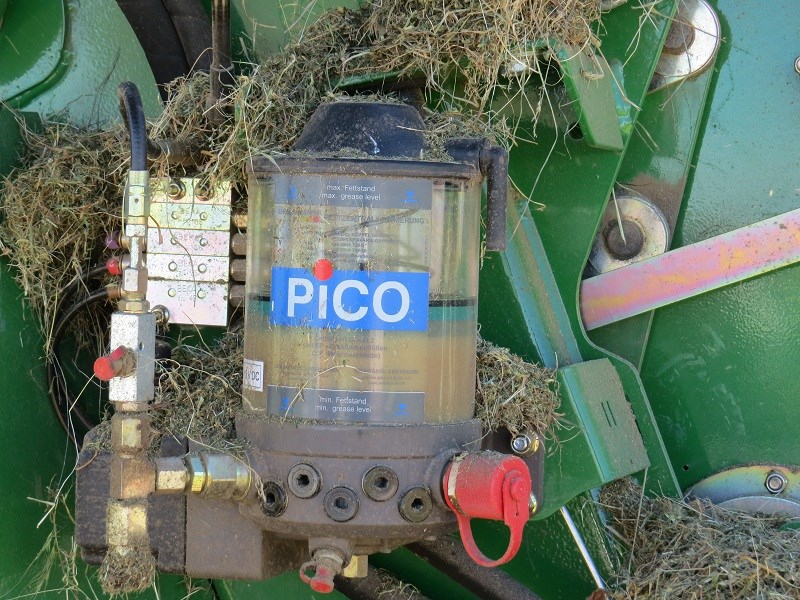 Automatic greasing device is controlled by the in cab ISOBUS display.

John Deere's 990 Variable Chamber round baler is in Australia for the 2013 hay and silage season. Tom Dickson reports.
One of just a handful of John Deere's new design series currently working in Australia, the 990 Variable Chamber round baler features fast bale release, independent chassis and optional string tying.
Dairy farmers, the Cravens in Victoria's south west, chose the 990 Baler to add to their fleet of machinery for a number of reasons.
"The new design is going to speed up the whole process of baling hay and silage. The fast bale release of about five seconds means far more bales can be produced in a day," John Craven says.
With a temperature of 25C and not a cloud in the sky, it's perfect weather for south west Victorian farmers to get stuck into harvest, transforming freshly cut pasture paddocks into a sea of green, white and black plastic wrapped bales.
CONTENTS
JOHN DEERE 990 BALER CONTROLS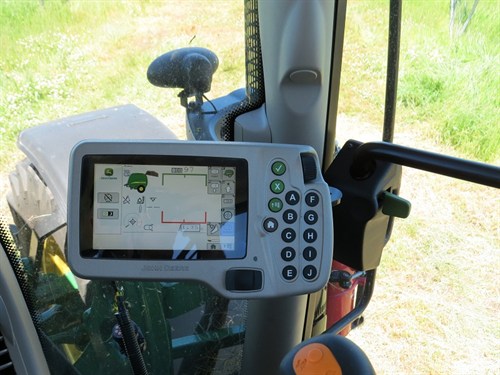 The first thing I notice as I climb in the tractor is a more modern looking monitor mounted just to the right of the steering column. The 7-inch full colour 1800 display controls everything its predecessor did such as bale density, diameter, soft-core pressure, drop floor unplugging device and pre-cutter knife engagement, but in a much more easy to follow format.
The display showing the operator where to drive to form the bale equally on both sides is set very prominently within the screen and an inbuilt memory allows information storage of 15 paddocks each to 10 different clients. Another valuable tool for contractors.
Engaging the PTO and increasing engine revs to have the baler running at the required 540rpm reveals no undue noises or vibrations. Even completing sharp turns both left and right causes no shuddering or slapping of the PTO shaft, further verifying that it is a very well balanced machine.
An important feature of the John Deere 900 Series Balers is their ability to link up and communicate to compatible John Deere tractors. The baler's computer takes control of the tractor's transmission and relevant hydraulic functions leaving steering the only responsibility of the driver.
Unfortunately I can't report on this feature because the tractor we are using doesn't have the required technology.
JOHN DEERE 990 BALER PERFORMANCE
Simon alternates between 10km/h and 12km/h depending on the thickness of the balansa clover windrow. At this speed, the 990 baler easily consumes the crop as quickly as the 2.2m pick-up can feed it in.
To demonstrate that we are working well below the baler's capabilities Simon bumps the speed up to 15km/h adding that if one of the balansa clumps creates a blockage he can activate the drop floor unplugging feature from within the cabin. In simple terms, the throat of the baler's intake is opened up to allow the blockage to be drawn in.
For about four hours we bale at a rate of around 50 bales per hour, only needing to stop a couple of times to rectify a string problem. Neither Simon nor I can work out why the baler fails to start the stringing process in this instance or, alternatively apply far too much.
Switching to manual string then back to auto string rectifies the situation which eventually indicates the problem may be a faulty sensor. With the absence of the visible string spinners on the front of the baler I find myself having to watch the monitor to see if string is being applied.
Our only other stop is to trim off some frayed edges from one of the belts, which possibly occurs when a clump of silage forms on one of the rollers causing the belt to run sideways and rub somewhere during the belts cycle. Finding a solution for this is a must as belts are an expensive item to repair or replace.
Starting the core of a bale can often pose the biggest challenge but the John Deere 990 never once hesitates. Simon explains the hay entering the chamber is immediately encouraged to begin rotating because the belts and starter rollers run so close to each other.
JOHN DEERE 990 BALER TWINE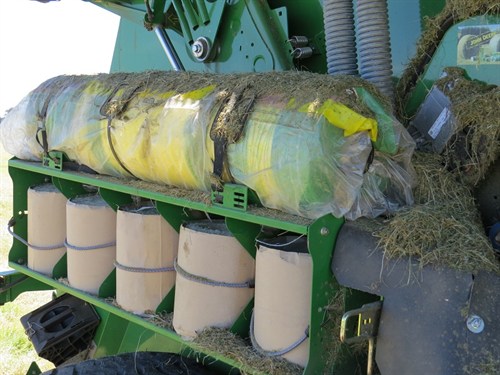 Instead of the faster net wrap option, Simon chose to use sisal twine because sisal is biodegradable and will break down inside the gut of the cow. "It takes a bit more time at baling and is often prone to tangling in the baler but we more than make up for the lost time at feeding out," he says.
Five seconds is the time it takes for the rear roller and screen to shoot up, eject a bale, before dropping down ready to go again.
As soon as the rear rollers begin to rise to eject the bale the sides of the bale chamber move outwards to eliminate bales sticking within the chamber. While most other balers are waiting on the rear-door to go through its cycle, the John Deere 990 is half way toward producing its next bale.
JOHN DEERE 990 BALER MAINTENANCE
Like all reliable operators Simon's first priority is to carry out daily maintenance. Searching through his pockets he finds a 10 cent piece, which he explains is the perfect tool to undo the latches on each of the huge streamlined side panels.
Personally I'd rather have a latch which could be opened by hand.
Maintaining these highly developed machines is getting simpler with every new model released.
An automatic lubricating mechanism constantly oils all the chains and the only requirement is filling the oil reservoir each morning.
To save even more time on routine maintenance the Cravens elected to include an optional auto greaser. Simon says he has set the balers in cab monitor to automatically apply a squirt of grease every twenty minutes.
This, he asserts, saves time every morning and ensures all bearings and major grease points are regularly lubricated.
THE WRAP-UP
JOHN DEERE 990 HITS
5 second bale release
Optional string tying
Automatic greasing and oiling
Baler mechanism housed within independent chassis
User friendly baler monitor
JOHN DEERE 990 BALER MISSES
String tying function randomly failed
Belts became frayed                     
The review was initilaly published in NewFarmMachinery magazine issue 5, December 2013. For the latest farm machinery news and reviews, subscribe to NewFarmMachinery magazine.
Click here to find John Deere balers for sale.
Subscribe to our newsletter
Sign up to receive the Trade Farm Machinery e-newsletter, digital magazine and other offers we choose to share with you straight to your inbox
You can also follow our updates by liking us on Facebook. 

Graders For Hire | Cranes For Hire | Telehandlers For Hire | Excavators For Hire