REVIEW: Fendt 514 Vario tractor
---
The Fendt 514 has just landed on the Aussie market. Matt Wood shifts some dirt and spikes some hay to see how it goes as a loader.
Many years ago when I first climbed aboard a Fendt I found myself gazing in bewilderment at the dazzling array of dials, switches and buttons spattered around the cabin. It took me some minutes to even work out how to make it move.
Fast forward a decade or so and it is time for me to climb aboard the new Fendt 514 Vario, the latest 140hp (103kW) tractor to arrive here in Australia.
My initial reaction isn't much different from the first time I climbed aboard a Fendt. It can be intimidating to try and operate a new machine in what at first appears to be to be an alien environment full of unfamiliar buttons and systems.
Maybe that is why the brand is often kept at arm's length by potential customers; it's all a bit strange.
However, there are plenty of loyal Fendt customers out there happy to cotton on to the way that the company does things. I had a chance to spend a few hours on the 514 that had been equipped with a loader.
With an 870kg counterweight hanging off the rear linkage I was able to play with the little Fendt in roles that it is ideally suited to; loader and bucket work, as well as hay handling roles.
CONTENTS
FENDT 514 VARIO ENGINE AND TRANSMISSION
The 514 uses a 4 cylinder Deutz 4-litre engine, and being a Tier 3 emissions unit it uses selective catalytic reduction (SCR) to remove particulates from the engine exhaust. This means it has a separate diesel exhaust fluid (DEF), or AdBlue tank and Fendt is claiming a maximum DEF use figure of around 7per cent of diesel burn depending on application.
Like many of its European contemporaries the Deutz power plant uses ultra-high pressure common rail injection and puts out 140hp (103kW) and develops 649Nm of torque at 1,450rpm.
Fendt is quick to push the fuel economy credentials of their product at every point and claim that this Teutonic green machine is green in more ways than just one.
But the real heart of any Fendt is the Vario transmission. It is a stepless constant velocity transmission that delivers power smoothly from a virtual standstill up to road speeds of 50km/h or even 60 km/h in some cases. It's not a strictly a hydrostatic transmission, but it's not just a mechanical transmission either; it's kind of both.
The hydraulic motor and pump are controlled by an electronic stepper unit that angles both units according to how much hydraulic pressure, torque and speed that the tractor requires.
It's an extremely efficient system and it doesn't absorb much in the way of driveline power like some other transmissions. And in keeping with the efficiency theme the rear diff uses pressure lubrication rather than the old school oil bath approach which is touted to reduce drag.
However, by the time the tractor reaches road speeds there's very little hydrostatic involvement and the machine is being pretty much mechanically propelled only.
Another advantage is that it effectively doesn't change gear. In operation it means that the tractor accelerates smoothly from a crawl to road speed without any gear changes. It also means that the transmission can be shuttled from forward to reverse constantly without creating any wear and tear on the gearbox. Changing direction is a fingertip operation that makes even a clumsy operator like me look in control.
FENDT 514 VARIO CAB
First impressions from the driver's seat are that Fendt has been working towards uncluttering its cabs. While some of the systems are unfamiliar, gone is the intimidating Lego-like dial and switch look from days gone by.
The cab itself is the same as the one used on the larger 700 series and provides excellent 360-degree visibility. Inside, headroom is excellent and there's little risk of cracking your noggin on anything while getting in and out of or moving around the cab.
Overhead visibility is enhanced by a windscreen that curves back toward the driver at the top. This makes keeping track of a loader bucket other attachment at height much easier and minimises the need to hunch forward over the steering wheel during operation.
The higher glass out front lets more sun in, so to compensate Fendt has added a roller blind to minimise glare.
As a premium product it's a given that aircon and a sound system are a part of the package while a tilt and reach adjustable steering wheel takes centre stage in the cabin. But what really stand out are the floating console armrest, multi-function joystick and Variotronic screen.
FENDT 514 VARIO CONTROLS
Simple colour coded buttons line the rest of the console which would be intuitive and easy to use if I knew what half of them did. After some instruction from Fendt product specialist Konstantin Blersch I am quickly up to speed on much of the bits and bobs inside the 514's cab.
One key feature of the little Fendt from the driver's seat is the Tractor Management System (TMS). Again this simplifies operation on a number of levels. An operator can effectively select the ground speed required and the TMS will do the rest in terms of engine speed and implement drive.
Directional control can be had from either the multi-function joystick or a steering column mounted shuttle lever. Throttle also can be joystick controlled or foot pedal controlled.
Headland management and optional auto steer functions are also controlled though the one Variotronic screen to keep the number of distracting readouts inside the cab to a minimum.
 Some power take-off (PTO) functions and linkage control are via a funky looking dial under the display screen; all other auxiliary functions are taken care of with toggle switches lined up in easy reach of the driver.
FENDT 514 VARIO PERFORMANCE
I fire up the Deutz donk and am immediately struck by how quiet it is. With the bucket fitted to the loader I head for a rock pile to lift and shift.
For loader work I find using the foot throttle the most logical and intuitive way to drive. Although I forget to select four-wheel drive on my first bite at the pile of volcanic rock, a quick stab of a button and the front diff is in on the party. On the second go the 514 shimmies itself into the pile neatly a grabs a nice big bite of rock and dirt.
With the counterweight hanging off the back the loader working load limit (WWL) comes in at 1,850kg and according to Fendt, every kilo in the bucket represents 2kg on the front axle.
Controlling the loader using a separate joystick is also easy and intuitive and it is really child's play to operate. A flick of the shuttle switch has me pulling back out of the pile in no time.
The lack of noise and fuss from the Fendt is impressive, and it's easy to see this tractor performing very well indeed in loader operations and overhead visibility is excellent.
We then drop off the bucket attach a bale spike and head out into the paddock for some hay. This is simply a matter of knocking out a couple of pins and tilting forward.
The main multifunction joystick can also be used to engage preset engine revs and engage cruise control. One of the things you do have to watch is that you don't accidentally push that joystick to the right and activate the cruise control while cruising in a paddock.
If you've been on cruise control at 50km/h out on the road and inadvertently hit cruise in the paddock this baby's going to get up and boogie very quickly and take you by surprise.
THE VERDICT
Forewarned being forearmed means this isn't a worry for me as I trundle quite comfortably through the countryside. As with the loader bucket, bale spiking and truck loading is a walk in the park and the longer I sit in the Fendt the more comfortable I become.
Sure the Fendt 514 is a complex bit of gear, but its interface is actually quite simple. You can fiddle with as many or as few parameters as you like to suit your application. In the loader guise I drive it in the 514 shines; to the point where it is nearly as intuitive to use as many telehandlers in similar roles.
By today's standards the 514 is a small tractor but with a reasonably modest tare weight of around 7 tonnes as a loader. The 514 is also the kind of platform that can appeal to civil contracting roles outside of agriculture, it's entirely possible to hang a couple of mower arms off the front it or even other implements.
For those wanting to be a bit posh in the paddock the Fendt 514 is a quiet, ergonomic and easy little machine to live with, and it's a smooth operator to boot.
FENDT 514 VARIO HITS
Quiet seamless performer
Simple well laid out interior
Excellent ergonomics
FENDT 514 VARIO MISSES
Mechanical park brake seems antiquated compared to the rest of the machine
Easy to accidently engage cruise control
FENDT 514 VARIO SPECIFICATIONS
Engine: 4-litre Deutz turbo-diesel, Tier 3 emissions
Power: 145hp (107kW)
Torque: 649Nm @ 1,450rpm
Transmission: Fendt Vario constantly variable
Drive: Selectable 4WD, front axle engaged through wet clutch.
Loader (as tested): 4X75 WWL 1,850kg with 870kg counterweight fitted to rear
Lift height: 4,155mm 
Click here to find Fendt tractors for sale.
Grab a copy of NewFarmMachinery's April issue, on-sale April 21 for full details of the test, plus other farm machinery news, reviews and features. Subscribe to the magazine to never miss an issue.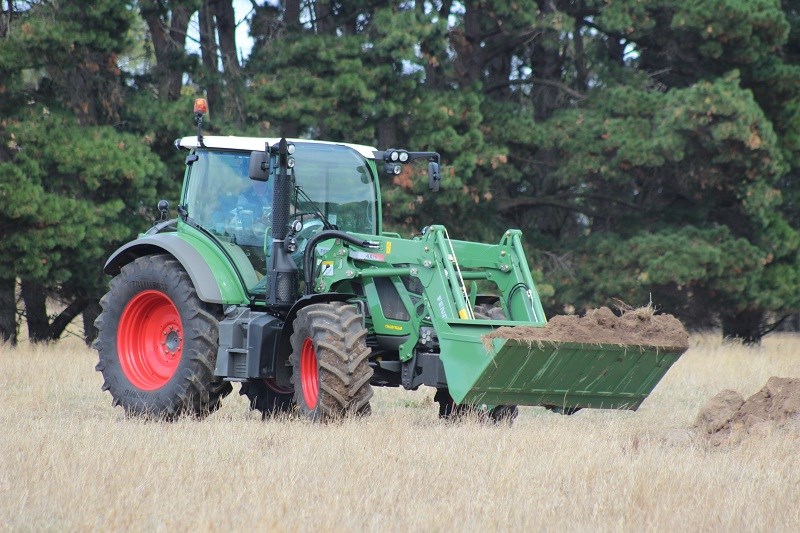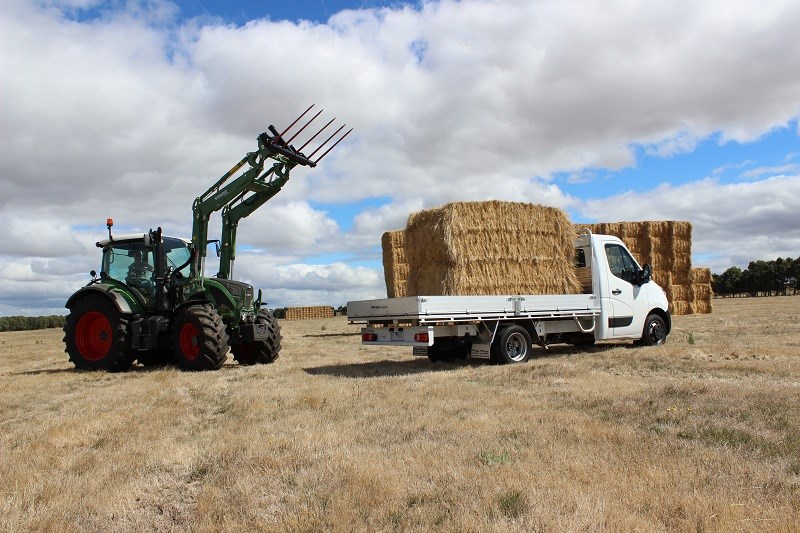 The 514 feels a bit classy inside and out.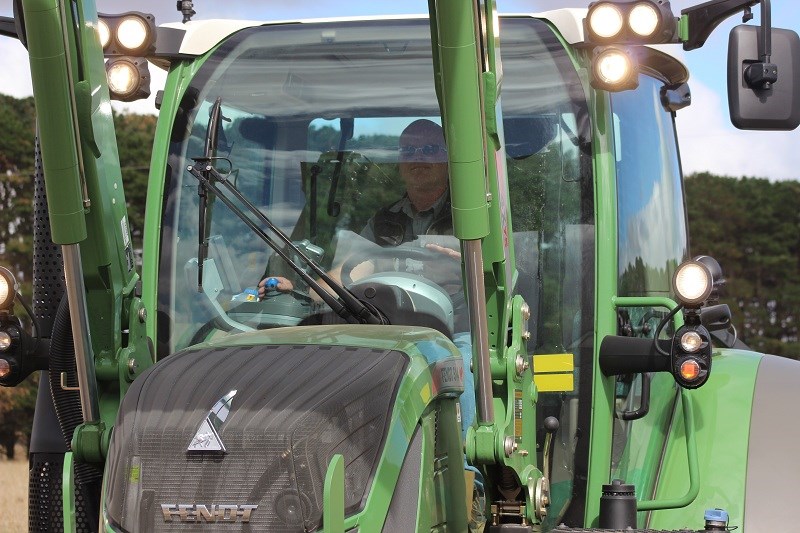 Visibility offered by the curved screen makes it a bonus for loader work.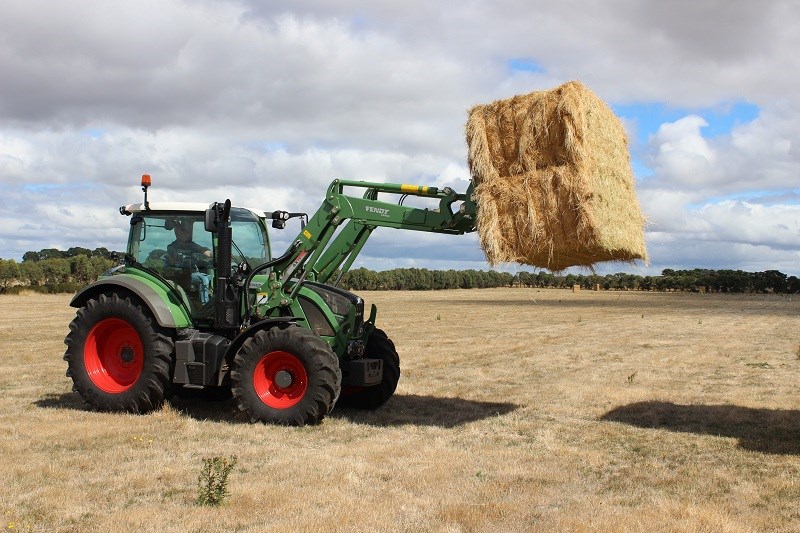 When throwing bales around the 514 feels as easy and nimble to operate as many telehandlers.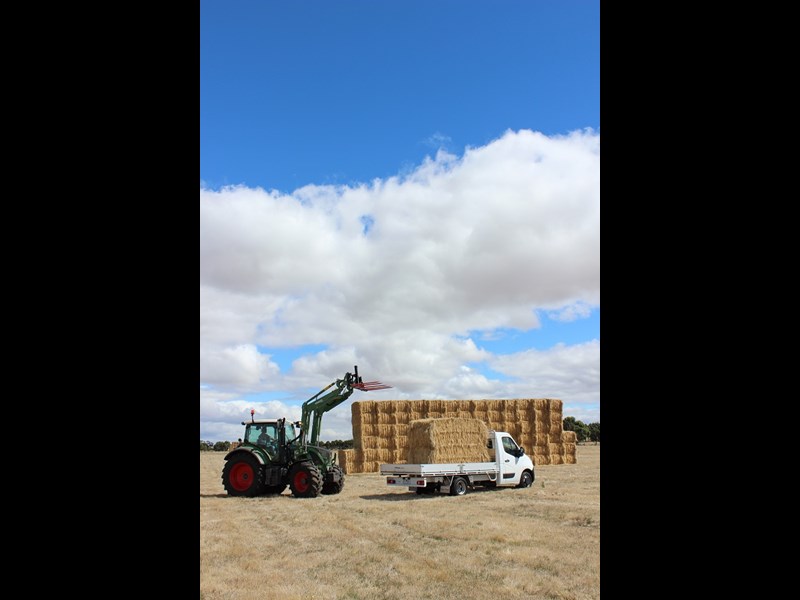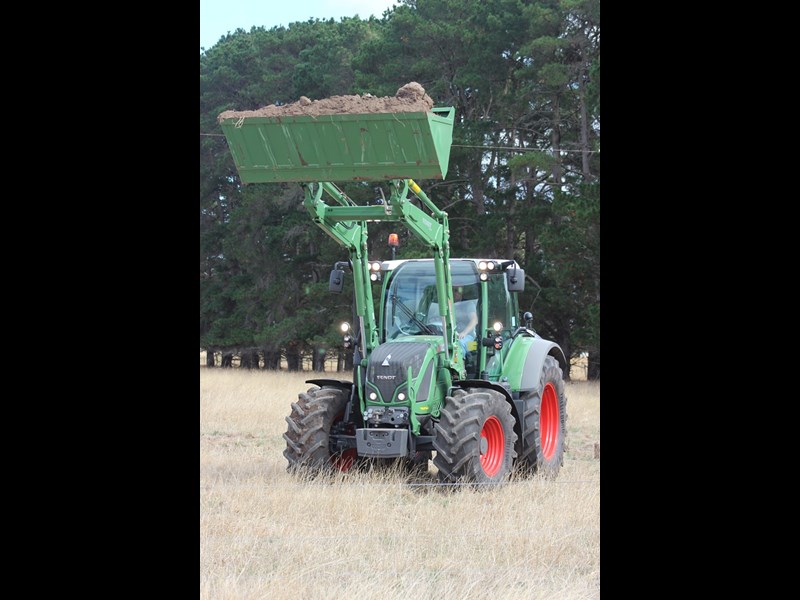 A handy little loader.

Subscribe to our newsletter
Sign up to receive the Trade Farm Machinery e-newsletter, digital magazine and other offers we choose to share with you straight to your inbox
You can also follow our updates by liking us on Facebook. 

Graders For Hire | Cranes For Hire | Telehandlers For Hire | Excavators For Hire