REVIEW: Holden Colorado LTZ ute
---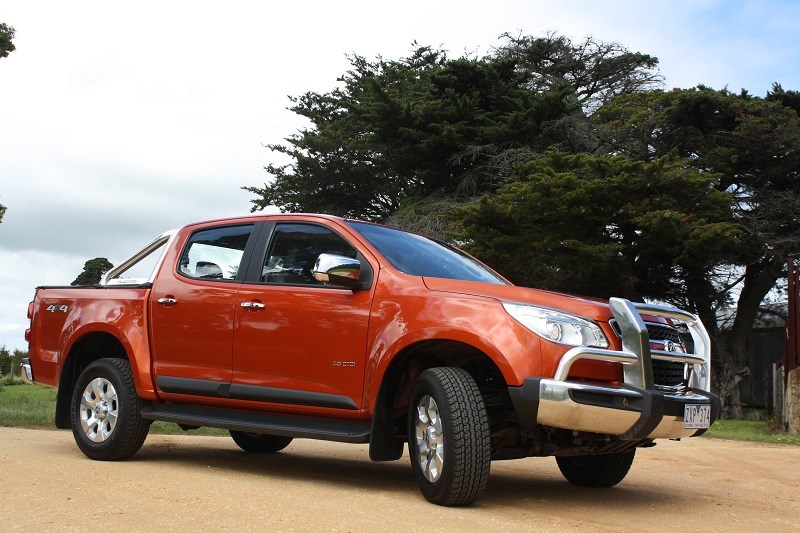 The MY14 Holden Colorado scores a new bar package to help preserve the pretty new colour.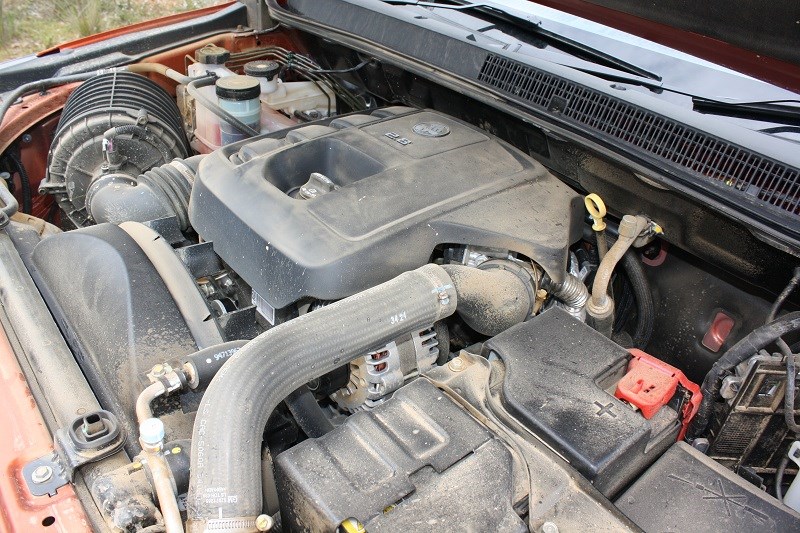 A power and torque increase has given the Duramax engine a shot in the arm.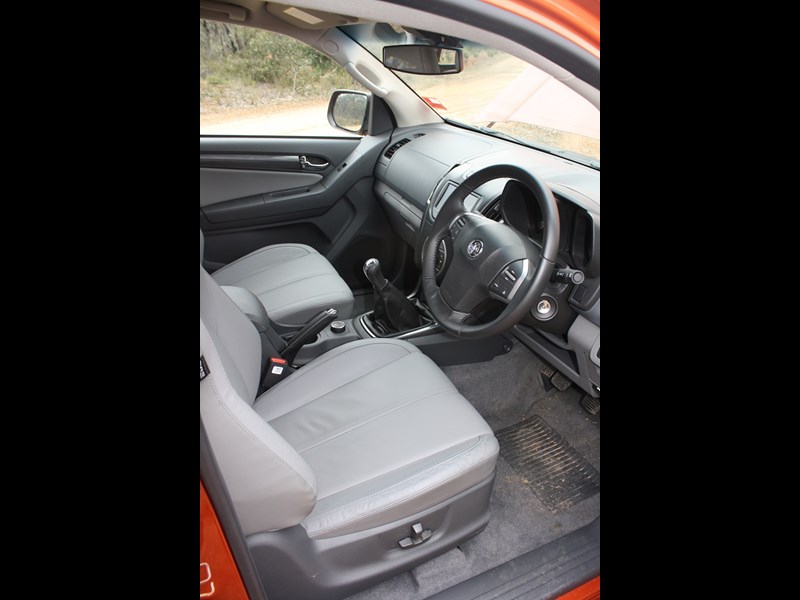 Interior trim is a tad drab, lack a quality feel.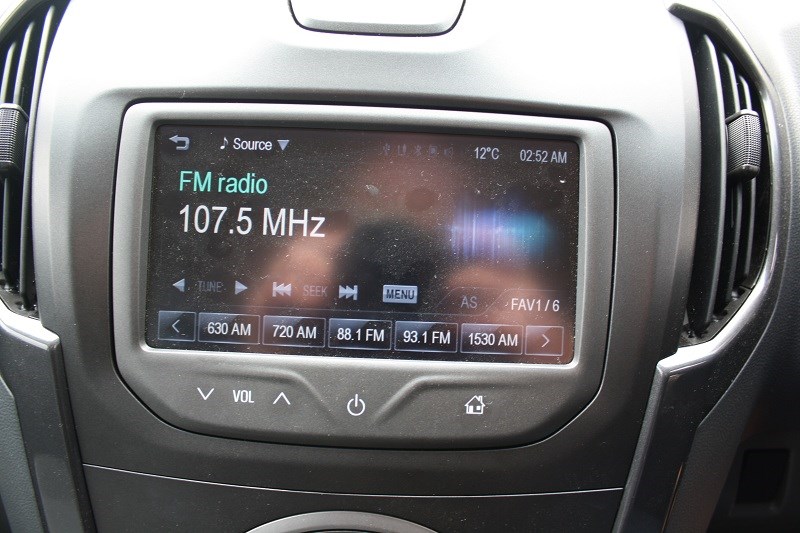 The 7-inch (18cm) MyLink touch screen is a welcome feature, a reverse camera can also be optioned.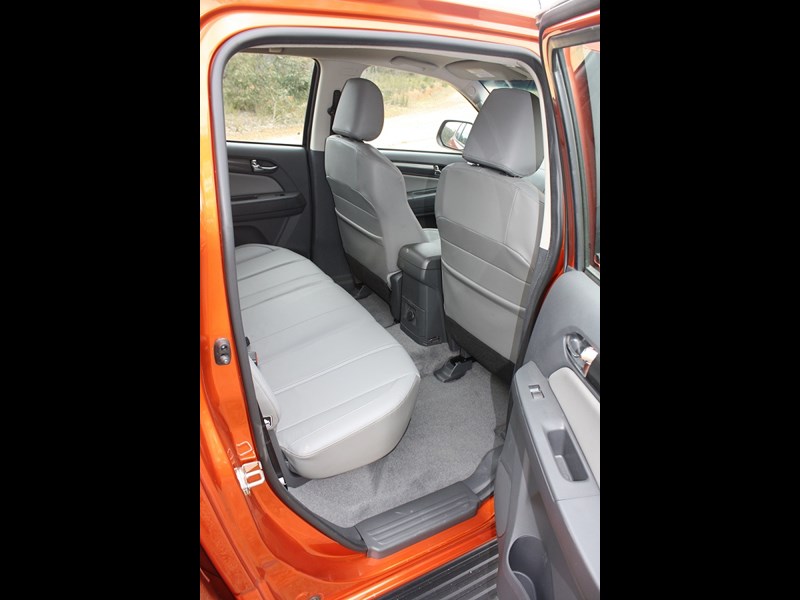 Rear seat leg room is adequate enough for most sizes of human.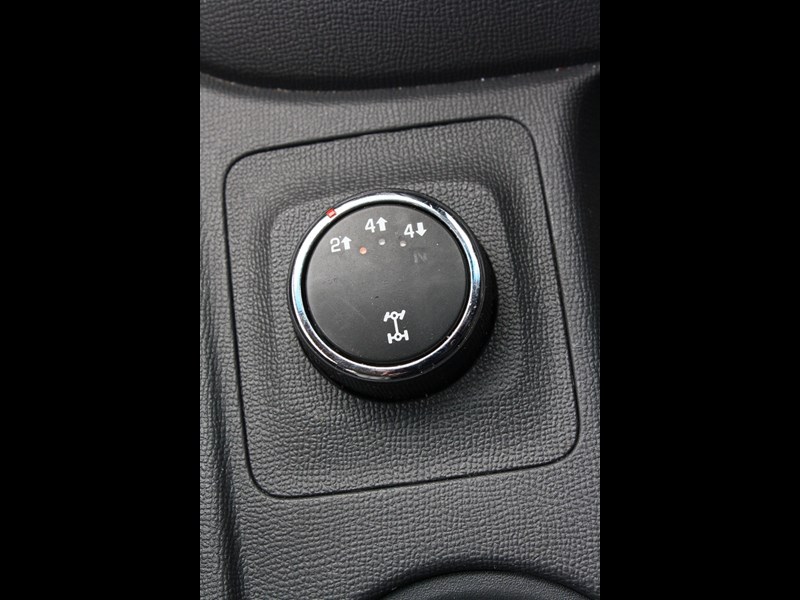 The shift on the fly transfer case offers a true 4WD low range.

The 2014 Holden Colorado LTZ ute has been updated with more power, more torque and some extra goodies. Matt Wood takes a closer look.
It comes as no surprise that the sports utility vehicle (SUV) segment of the Australian car market is big; in fact it represents the second biggest part of the market behind small cars.
Some of these SUVs have their basis in light commercial vehicles as well. In fact it's not uncommon for between three and four light commercials to feature in the top 10 selling vehicles at any given time.
And the 15 model strong Holden Colorado line up typifies the SUV and light commercial approach that some car makers are taking.
Available in four body styles and four different levels of trim, from base model 4x2 single cab work horses all the way up to the 4x4, seven seat Colorado 7 SUV, Holden are going to great lengths to make sure they have a ute for all occasions in their range.
CONTENTS
Interior: Controls and Entertainment
HOLDEN COLORADO LTZ ENGINE AND TRANSMISSION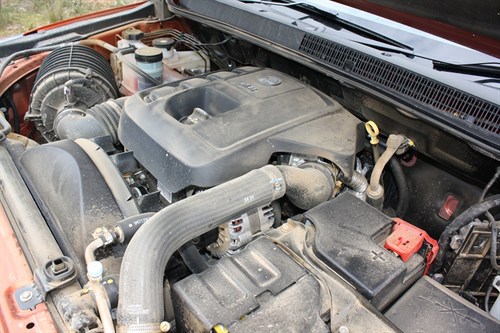 The Colorado has been poked, prodded and tweaked for 2014 and this has resulted in more power, more torque and more features thanks to an increase in fuel pressure, a water cooled turbo charger and some software changes.
The Colorado's 2.8 litre Duramax turbo diesel engine now puts out 147kW, up from 132kW; interestingly the new power figure now matches those of rivals Ford and Mazda.
The engine is now a lot quieter. It is a product of Italian engine manufacturer VM Motori - currently owned by Fiat.
The Duramax power plant has traditionally been a rather coarse, noisy engine, however new assembly procedures have tightened up the gear drive assemblies on the engine, which in turn has shut up its chatter somewhat.
This is achieved by using a product called Spacecoat, the engine gear components and balance shafts are coated in it to reduce manufacturing tolerances and allow for a tighter fit, which takes away some of the lash out of the engine gear train.
This coating then crumbles away after the first couple of revolutions of the engine. The end result is a more muted sounding diesel engine, especially at start-up, which is a welcome outcome.
Torque is also up on automatic models from 470Nm to 500Nm which give the Colorado a real shot in the arm making its braked towing capacity of 3,500kg more of a realistic proposition.
A new 6-speed manual transmission is now available; however manual models have to be content with a 440Nm torque rating. Holden now reckon they have the goods in terms of towing — power, torque and value.
HOLDEN COLORADO LTZ INTERIOR: CONTROLS AND ENTERTAINMENT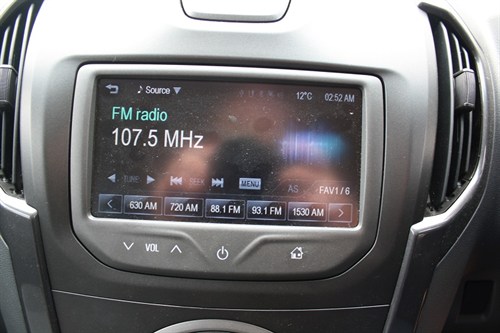 Inside, the Colorado has benefited from Holden's MyLink Infotainment System, the CD player has now gone the way of the cassette tape (and if you're old enough to remember, the 8-track cassette before it).
MyLink is a touch screen system that includes full Bluetooth connectivity for audio streaming; the system also comes with two apps, Pandora and Stitcher, as well as BringGo navigation. Pandora lets you stream custom radio preferences according to artist and genre, Stitcher gives you access to more than 20,000 radio shows and podcasts from all over the world.
Just in case you think this tricky little bit of technology is just the thing for company when cruising around the paddocks, it's worth remembering the base (and agriculture-focussed) DX 4x4 single cab is the only model that doesn't get it as standard.
The LTZ comes with a reverse camera that displays on the 7-inch (18cm) MyLink touch screen. The camera can still be specced for tray back vehicles.
This LTZ I tested was trimmed inside in meridian leather, which while comfy enough seems like a bit of overkill for a vehicle that may find itself being hosed out on occasion.
And while I'm a big fan of the MyLink system in general, the installation in the Colorado isn't really a very happy one. When reaching for controls on the touch screen it's really easy to accidently turn the unit off or mysteriously change some setting with the heel of your hand.
This can be very frustrating when switching functions on the  move, call me old fashioned but I'm not much of a fan of the voice activation function, even though this is the obvious option.
Radio volume and cruise control are steering wheel mounted, which take some of the stretch and distraction out of the picture.
HOLDEN COLORADO LTZ EXTERIOR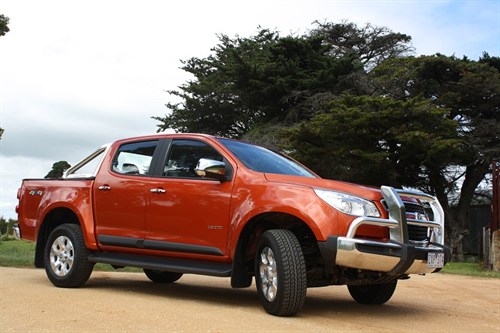 Given how little road sense most Australian wildlife has, it comes as no surprise that animal strikes feature highly in accident statistics.
Bearing this in mind Holden has added a 'Super bar' as an option for front end protection. The bar doesn't affect the ute's 5-star ANCAP rating either. And if you feel the need to stand out a bit more you can opt for a blackout package that consists of a black powder coated roo bar and roll bar.
And if you want to go the full show pony you can also add LED running lights. On top of all this you can also go for Holden's new colour 'Orange Rock'. With all of this shiny stuff I reckon you'd be pretty unimpressed if a big nasty marsupial came within cooee of it.
The load area of the dual cab LTZ has enough room for most bits and bobs. A couple of drums or even a dirt bike on an angle won't be an issue.
The sides of the ute tub aren't prohibitively high either, which makes leaning in and grabbing something easier than some of the competing products out there.
HOLDEN COLORADO LTZ PERFORMANCE
Once out on the road, the Colorado never really lets you forget that it's a truck. A well specced truck yes, but the pick-ups' on road dynamics make sure you're aware this is a full ladder chassis commercial vehicle. Though the engine has been muted somewhat it still has an uncivilised edge to in both noise and power delivery.
The manual generates peak torque (440Nm) from an impressive 1,600 to 2,800rpm while the gruntier auto makes peak torque at 2,000 to 2,200 rpm.
Even so, the engine comes across as quite peaky, especially in the manual version where you find yourself using quite a boot full of throttle to get it moving in two-wheel drive high even when unladen, the hill-start assist function is a nice touch though.
That being said, the Colorado does have a true four-wheel drive transfer case with proper low range. While this is an obvious asset off-road it also helps when reversing loaded trailers into tight spots or up steep inclines.
The big pick-up does feel out of place on the blacktop, it shows a tendency to wallow on the open road with plenty of body roll. I even found myself unconsciously leaning into corners like a motorcycle rider on one stretch of winding road.
However, the spongy handling changes significantly once the asphalt has been left behind. What feels initially like overly soft suspension on-road becomes just right on corrugated dirt roads.
The calibration of the electronic stability control (ESC) seemed perfect for our rather ordinary country roads, any time the ute tried to hang its tail out the ESC brought things back into line neatly without too much fuss. Trailer sway control (TCS) is also a part of the Colorado's ESC package.
The Colorado doesn't really shine in any one area until you get it dirty. With 4WD engaged on the fly, via a console mounted dial, the Holden really starts to feel confident.
On the relatively mild off-road tracks I negotiated, the ute rolled calmly over obstacles quite easily and wading through a couple of creek beds was all in a day's work for this vehicle. The Colorado is a capable and confident off-roader, straight out of the box.
The 6-speed manual transmission is however very commercial in feel, with a long throw and a notchy shift, but a few days behind the wheel saw me nearly acclimatise.
The new transmission gearing endeavours to make the most of the Duramax 2's torque curve, and the tall overdrive helps for highway fuel economy. Over the course of a week my combined fuel average came out at 10.3 litres/100km.
THE VERDICT
With a manufacturer's recommended retail price (MRRP) of $49,990 for the LTZ crew cab I drove, the Holden comes in at the lower end of the high spec ute market. In fact with all of the extra kit it seems like quite good value.
However, it doesn't do a good job of convincing you it's anything but a blinged up work horse, something that others have been able to do much more successfully.
Ride and handling just isn't great for those that spend a lot of time on asphalt roads.
The Colorado has the tough truck thing down pat though, especially now it has that bit more oomph which makes the lower spec models in the range look like good value, especially for those in the bush wanting a rugged ute for a punishing job.
HOLDEN COLORADO LTZ HITS
Confident capable off-roader
MyLink is great
Value
HOLDEN COLORADO LTZ MISSES
Soggy on road dynamics
Uninspiring interior
Duramax engine still coarse and noisy
HOLDEN COLORADO LTZ SPECIFICATIONS
Holden Colorado LTZ 4x4 Crew Cab
Engine: 2.8 litre Duramax 2 common-rail injected turbo diesel engine
Power: 147kW
Torque: 440Nm @ 1,600 to 2,800rpm (man) 500Nm @ 2,000 to 2,200rpm (auto)
Transmission: 6-speed manual or 6-speed automatic
Payload: 1,000kg
Towing Capacity: 3,500kg (braked)
Features: Electronic stability control (ESC) incorporating ABS, electronic brakeforce distribution (EBD), traction control system (TCS), hill-start assist (HSA) and trailer sway control (TSC). Climate control, MyLink Infotainment System with BringGo navigation. Parking sensors front and rear.
ANCAP Rating: 5 Stars
This article was initilaly published in NewFarmMachinery magazine issue 5, December 2013. For the latest farm machinery news and reviews, subscribe to NewFarmMachinery magazine.
Click here to find Holden utes for sale.
Subscribe to our newsletter
Sign up to receive the Trade Farm Machinery e-newsletter, digital magazine and other offers we choose to share with you straight to your inbox
You can also follow our updates by liking us on Facebook. 

Graders For Hire | Cranes For Hire | Telehandlers For Hire | Excavators For Hire