REVIEW: Volkswagen Amarok Highline TDI Ute
---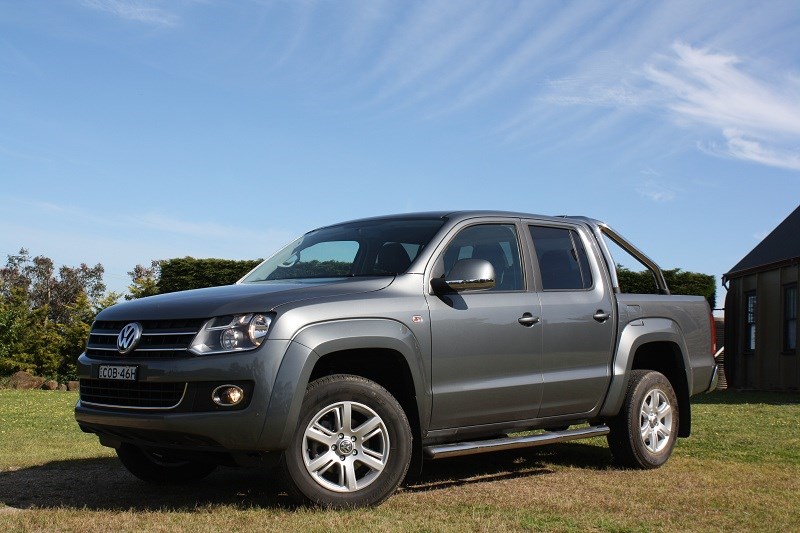 'Amarok' is the Inuit (Eskimo) word for 'Wolf'. A conservative looking machine, but a very nice drive.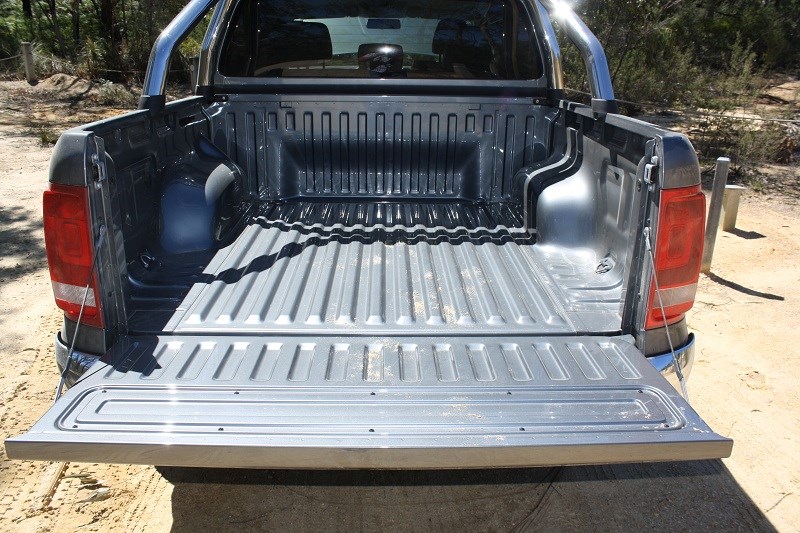 Load space is impressive for a dual cab ute.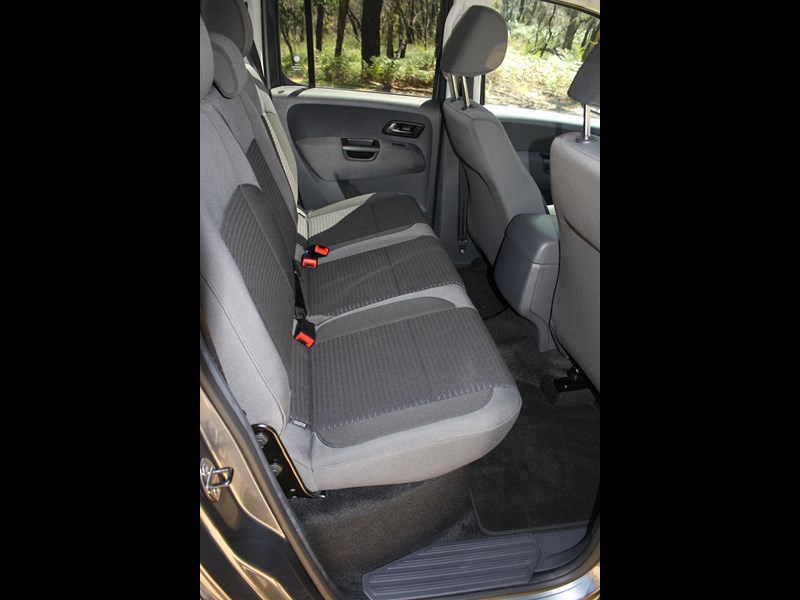 The rear seat has room for three, but leg room is a little snug.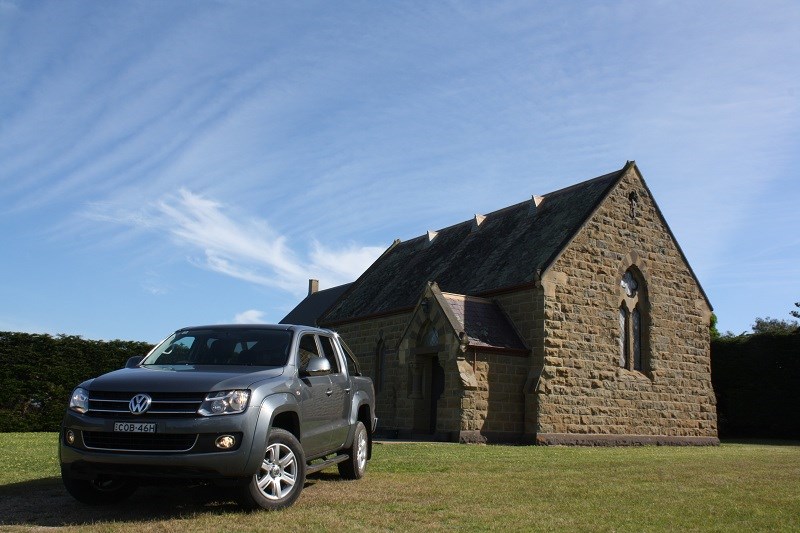 The Amarok is the only Euro ute in its class on the Aussie market.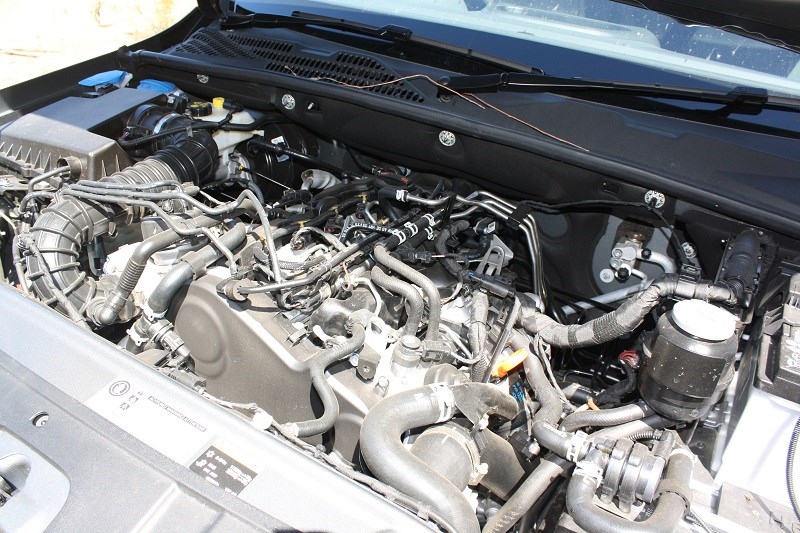 The 2-litre engine is a surprisingly strong performer.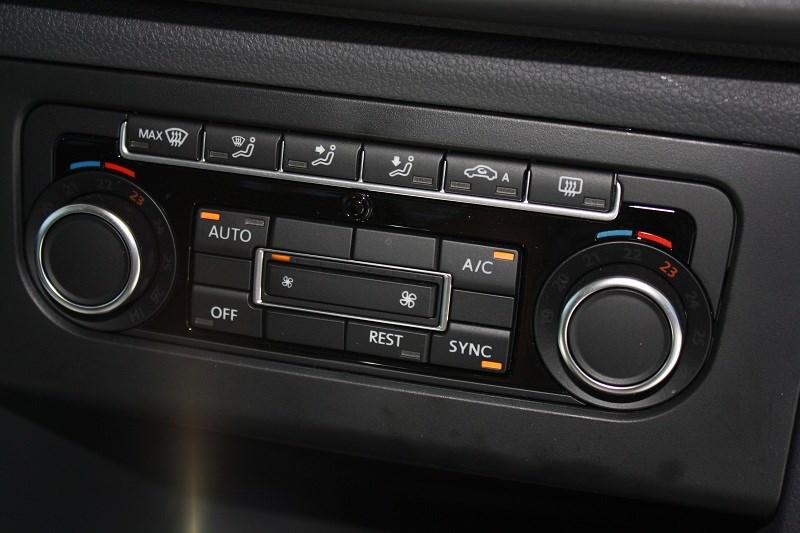 Dual zone climate control is standard on the Highline model.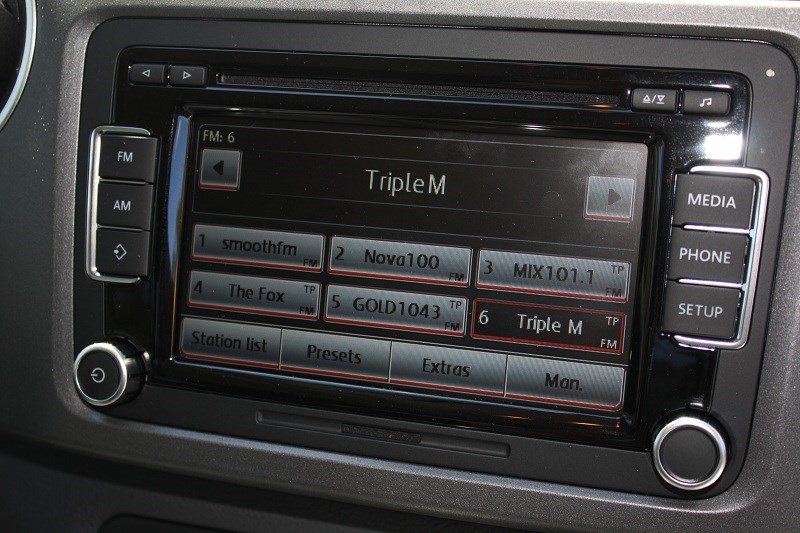 Touch screen entertainment system is easy to use and the sound is good too.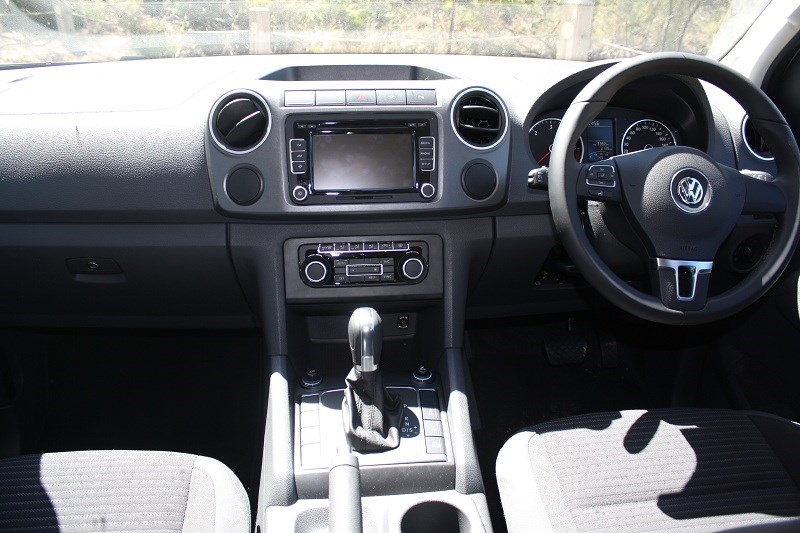 Basic but well laid out interior; the auto option adds appeal in Oz.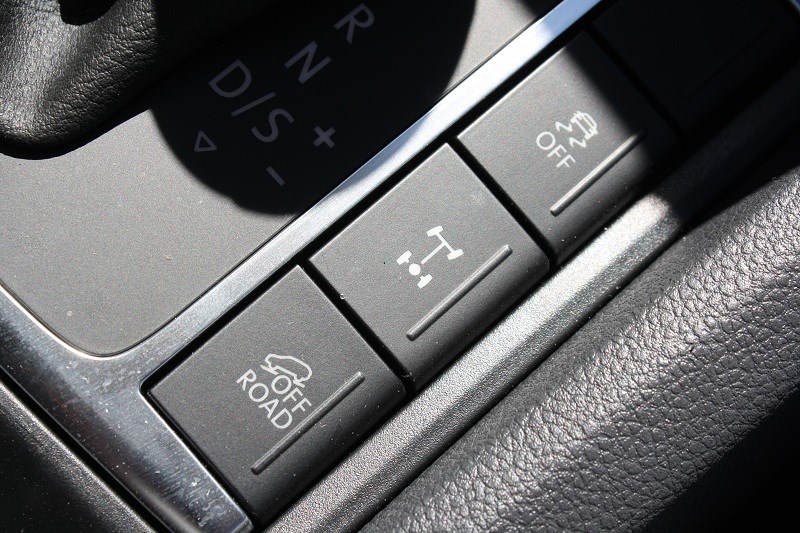 The Amarok's ESP has an off-road mode that can be engaged at the push of a button.

The Volkswagen Amarok had its Australian launch back in 2011; Matt Wood has a closer look at the only European dual cab ute on the market.
Volkswagen has done a smashing job of establishing their brand image in Australia, barring some negative publicity surrounding their direct shift gearbox (DSG) transmissions, the company is clearly hell bent on world domination.
Like most European manufacturers, VW has a commercial vehicle range that consists of small and large vans and you would expect nothing else from the inventor of the Kombi.
But, a 1-tonne mud-slinging-workhorse ute is a different kettle of fish all together and it was a brave foray into a market dominated by established Japanese players.
I managed to get hold of a dual cab Highline TDI420 version recently for a test drive.
CONTENTS
VOLKSWAGEN AMAROK HIGHLINE TDI ENGINE AND TRANSMISSION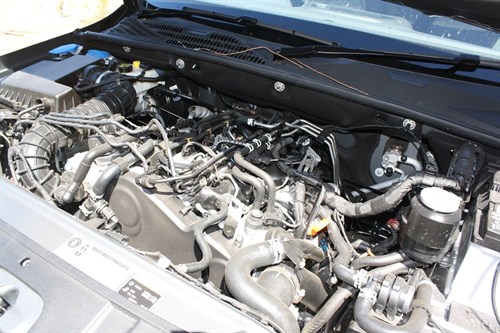 The engine range on the Amarok line-up starts with the petrol fuelled TSI300 in the single cab before moving up to the diesel TDI340, the TDI400 and finally the TDI420. The numbers represent the torque output of the powerplants in Newton metres.
The Highline I tested carries the TDI420 engine which I think is a great performing little piece of machinery with driveability and performance that belie its capacity; this is no doubt down to the twin turbo chargers ramming air and fuel into the engine at a brisk rate.
While there's no mistaking the fact you are driving a diesel, it is on the whole a pretty quiet and smooth engine with only a slight chatter from idle.
The 8-speed auto transmission on the Highline TDI420 is actually a full-fluid ZF auto tranny rather than the DSG transmission often found in the marque's passenger car range.
The advantage of the 8-speed auto is that the transmission is always looking to make the most of the 2-litre engine's torque curve with peak torque developed at 1,500rpm.
This tranny is touted to have a ratio for all occasions and this contributes to the Amarok's claimed fuel consumption of 8.3 litres/100km. The marriage of engine and transmission is a happy one and both units work well together both on road and off.
The auto seems quite intuitive holding back on steep descents but quick to respond to demands from the accelerator pedal.
VOLKSWAGEN AMAROK HIGHLINE TDI EXTERIOR AND FEATURES
It's a pretty conservative looking machine really, even with 17-inch (43cm) alloy wheels and some shiny bars, and at first glance I couldn't help but feel that it looked like the kind of ute that my old man would buy.
It's not so much that it's ugly but it doesn't have the same brash, bush hat wearing appeal that some of the competition has. This Volksy was also equipped with the 4Motion AWD system as well as the optional comfort spring pack.
Volkswagen's 4Motion AWD system is used across their range from cars to SUVs. The system uses a Torsen differential which senses torque imbalance in the driveline and redirects power accordingly.
In everyday conditions the 4Motion equipped Amarok directs 60 per cent of the drive to the back wheels and 40 per cent to the front, though if the back wheels start to spin in the rough stuff more power will be directed to the front.
VOLSWAGEN AMAROK HIGHLINE TDI INTERIOR AND CONTROLS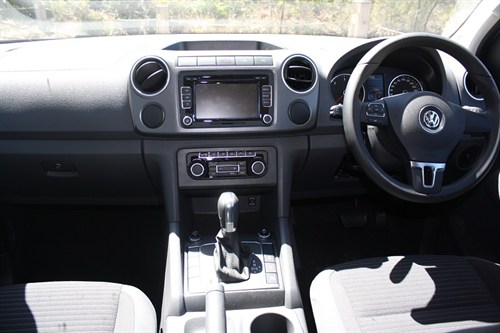 Climbing into the Amarok is easy as, the ute lacks the towering off-roader stance of some others out there with the front seat only 830mm above the ground; you don't find that you are hauling yourself into the driver's seat.
And once my butt was firmly planted behind the leather trimmed wheel I found the cockpit a rather pleasant place to be. Comfy seats seem to be a VW forte as even their van range is equipped with supportive and comfortable seating. VW, like some of its German contemporaries tend to lean towards the plain and utilitarian as far as dashboard and control layouts.
There's not a great deal of clutter and not much in the way of fancy pants decoration either.
While the front seats are an easy place to spend a bit of time, the back bench isn't quite as accommodating. The price paid for a decent sized ute tub is a snug rear seat and my chief rear seat tester (my lanky teenage son) reported that the seat was comfortable enough, but leg room was a bit tight for a long journey.
The Amarok gets a good suite of stability control functions from ABS to electronic stability program (ESP), and the ute also gets an off-road ESP mode which is activated by a push button. This engages the electronic diff locks as well as changing the parameters of the ESP system for off-road use.
The VW also gets a hill descent assist function to help keep the ute on the straight and narrow when trundling down mucky hills.
VOLKSWAGEN AMAROK HIGHLINE TDI TOWING AND LOADING
From a workhorse point of view the VW scores in some areas and trails in others. 420Nm of torque is impressive from such a small donk but still trails much of the competition and towing capacity is rated at 3,000kg braked, enough for a lot of tasks but maybe not enough for some workhorse buyers out there.
But towing aside the Amarok does have a surprisingly big load area for a dual cab ute, a whopping 2.52 square-metres. The ute tub is also very accessible from all angles meaning it's very easy to lean over and grab something from the side of the pick-up rather than having to scramble over the tail gate, there's also a 12-volt power outlet set into the side of the tub.
The wheel arches sit a fair way forward in the tub, which does make securing upright cargo such as drums a bit of a challenge, where traditionally most would wedge them into the front corners of the tub.
However there are plenty of tie down points scattered around the ute body and an Aussie sized pallet will slide aboard without any worries. Load capacity comes in at 1,100kg but taking the comfort pack spring option reduces that to an 887kg payload.
VOLKSWAGEN AMAROK HIGHLINE TDI PERFORMANCE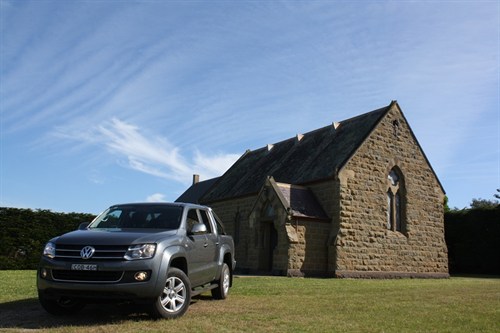 On the road, the Amarok does stand out from many of its competitors. It doesn't drive like an empty truck, there's very little bounce from the rear, in fact it's almost car like in traffic especially with the auto taking care of gear changes.
The rear springs of the Amarok are set outboard of the chassis rather than underneath like some others. This takes some wallow out of the ride as well as contributing towards lowering its stance. After a few days of flogging the Volksy around town I hit the road and heading into the bush to see if I could challenge the Amarok's off-road sensibilities.
On the dirt the whole truck feels as tight as a drum with enough feedback through the wheel to keep things pointing in the right direction.
It's hard to pick on the ESP calibration except to say it felt a little bit too strict, especially on dirt. Like an overprotective parent it did tend to intervene with an iron fist in situations where a gentle nudge would have sufficed, but on the whole the Amarok felt as much at home on the dirt as it did on the asphalt.
AWD is often seen as 'pretend' four-wheel drive and not enough for proper off-road use. But in my experience a decent AWD set up is usually more than capable enough for most off-road situations especially for a workhorse/recreational vehicle and is often only let down by ground clearance.
And this is the case with the Amarok, it sits just that little bit lower than many 4x4's, though the Highline does come equipped with side steps and a sports bar in the tub to make it look the part. However, I reckon only serious rock-hopping 4x4 enthusiasts are going to be left wanting by the AWD.
It's also quite manoeuvrable whether in the bush or in a shopping centre car park, it feels a lot smaller than its 5.2m length. Being a Highline model my ute was equipped with parking sensors front and rear and while these were quite handy in town they did become a bit annoying out in the bush as even a decent sized bunch of grass seemed to set them off.
THE VERDICT
Those wanting to drag big loads may shy away from the VW, however, for a comfortable everyday driver ute that is geared to eat up long distances empty or loaded, whether on dirt or blacktop, the Volksy has a lot to offer.
Including fuel economy as my fuel average came in at 8.5 litres/100km in a mix of city and country as well as off-road driving.
And it can be a quite enjoyable beast too if you're feeling a little sporty.
VOLKSWAGEN AMAROK HIGHLINE TDI HITS
Smooth ride for a ute
Punchy little engine — impressive performer
Almost car-like handling
VOLKSWAGEN AMAROK HIGHLINE TDI MISSES
Rear seat leg room a bit snug
Lacks the rugged appeal of some competitors
Low ground clearance for some off-road duties
VOLKSWAGEN AMAROK HIGHLINE TDI SPECIFICATIONS
Engine: TDI420 2-litre bi-turbo diesel
Power: 132kW
Torque: 420Nm
Transmission: 6-speed manual (8-speed auto optional)
Payload: 1,197kg (877kg with Comfort Pack spring option)
Towing capacity: 3,000kg braked
Claimed fuel economy 8.3 litres/100km
Features: Permanent AWD, 17-inch (43cm) alloy wheels, stainless steel side steps and sports bar, fog lights, tinted privacy glass, ESP, off-road ABS/anti-slip regulation (ASR) and electronic differential lock (EDL), dual zone climate control, leather steering wheel trim and gear shift, chrome rear bar, parking sensors front and rear, exterior and interior chrome accents. 
This article was initilaly published in NewFarmMachinery magazine issue 6, February 2014. For the latest farm machinery news and reviews, subscribe to NewFarmMachinery magazine.
Click here to find Volkswagen utes and vans for sale.
Subscribe to our newsletter
Sign up to receive the Trade Farm Machinery e-newsletter, digital magazine and other offers we choose to share with you straight to your inbox
You can also follow our updates by liking us on Facebook. 

Graders For Hire | Cranes For Hire | Telehandlers For Hire | Excavators For Hire