REVIEW: Yamaha 450 Grizzly ATV
---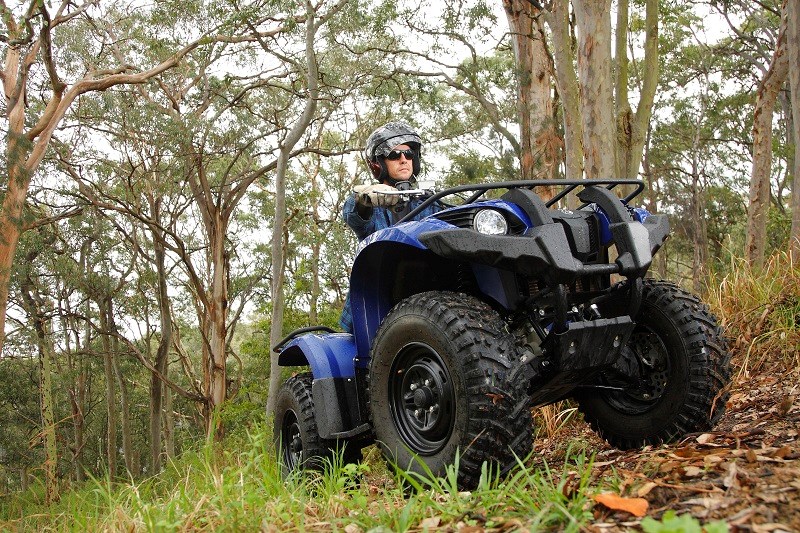 The Yamaha 450 Grizzly, now with power-steering.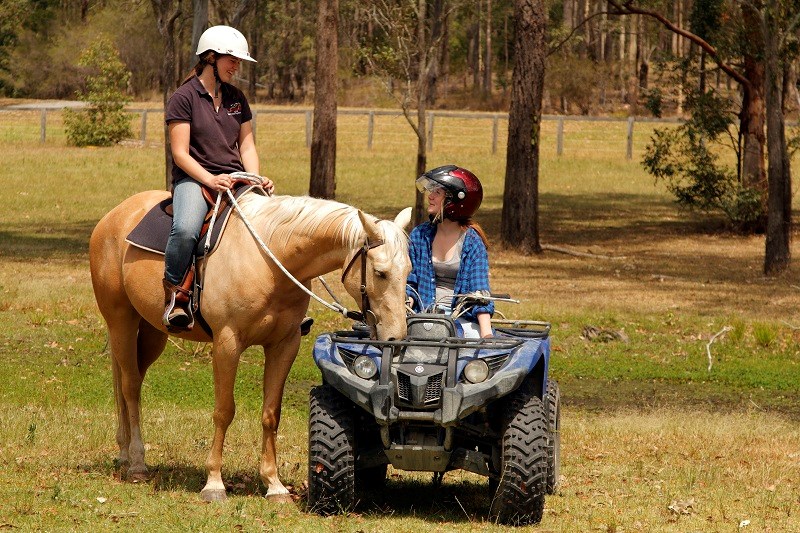 The Grizzly's most admirable characteristics are ease of operation and brilliant manoeuvrability. Anyone can ride this ATV, or quickly learn to ride it.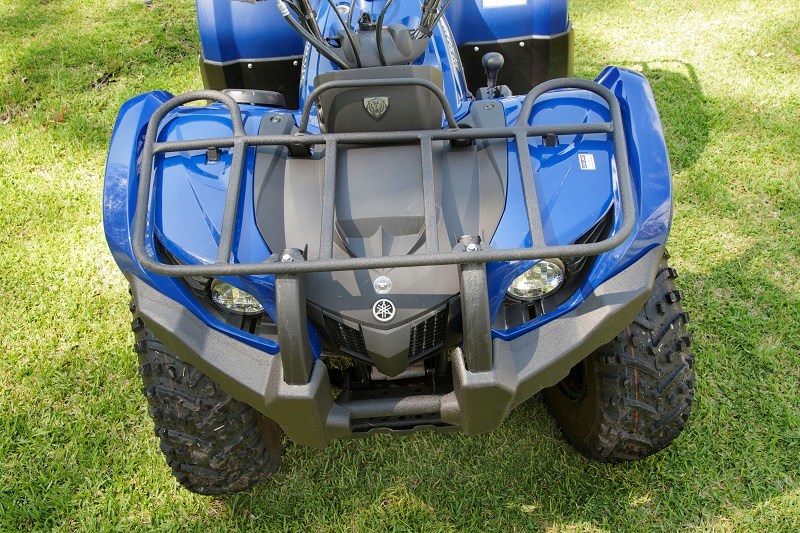 Wrinkle-finish cargo racks have a combined capacity of 120kg; 40 up front and 80 on the rear. Steel brush guards and rack extenders are available from Yamaha. So are other useful accessories such as a gun boot and an aluminium skid plate.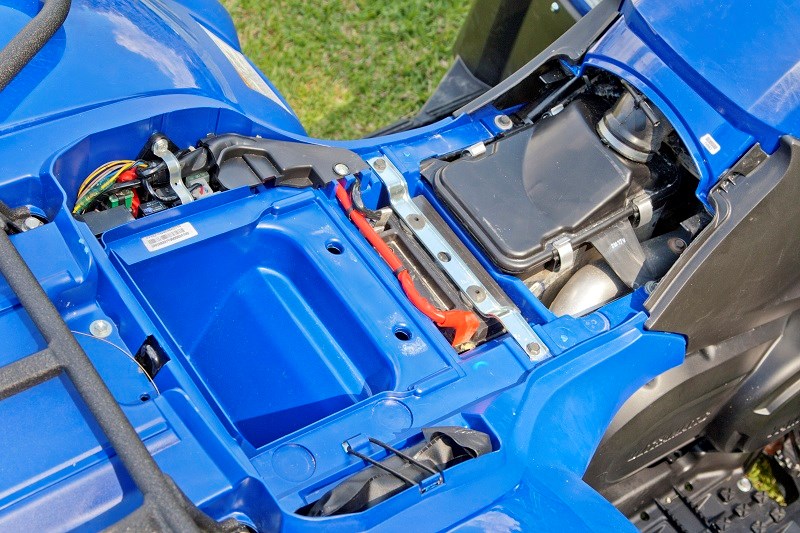 Electrics are marine grade, useful if your daily chores entail creek crossings or working around deep water. There isn't much storage space on this machine but the under seat box helps.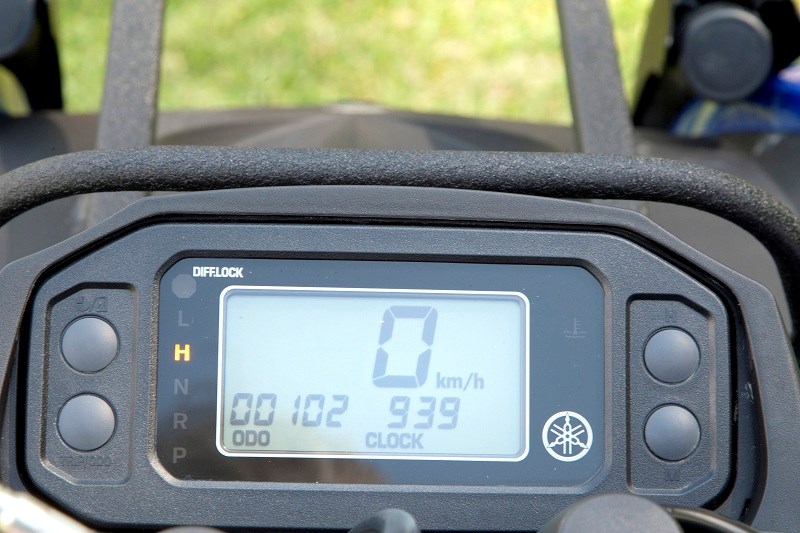 Digital instruments tells you everything you need to know and are clear and easy to read. A water-resistant DC outlet next to the instrument panel accepts a wide range of accessories.

Yamaha invented power steering for all-terrain vehicles and has now gone one step further; adding this feature to its already agile mid-size 450 Grizzly. Barry Ashenhurst reports.
The most significant advancement in ATV design in the past 10 years, in my opinion anyway, has been the introduction of power steering, which Yamaha introduced on a mid-size quad for the first time with the model we're testing this month, the 450 Grizzly.
The 450 retails for $12,999, even less if you manage to synchronize your purchase with one of Yamaha's frequent buyer incentive campaigns.
The machine comes with a three-year warranty and if nothing else that proves how competitive the ATV market has become since the likes of CF Moto, TGB and Kymco landed on our shores.
CONTENTS
YAMAHA 450 GRIZZLY: THE MACHINE
As a mid-size ATV, the 450 Griz is nearly 72mm or 3 inches shorter overall than the 700 Grizzly and 87mm or nearly 3.4 inches narrower. It's a destroyer, not a battleship. The fact that it's shorter and narrower is significant. Like it or not, even with all the civilising features in the world, some ATVs still come across as intimidating, particularly to women and teenagers learning to ride.
For example, the sheer bulk of the Polaris 550 X2 deterred my daughter from climbing on for her first riding lesson, but she showed no hesitancy when the 450 Grizzly rolled off the ute and into her shed.
Without labouring the point, the 450 Griz is the perfect ATV for anyone learning to ride. It looks light and small, it feels that way when you're riding it, and on a marketing scale of one to 10 that's worth about 15. Women will love it!
YAMAHA 450 GRIZZLY FEATURES
Instead of auto transmissions and auto-engaging diff locks, Yamaha has stuck with tradition in its Grizzly range by letting the riders make all the important decisions themselves.
On the 450 Grizzly the right-hand brake lever activates the front wheel brakes and the left-hand lever activates the rear brake. The front brakes are dual hydraulic discs, as you would expect.
Down the back we have a single 'oil-bath' disc, a system designed for low-speed vehicles but it doesn't always give satisfactory results on ATVs capable of 60km/h or more. The Grizzly has adequate brakes or adequate for a machine of this power and speed, but they lack feel.
Yamaha has bypassed the park brake mechanism, sometimes incorporated into the right-hand brake lever, and put all its faith in a transmission park brake. When we parked the Grizzly on a steep slope and climbed off to see what would happen, the transmission brake worked very well indeed.
The 450 has the 'On-Command' four-wheel drive system common to all Grizzlies. It does not decide when it needs all-wheel drive; you make that happen when you depress the 4x4 button on the switch block. If in 4x4 mode you realise that a locked diff might be useful, given the terrain you're facing, you push that button too.
Unlike the Can-Am system in which a rear wheel must rotate a certain number of timesbefore the diff lock will engage, on a Grizzly, when you push the diff lock button the diff lock engages and that's the end of that. The transmission can't disengage 4WD until you return the 4x4 button to its 4x2 position. It can't automatically disengage the diff lock either.
The Griz suspension is conventional by today's standards. Some working ATVs wore McPherson Strut front suspension for years but most manufacturers have now switched to independent double wishbones front and rear, for a smoother ride and better steering characteristics. The Yamaha layout gives 160mm of wheel travel at the front and 180mm at the rear.
YAMAHA 450 GRIZZLY: NOW WITH ADDED POWER STEERING
Power steering has changed the way ATVs are being used, because it makes them easier for anyone to ride and here we believe Yamaha leads the pack, possibly because it invented ATV power steering.
Yamaha's electronic power steering design is speed sensitive as well, but even without adjustability this is the smoothest, most neutral power steering in the ATV world. It works perfectly and is yet another reason the 450 Grizzly will find so many friends among those coming to ATVs for the first time. Steering is effortless and there is no kickback anywhere.
YAMAHA 450 GRIZZLY ENIGNE AND TRANSMISSION
The Griz is powered by a 421cc, single cylinder, carburetted engine, bearing no resemblance I might add, to Yamaha's world beating 450 dirt bike engine. This little donk goes about its business with the quiet determination of a hobbit.
For the engine to start, the transmission must be in either neutral or park, a sensible safety precaution. The gear selector moves more willingly if you step on the brake pedal while changing the gear position. I don't know why, but Yamaha must have meant it to be this way or it wouldn't be so.
The engine is quiet at low speed so it won't frighten stock or even the backyard chooks.
The transmission is Yamaha's Ultramatic. ATV autos are often notchy, even on year old machines, but on this particular unit the transmission worked smoothly. It did, however, have problems if the engine stalled in low range 4WD on a descent, a situation that occasionally prompted the transmission to lock up.
The only way to unlock it was to rock the machine backwards and forwards, a feat that required more dexterity than saying it suggests. This was not the first time I'd encountered this problem though. I've seen it before on ATVs with complicated drivelines, so it seems to be the nature of the beast, or some of them anyway.
YAMAHA 450 GRIZZLY ATV PERFORMANCE
Is this quad fast? No, but it wasn't meant to be. And frankly, what the top speed might be on a 450 working ATV is irrelevant.
More to the point, does the engine produce enough working torque and will it be easy to service? In both cases the answer is yes. Farmers who buy 450cc machines don't expect the power of a 700.
They're more interested in reliability than speed and if the thing keeps going day after day without major surgery, the owner can congratulate himself for buying the right machine.
We don't know if this was emanating from the engine or the transmission or both but there was a lot of heat coming from the right-hand side of the machine and after half an hour or so it became an uncomfortable distraction.
We don't like that. It betrays the machine's otherwise excellent ergonomics and Yamaha would do buyers a favour if they fixed the problem.
We have access to steep terrain on our testing ground, a good place to assess engine and/or transmission braking. The little Yamaha has amazing auxiliary braking for a small machine and it works equally well in high or low range. That's unusual. Most 4x4 quads have better engine braking in low range.
The 450 Grizzly's manoeuvrability is drop dead brilliant. It hooked around trees in the same paddock that had the Polaris 550 X2 backing and filling madly. It was in and out of tight spots effortlessly, and all that was required from the rider was an accurate estimation of distance.
However, the shorter, narrower Grizzly 450 is not as sure-footed or as stable as the 700 Grizzly on really steep terrain, and especially on descents.
The excellent 4x4 system will get this machine through most obstacles, including deep creeks, but the handling characteristics suggest to us the 450 Griz is better suited to gently undulating terrain rather than properties with steep sided gullies and a lot of big, gnarly hills.
THE VERDICT
YAMAHA GRIZZLY 450 ATV HITS
•             Terrific manoeuvrability
•             Easy to ride
•             Powerful engine/transmission braking
YAMAHA GRIZZLY 450 ATV MISSES
•             Little storage space
•             Brakes could use more bite
•             Not as stable as a Grizzly 700
YAMAHA 450 GRIZZLY SPECIFICATIONS
ENGINE
Type: 4-stroke single
Displacement: 421cc
Bore/stroke: 84.5 x 75mm
Comp ratio: 10:1
Lube system: Wet sump
Fuel management: 33mm Mikuni carb
Starting: Electric
Fuel tank capacity: 15 litres
Oil capacity: 2.6 litres
Final transmission: Shaft drive
TRANSMISSION
Type: Yamaha Ultramatic auto H/L/N/R/P
4x4 system: Yamaha On-Command 2WD/4WD with diff lock
DIMENSIONS AND PRICE
Length: 1,993mm
Width: 1,093mm
Height: 1,120mm
Seat height: 840mm
Wheelbase: 1,233mm
Ground clearance: 275mm
Wet weight: 287kg with full tank
Warranty: Three years
Price: $12,999
The review was initilaly published in NewFarmMachinery magazine issue 6, February 2014. For the latest farm machinery news and reviews, subscribe to NewFarmMachinery magazine
Click here to find Yamaha ATVs for sale.
Subscribe to our newsletter
Sign up to receive the Trade Farm Machinery e-newsletter, digital magazine and other offers we choose to share with you straight to your inbox
You can also follow our updates by liking us on Facebook. 

Graders For Hire | Cranes For Hire | Telehandlers For Hire | Excavators For Hire