REVIEW: Branson 5820R tractor
---
A bright red turbo-charged all-wheel drive 'cabrio' awaits: it has 12 gears, an impressive pedigree, is as fast as a fast thing — and it's raining. Steve Kealy slips on a Drizabone to take the controls.
The drought broke in Victoria the day we were offered a steer of the new two-seater Ferrari-red Branson 5820R, and continued until the day after it was loaded on to a trailer and taken off for a well-deserved bath.
It was the longest consistent rainy patch Victoria has seen in 15 years: much needed, very welcome and bloody annoying!
Branson tractors are made by South Korean farm machinery manufacturer Kukje Machinery, who has been building tractors for over 40 years. About 10 years ago, Kukje began an export push to North America, badging its tractors 'Branson'.
In Australia, the brand has had a chequered on-again, off-again history with various importers, which hasn't done the marque any favours.
About six months ago, Brisbane-based machinery dealer Midway Sales secured Branson distribution rights to the eastern half of the country (excluding Western Australia) and instead of adding a layer of retail dealerships, will ship machines and parts directly to customers from their warehouses in Brisbane, Sydney and Melbourne.
The model we tested was the 58 — which oddly, means 55hp (40.5kW), suggesting they measure horses differently in Korea — 20, which is the type of chassis — essentially a bit of a midway point, straddling the line between what a market gardener/hobby farmer and smaller commercial operator would need.
CONTENTS
BRANSON 5820R EXTERIOR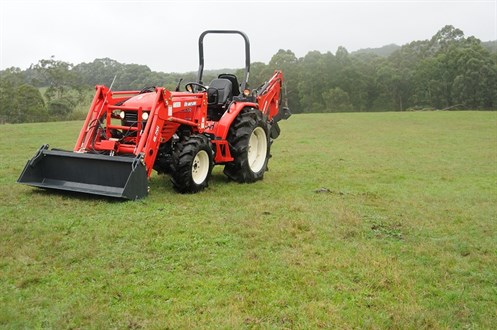 The Branson 5820R doesn't have a cabin — if it did, it'd be the 5820C; the 'R' model has a regular rollover protection structure (ROPS) — though the stout rollover bar does fold down for parking or movement under low-hanging obstructions.
Its bonnet and guards are powder-coated steel, not painted or merely coloured fibreglass like many supposedly comparable rivals, making the Branson's bodywork more durable and resistant to fading from UV exposure.
Those smart white rear wheels can be off-set for a wider track: simply unbolt the rims from the hubs, swap them around to the other side of the machine and the rear track width is increased by roughly 4 inches (10.16cm).
BRANSON 5820R ENIGNE, TRANSMISSION AND PTO
The 4-cylinder Industrial A-series diesel engine under the bonnet is a Branson built Cummins engine.
Our 55hp (40.5kW) version wears a top-drawer Garrett turbocharger which puts engine parts at least, as close as the nearest Cummins dealer, though Midway prides itself on stocking a full suite of spares, and being able to get them to customers at very short notice.
The Euro 4-compliant engine means no clouds of smoke and lung-clogging particulates.
It's got 12 gears— or 24 if you count reverse too — in a 4-speed, three-range transmission with full synchromesh, including the shuttle, which is great to have when doing front-end work or back-and-forth mowing.
Larger general utility tractors use independent PTOs, so the clutch isn't required. Branson tractors give you the choice of switching between independent and live, which does require the clutch.
A 584/760 2-speed PTO as standard equipment too so, depending on the task, the engine can be slowed for operating implements more safely and at better fuel efficiency.
BRANSON 5820R COMFORT AND CONTROLS
The specs list reveals expected details like a safety belt, reversing lights, a work light, a hand throttle and a mid-mounted PTO.
A neat touch is a single-lever quick-detach system as standard — swapping buckets is a one-man, one-minute job, or less if it's not raining.
The controls are straightforward and very linear, but it's easy to expect the Branson to be capable of digging deeper than it really can: smaller bites and shorter strokes will get the job done quickest.
Forward visibility is good while a well-placed rear-facing seat offers complete visibility of a backhoe attachment.
A number of creature comforts that are nice to have are the flat deck with underfloor fuel tank, soft-touch controls that absorb most of the vibes, an extensively adjustable seat and a tilting steering column.
Steering is hydrostatic, for better control in rough terrain — plus it has its own pump — no loss of steering assistance when the front-end loaders in use. It's a small but significant safety consideration — and both pumps are on the engine itself — not driven by an ancillary power take-off (PTO).
BRANSON 5820R PERFORMANCE
On the subject of steering — the turning circle of this machine is simply ridiculous: it will turn so tightly, the inside rear wheel is practically stationary on full lock; despite being all-wheel drive, the front wheels can be cranked around to what looks like about 80 degrees — and the machine turns in a little more than its own length.
It's an impressive display of chassis and drive train interaction and compliance that proves the Branson is very much more than merely a sum of its parts.
Oil-bath disc brakes are another indication that this is a big tractor wearing a small tractor's boots: irrespective of how hot, how deep or how wet the terrain gets, the brakes will remain constant.
With its smooth, quiet engine and solid steering and braking qualities, the tractor drives almost like a car.
When it comes to pushing dirt around, the Branson weighs under 2 tonnes, so it's no heavyweight and anyway, it's a tractor, so it's really better at dragging and lifting. But with a bit of patience and a skilled operator, surprisingly big tasks can be achieved.
Up front, it's much the same: the machine's bucket can hold a lot, but the nose of the machine doesn't weigh much so the front end can be carried easily, which is when the Branson's locking diffs maintain drive.
With its commendable qualities, it's easy to expect the Branson to be capable of digging deeper than it really can: smaller bites and shorter strokes will get the job done quickest.
BRANSON 5820R SERVICING AND MAINTENANCE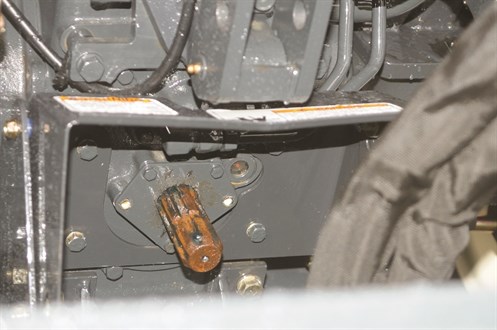 Benson has tried to make maintenance chores as easy as possible.
Checking the hydraulic fluid is as simple as looking at a sight-glass — no more messy dipsticks. Grease nipples are recessed so they don't get bent or knocked off, and they're all conveniently faced outwards to make that regular greasing a bit less awkward and a lot faster.
Another nice touch is that the radiator is aluminium, so corrosion is dramatically reduced over the more common steel-cored radiators.
THE VERDICT
In operation, the Branson is all about convenience: it's easy to use, clean, comfortable, smooth and quiet: thanks to the turbo and a forward-facing, low-slung exhaust, there's no need to slip on ear-defenders before firing up the 4 cylinder diesel.
Hook up a carryall or a bale spike and the Branson's in its element, lifting, loading and lugging till the cows come home.
This Korean-built machine might be a rarity on Aussie farms and paddocks right now, but we have a feeling that's going to change, and soon.
BRANSON 5820R SPECIFICATIONS
Engine: Vertical, 4 cylinder, water-cooled diesel
Transmission: Synchro shift 12F x 12R
Steering: Hydrostatic
Clutch: Dry, single plate
Brakes: Multi-disc wet
Drive system: 4WD
Speed: 1.8-23.8km/h
PTO: Independent PTO (6-spine shaft), 584/760rpm, 47.5hp (35kW)
Lifting capacity: 1,500kg
Hydraulic flow: 42 litres per minute
 For Steve's detailed test report, grab a copy of NewFarmMachinery issue 9, out May 19. Subscribe to the magazine to never miss an issue. 
Find Branson tractors for sale.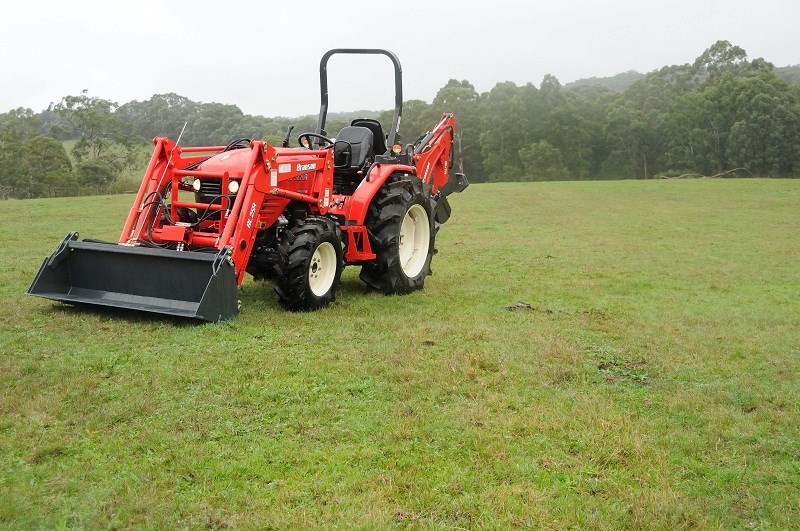 Our bright red turbo-charged all-wheel drive 'cabrio' - the Branson 5820R tractor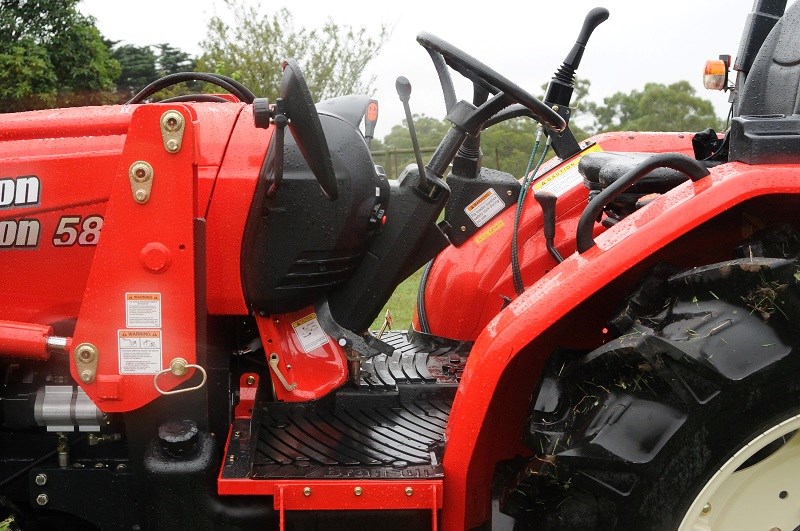 Flat floor and the low-level fuel tank's filler.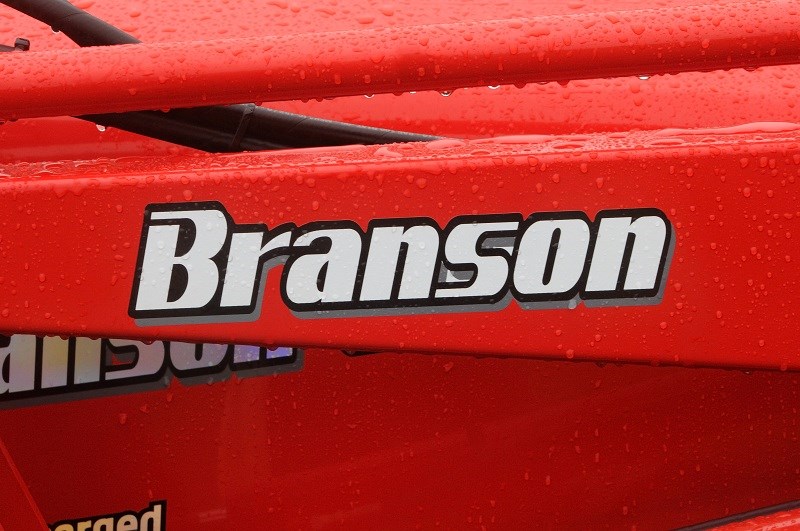 The Branson range is made by South Korean farm machinery manufacturer Kukje Machinery.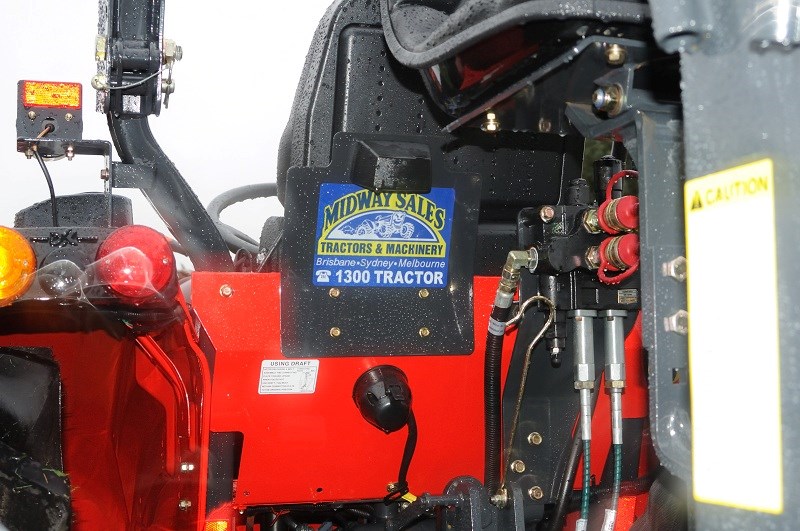 Branson is distributed in Australia by Brisbane-based dealership Midway Sales.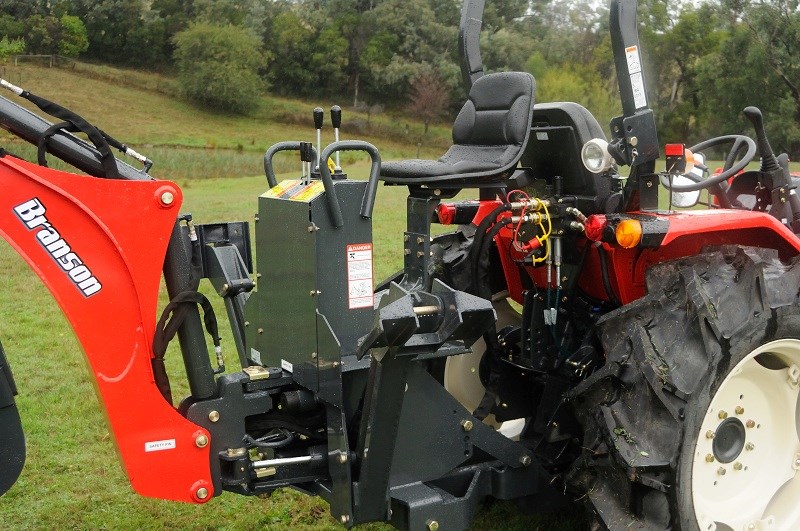 A well-placed rear-facing seat offers complete visibility of the backhoe attachment.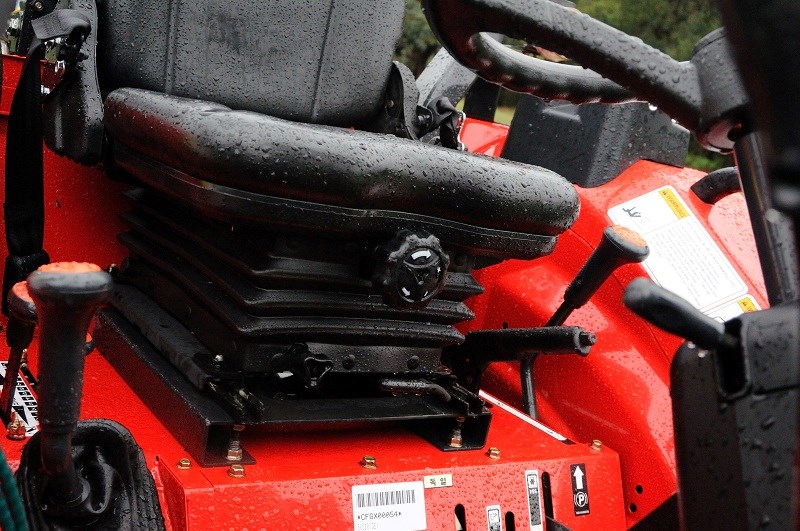 The seat of power: extensively adjustable to accommodate all shapes and sizes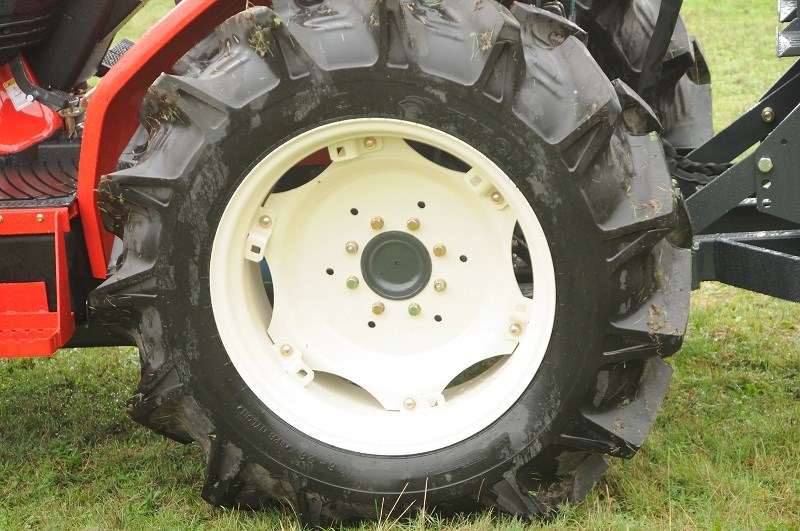 By swapping the wheels from left to right on the offset lugs, the rear track can be increased.

Subscribe to our newsletter
Sign up to receive the Trade Farm Machinery e-newsletter, digital magazine and other offers we choose to share with you straight to your inbox
You can also follow our updates by liking us on Facebook. 

Graders For Hire | Cranes For Hire | Telehandlers For Hire | Excavators For Hire