REVIEW: John Deere 1025R sub-compact utility tractor
---
Starting out as a blacksmith, John Deere once vowed, "I will never put my name on a plow that does not have in it the best that is in me". Tom Dickson finds out if this is true of the John Deere 1025R.

The John Deere 1025R may be one of the smallest tractors in the John Deere range but I am very interested to find out if it lives up to John Deere's reputation for quality. Personally I hope it does because I am a self-confessed Deere fan and have been for quite some time.
I have owned from new a John Deere 6220 tractor that has performed admirably for the past 12 years. Apart from routine servicing my 6220 has cost nothing on repairs or breakdowns.
Now that I have made it very clear on where I sit regarding John Deere products I give my personal guarantee I will not let any preconceived favouritism prevent me from giving you a completely unbiased review on the 1025R.
CONTENTS
JOHN DEERE 1025R EXTERIOR
The John Deere 1025 R Sub-Compact Utility Tractor is without doubt well and truly up to the high standard of appearance that John Deere has become renowned for. Although small the little 24hp (17.7kW) tractor looks powerful for its size and ready for work.
JOHN DEERE 1025R ENGINE
The 1025R is powered by a 3 cylinder 24.2hp (17.8kW) Yanmar engine. Although only small this series engines have been developed to meet Tier-4 Environmental Protection Agency (EPA), environmental requirements by featuring low levels of both exhaust and emissions.
The engine in the John Deere 1025R is situated in its own compartment under the large lift-up bonnet and behind the radiator and cooling system. As soon as the engine is fired into life it becomes apparent the isolated engine bay area greatly reduces the amount of noise resonating from under the bonnet.
At no time during my test did I need to rev the guts out of the little Yanmar engine to generate sufficient power to the mower or hydraulic oil flow to operate the implements, whether it be the frontend loader, backhoe or mower.
JOHN DEERE 1025R CONTROLS
I really appreciate that John Deere have resisted the trend to over complicate simple procedures on new machinery.
Starting this model is very predictable – just place the hydrostatic two-range gear selector in neutral and turn the key. I accept that safety has to be considered but I hate when I have to work my way through endless steps, carried out in a particular order, just to get started.
Having a 12-volt electrical system and heat plugs, for cold weather starting, will provide the 1025R with terrific starting reliability in all situations.
Choose between either high or low speed on the left-hand side mounted gear selector, set desired revs and placing a foot on either the forward or reverse direction pedal is all that's required to get moving, it's not rocket science.
Other controls include four wheel drive selector, mid mount and rear power take-off (PTO) options that can be used as rear or mid mount individually or both can be operated simultaneously.
Rear three-point linkage (TPL) arms can be fitted with the control lever fitted beside the operator seat. The lift capacity of the 1025R is not huge but a useful 309 kg.
A handy addition that was once reserved for the larger members of the family is a Linkage drop controller that regulates the speed of decent preventing undue stress on man and machine.
On the 1025R, a dual mid-SCV, [Selective Control Valve] which is standard equipment, operates the loader and optional independent lift kit for the mid-mount mower. This is one area that I would like to see John Deere reassess because in necessitates a front end loader hydraulic hose being unplugged and mower hose plugged in and visa-versa every time I switched between both mowing and loader work.
In addition to this the connection point is difficult to access for anyone who has hands any larger than a five year old child and the mower and frontend loader cannot be used at the same time.
JOHN DEERE 1025R OPERATOR COMFORT
There is one shortcoming here that I can't avoid revealing.
Climbing aboard and getting into the operator's seat proves a real nightmare. It is not only awkward but dangerous. The shape of the ROPS (rollover protection system) leaves very little space to board the machine. Just getting into the operator's seat meant threading myself through the ROPS and around the backhoe control levers. But every time I do this I find I've accidently bumped the levers and sent the backhoe into unintended movement.
At times I feel as though an injury could have easily occurred if I'd had my hand on the backhoe during one of these unwanted movements. Simply straightening the ROPS would provide the extra space required to board in a much easier and safer way.
But once aboard, there is plenty of leg room to sit comfortably and all the controls are set up for easy reach operation. Keep in mind that if you keep to tracks and lawns the ride will be smooth but out in the paddock or rough ground the small wheels and tyres, 18x8.5-10 R4 Front and 26x12-12 R4 Rear, combined with a 1,450mm wheelbase provide a fairly bone jarring ride.
That's not a complaint restricted to this particular make or model it is consistent with all machines similar in size.
JOHN DEERE 1025R PERFORMANCE
Mowing with the John Deere 1025R
The mower deck assembly is possibly the best going around. Simply drive straight over the top and the PTO automatically slides into place and the hitching points lock on. Removal is just as easily done by releasing the locking pins and reversing off.
I discovered the only requirement to help this process is to engage four-wheel drive, this allows the front wheels to grip the mower deck and drive on over rather than just pushing the deck around in front of the tractor. I put the mower through varying degrees of operation, i.e. long or short grass, and found that it performed really well.
In rough ground the deck tended to bounce and bite in a bit but I found this is easily prevented by lowering the anti-scalp wheels on the deck. Setting the motor to about 2,200rpm provides ample power to drive the mower under most conditions.
I give a big tick for the mowers easy attaching/detaching and overall performance.
Digging and Loading with the John Deere 1025R
Both the front end loader and backhoe appear to possess the quality of workmanship that I have grown to expect from John Deere. After a day of digging holes, scooping gravel and pushing tree limbs into a pile I am well and truly convinced that this little workhorse is capable of performing as well as any other machine I have driven in this class.
Engaging 4WD provided the 1025R that extra bit of thrust to effortlessly slide into a pile of scoria and completely fill the bucket in one attempt. With a full bucket I manoeuvred with ease through a variety of twists and turns, and by moving my foot from one directional pedal to the other made an extremely smooth transition from forward to reverse.
While driving the 1025R about with a full bucket I have to use appropriate care because at only 655kg it did tend to want to lift up an inside wheel while turning but at no stage do I fill at risk of tipping.
On one hand I am really rapt with the performance of the loader but while detaching it from the tractor it quickly became apparent that there is a necessary requirement in the unhitching process that is going to annoy the hell out of me and I suspect you as well.
Activating the mechanical steps of uncoupling the loader is great. Simply lower the loader down to place pressure on the mounting assembly then from the driver's seat raise two unlocking levers then as the loader is raised it detaches and is left resting on its stands.
However. While backing away I nearly ripped out a network of electrical wiring installed to activate the mechanism which prevents the bucket from tipping its load back on to the operator while the loader lifts to full extension. I immediately shut down the engine and set about disconnecting all the electric plugs controlling the various operations.
Unfortunately, and annoyingly, there are no identifiable markings on the identical plugs to indicate which ones plug back into which when the loader is put back on. There are two ways of solving this, either incorporate each of the individual leads into one single bank plug or do away with the electronics and use a more mechanical approach.
I strongly believe that a little tractor like this should not be overburdened with unnecessary electronics that can be easily damaged rendering the machine unworkable.
The performance of the backhoe is as impressive as the frontend loader. Just like its larger counterparts it's necessary to lower the rear stabiliser legs down to lift the back wheels off the ground. The same process must be repeated at the front using the front end loader as the bracing. Combined, this creates a very stable base in which the backhoe can operate from.
I can't really fault the performance of the backhoe. Operating at a comfortable 2,200rpm, it's extremely responsive while maintaining very smooth movement in all directions and having the power to dig its way into the hard soil on our western Victorian property which hasn't seen rain for quite some time.
The hydraulic pump delivers a total of 24 litres per minute and of that, 10.8 is reserved for the steering, leaving only 13.2l/min to service implements. This nevertheless seems to be quite adequate for every task I attempt.
THE VERDICT
Overall I think John Deere's 1025R is a great little machine capable of performing all the tasks it is designed for extremely well.
Whether it's working as a mower, digger or front end loader the performance of the 1025R certainly lives up to John Deere's well-earned reputation, so if you're happy to ignore a couple of areas I believe could be improved, then I can assure you this mower, loader and backhoe won't disappoint.
JOHN DEERE 1025R HITS
Mower deck attachment
Ability to function at comfortable revs
Looks great
JOHN DEERE 1025R MISSES
Frontend loader electronic wiring
Difficulty boarding backhoe
Switching hyd. hose between loader and mower
JOHN DEERE 1025R SPECIFICATIONS
Make/Model: John Deere 1025R sub-compact utility tractor
Engine: Yanmar 24.2hp (17.8kW) Tier 4
Transmission: Hydrostatic, 2-range — high/low, twin-touch pedals forward/reverse, mechanical FWD
Hydraulics: Open centre, 24 litres per minute
Fuel: Diesel, 21.2 litres
TPL: Category 1, 309kg lift capacity
PTO: 540/2,100, wet disc clutch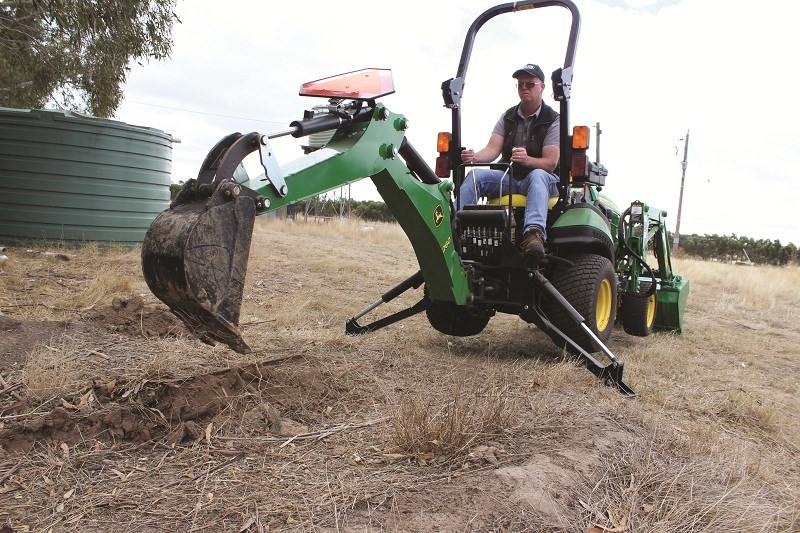 The summer hardened soils offer little resistance to John Deere's 260 backhoe.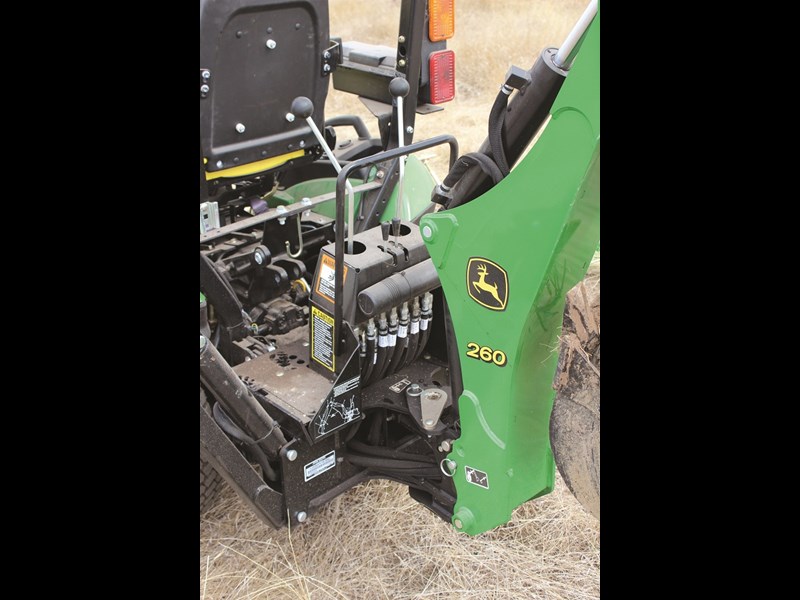 Once aboard, the 1025R provides a solid, simple and effective work area to operate the backhoe.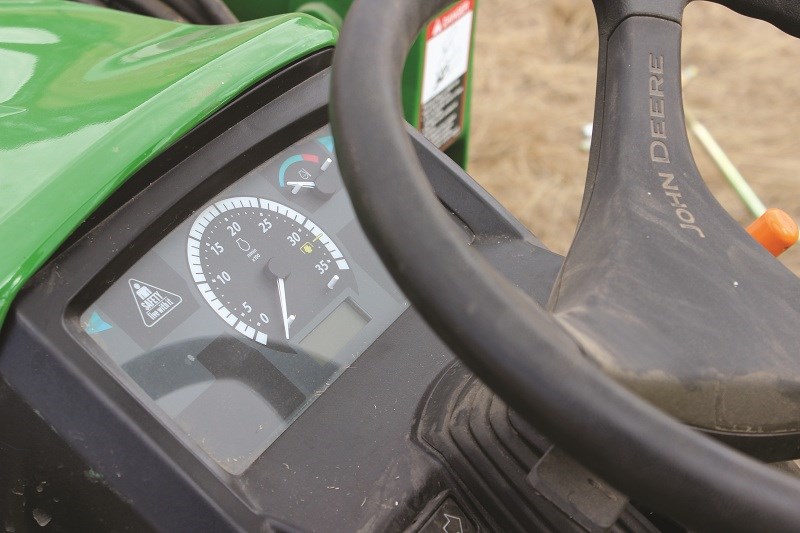 The simple and easy to read console provides all the information required.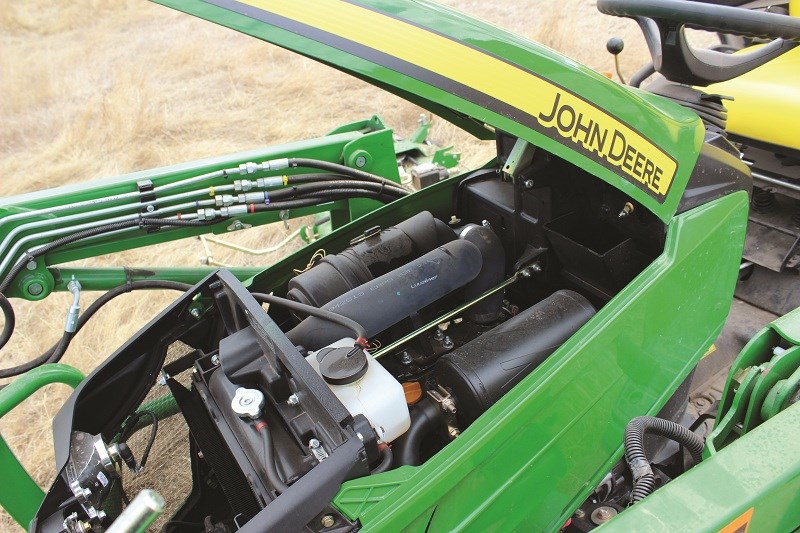 The noise reducing independent engine compartment.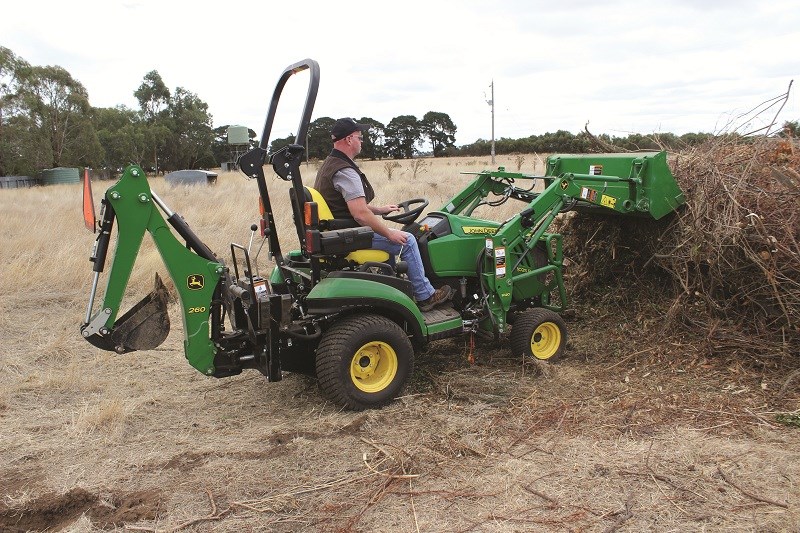 A great tool for all those smaller loader jobs around the farm.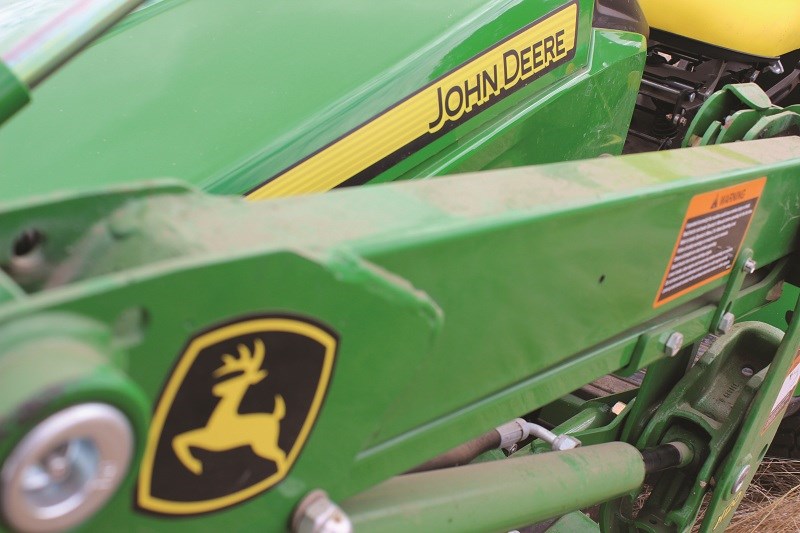 John Deere: the much-celebrated brand of green and gold.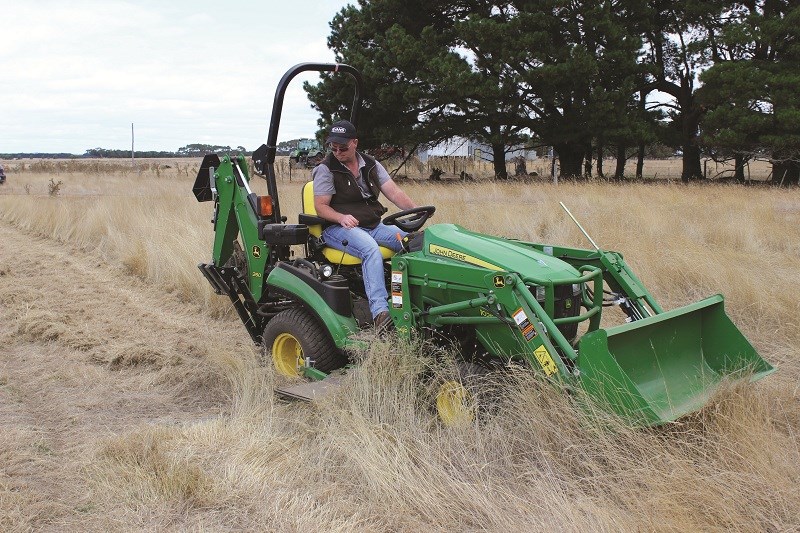 Even under the toughest conditions the mower performs admirably.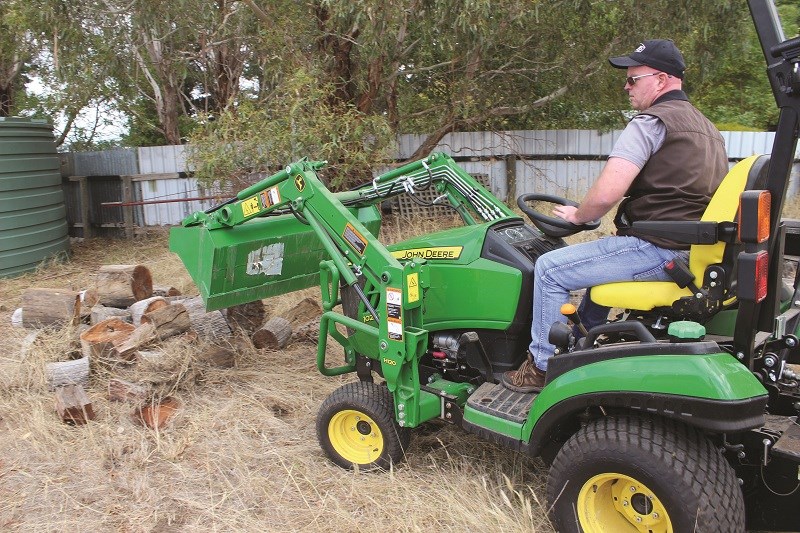 The 1025R makes light work out of back breaking chores.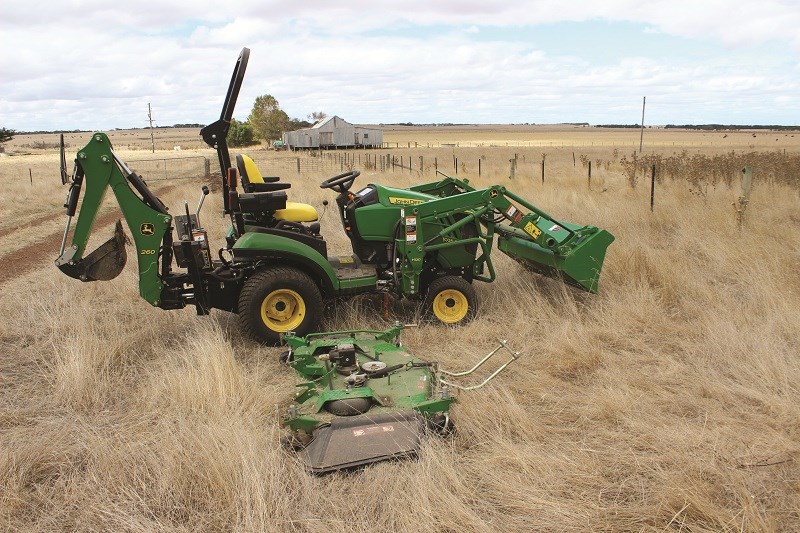 The 1025R is suitably equipped to work anywhere on the farm.

Subscribe to our newsletter
Sign up to receive the Trade Farm Machinery e-newsletter, digital magazine and other offers we choose to share with you straight to your inbox
You can also follow our updates by liking us on Facebook. 

Graders For Hire | Cranes For Hire | Telehandlers For Hire | Excavators For Hire