REVIEW: Ford Kuga Ambiente SUV
---
Not everyone wants to spend big bucks on a car even if they live down a dirt road. MATT WOOD looks at the Ford Kuga Ambiente SUV.
I've recently banned myself from buying anything from large retail hardware stores. This sounds like a drastic act but I constantly found myself buying things I didn't really need.
Time and time again I'd be heading to town to buy a small item like a packet of tech screws and come home with something like a prefabricated dog kennel that was just too good to pass up.
Without wanting to sound like some sort of anti-consumer, it can be tempting to buy stuff we don't need 'just in case'. Before you know it you end up with a shed full of stuff that may just come in handy when the Zombie Apocalypse finally happens.
The question is does everyone who lives down a dirt road really need a 4WD?
Are we being suckered into buying more than we really need?
I gave this some thought and got myself into the driver's seat of a more modest kind of SUV, the medium-sized Ford Kuga.
CONTENTS
FORD KUGA AMBIENTE : THE MACHINE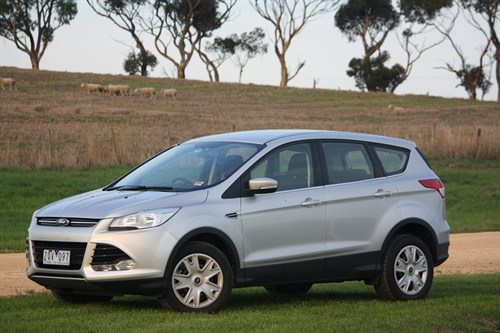 Dodgy name aside (I spent two weeks being the butt of jokes about middle aged women chasing younger men) it's quite a practical little wagon. In this case I opted to have a look at the base model 4x2 Ambiente, which will get you on the road for under $30,000 dollars.
The five-seat wagon is also available in all-wheel drive guise once you go further up the model tree but I was interested in a cost effective practical and economical country car, and I wanted to see if it was up to the task.
Maybe we don't need to fork out big dollars to get around the countryside in comfort and safety. Bearing this in mind I loaded up my little Kuga and went for a drive in the bush.
The Kuga has plenty of competition in the Soft Roader/Cross Over part of the Aussie car market but it does manage to stand out from the crowd by actually being not a bad looking little car, even in dreary Moondust Silver.
But underneath is where some of the more interesting features of the Kuga really lie.
FORD KUGA AMBIENTE ENGINE AND TRANSMISSION
The beating heart of this medium sized SUV is can be either a petrol fuelled 1.6-litre EcoBoost GTDI engine or a 2.0-litre TDCI turbo diesel.
If the official fuel economy figures are to be believed it's nearly as economical as the diesel with a claimed combined consumption figure of 6.7 litres per 100km versus 6.3 litres in the diesel Trend.
EcoBoost engines have raised a few eyebrows locally with their shrinking displacement without sacrificing power outputs. This is a global trend set to continue as engine manufacturers pursue more power from less engine and fuel. Ford is not alone in this approach.
The 1.6-litre EcoBoost petrol engine is turbocharged and employs common rail direct fuel injection to extract power from the modest sized engine.
The idea is to have a lighter more economical powerplant without sacrificing power. The 1.6 GTDI found in the Kuga puts out 110kW in the base FWD manual and 134kW in the AWD auto.
The engineering philosophy behind the EcoBoost family of engines has been to provide a cost effective and clean alternative to hybrid drivetrains without sacrificing performance.
The 6-speed tranny is a lovely little unit to operate with an easy slick shift. Initially the Ecodonk doesn't really seem very punchy at all.
Really anything under 2,000rpm is not enough to wake it up, but sink the foot a bit more and the turbocharger catches up to the rest of the engine.
The 1.6 loves to rev and while it may not be the torqueiest bit of gear, it does have quite a bit of character.
FORD KUGA INTERIOR ND COMFORT
I don't usually talk too much about seats but the ones in the Kuga are noteworthy. They actually look fairly basic they are very comfortable over long distances.
Apparently they are the brain child of a shadowy and mysterious figure within the Ford organisation known as 'Dr. Derriere' and they manage to find the balance between comfort and support without giving anyone a numb bum or a crook back.
FORD KUGA AMBIENTE FEATURES AND CONTROLS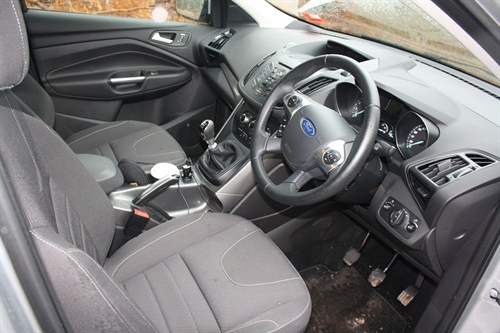 If you happen to be in a mobile phone coverage area, the Ford Kuga does come standard with Ford SYNC connectivity, which also includes emergency assistance.
If you happen to crash the Kuga and can't call 000 for help the Ford will do it for you provided your phone is hooked up to the Bluetooth system.
This sounds great but given the crappy mobile coverage in parts of Australia I'm a bit dubious of its value outside a major city, which kind of does defeat the purpose. If you crash in town people see it and call for help, if you drive off the side of a country road in the middle of nowhere you could probably use some help.
The Kuga Ambiente doesn't have much in the way of bells and whistles.
Air-con, power steering, stability control and of course the plethora of air-bags that come with a 5-star ANCAP rated car these days pretty much round off the package.
It does have a dynamic stability program with a trailer sway function. It also has a hill start assist function and a brake assist function and it features auto start-stop to help with fuel economy in town. To alert you to what's behind you there are rear parking sensors.
The 1.6 petrol powered cars also feature an active grille shutter that is meant to reduce drag and increase economy at highway speeds.
The more expensive Trend and Titanium models come with a lot more goodies including the much vaunted automatic tailgate that you can raise by waving your foot around underneath the rear bumper.
Just be aware that if you do go for this option, you will look like you are trying to dance the Hokey Pokey with the back of your own car when you use it.
In the base model you kind of end up looking at a fairly bare looking dashboard that reminds you of the things you didn't get because you are either a tight arse or you are poor.
But everything is easy to reach and well placed, I didn't find myself searching for too much when settling into the Ford for the first time.
FORD KUGA AMBIENTE PERFORMANCE
On one especially wet day I headed through central Victoria on a mix of average country highways, C roads and dirt.
On-road
I expected the Kuga to exhibit the same soggy ride tendencies that many of its SUV competitors have and was very surprised to find that it sat on the road quite well. If anything it may be just a little firm for some people but its 17-inch (43.2cm) steel rims work well outside of town.
The upside of this is that it also handles surprisingly well; the steering is quite direct and takes a little bit of getting used to.
Another factor in the Kuga's favour is its 198mm ground clearance which helps on some of the more dodgy roads; you could even duck around paddocks if you wanted to without worrying too much about bashing the Kuga's undersides.
 It was very interesting to see where the little two-wheel drive would actually go.
Despite the Kuga being only 1,838mm wide it still feels mostly quite stable and only a little skittish on broken surfaces. Once you're comfortable behind the wheel though it's a happy little steerer especially in FWD guise.
I decided to make a little detour to Mount Tarrengower near the hamlet of Maldon in the Victorian Goldfields. Mount Tarrengower is the site of Australia's oldest motor sport event, the Mount Tarrengower Hill Climb.
I couldn't help but take the Kuga for a squirt up the mount to the fire observation tower perched on top of the hill. The EcoBoost power plant really comes alive around 4,000rpm and it did a great job of hauling the little SUV to the top of the mount in quite a spirited manner it even sounded a little sporty for a while there.
Sure it's not a sports car, but it's no slug either when driven and it certainly brought a smile to my face as I flicked the 6-speed 'box through its gates, it was actually quite fun.
Off-road
The rain had turned many of the local dirt roads to mush and this was the perfect opportunity to give the Kuga a run off the road.
For a FWD grocery-getter it plowed through the mush quite well and was quite at home motoring through the muck and spray. While understeer was something to bear in mind a proactive approach to the throttle kept the nose of the Kuga pointing in the direction that I needed it to be heading and the electronic stability control (ESC) subtly made sure that things didn't get messy.  
Broken roads, water and mud, the multi-link rear end and McPherson strut front end of the Kuga took all of these in its stride.
Noise levels were also quite good even off main roads and on the whole the little Ford seemed quite balanced and capable regardless of road surface.
THE VERDICT
In my mix of city, highway and bush driving, loaded and unloaded I averaged a combined fuel figure of 8.1 litres per 100km, but it wouldn't be hard to improve on that at all.
The Kuga Ambiente may not have the dusty credibility of some of the more popular SUVs and 4WDs out in the bush, and if you want to engage in a badge war with your next door neighbour this isn't the car for you.
But if you do want a cost effective, fuel efficient, comfortable mid-sized wagon that seats five and isn't scared of getting dirty; the Ford Kuga could well be the right choice.
Ford Kuga Ambiente Hits
Peppy little engine
Won't break the bank
Slick manual tranny
Ford Kuga Ambiente Misses
Base interior feels a bit dreary
Space saver spare wheel
4x2 model could still do with an auto option
FORD KUGA AMBIENTE SPECIFICATIONS
| | |
| --- | --- |
| Engine  | 1.6 litre turbocharged GTDi EcoBoost with common rail high pressure direct injection  |
|  Fuel |  Petrol |
|  Power |  110kW |
|  Torque |  240Nm |
|  Transmission |  6-speed manual |
|  Towing |  Up to 1500kg braked  |
|  Seating |  5 including driver |
|  ANCAP rating  |  5 stars |
|  Price |  $27,990 |
|  Warranty |  3 years / 100,000 kilometres |
For the full test report, grab a copy of NewFarmMachienry issue 10, on-sale June 16. Subscribe to the magazine to never miss an issue.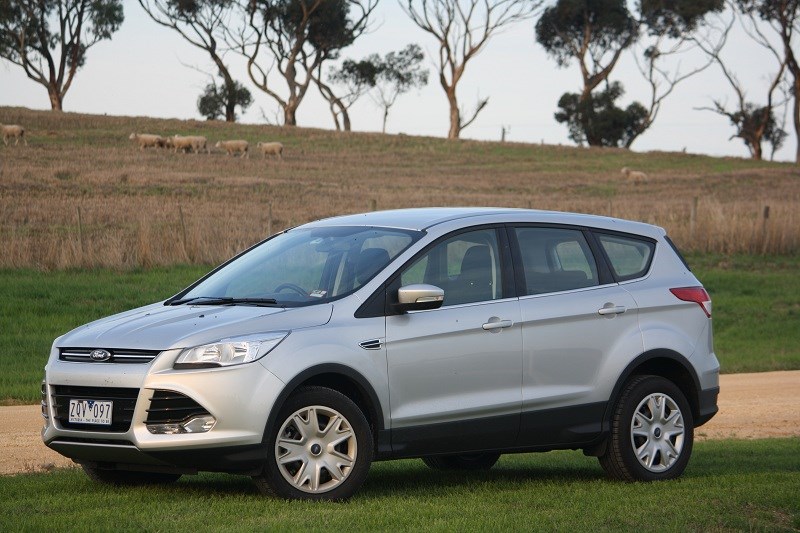 The Ford Kuga isn't a bad looking jigger for an SUV.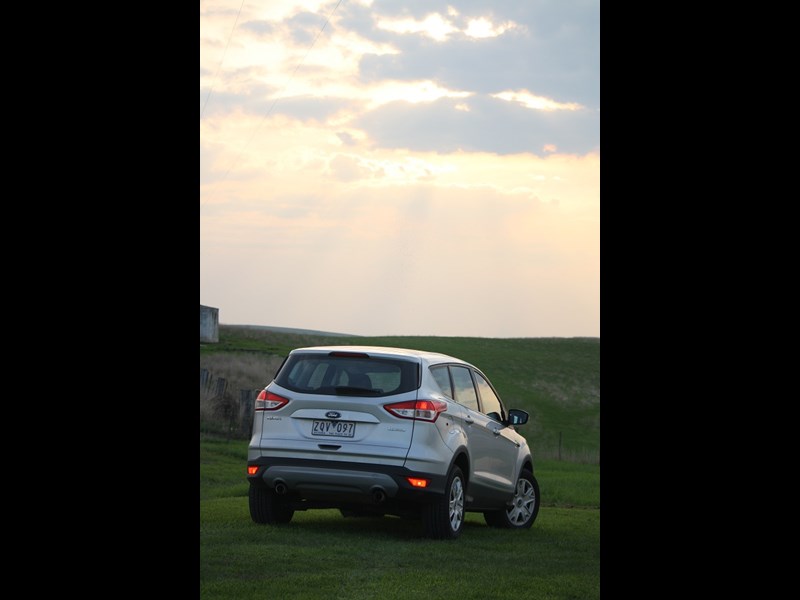 Even looks alright from behind.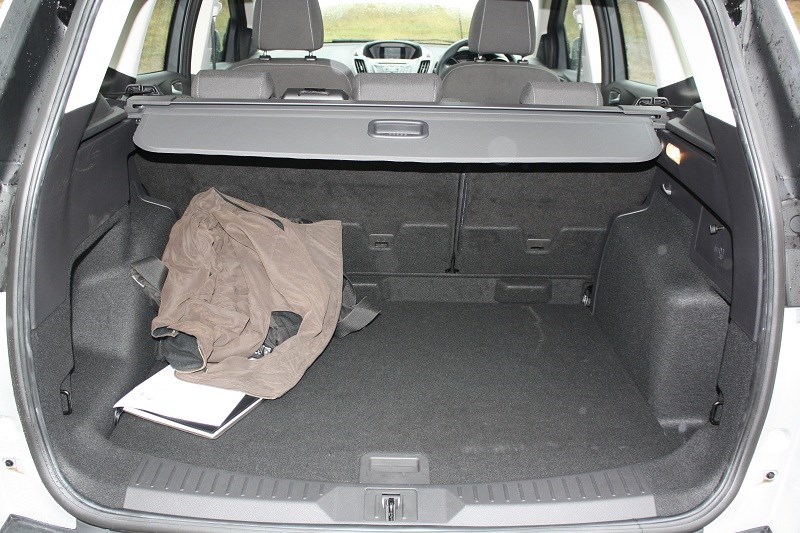 Not a bad amount of storage, though the seats can only be flipped forward from the side rear doors.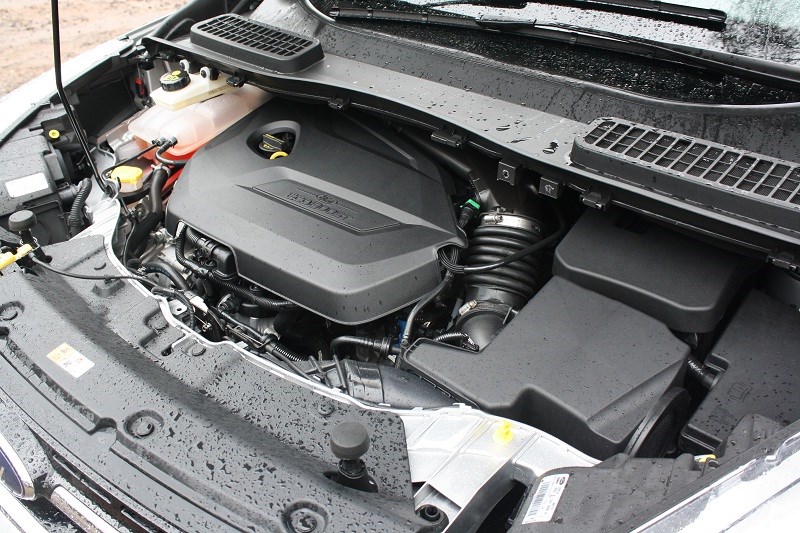 It may be small, but the 1.6-litre EcoBoost engine is not a bad performer.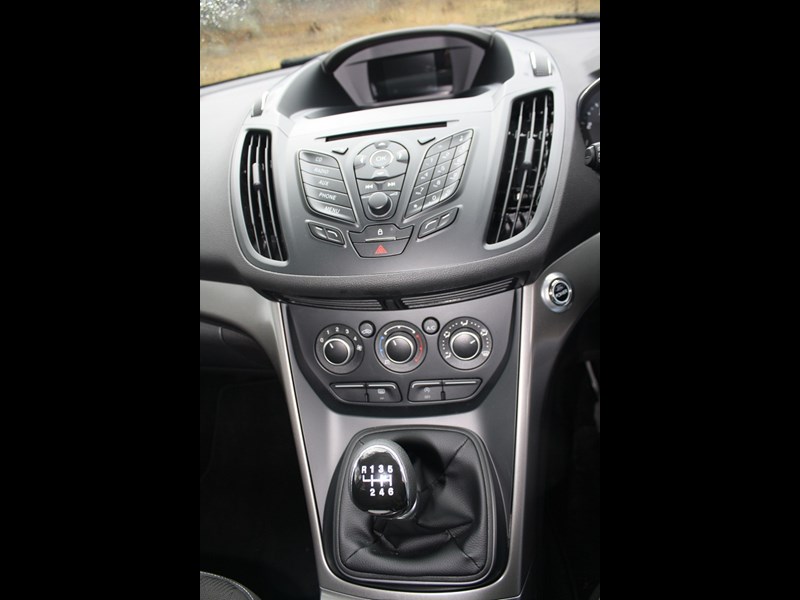 Slick 6-speed manual.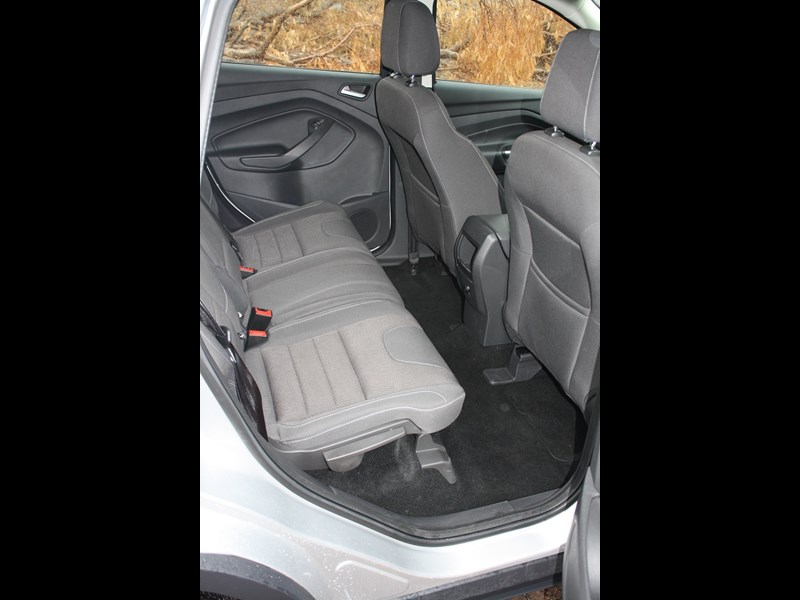 Reasonable room for rear seat passengers. Comfy seats as well.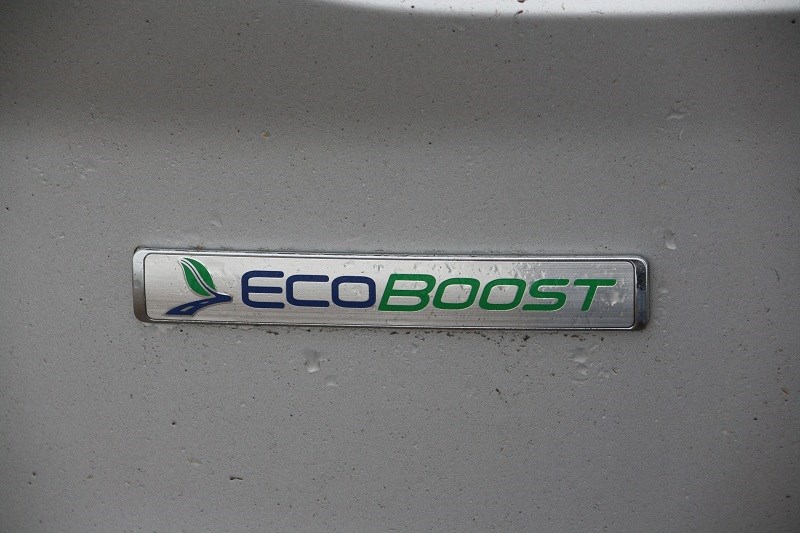 The leaf logo makes me feel so much better about burning petrol.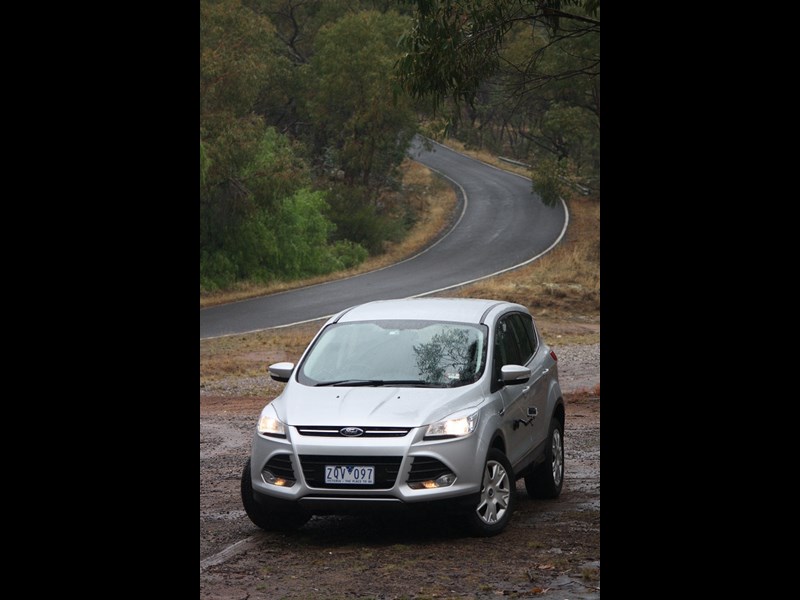 The Kuga trying to look all innocent at the base of Mount Tarrengower in central Victoria,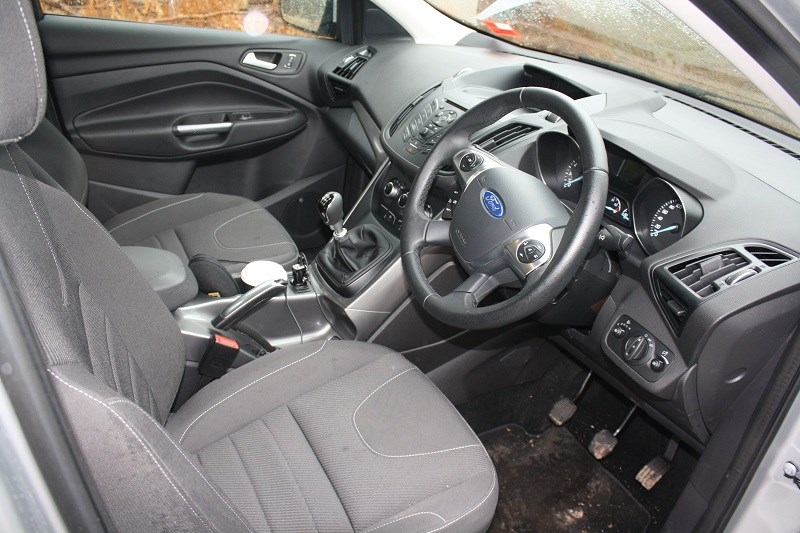 Basic but comfy and on the whole it works.

Subscribe to our newsletter
Sign up to receive the Trade Farm Machinery e-newsletter, digital magazine and other offers we choose to share with you straight to your inbox
You can also follow our updates by liking us on Facebook. 

Graders For Hire | Cranes For Hire | Telehandlers For Hire | Excavators For Hire