REVIEW: JCB Workmax 800D UTV
---
United Kingdom equipment giant JCB brings its first mid-size, diesel-powered utility-task vehicle to Australia. Barry Ashenhurst checked it out.
Not that you need telling or anything, but JCB is a big name in the heavy-duty equipment game.
Just about everyone knows the JCB backhoe-loader, it's a legend, but JCB hasn't done a great deal with utility vehicles. A few years back it brought the Ground Hog to this country, a largish 6x6 utility vehicle that proved too expensive and probably too over-specced for local tastes.
That's all history now, because the company has begun importing a mid-size utility-task vehicle (UTV), the Workmax 800 D, which has more in common with a Yamaha Viking than any heavy-duty 6x6.
The Workmax is pretty much your typical UTV but bares the JCB logo and is diesel powered. The unit we reviewed was assembled in the United Kingdom but uses axles from Canada and a diesel engine from the highly respected Yanmar group.
JCB offers a fine range of accessories for the Workmax but the one we drove was the bare-bones model.
JCB says the Workmax is designed to fill a gap between much larger UTVs, like the ill-fated Ground Hog, and smaller four-wheel drive quads. That marketing strategy makes sense.
There are limits to what you can do with the average quad and none of them apply to a UTV:
You can carry passengers in a UTV; you can't on a quad
You have a rollover protection structure (ROPS) on a UTV; you don't on a quad (unless you buy the latest Polaris Ace)
You can put soft or hard doors on a UTV, but doors on a quad is like an outdoor barbecue on a submarine.
UTVs have tipping cargo beds, not many quads do, so you can carry more stuff on a UTV
And because UTVs are more car-like in their controls, anyone anxious about 'riding' a quad will probably be quite happy to 'drive' a UTV.
CONTENTS
JCB WORKMAX 800D ENGINE AND TRANSMISSION
JCB uses the company's 784cc, naturally aspirated engine in the 800D.
Output from this little three-cylinder donk is 14kW or 20hp. That's not a lot, and constitutes our only criticism of this machine.
No one expects agricultural side-by-sides to be fast, and it wouldn't surprise me if none of Johnstone's customers ever complained about the JCB's speed or acceleration, but I still reckon the Workmax would make a stronger first impression with another 5 or 6hp.
It does have quite good engine braking on downhills though, as long as you keep 500rpm under your belt with light pressure on the accelerator.
The transmission has to be in 'neutral' for the engine to start and that's not only a common but a sensible safety feature. There's no 'park' position in the transmission. Instead, a hydraulic disc brake clamps the driveshaft and is activated by a regular handbrake lever to the left of the driver.
JCB WORKMAX 800D CONTROLS AND COMFORT
We like it. The dash has a neat and clean layout. There's nothing in it that appears so utterly digital the average 50-year-old farmer can't understand or adjust.
Most important vehicle functions on the 800D — switchable 4WD, diff-lock engagement, the lights and so forth, are all activated by rocker switches on the 'Dashboard for Dummies'.
The instrument gauge is small but easy-to-read and gives you no more information than you need when going about a day's work. The fuel gauge is the most important display, on account of it's nice to know when you're about to run out.
Dash lights tell you which gear you're in. We like that too, because it rounds out the cab's car-like controls and makes operation easier for anyone driving a real live UTV for the first time. The easier it is to operate, the safer it is.
One option includes bucket seats but our machine had a bench seat with seatbelts. It was comfy enough, for my old bum anyway.
The steering is manual, and power steering is not an option, but the Workmax doesn't need it. Steering is light and manageable under all conditions.
The MacPherson strut/double A-arms suspension set-up provides a cushy ride and no frightening body roll.
We didn't drive around with a huge weight in the cargo bed but the machine always felt solid and well planted. It might feel different with a large lump in the back but we can't comment on that.
THE VERDICT
You tend to find similarities in all these machines. As I said, there's a template into which the manufacturers must fit if they're to find sales success in what is a quickly growing market for this type of vehicle.
JCB has found the right template but now has to convince prospective buyers its machine is better than anyone else's.
I would think a UTV is a much more versatile and useful farm tool than a normal 4WD quad, for all the reasons I've already explained. However, an ordinary 4WD quad doesn't cost nearly $20,000.
With this in mind, I spoke to Johnstone about who buys a UTV or an all-terrain vehicle (ATV) and his take on it was interesting.
"In my experience with customers, farmers who buy a UTV need to carry, and often tow, larger payloads than a quad can handle," Johnstone says.
"UTVs are a much better proposition if you're towing equipment like sprayers and tanks around the paddocks, there's no doubt about that.
"UTV's have a better safety record too, and I think buyers these days are mindful of that. It's become an important issue and some farmers are now willing to pay more for what they believe is a safer machine."
And I can't say I blame them.
JCB WORKMAX 800 SPECIFICATIONS
ENGINE
Type: 3-cylinder diesel
Displacement: 784cc
Bore and stroke: 68 x 72mm
Fuel management: Naturally aspirated
Starting: Key
Fuel tank capacity: 32 litres
Final transmission: Shaft
TRANSMISSION
Type: 2 speed CVT
4x4 SYSTEM: 2WD/4WD/4WD with diff lock
Tyres: 25 x 10-12
DIMENSIONS AND WEIGHT
Length/width/height: 283.6cm x 147.7cm x 199.5cm (over ROPS)
Wheelbase: 190.5cm
Ground clearance: 26.5cm
Warranty: 12 months unlimited
Price: $19,500
For the full test report, look out for NewFarmMachinery magazine issue 11, on-sale July 14. Subscribe to the magazine to never miss an issue.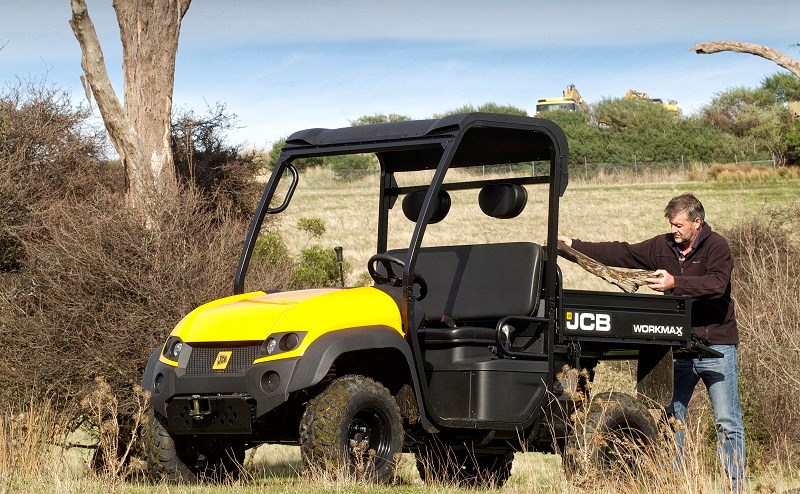 The Workmax is pretty much your typical UTV but bares the JCB logo and is diesel powered.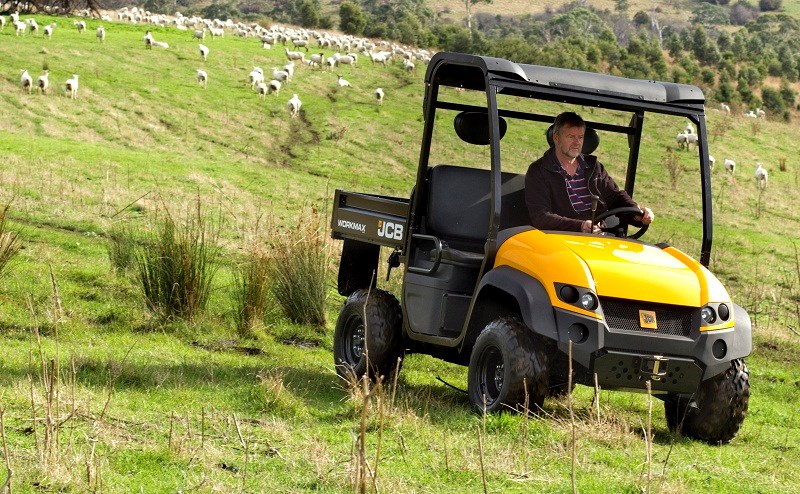 Ease of operation is a big plus for the Workmax and many will appreciate a diesel power plant that enhances uniformity in the farm fleet. The only thing we'd like to see is a bit more power from the Yanmar engine.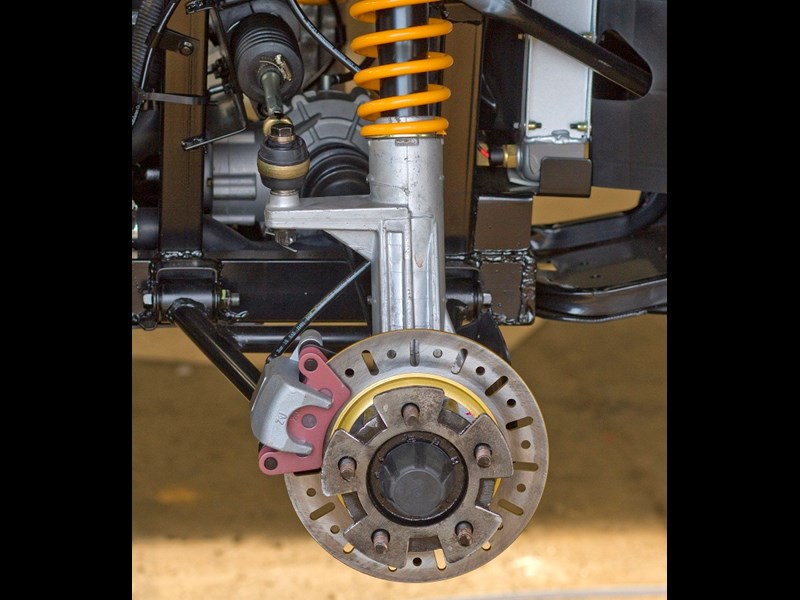 Brakes are vented discs and are strong enough to haul down the JCB's 700kg-mass plus a 400kg payload.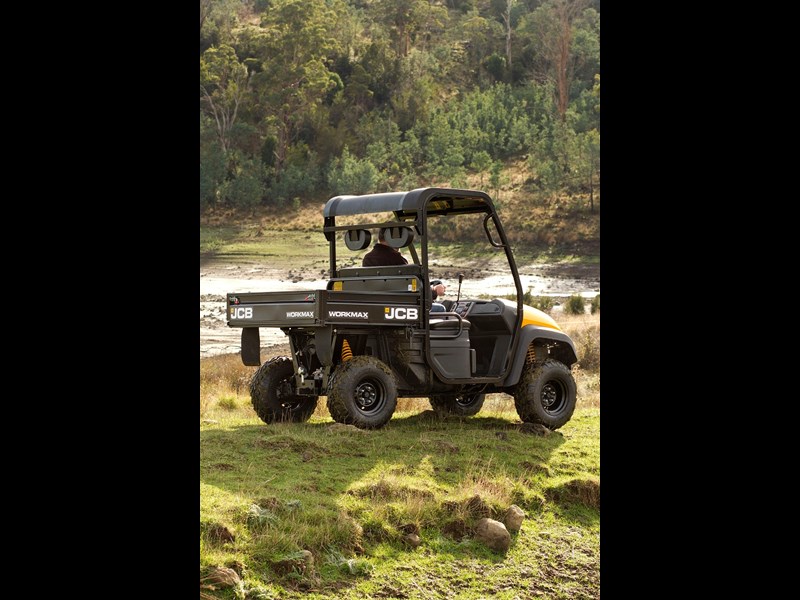 The steel cargo bed is up to carrying chainsaws, firewood, tools and stock feed. Tipping is manual but a hydraulic lift kit is available.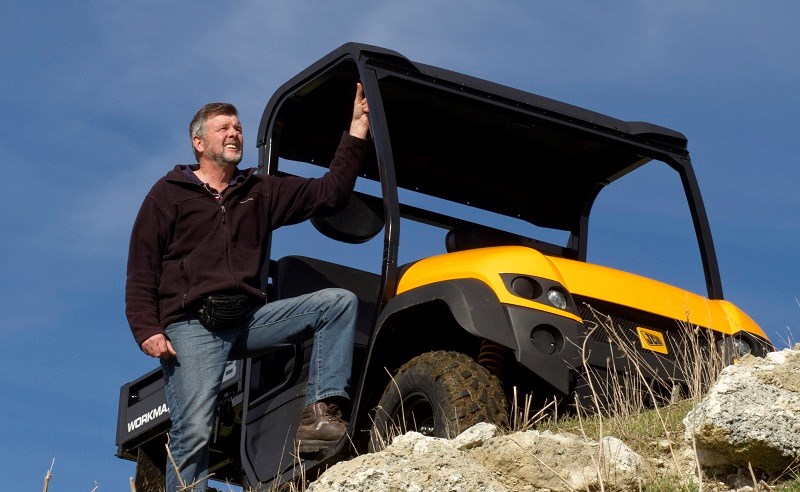 Many a farmer will appreciate the JCB ROPS and the additional safety this type of machine offers over a conventional quad.

Subscribe to our newsletter
Sign up to receive the Trade Farm Machinery e-newsletter, digital magazine and other offers we choose to share with you straight to your inbox
You can also follow our updates by liking us on Facebook. 

Graders For Hire | Cranes For Hire | Telehandlers For Hire | Excavators For Hire