REVIEW: Mahindra 5035 tractor
---
You'd never guess it is only 50 horsepower -the Mahindra 5035 looks impressive and has the specs to back it up. Tom Dickson writes.
In more recent years Australia is witnessing a huge growth in the number of new tractor brands coming out of Asia providing more choice to a traditional and tightly held market.
Mahindra is one brand trying to stamp its name as a quality product in Australia. Leon Suggate of Berwick Tractors in the west of Melbourne generously offered NewFarmMachinery a Mahindra 5035 to test for a day with the aim of proving its working ability is up to the standard of the "big boys" of the tractor world.
He agreed to have the 50hp (36.8kW), 4 cylinder diesel, four-wheel drive delivered with a four-in-one bucket attached to its front end loader and a silage grab. To further prove the Mahindra is a serious contender he also attached a 1.8m Berrends mulcher.
This particular implement will really test the 5035 because Berrends suggests a minimum 57hp (41.9kW) is required for its operation and also I plan to try and smash my way through a paddock full of gorse which has in places grown to about three meters tall with stalks as thick as my arm.
CONTENTS
MAHINDRA 5035 EXTERIOR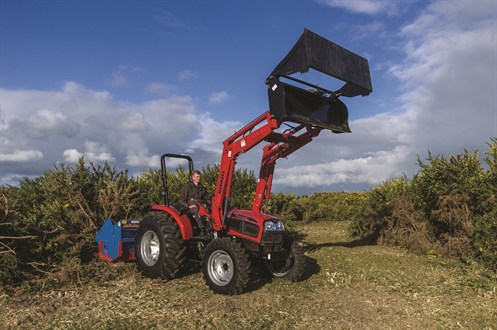 One feature that cannot be measured and is purely personal opinion is appearance.
I am extremely impressed with the way the Mahindra 5035 looks and even more importantly with the attention to detail and quality of workmanship regarding the finish of the tractor.
I have found that most times quality goes unnoticed however, flaws in design stand out like dogs' proverbials.
MAHINDRA 5035 ENGINE, TRANSMISSION AND PTO
A quick look over the specification sheet of the Mahindra 5035 suggests it sits comfortably among its better known counterparts.
There is nothing to suggest the naturally aspirated direct injection diesel engine won't be able to deliver enough power to complete some demanding exercises.
An interesting fact is that the engine is designed and manufactured by Mahindra itself.
The 50hp engine powers a synchro shuttle transmission, with 12 forward and 12 reverse gears. A mechanically engaged 4WD delivers power to the ground.
It is equipped with a single speed, 540rpm electro hydraulically engaged power take-off (PTO) and boasts an operating weight of 2,100kg or 2.5 tonnes when the frontend loader is attached.
MAHINDRA 5035 CONTROLS AND COMFORT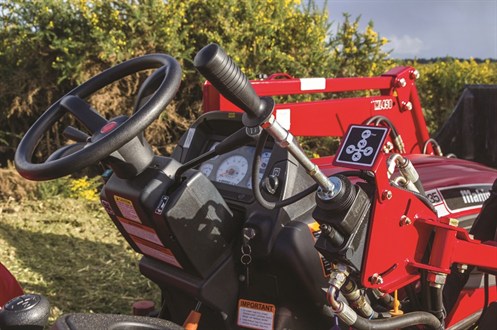 Sometimes new tractors can really do my head in. Trying to get a grasp of all of the latest computerised features and technical advancements can be a real nightmare.
The Mahindra 5035 is one tractor requiring only basic driving skills to operate competently.
Jumping on-board is simple and made easier due to the flat floor on the foot deck area. Once seated all the controls are well within reach with functions easily identifiable.
 Perhaps one feature I would like to see changed is the seat height. For me I would have been more comfortable if the seat was in a slightly higher position. To my satisfaction it can be adjusted to suit my weight, which provided plenty of cushioning and helps reduce the risk of possible back injury.
To start the engine the clutch must be engaged. To move I have the option of selecting high, medium or low range then changing between four synchromesh gears.
Forward and reverse directional changes are performed via the shuttle lever on the steering column. The synchro shuttle transmission requires the clutch to be used for all gear and direction changes.
While driving around changing up and down through the four synchro gears I am pleasantly surprised with the feel of the gearbox.
No clunking, grating or wrestling with the gearstick, but just remember the tractor has to be stationary to change between high, medium and low range.
High range fourth gear is quite speedy but I have no idea how fast I am actually going because for some reason tractor manufacturers refuse to put a speedo on lower horsepower models.
On the other hand low range first gear is a really slow speed creeper gear, which would be great for orchard and vegetable farmers who often require creep speed during certain operations.
MAHINDRA 5035 PERFORMANCE
Felling trees, scooping gravel, loading hay and mulching gorse are tasks I have planned to attempt. Each job will test individual features and there will definitely be times when I will need to call upon various features, i.e., weight, traction, hydraulic oil flow and speed to work as one.
Crucial to doing this kind of operation is the ability to move at a really slow and constant speed, low range first gear is perfect. The combination of four wheel drive and a good set of tyres gives the tractor really good traction and 2,400 revs per minute ensures that the 5035 isn't going to stall under the pressure of any resistance that the old dead pine tree may offer.
LOADER WORK
With the bucket mounted about two metres up the trunk the competition of tractor versus tree begins and with virtually no struggle the tree is flat on the ground.
Having two and a half tons of body weight means I can quite safely pick up the tree in the jaws of the four in one bucket and drive around without any risk of tipping over.
While I've still got the bucket attached I quickly pluck about half a dozen old fence posts out of the ground. Fencing contractors will love this capability because it turns a two man job into a job for one.
 While this is not a unique feature of the modern tractor it does prove that the Mahindra 5035 has sufficient oil flow to operate all of the functions on the loader at a good speed and also had enough oil pressure to apply a really good grip on the posts with the jaws of the four in one bucket.
Quite predictably scooping gravel and loading silage bales is no problem either. Again it seems appropriate to mention that the 5035's generous 2,500kg operating weight makes it feel really stable during loader work.
Anything that I attempt to do that requires pushing and traction is achieved with ease.
MULCHING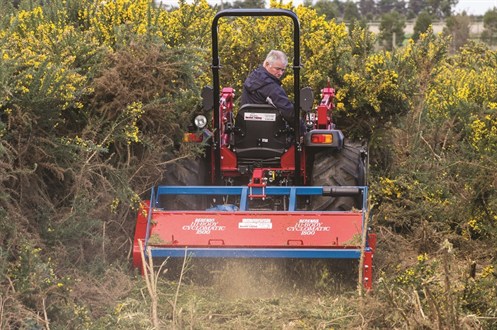 I deliberately leave the most demanding test till last and to be quite honest I am a bit sceptical the Mahindra 5035 will be up to the task.
Attached to the rear linkage is a 1.8m Berrends mulcher and the aim is to knock mature gorse down to ground level. I think about backing into it to protect the front of the tractor but Leon won't have anything of that.
 "Just plough straight into the stuff," he says.
I do however, lower the front end loader down to about 30cm off the ground so as to create an initial knock down.
Again I assume low range, first gear will provide the best chance of success. Engaging the PTO is achieved by pushing the electro-hydraulic button on the front console, which by the way has a really smooth transition into drive and placed minimal strain on the motor.
To be honest I think it is a great effort just to get the mulcher up and running. What happens next really blows me away.
Very slowly I creep into the gorse and with one pass the 5035 and Berrends combination reduces the gorse to finely chopped mulch. I still think the best option is to reverse into heavy gorse like this.
Another point worth mentioning is that the little 50hp Mahindra carries the 750kg mulcher with ease.
THE VERDICT
Apart from the issue I had with the seat height there is little for me to criticise, I feel like I am aboard a tractor equally as good as any other I have driven in this class.
With a price tag of $33,000 that includes GST and a front end loader I think it rates as exceptional value for money.
In a budget conscious era I confidently recommend the Mahindra 5035 as a primary tractor on a small lifestyle property or secondary machine in larger operations.
My advice is, don't get sucked in to buying bigger than you need. Buy only what you require at a price you can afford.
MAHINDRA 5035 HITS
Responsive hydraulic oil flow
Quality finish
Well-equipped regarding wheels and tyres
Specs compare favourably with dearer counterparts
PTO engages smoothly
MAHINDRA 5035 MISSES
Seat mounted low (For me)
No speedo         
MAHINDRA 5035 SPECIFICATIONS
Make/model: Mahindra 5035
Engine: 4 cylinder; 2,523cc; direct injection
Horsepower: 50hp (36.8kW) @ 2,800rpm
Transmission: Synchro shuttle; 12 forward/12 reverse
4WD: Mechanical engagement
Clutch: Single plate dry (main); Wet multi-disc (PTO)
Hydraulics: Open centre; 41.6 l/m; one set standard remote valves
Lift Capacity: 1,402kg
Three Point Linkage: Category 1
PTO: Independent/electro-hydraulic engagement
Single Speed: 540 @ 2 404rpm
Brakes: Wet disc
Weight: 2,100kg
Tyres Front/Rear: 9.5x20 / 16.9x24
For the full test report, grab a copy of NewFarmMachinery issue 10, on-sale June 16. Subscribe to the magazine to have it delivered to your doorstep.
Find Mahindra tractors for sale.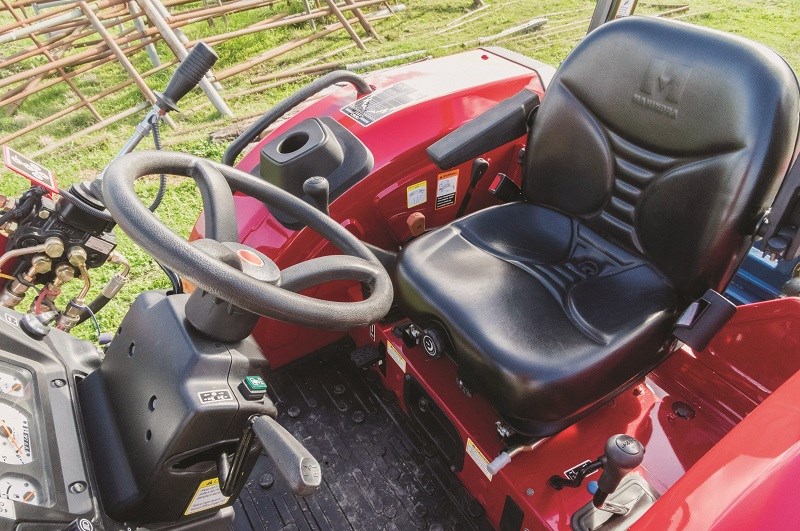 The weight adjustable seat is designed to enhance operator comfort.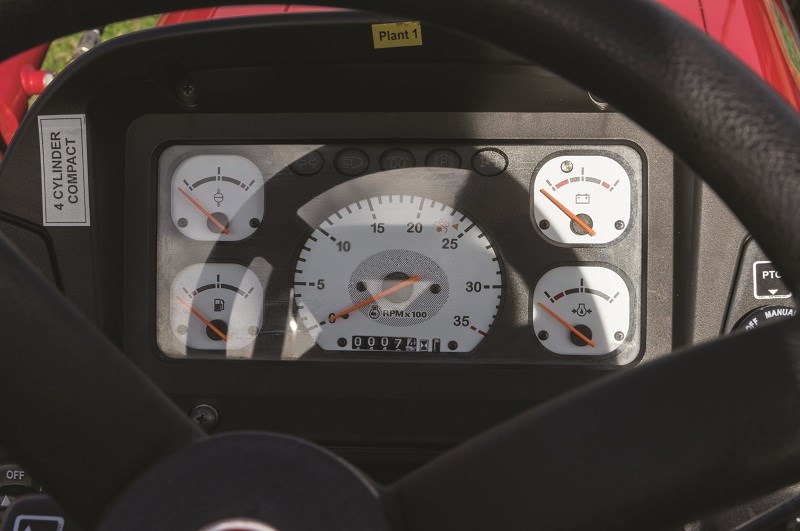 The simple and easy to interpret instrument panel lacks a speedo.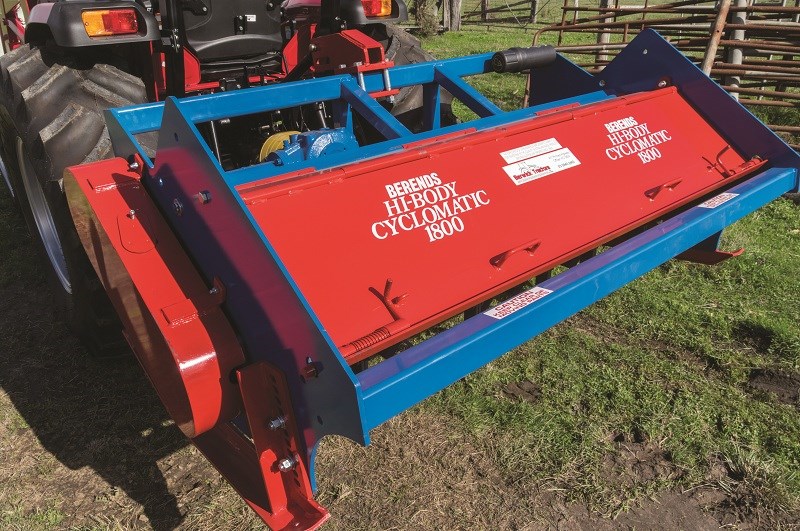 Carrying a 1.8m 750kg Berrends mulcher is no problem for the 5035.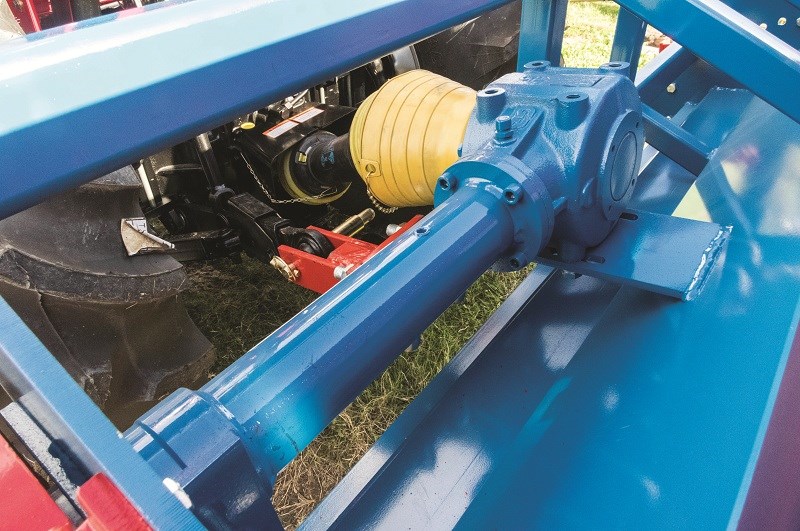 The electro-hydraulic PTO engages and runs extremely smoothly.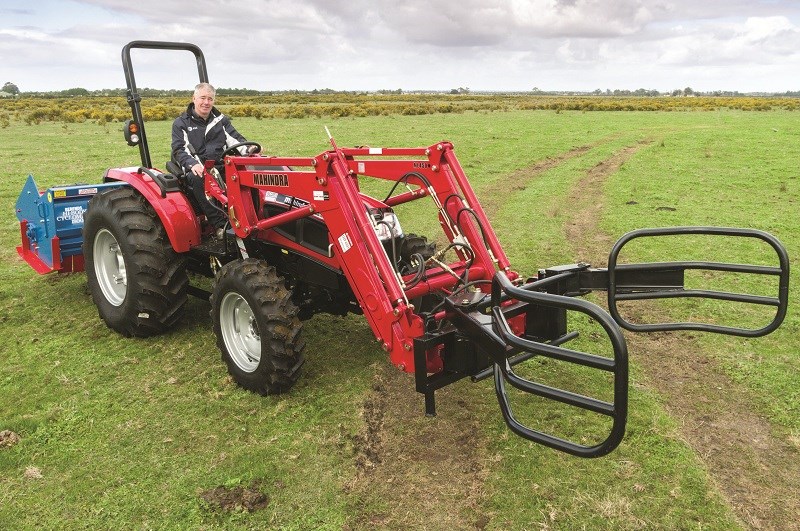 Optional soft hands bale grab further increases the capability of the loader.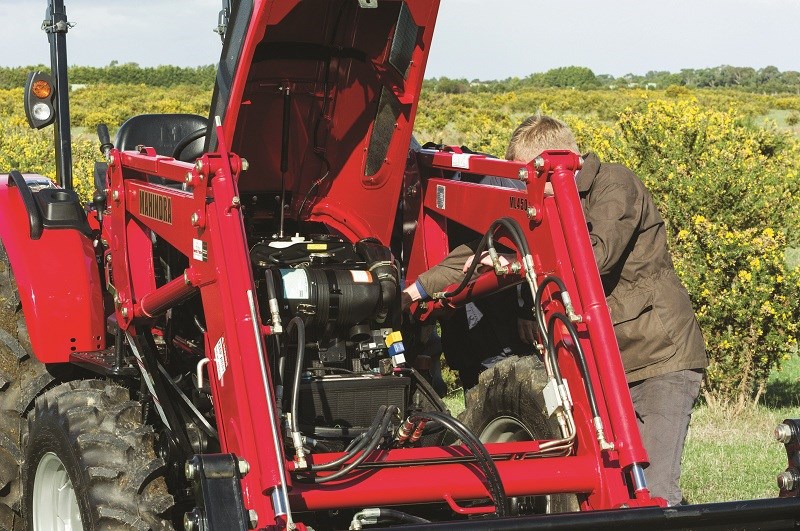 Access to the engine is a little restricted when a loader is attached.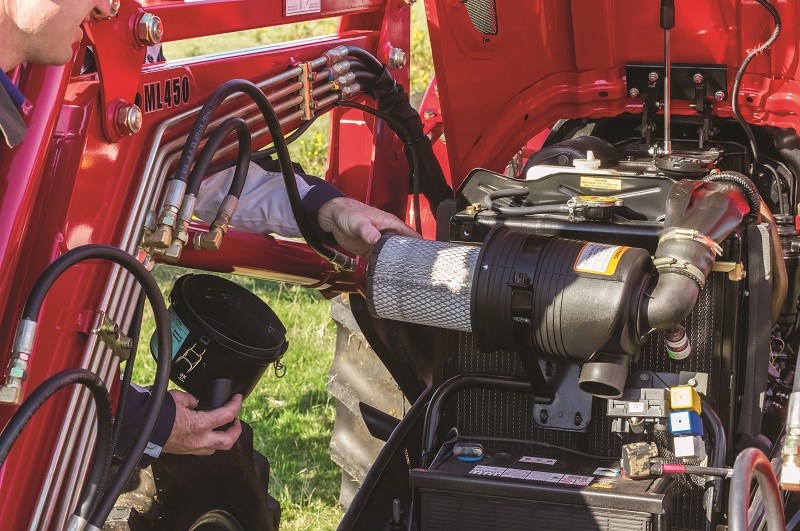 Simplicity and reliability are key features of Mahindra's maintenance schedule.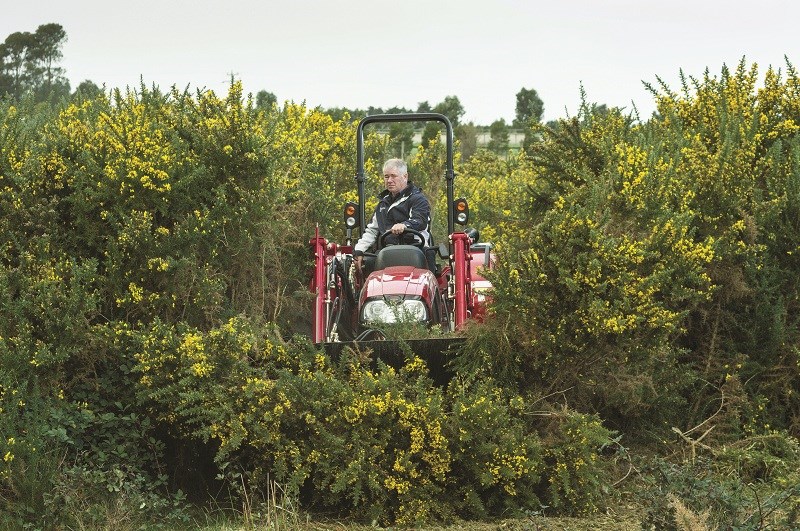 Plenty of grunt to punch its way through a thick forest of gorse.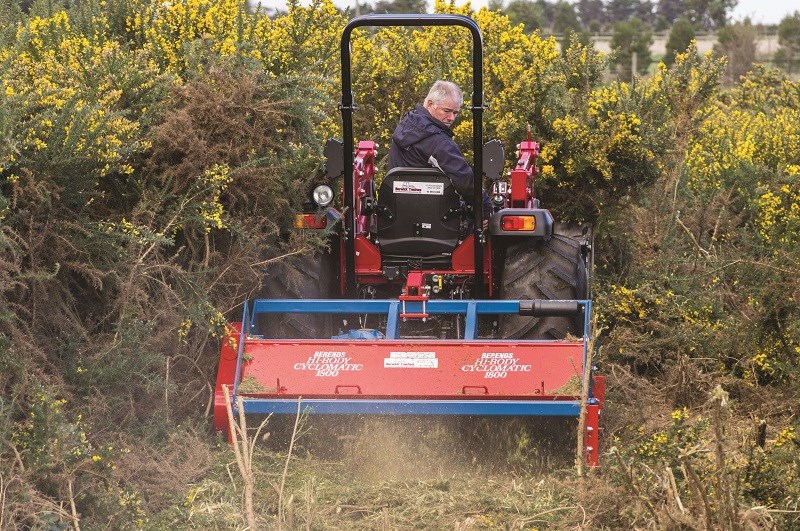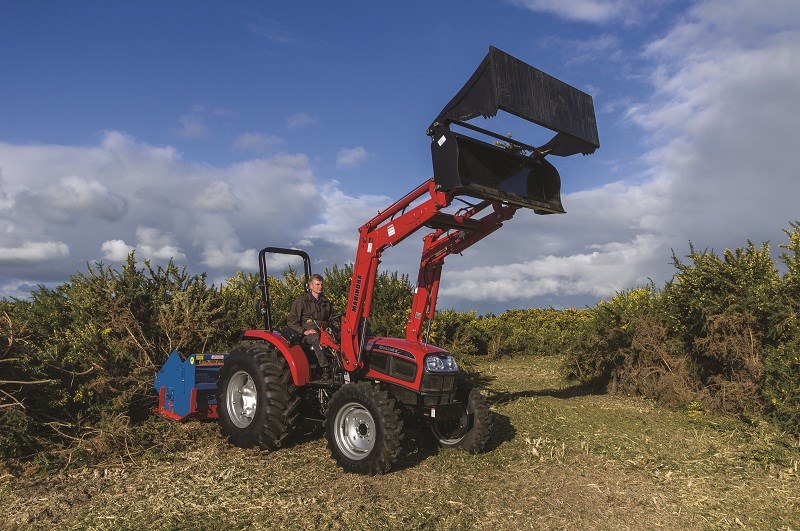 The ML450 loader has a maximum lift height of 2772mm.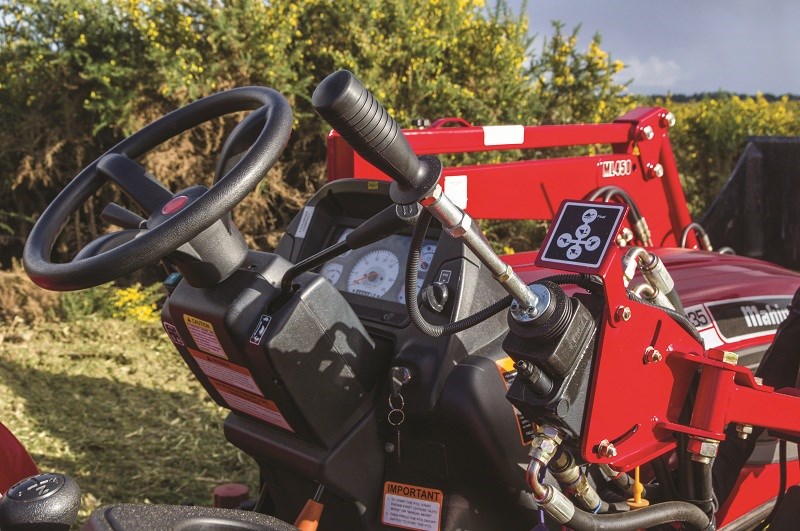 The conveniently mounted joystick gives total control to the operator.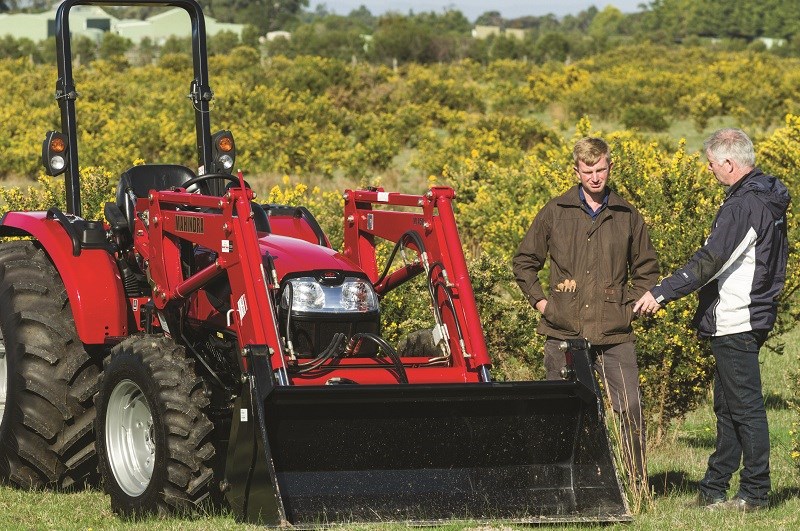 Leon Suggate of Berwick Tractors explains Tom Dickson the ins and outs of the 5035.

Subscribe to our newsletter
Sign up to receive the Trade Farm Machinery e-newsletter, digital magazine and other offers we choose to share with you straight to your inbox
You can also follow our updates by liking us on Facebook. 

Graders For Hire | Cranes For Hire | Telehandlers For Hire | Excavators For Hire