REVIEW: Polaris Sportsman Ace ATV
---
The Polaris Sportsman Ace might look like a toy but it could change the way we use all-terrain vehicles. Barry Ashenhurst reports.
I admire the Polaris go-for-it attitude. Not only does the company seem to be making money when others are losing it, but this bold American manufacturer is never frightened of innovation.
So far, no one has come close to producing anything resembling the Polaris Razor, and now the opposition will have to come up with a plan to counter the new and highly innovative Ace. 
CONTENTS
POLARIS SPORTSMAN ACE : THE MACHINE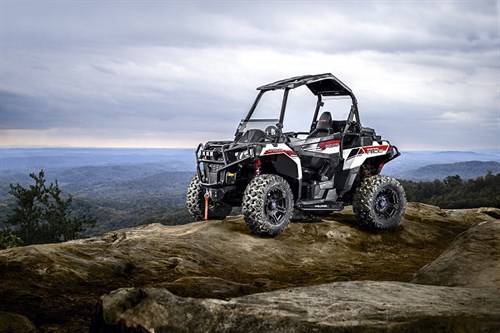 One of the interesting things about the Ace is it bears little resemblance to any garden variety ATV and there's no logic in comparing it with one.
The Ace is longer and heavier than an ordinary quad. It's also much taller but in fact the centre of gravity doesn't seem to be much different from that of a Sportsman.
This machine has a roll cage when prevailing wisdom insists you can't put a roll cage on an all-terrain vehicle (ATV). The Ace also has a steering wheel instead of handlebars. It has a bucket seat and a seatbelt.
 You sit in this machine, not on it.
The question though is this: is the Ace a four-wheel drive dodgem car with a ROPS (roll over protection structure) or a utility vehicle Australian farmers will find useful?
To find out, we took the Ace to a mixed grazing property near Warrnambool on the Victorian coast. Owned by NewFarmMachinery contributor Tom Dickson, the property proves ideal for this sort of equipment review.
POLARIS SPORTSMAN ACE POWER AND TRANSMISSION
The engine powering this device is a single cylinder, four-valve, dual overhead cam Polaris Pro-Star. Output is 23.8kW or 32hp.
This sounds rather feeble, but once we began to see the Ace from a farmer's perspective we realised that 32hp is right on the money if what you'll do with this machine is toddle along quietly behind a mob of sheep or cattle.
There is a slight lag in acceleration from a standing start, and the Pro-Star needs a few revs before it digs in, but acceleration is not so sluggish that you can't nip over and round up an animal that splits from the mob.
More importantly, although the Pro-Star sounds like it's revving hard at every point in the speed range, it's quiet enough not to spook the animals you're trying to move, or scare them when you have to thread your way around or through a mob gathered around a gate or a trough.
The farmer who gently persuades his stock to move in the desired direction is more skilled in finer points of animal husbandry than the one propelled by impatience and rough tactics. The Ace cooperates.
POLARIS SPORTSMAN ACE CABIN AND COMFORT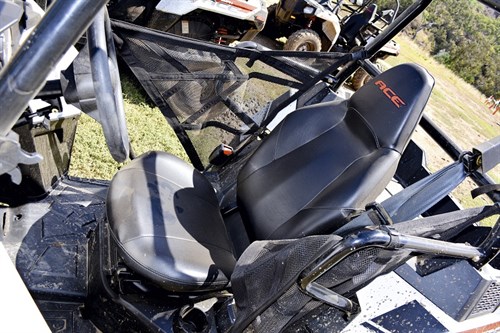 Our first impression with the cabin was that it could be a little snug for a large man but experience proved otherwise.
True, it takes a while to find the best way of getting in and out of a small vehicle fitted with a roll cage but that's something you'll figure out for yourself. It helps that the cab has a walk-through design and that the seat and steering wheel are adjustable.
The only criticism we have of the driver's compartment is the U-shaped rolled-steel bar to the left and right of the driver and passenger. The bar looks like a shoulder bolster of some sort but of course is rock-hard and, as you'll see shortly, is capable of injuring driver or passenger should things go boobs up … or sideways.
POLARIS SPORTSMAN ACE SUSPENSION AND RIDE QUALITY
The suspension isn't what we expected; double independent A-arms up the back, with 20.8cm of travel and McPherson Strut on the front with 24cm of travel.
The shocks have preload adjustment only. Ride quality is very good. We punted the Polaris all over Tom's property and not once were we slammed in the spine.
Having driven it over rocks shelves and other rude impediments to progress, my own personal view is that the Ace doesn't feel as stable or as happy on rough ground as a conventional ATV.
POLARIS SPORTSMAN ACE SAFETY
Then there was the little accident. Turning the Ace at a very conservative speed on grass, Tom suddenly found himself correcting and counter-correcting as the ATV lost traction on one side and gained it on the other before losing it every which way.
It was the old 'slip and grip syndrome' I've seen before on vehicles of this type. I don't know if it was the tyres, the conditions, the Ace's handling characteristics or a combination of all three.
Anyhow, the Polaris ended up on its left-hand side, more or less coated in sheep poo.
Little lasting damage was done to the occupant, thanks to a roll cage preventing the vehicle from rolling any further. As far as we were concerned this proved the value of the roll cage.
Scoffing or no scoffing from the opposition, it works. (Watch the video above to savour the flavour of Tom's indelicate face-plant.)
At this stage we'll point out that it'd be prudent to fit your Ace with one of several protective options from the Polaris stable of accessories.
Now there's the rolled-steel bar I spoke of a moment ago. When Tom went over he slammed his shoulder into this fiendish thing and thereafter felt sore enough to avoid driving.
I have no engineering qualifications, as I'm sure Polaris will point out, but if that shoulder bolster, or whatever it is, is really necessary, it'd be a good idea to pad it or redesign it.
POLARIS SPORTSMAN ACE PERFORMANCE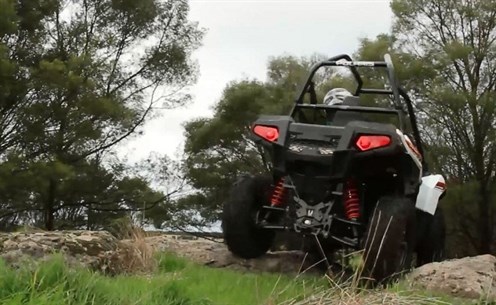 Driving this jigger is a piece of cake, one of its attractive features, particularly for those who feel intimidated by a naked quad and need something more car-like in operation and ergonomics.
The cab looks small but there seems to be enough room in there, even for big blokes and once you're buckled up it's quite comfortable.
The gear lever on our test vehicle has a smooth action and never presents us with the problem of transmission lock-up, meaning we get out of the gear we're jammed in without rocking the vehicle backwards and forwards.
Like its siblings, the Ace has high and low range and a four-wheel drive automatic transmission.
THE VERDICT
Warrnambool glowed with good health, but there is little surface water or mud lying around for us to gauge the machine's off-road ability.
Still, there's no reason to believe the Ace can't go where any conventional ATV will go. We think a familiarisation is necessary with this machine and that time spent getting used to its idiosyncrasies will pay off.
We're also convinced the Ace will be popular with women who lack the upper body strength to muscle a quad over rough terrain, and in any case would prefer something more civilised. 
We'd like to add just a brief note of caution here though. The Ace lacks power steering. If you're working rough ground, don't drive with your thumbs inside the steering wheel. 
The Ace is a cool machine, no doubt about that. It'll be a big hit with the recreational riding crowd, and among small property owners who desire something cute and quirky on which to patrol their empire.
 But the Ace is more than a dodgem car with a ROPS. Farmer and fellow tester Tom Dickson says he thought the Polaris would be a useful tool on the farm.
"If I needed another ATV," he says. "I'd buy an Ace tomorrow."
Polaris Sportsman Ace Hits
Nice steering and brakes
Comfortable cab
Easy to operate 
Polaris Sportsman Ace Misses
Shoulder bolsters are poorly designed
Some would prefer more power
POLARIS SPORTSMAN ACE SPECIFICATIONS
Engine: Single-cylinder EFI 4-stroke
Capacity: 330cc
Induction: Electronic Fuel injection
Output: 23.8kW (32hp)
Drivetrain: Automatic PVT (P/R/N/L/H)
Drive System: Polaris On-Demand AWD/2WD
Wheels: Stamped steel (so you can weld 'em)
Tyres: Front: 25x8-12. Rear: 25x10-12.
DIMENSIONS AND CAPACITIES
Wheelbase: 156cm
Dry Weight: 379kg
Length/Width/Height: 229cm/122cm/173cm
Ground Clearance: 26cm
Fuel Capacity: 19 litres
Front Rack Capacity: 55kg
Rear Cargo Box Capacity: 110kg
Payload Capacity: 261kg
Tow Rating: 680kg
Steering: Manual
For the full test report, grab a copy of NewFarmMachinery magazine issue 10 when it goes on-sale from June 16.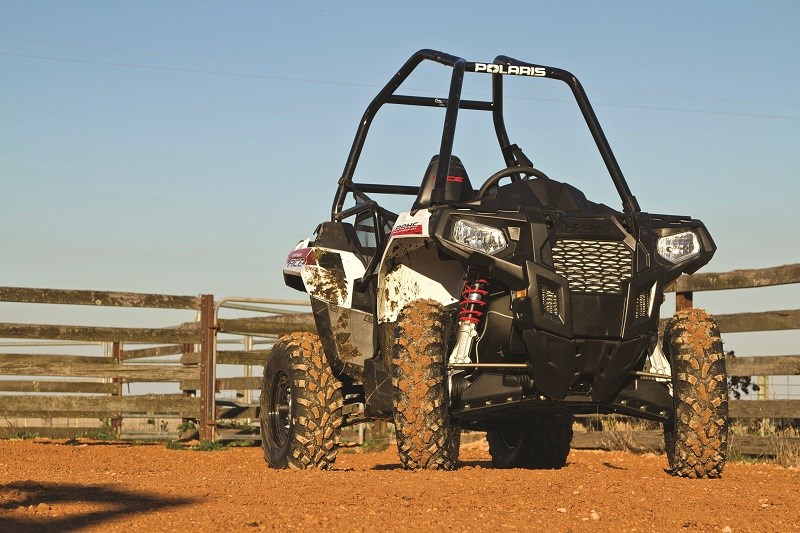 It's a good looking animal from any angle and will prove more useful on farms than the detractors would allow. Some would like more power and we wouldn't be surprised if Polaris whacked in the 570 engine from the Sportsman.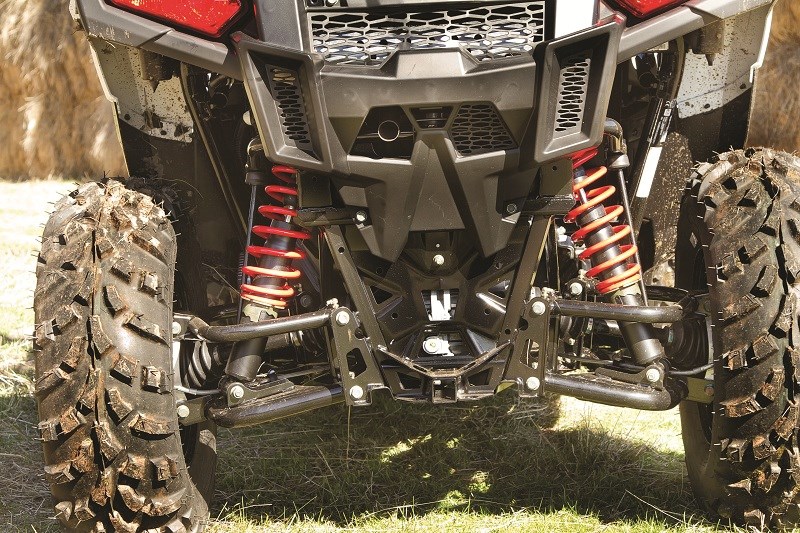 The rear-end has independent A-arms but the front-end carries a McPherson Strut set-up .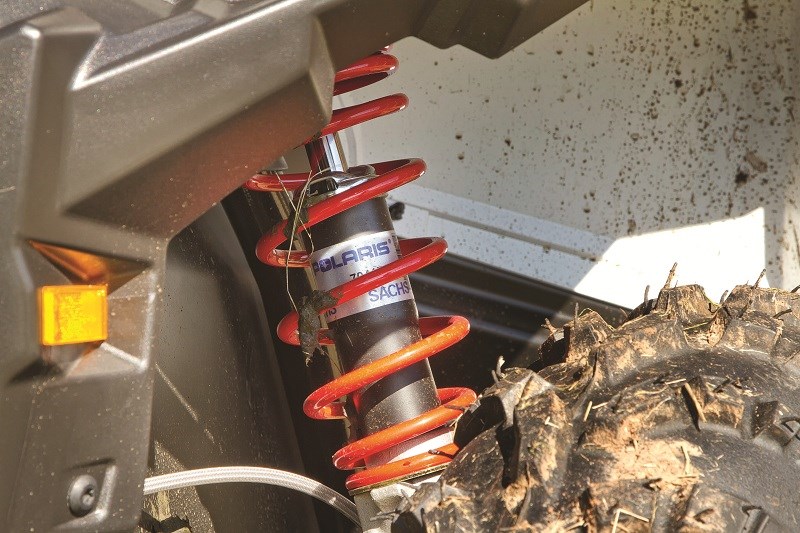 Shocks have preload adjustment only; nevertheless ride quality is very good. Steering is non-assisted so don't drive with your thumbs inside the wheel.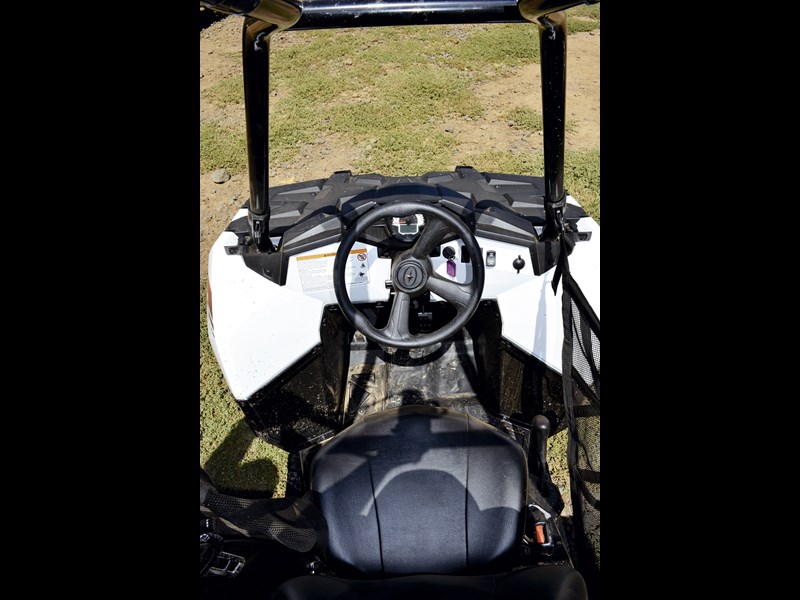 An ergonomically-friendly cockpit that's both easy to get into and out of — perfect for those that struggle to swing a leg over a standard quad.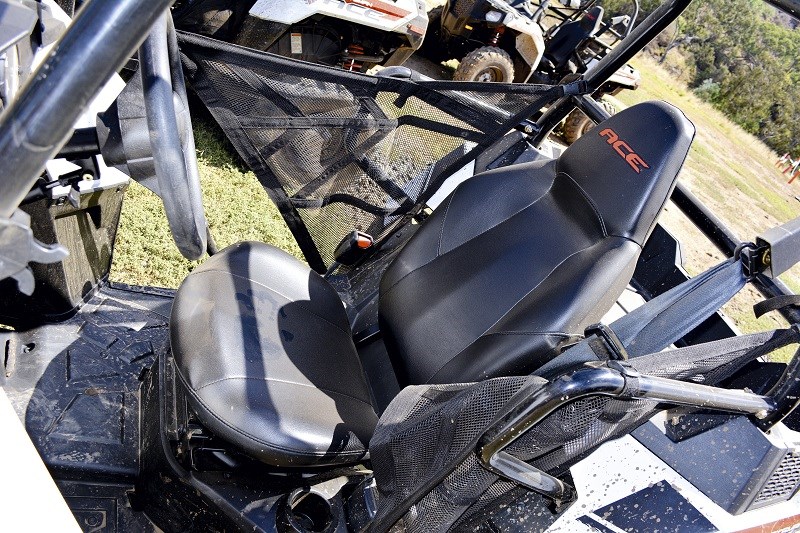 The secure, high-backed, adjustable bucket seat is paired with an adjustable steering wheel.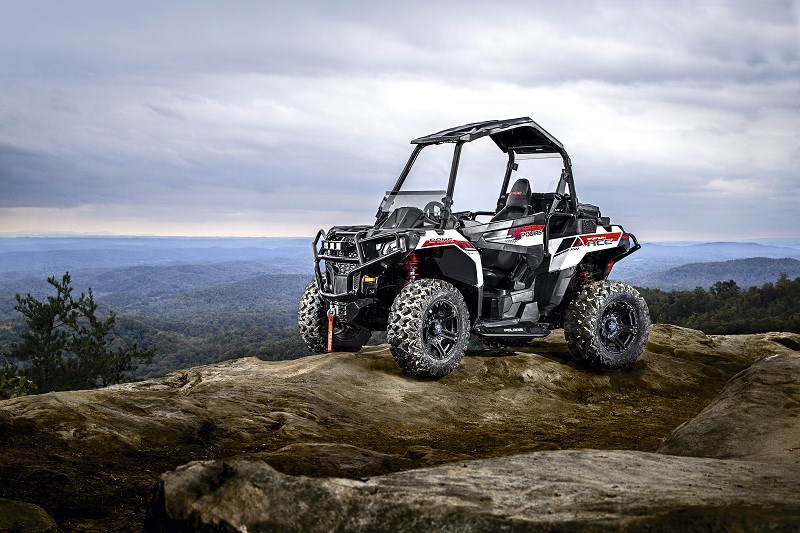 For a RRP $11,995 incl GST, the Polaris Sportsman ACE is sure to be a hit for farmers/contractors looking for that extra level of safety.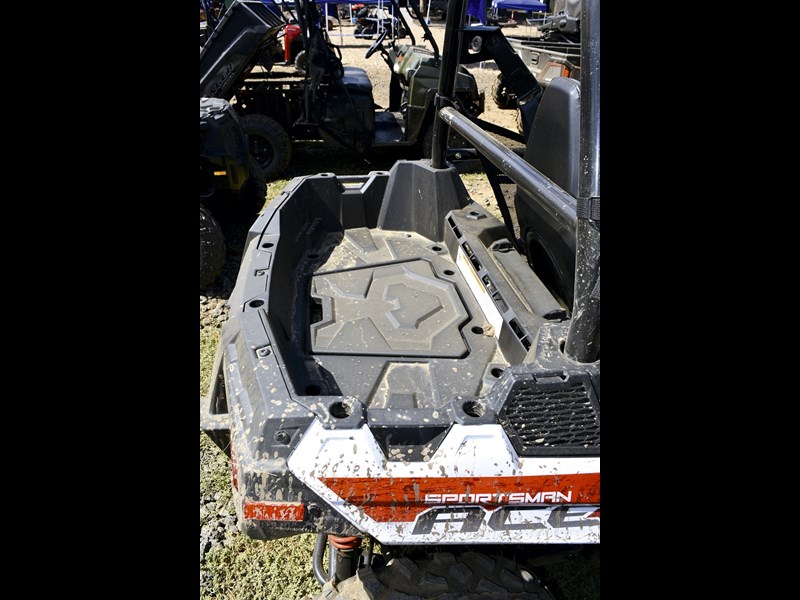 Plenty of room for the dog or a hay bale in the rear tray.

Subscribe to our newsletter
Sign up to receive the Trade Farm Machinery e-newsletter, digital magazine and other offers we choose to share with you straight to your inbox
You can also follow our updates by liking us on Facebook. 

Graders For Hire | Cranes For Hire | Telehandlers For Hire | Excavators For Hire