REVIEW: Arctic Cat Stockman 500 ATV
---
Arctic Cat has a new Australian distributor and, if Barry Ashenhurst has it right side up, a very capable 500 four-wheel drive to spearhead its renewed attack on the local market.
Arctic Cat is a U.S based manufacturer of all-terrain vehicles (ATVs), farm and recreation-style side-by-sides; and snowmobiles.
The company has a reputation for building high performance equipment and in many of its products, the Wildcat range of side-by-sides for example, has enough going for it to give the opposition a nervous tick.
Artic Cat's ATV range kicks off with the two-wheel drive Stockman 300. The smallest four-wheel drive model is the Stockman 400.
There are 450, 500, 550, 700 and 1,000cc models, as well as a couple of two-seaters, then four of what Arctic Cat calls Extreme Conditions ATVs, comprising two 700cc models, one of them a diesel, and a 1,000cc model with a tilting rear tray.
Arctic Cat was represented in Australia in the past but not with any real commitment. Only after being introduced to PS Importers (PSI) last year did it gain a distributor with clout and market savvy.
The Stockman 500 we evaluate is the 2013 bare bones farming spec and while it lasts is retailing for a phenomenally attractive $7,690.
When the 2014 model arrives it will sell for $9,690, thanks to shifting currency rates and what have you, so get in now while there's still a 500 Stockman left to look at.
We tested the Stockman out on a custom-made obstacle course, built on a beautiful and steeply wooded property owned by a lovely bloke by the name of Neil Powell.
The course is designed to test the all-wheel drive capability of the world's best ATVs. It gives us the opportunity to gauge the finer points of operation, such as overall balance, throttle control and brake modulation.
CONTENTS
ARTIC CAT STOCKMAN 500: THE MACHINE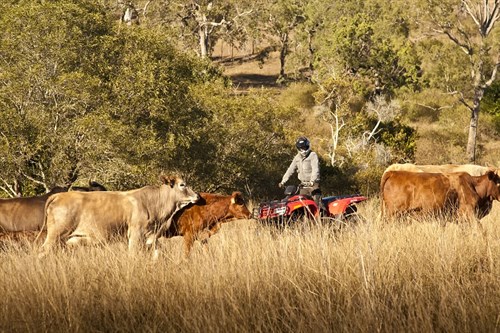 Something we notice quickly is the uncluttered nature of this ATV's undercarriage. The Stockman has double A-arms front and rear but even so there seems to be a lot of space under there for a mechanic to operate. It's very open plan.
This machine also has exceptional ground clearance. The spec sheet says 28cm (11 inches) but it feels like a lot more. Even when negotiating a line of staggered logs on our proving ground the Stockman refuses to bottom out and this is unusual.   
However, there's  little storage space on this machine, apart from a little locker right in front of the driver.
Storage space on midsize quads is an ongoing problem but there's an easy way out.
Like any manufacturer worth his salt, Arctic Cat makes a huge range of accessories for its products, and among them is a set of rack bags, although we're uncertain if this accessory is available yet from the new distributor.
ARTIC CAT STOCKMAN 500 ENGINE AND TRANSMISSION
The engine is a 443cc unit with electronic fuel injection. Power is delivered to the wheels via Arctic Cat's Duramatic transmission, given its orders through a long shift lever on the left-hand side.
Two-wheel drive/4WD is selectable through a simple toggle switch on the right-hand side of the bars, which of course means youmake the decision when you need 2WD or 4WD, the Stockman doesn't do it for you.
Once underway and out on the paddocks, the engine seems a little lazy until we hit about one-third throttle and then it comes to life. It isn't particularly noisy. It has plenty of torque at normal operating speeds and a decent turn of speed on open gravel roads.
Engine braking is what we'd expect from a decent 500cc engine and without a lot of fancy acronyms to achieve it.
The best thing about this engine though is its manageability. Experienced riders would say it has 'nice power'.
Fuel injection settings are spot on, and the throttle has such a well metered action you could gently coax the Stockman over challenging obstacles without smashing every plate in the cupboard.
ARTIC CAT STOCKMAN 500 COMFORT AND CONTROLS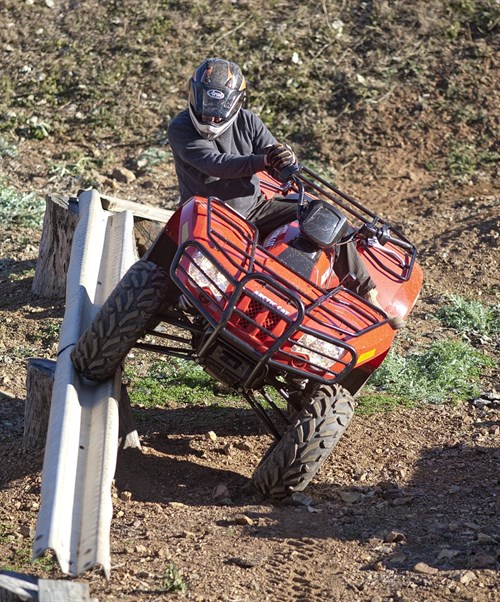 The seat is well padded and the suspension provides a ride almost as cushy as that of the latest Polaris Sportsman.  
Braking effort to all wheels is controlled by a single lever on the left side of the bars. There is no power-steering and no diff lock, which suggests this machine could be hard work on rough terrain, but in fact the opposite proves to be true.
The lack of digital doo-daddery is something else we like about the Stockman. Too many ATVs these days have tricky stuff you don't need which often fails.
In fact, the Stockman is the only non-EPS quad we've tested that can be easily handled by anyone, whatever their ability.
We don't know why the steering is this good. We can only presume it has in abundance the qualities every Chinese ATV lacks: excellent suspension and steering geometry.
An issue we should point out is that the solenoid controlling 4WD activation has a glitch preventing the drive system from switching from 4WD to 2WD.
In all fairness, it might be a problem with this particular solenoid on this particular quad, so there's no point getting all hot and sweaty about it, but we notify the Arctic Cat rep anyway and he promises to look into it.
We certainly hope the problem is a one-off.
THE VERDICT
This is a brutal market and becoming more so as an endless conga-line of ATVs winds its way through Customs.
We can't vouch for everything on the Arctic Cat because we had it for two days testing and have never owned one. If Arctic Cat suspension bushes are as iffy as those on a Polaris Sportsman then you can expect them to flog out long before you'd expected to be paying for new ones.
Since suspension bushes almost literally 'hold the machine up', it's a mystery to us why Polaris won't spend a comparatively small amount of money to solve a significant problem. 
I wouldn't like to be marketing ATVs but I know there aren't many 2013 Stockman 500s left in the country and that 2014 isn't far away. Don't just sit there. Get in now before they're all gone.
ARTIC CAT STOCKMAN 500 HITS:
Good suspension and steering
Easy for women to operate
Nice ride quality
ARTIC CAT STOCKMAN 500 MISSES:
Little storage space
Dodgy 4WD solenoid on the test vehicle
ARTIC CAT STOCKMAN 500 SPECIFICATIONS
ENGINE
Type: SOHC 4-stroke
Capacity: 443cc
Fuel management: EFI
Bore/stroke: 89x71.2mm
Starting: Electric
Fuel tank capacity: 21.6L
TRANSMISSION
Type: Automatic CVT
Drive system: Selectable 2WD/4WD and reverse
RUNNING GEAR
Front suspension/travel: Double A-arms/25.4cm (10in)
Rear suspension/travel: Double A-arms/ 25.4cm (10in)
Front brakes: Hydraulic discs
Rear brakes: Hydraulic discs
Front tyres: 25x8-12
Rear tyres: 25x10-12
DIMENSIONS
Length: 215cm
Width: 121cm
Height: 122cm
Wheelbase: 127cm
Ground clearance: 28cm
Dry weight: 399kg.
Front rack capacity: 45.3kg
Rear rack capacity: 90kg
Towing capacity: 476.3kg
RRP
2013 model: $7,690.
2014 model: $9,690.
For the full test report, pick up a copy of NewFarmMachinery magazine issue 12 when it goes on-sale from Augsut 11. Subscribe to the magazine to never miss an issue.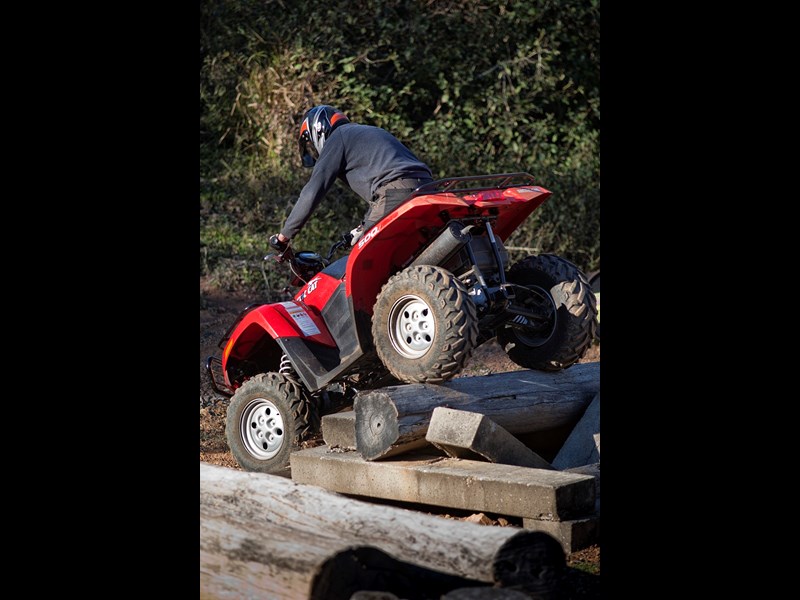 Copious ground clearance and nice power help the Stockman clear obstacles that have stymied more expensive machinery.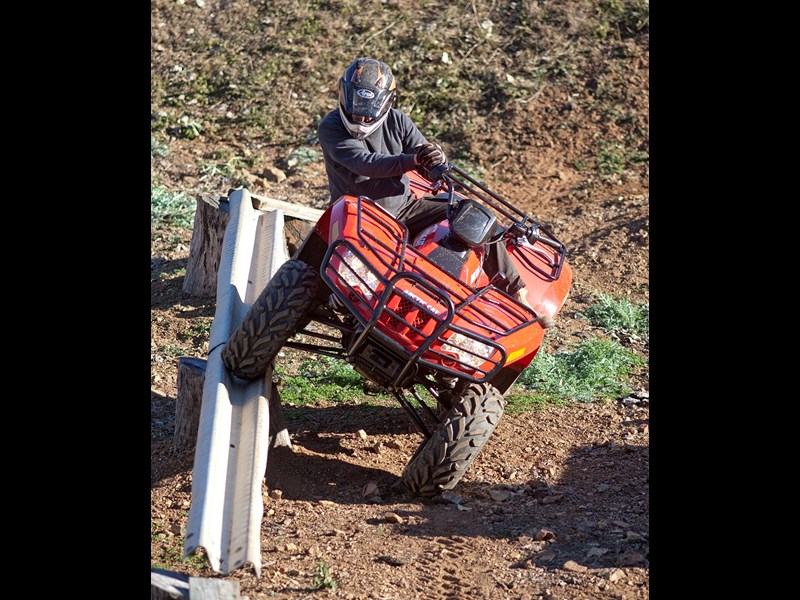 One of our obstacles, The Plank, helps gauge an ATV's capacity to handle what most manufacturers would consider extreme angles. As we say elsewhere in this feature, rough terrain riding is all about finesse and precise control, not charging in head first at full speed .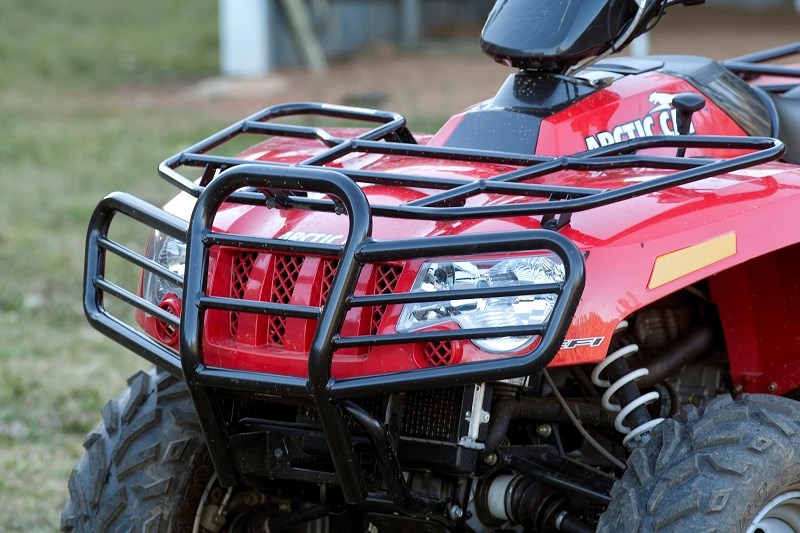 Our test unit came with standard racks and a front bumper. Storage space is limited so Artic Cat rack bags would be a sensible purchase .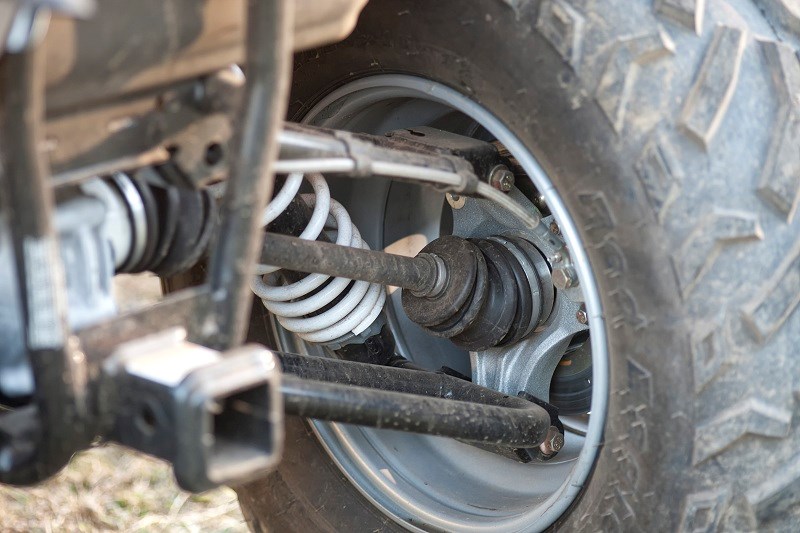 The suspension didn't look anything out of the ordinary but nonetheless gave a smooth ride and a fine degree of control .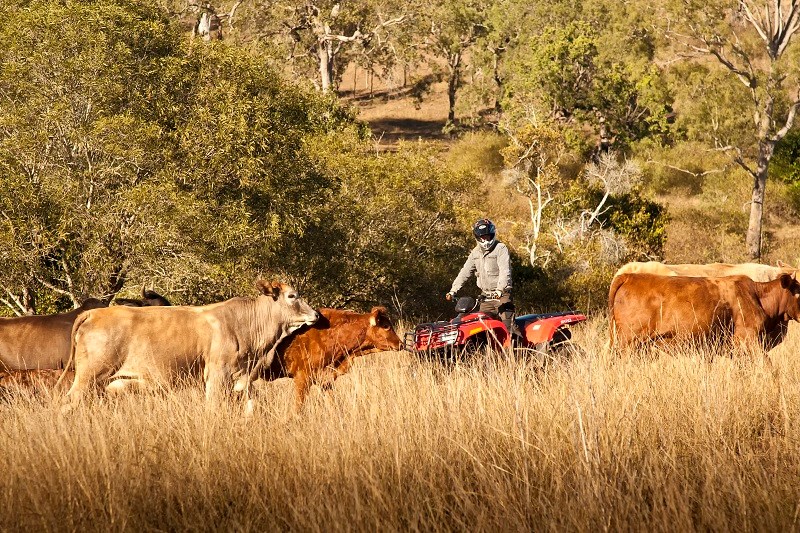 We tested the Arctic Cat Stockman 500 on a 2,000-acre cattle property owned by a lovely bloke by the name of Neil Powell.

Subscribe to our newsletter
Sign up to receive the Trade Farm Machinery e-newsletter, digital magazine and other offers we choose to share with you straight to your inbox
You can also follow our updates by liking us on Facebook. 

Graders For Hire | Cranes For Hire | Telehandlers For Hire | Excavators For Hire