REVIEW: Allen T-D 3500 Air Seeder Tyne Drill
---
Allen Custom Drills is a well-known name for air seeder direct drills in New Zealand. But the company is finally expanding into Australia with machines expected to arrive in the next few months, Tom Dickson tested the one and only tyne drill available locally.
Established in 2002 Allen Custom Drills is situated in Ashburton, mid-Canterbury, New Zealand. For 12 years it has been the manufacturer of Air Seeder Direct Drills, supplying high quality machines to NZ's agricultural industry.
In early 2013 Craig Allen took over the business from his father Dave, and together with his partner Deb McClintock and a team of experienced engineers, is focused on the future growth of Allen.
Apart from the fan, metering device and distributor heads sourced from agricultural machinery company Accord, every other component is designed and manufactured at Allen Custom Drills' Ashburton plant.
 "The way it works is that we start with our standard model and customise it to suit each individual requirement," Craig says.
 "With many enquiries from overseas such as the [United Kingdom] and United States I am confident that our drills will succeed in all countries and we sent our first export to Australia in February."
Fortunately for me and NewFarmMachinery the one and only Allen Custom Drill to come to Australia is sitting in a shed on a property about five minutes from where I live in Warrnambool.
Looking for the right one
Peter and Aran Gleesonof Gleeson Ag Services had been looking for another drill to add to the fleet of machinery servicing their tillage and seeding, spraying and fodder conservation enterprise but couldn't find anything they were completely satisfied with.
Hugh McEachern, of Warrnambool tractor and machinery dealership Agrimac, suggested they make the trip to NZ to check out a 3.5m airseeder tyne drill.
Peter says requirements weren't outrageous. First and foremost the seeder had to be tough and able to perform in varying Australian conditions, easy to service and simple to calibrate.
Peter's business partner Aran made the trip over the ditch and as soon as he saw the T-D 3500 recognised it ticked all the boxes.
"Since March we've done about 1,500 hectares and we couldn't be happier with [the T-D 3500's] performance," he says.
Allen T-D 3500: First impressions and power requirements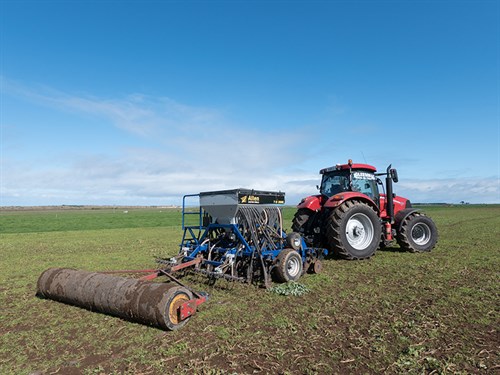 My first impression as Peter tows the unit out of his shed is that it looks to be constructed on a very robust frame using 75x75x6mm rectangular hollow section (RHS).
There are no rattles or vibrations to indicate poor construction and all the welds and paintwork are of extremely high quality. The trailing unit is hitched up to a new 165hp(121.4kW) case.
Peter believes a 120hp or 130hp (88.3-95.6kW) tractor would be ample but the extra horsepower gets the job done so much easier and the bigger tractor makes long hours spent behind the wheel a lot more comfortable.
It's only a 28tyne unit so I think even a 100hp (73.6kW) tractor could possibly do the job.
I didn't take a measuring tape, but a quick calculation of 28 coil tynes at 5-inch (12.7cm) spacings (6-inch [15.2cm] spacings are also an option),spread over a four bar frame means along each bar the 25mm coil tynes with T-boot tip are about 20 inches (50.8cm) apart.
At this spacing even the heaviest of stubble will flow freely through the machine without blockages.
Allen T-D 3500 Rubber mounted disc openers
Along the front of the machine is a set of rubber suspended disc openers providing a pre-cut pathway for each tyne to follow.
The rubbers are fully enclosed in the mounting bracket then permanently held in place by collars welded to the frame preventing them from sliding or dislodging.
I find this an impressive feature because I have experienced first-hand the annoyance of having to continually make adjustments on the go.
Allen T-D 3500 Hopper bins
The hopper on this unit is split into two equal bins of 800 litres each.
The front bin on the twin bin unit holds about 750kg of fertiliser and Peter says he gets about 350kg of pasture seed in the rear bin. These amounts can vary depending on the product being used.
A comfortable working speed on relatively good going is around ten or 12km/h. Multiply this by the 3.5m working width returns about 4.2 hectares per hour sown.
Each bin has its own metering unit, which he says is exceptionally easy and quick to calibrate.
The chute on the metering unit also acts as an opening where leftover seed is easily drained. Peter reveals most of his clients spread fertiliser as a separate operation so he can fill both bins with seed and get double the amount of area sown between fills.
 Both bins are covered by a single tarp and have a grate at the top that catches and prevents debris from entering the bin while filling.     
Ideal configuration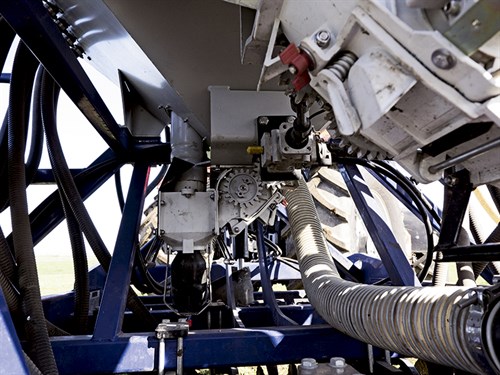 On most airseeders the main air chute, distribution chamber and air hoses are mounted on the outside of the tank, but on the T-D 3500 it all sits out of the way inside the seed and fert boxes.
This helps make the T-D 3500 a very compact unit, 4.5m L x 3.5m W x 2.0m H, and also keeps all the seed distributing hoses as central as possible over the sowing tynes.
But I do think it makes access to the bins a little awkward in the event some foreign matter drops in and has to be retrieved.
I've discovered it only takes a couple of minutes to calibrate and to my satisfaction about the same time to complete all daily maintenance.
From memory there are eight grease nipples to service that are mainly on the pivot points at the ends of each ram although the placement of some of the grease nipples could be improved.
Allen T-D 3500 Hydraulics
Peter runs the hydraulically driven fan at about 3,500rpm without any blockages occurring in the lines.
Running a hydraulic fan means your tractor must have a minimum of three banks of hydraulic remotes supplying oil to the fan, lifting ram on front cutting discs and main lifting rams on the drill. There also needs to be a free flowing return oil dump inlet on the tractor.
Relating to the hydraulics and also proving its clever design, Peter explains the drive wheel ram is linked into the lifting rams and is given preferential oil flow.
 When the machine is lifted at the end of each run the drive wheel disengages first, so all seed is cleared of the lines by the time the machine is fully raised and ready for the turn. Similarly as the machine is lowered to commence sowing the drive wheel engages first having seed already in the lines ready to commence sowing at precisely the right time.
This means Peter can give his clients a guarantee that all the seed is going exactly where it's supposed to with no areas missed or double sown patches on headlands.
Bells and whistles
Other inclusions are a rear tow ball for a roller and mounts to which cover harrows can be attached but Peter discovers if the rear tynes strike rock they actually clash with the harrows. He incorporates a 6-inch (15.2cm) spacer pushing the harrows back a bit and the problem is solved.
I would have loved to observe the crane option in use but unfortunately this machine didn't have it on.
A really handy accessory is a camera, which can be fitted to all the Allen units. It keeps the driver aware of how much seed is left in the hopper and prevents unnecessary stops.
Verdict
Peter quite confidently tells me after 1,500 hectares sown he can't be happier with its performance. Compared to the other drills he has used, he thinks it produces a more evenly sown paddock.
 Tyne spacing options of five or six inches makes it a very versatile machine for sowing pasture as well as crops.
For me it ticked all the boxes. The T-D 3500 retails at around $70,000 and would be well worth considering purely because of its obvious quality.
Allen T-D 3500 Hits:
Enclosed and held rubber suspension system
Sturdy construction
5- and 6-inch spacing option
Simple calibration
Minimal maintenance
Allen T-D 3500 Misses:
Grease nipples are vulnerable to damage
Mud build-up on drive wheel could affect sowing rate
Allen T-D 3500 SPECIFICATIONS
Bin size: 2 x 800 litres
Metering unit: Accord
Fan: Accord
Distribution head: Accord
Total Weight: 2,500kg
Wheel and Tyre Size: 10/75-15.3-inch14 ply or 18 ply option
Recommended Fan Speed: 3,000-4,500rpm
Dimensions: 4.5m L x 3.5m W x 2m H
Steel Frame Dimensions: 75x75x6mm RHS
Tynesand Boots: Coil tynes, T-boot tips
Air Hose Type: 32mm id, UV protected.
Look for the full report in the September edition of NewFarmMachinery magazine, out September 8. Subscribe to the magazine to never miss an issue.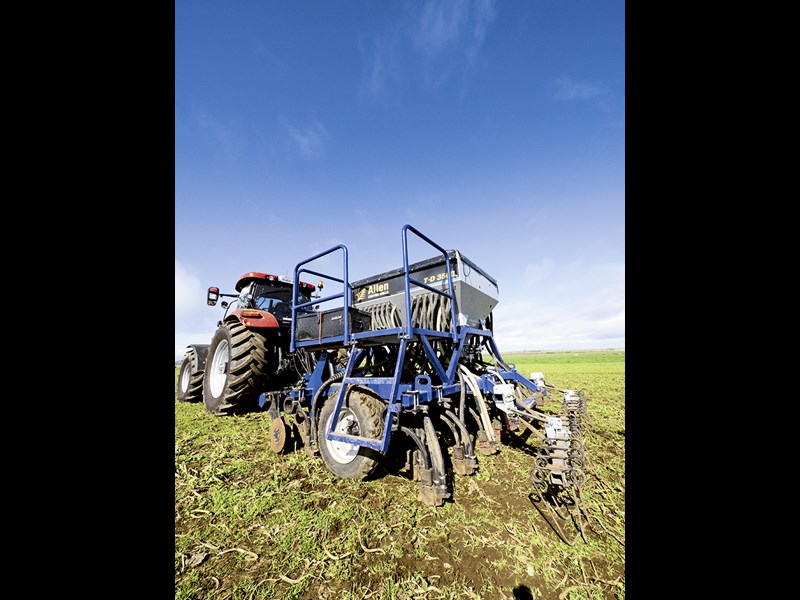 Operators of any age or fitness level can board the T-D 3500 via a convenient drop down set of steps.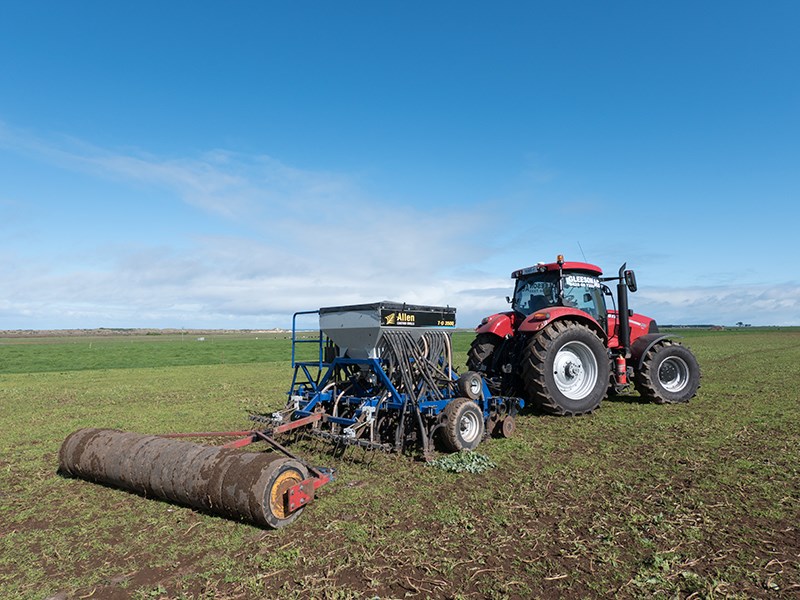 The T-D 3500 is a compact ground drive direct drill capable of single pass sowing. The roller is not part of the package but completes the sowing operation.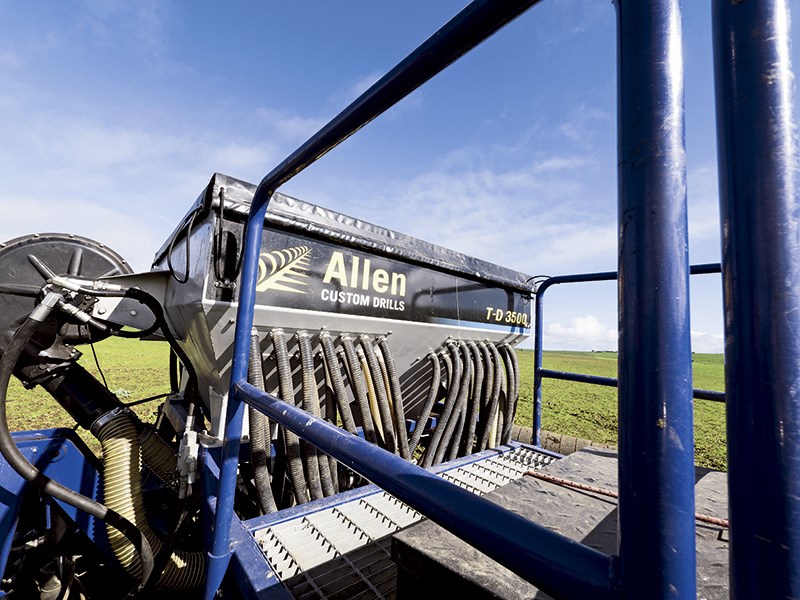 To achieve maximum compactness the distributor heads have been mounted inside the hopper leaving only the fan and distribution hoses outside.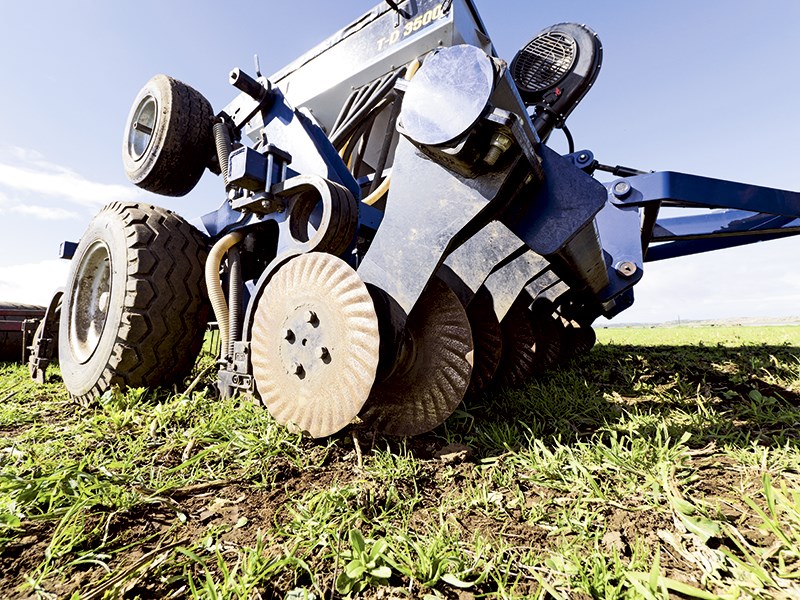 The front cutting discs mount to the sturdy sub frame using rubber tube suspension system. Collars welded along the beam prevent unwanted movement of the suspension mounts.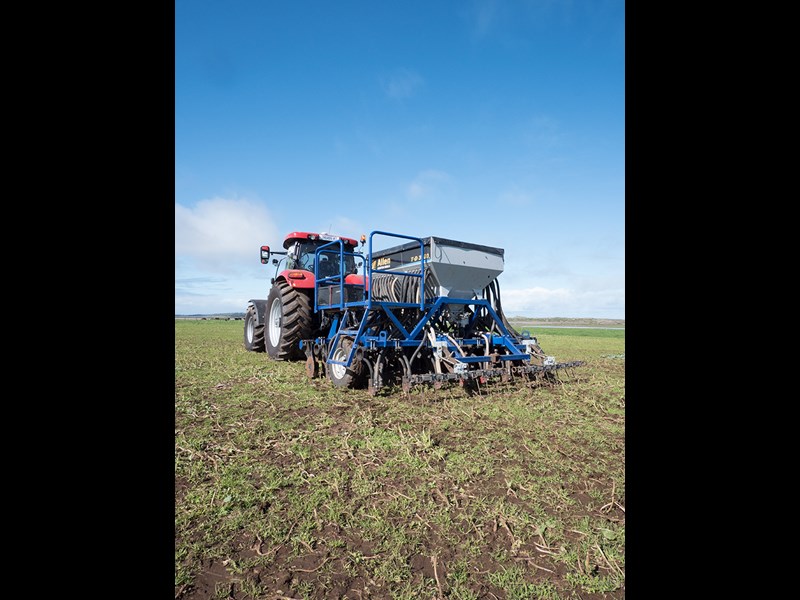 The large loading platform provides optimum ease and safety to workman while fillig both hoppers.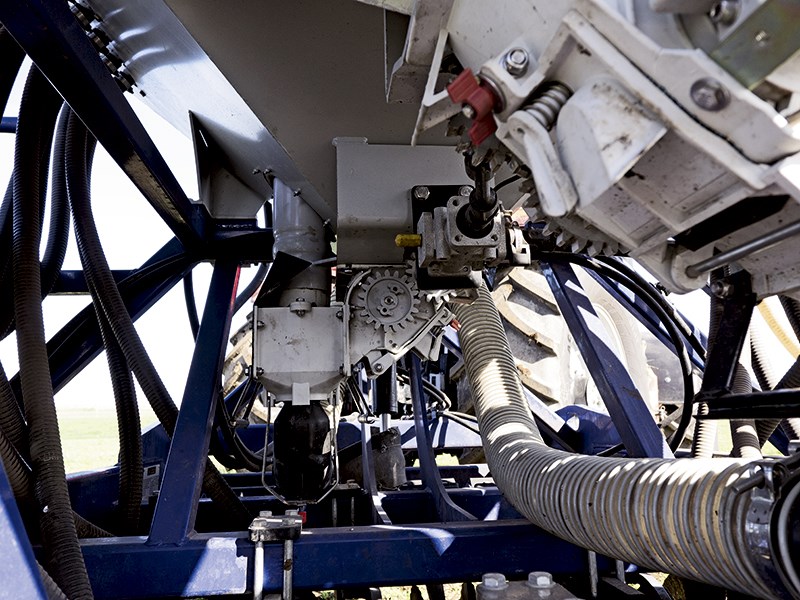 Seed and fertilizer drops into the main air line through a venturi on its way to the distribution heads.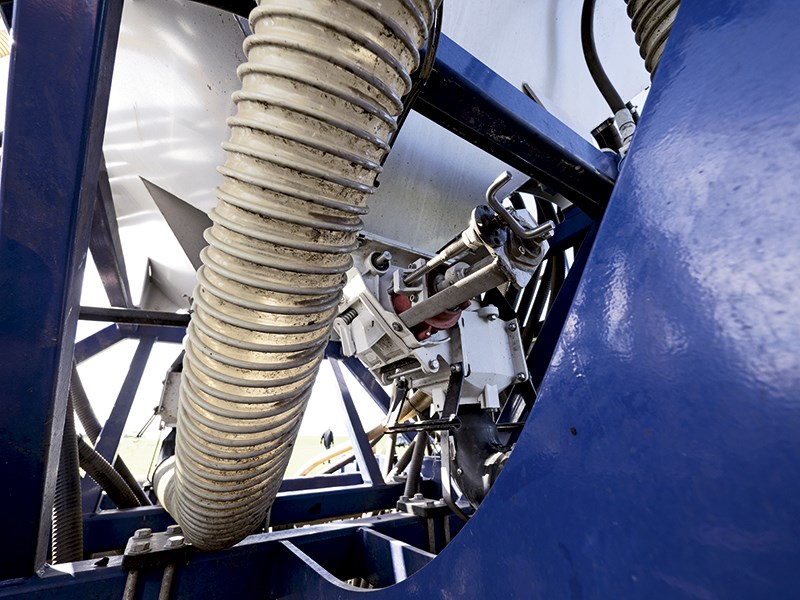 The metering unit is sourced from Accord. It is simple to calibrate, clean and adjust.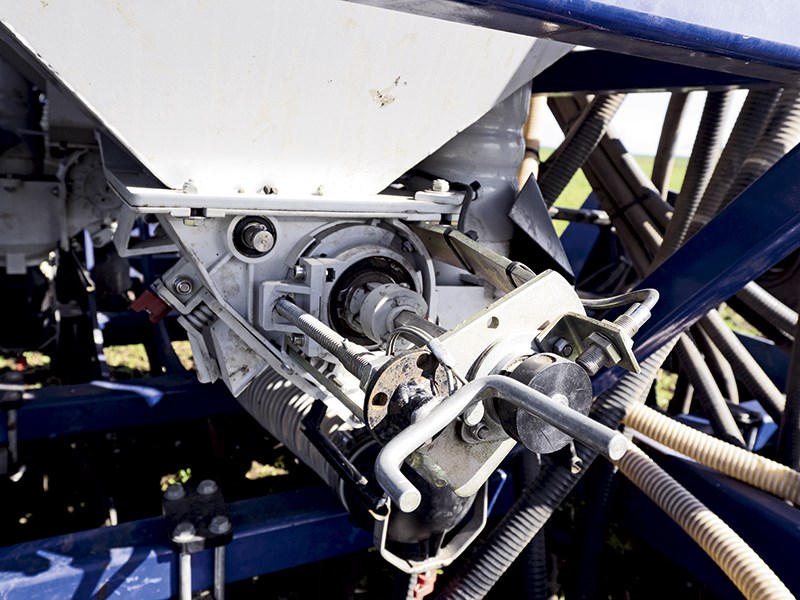 An electronic magnetic sensor mounted on the shaft of the Accord metering unit sends information back to the in cab monitor.

Subscribe to our newsletter
Sign up to receive the Trade Farm Machinery e-newsletter, digital magazine and other offers we choose to share with you straight to your inbox
You can also follow our updates by liking us on Facebook. 

Graders For Hire | Cranes For Hire | Telehandlers For Hire | Excavators For Hire