REVIEW: Deutz-Fahr 5130 TTV tractor
---
Aussie dealers are licking their wounds as sales figures show New Zealand has taken an early three to nil lead in the race to start selling the new Deutz-Fahr 5130 TTV tractor.
As soon as the first three Deutz-Fahr 5130 TTVs docked in the country, Power Farming Group (PFG) New Zealand Tractor Sales Manager South Island Steve Gorman says he sold them; and he's taken orders for more, he's just waiting on delivery.
"I've been rapt with the speed and ease in which the 5130 has been selling and envisage they will be hugely popular as an all-round farm tractor as well as to contractors," Gorman says.
I am sure there are many Kiwis currently out here in Oz that will take great delight out of sticking it to their Aussie mates in farming communities across Australia over this latest victory
Luckily we found a 5130 TTV available for review over the ditch in New Zealand on the property of second generation dairy farmer Peter and wife, Margaret, Brooker.
So as not to miss the opportunity to be the first in Australia to get our hands on a 5130, we are on a plane and on our way to the Brooker's dairy property at Maruia, about 200km north of Christchurch.
Purchased from PFG Timaru, this will be the Brooker's 13nth tractor from the Same Deutz-Fahr stable and in fact the 1,000th Deutz-Fahr tractor sold by PFG into NZ since taking over the brand in July 2010.
CONTENTS
DEUTZ-FAHR 5130 TTV EXTERIOR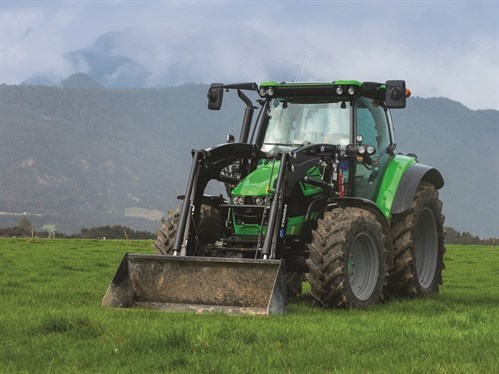 My first glance of the 5130 evokes images of a formula one motor car. The sloping bonnet and tapered front end will give great vision from the driver's seat to the front wheels and bucket during front end loader work.
Along with its modern look, and perhaps more importantly, the 5130 TTV's functionality is a fantastic lighting package. I know what it's like working at night; if you haven't got good lights then jobs like finding every bale to wrap for silage is near impossible.
Large headlights on the 5130 are complemented by six fully directional illuminating lights at the front and four to the rear.
Each head light has a line of LED daytime running lights that illuminate whenever the key is turned on primarily as a safety feature but it also provides a modern and prestigious look.
DEUTZ-FAHR 5130 TTV ENGINE
The 5130 TTV is powered by genuine Deutz 3.6-litre common rail turbo diesel, which according to my research is one of the largest engines in a tractor of this class. This 4 cylinder power plant generates a maximum 127hp (93.4kW) at 2,300 rpm.
Genuine horsepower can often be a very difficult statistic to compare accurately against other makes. Some tractors, which I won't reveal, lay claim to being 150hp (110.3kW) but this is calculated on high speed road use.
When it comes to working in the field under load the horsepower generated is far less. In this case the 5130 TTV refers to genuine pulling power at paddock working speeds.
Unless a tractor is required as a road haulage vehicle I firmly believe this to be a far more accurate and appropriate representation of its horsepower.
This engine is developed to perform equally as well on 100 per cent Bio Diesel. Rated as Tier 4, it uses DOC (diesel oxidation catalyst) to comply with modern emission standards.
 "Benefits of DOC are zero maintenance and there is no requirement to replace costly filters," Gorman explains. "Finally, in the absence of a diesel particulate filter there is no requirement to use AdBlue fuel additive."
The DOC is designed to oxidize carbon monoxide, gas phase hydrocarbons, and the SOF fraction of diesel particulate matter to CO2 and H2O.
A 165-litre diesel tank provides more than enough fuel to keep this machine working all day under even the toughest conditions.
DEUTZ-FAHR 5130 TTV TRANSMISSION
'TTV 2 range Variable Transmission' sounds complicated and is the most important feature on these new age tractors.
I have a preconceived idea that I am going to struggle to operate the 5130 using a modern transmission I'm unfamiliar with, but with a few pointers I find it refreshingly easy.
 "The TTV 5130 provides the operator with three transmission options for different operating applications," Gorman explains.
"The three modes are: Auto, for general tillage and cultivating and frontend loader operation; PTO, which automatically selects the mode in which power take-off [PTO]/engine speed is set using the hand throttle or engine speed program; and Manual, a mode operating the tractor in a traditional way."
With this info I figure I will pop it into manual mode and get used to moving around in traditional type operation before I get too adventurous.
However, as I jump into the driver's seat, Peter and Margaret Brooker's son Tim hops in behind me and makes himself comfortable in the passenger seat to my left.
I explain my conservative approach to which he responds, "you won't have to worry about manual mode just slip it into auto. Auto is easier to operate than manual".
He's right, and for all of you who are a bit apprehensive about variable transmission take it from me this one is a breeze.
DEUTZ-FAHR 5130 TTV CAB AND CONTROLS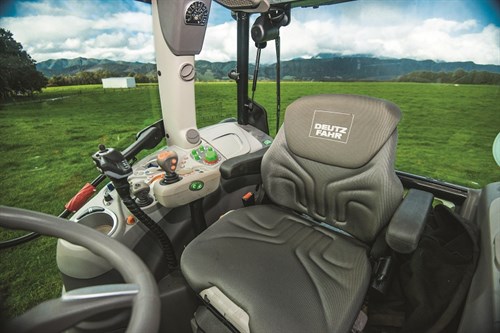 The cab features nothing more or less than other comparable tractors, but it is a very well designed workplace.
Great view all-round, I think one of the best out there, a really comfy swivel suspension seat and a highlight being every switch, dial and control lever seems to sit in exactly the right place.
The cabin has a snug feel and once I am in the driver's seat it feels as though the console wraps around me and I become one with the machine.
The 5130 TTV comes standard with three sets of remotes with flow control at the rear.
A feature I really like is the first two sets of remotes being controlled by a single joystick; meaning two operations can be completed simultaneously with one hand.
The third set of remotes is controlled in the traditional way using a switch on the operator console. Of course mid-mount remotes are fitted for the frontend loader.
 For the frontend loader Deutz is utilising the more modern electronic thumb controlled joystick which I find really sensitive and takes a bit of getting used to.
DEUTZ-FAHR 5130 TTV PERFORMANCE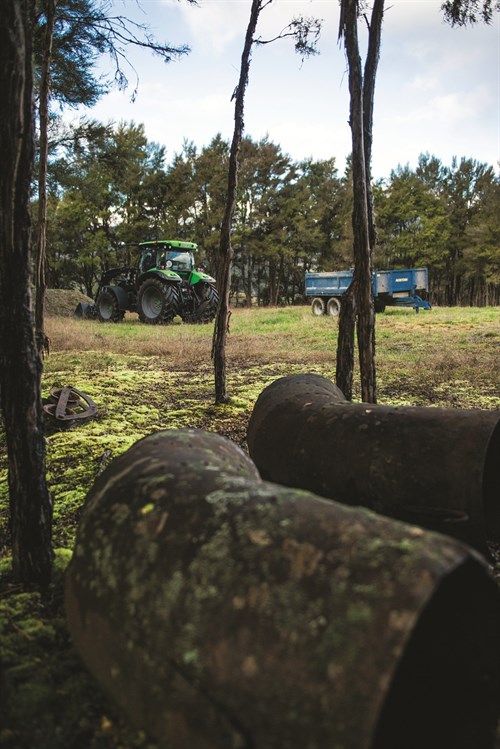 Setting a maximum speed is the first step and can be anywhere between zero and 50km/h.
Selecting forward or reverse on steering column's shuttle lever is next, followed by pushing on the foot throttle. It's that simple.
Driving in the automatic mode is very similar to driving an automatic car and as I make my way around the Brooker's dairy farm it's just a matter of easing pressure on the throttle to pass through rough ground then speed up again in good going.
The real test will be whether it is simple and efficient in a practical test of loading a tipping trailer with gravel.
Still in auto mode I begin my approach to attach the trailer and find I have complete control of the 5130 while reversing, using the foot throttle to control my speed.
I just need to apply the lightest touch on the pedal to creep the tractor backwards towards the trailer with complete control. The moment I take my foot off the pedal the 5130 TTV stops and holds its position so the hitch pin can be dropped in.
 Known as Active Stationary Control or Power Zero, this feature allows the transmission to hold the tractor completely stationary on any slope just by taking your foot off the throttle pedal.
Manoeuvring around the farm's hilly terrain with the trailer on behind gives a good indication of how the auto transmission works. The Deutz 5130 automatically increases revs of its own accord so as to maintain pre-set speed as the tractor comes under load.
This is where it gets its fuel efficiency because it only ever revs as hard as is required to complete the task.
While filling the trailer with gravel I find I have to switch into PTO mode as this allows me to increase and maintain engine speed to about 1,500 revs manually on the hand throttle.
This gives better hydraulic oil flow and prevents stalling when pushing into the pile of gravel. The sloping bonnet and huge glass panels in the cab and sunroof provide great vision of the loader even at full reach.
To really test the Active Stationary Control feature I stop the tractor half way up an extremely steep incline with about six ton of gravel on the trailer and without applying any brakes the 5130 maintains a complete stationary position.
To be honest I am becoming a fully converted fan of variable transmission. After only about an hour of play I am already convinced that this is the way of the future and much easier to adapt to than I had previously envisaged.
DEUTZ-FAHR 5130 TTV SERVICING AND MAINTENANCE
Routine servicing is required at 500- hour intervals only and daily maintenance has been kept to an absolute minimum.
Greasing is limited to the front axle pivot point, the rear axle (one either side) and one nipple on each rear linkage adjustment arm.
Blowing out the slide out radiator grills takes only minutes and the air cleaner filter is easily accessed from in front of the radiator.
THE VERDICT
From someone who was hesitant about variable transmissions I am completely converted. The view is amazing and cabin layout fantastic.
In my opinion the Deutz-Fahr 5130 TTV's best attribute is the ease with which you can learn how to operate it, a factor paramount to both the more mature farmer and the younger, inexperienced operator.
The only negatives I detect are toolbox being nearly inaccessible under the right hand side step and the awkward positioning of the engine oil dipstick and filler.
My final word is: if I was in the market to purchase a new tractor I wouldn't hesitate to get a 5130 TTV. I give it ten out of ten.
DEUTZ-FAHR 5130 TTV HITS:
Really easy to operate
Great cabin layout
All-round driver vision
Easy to operate modern variable transmission
Great lighting package
Joystick control of first two sets of remotes
Active stationary control
DEUTZ-FAHR 5130 TTV MISSES:
Inaccessible toolbox
Oil dipstick and filler are hard to get to
DEUTZ-FAHR 5130 TTV SPECIFICATIONS:
Engine: 3.6-litre, 4 cylinder, turbocharged common rail diesel, 127hp (max) @ 2,300 rpm. Tier 4.
Transmission: TTV 2 range variable transmission, three modes (Auto, Manual, PTO), wet clutch power shuttle, 50km/h road speed @ 1,900 rpm
PTO: 540/540E/1,000rpm, Independent wet multidisc clutch, push button control
HYDRAULICS: 90l/min Eco Hyd system, 40l/min steering pump, three sets of remotes
LINKAGE: Category ll hook ends, 6,600kg lift capacity
FUEL TANK: 165 litres
TYRES: 440/65R28 front, 540/65R38 rear.              
For the full report, pick up a copy of NewFarmMachinery magaizne issue 12, on-sale August 11. Subscribe to the magazine to never miss an issue.
Find Deutz-Fahr tractors for sale.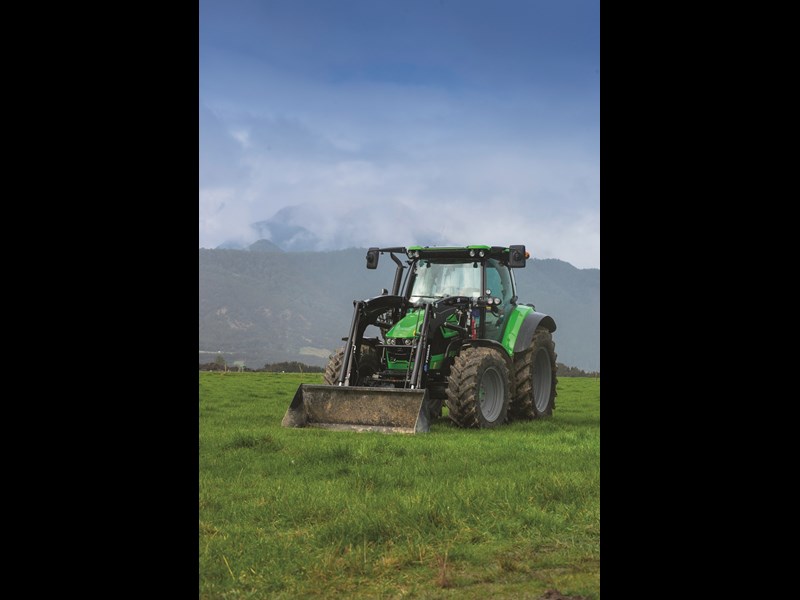 NZ farmers are first outside of Europe to get their hands on the new 5 series tractors by German manufacturer Deutz-Fahr.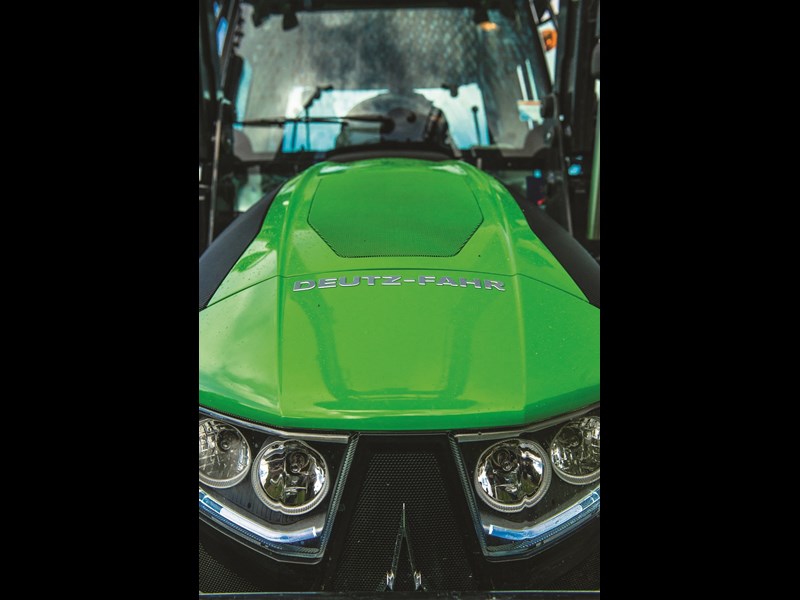 Under stormy sky's the modern lighting package provides great all-round visibility for night time work and daytime LEDs increase the tractors visibility during daylight road use.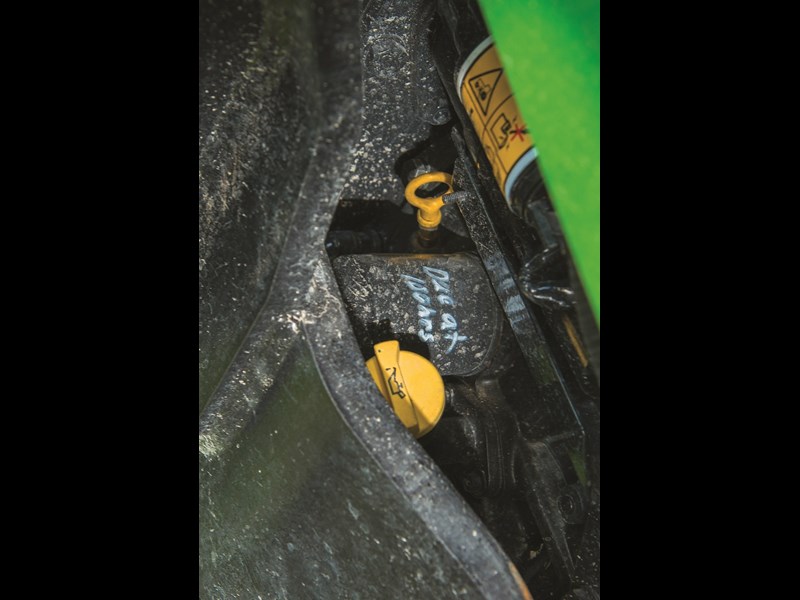 The engine oil filler point and dipstick are clearly visible between the engine bay and loader mounting beams but are very difficult to get at for daily checks.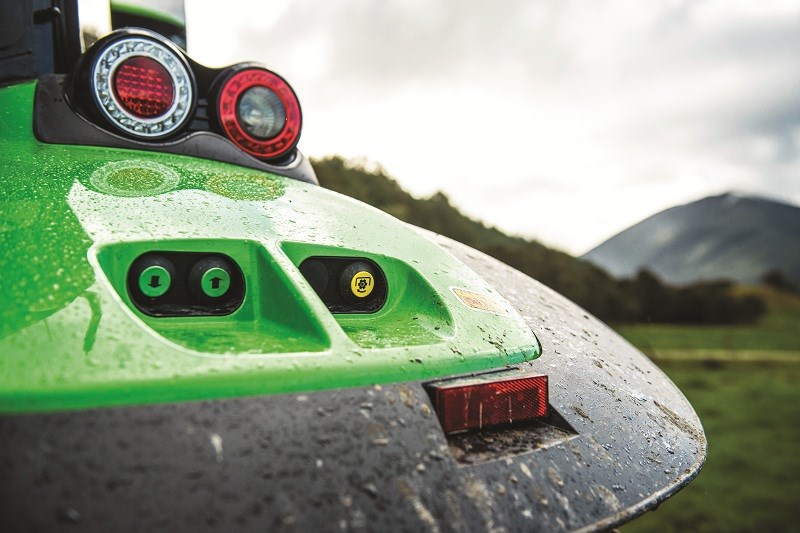 Rear fender control buttons for linkage and PTO functions are a great safety feature as well as saving valuable time during implement attachment.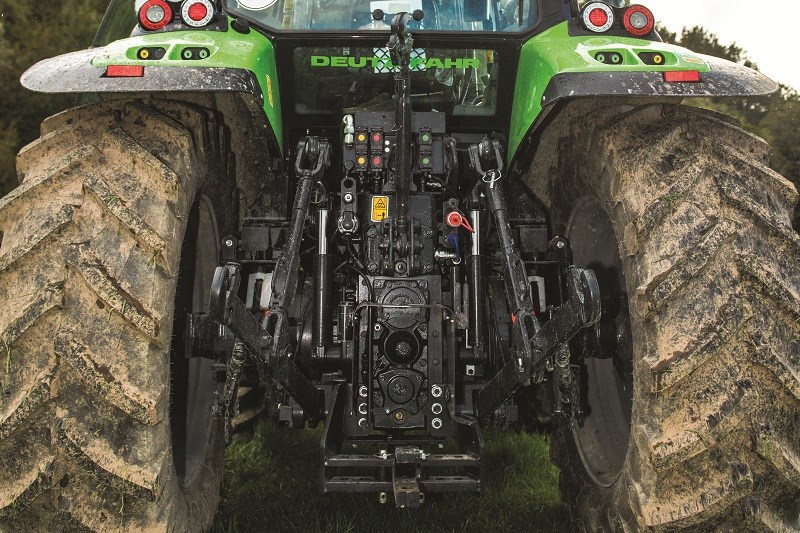 The powerful looking rear end has a sight glass for transmission oil check and only four grease points.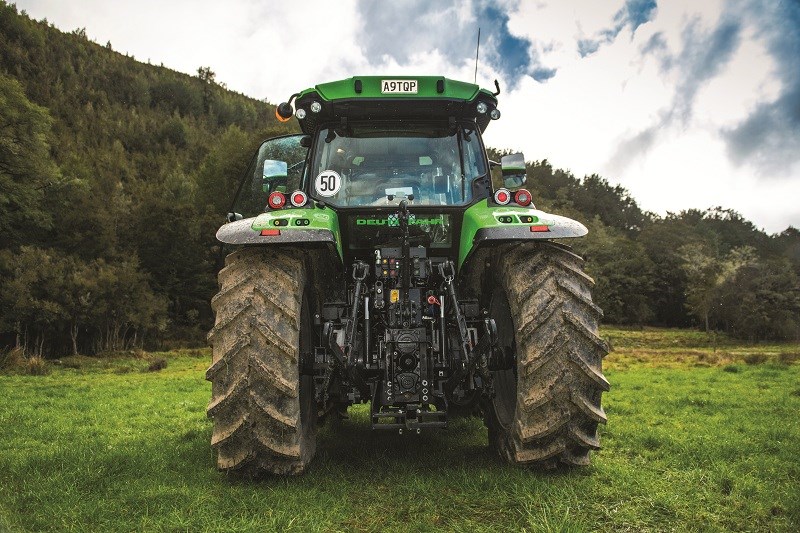 A great tyre package gives terrific grip in all types of terrain.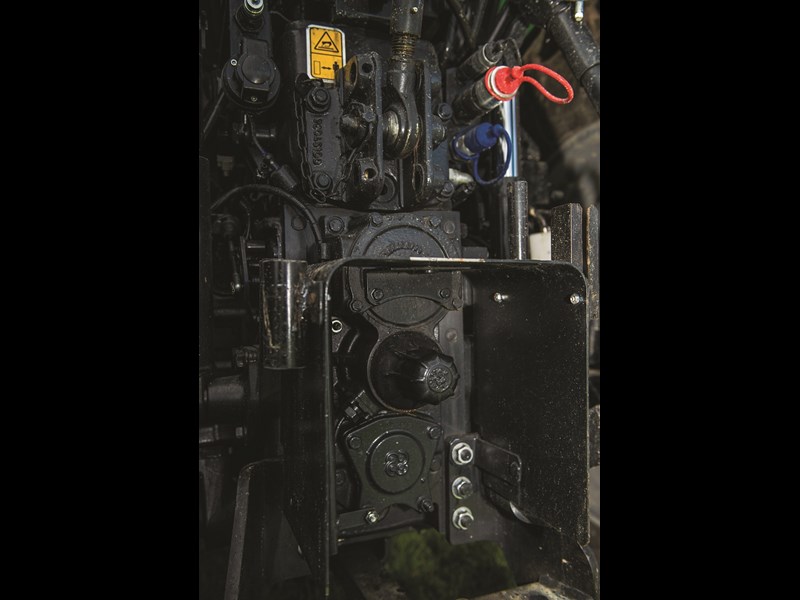 Equipped with a three speed PTO the 5130 also comes with an interchangeable PTO spline.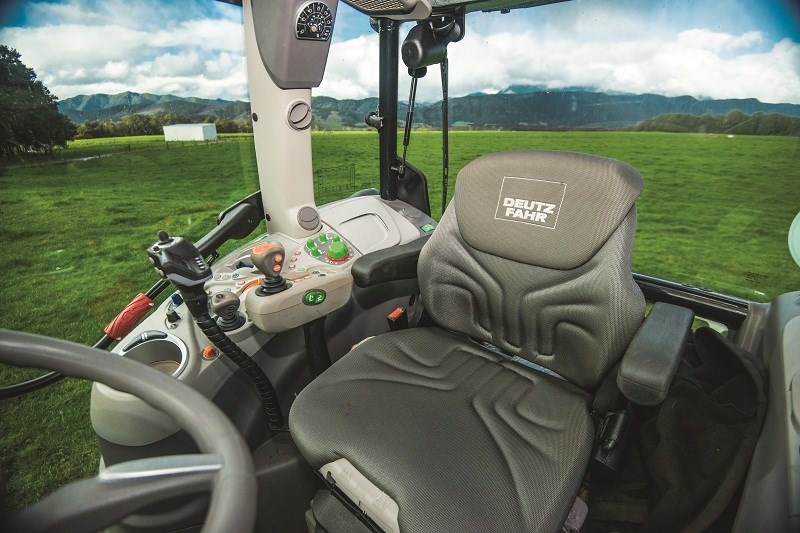 For me a highlight is the design and comfort inside the cabin and the all-round vision from the driver's seat.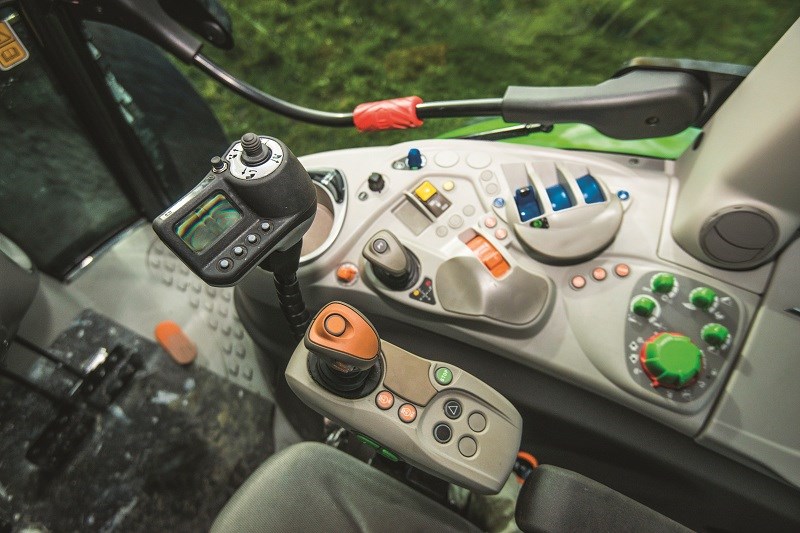 The colour coded operator control console is easy to understand and even easier to access while driving.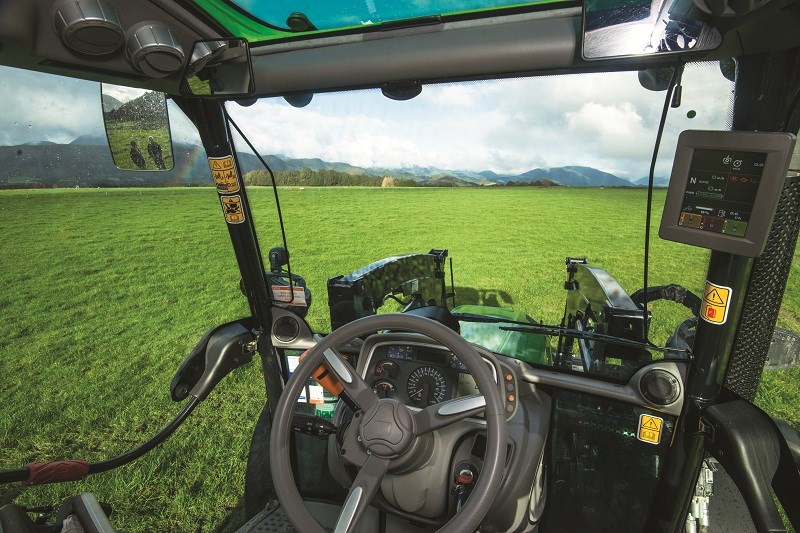 The view from within the cabin of the 5130 are exceptional and quite possibly the best I have seen.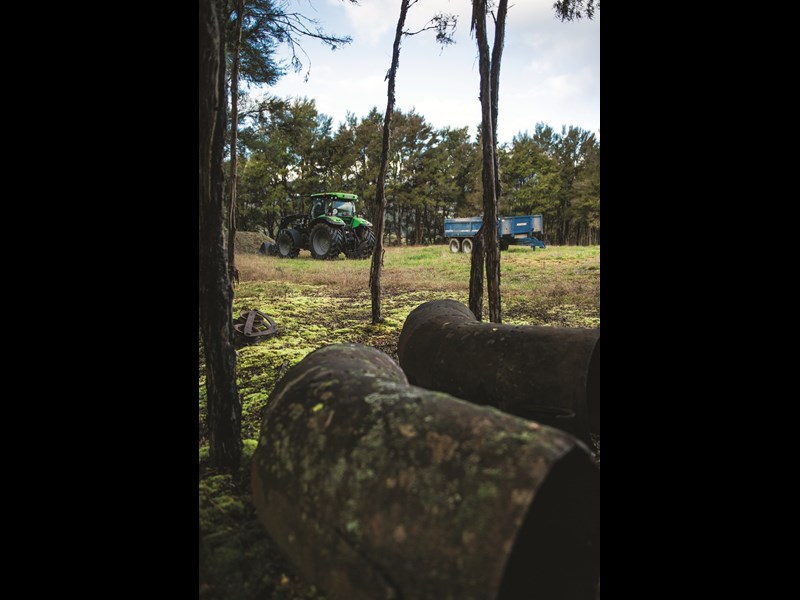 Manoeuvrability and vision make the 5130 TTV perfect for loader work.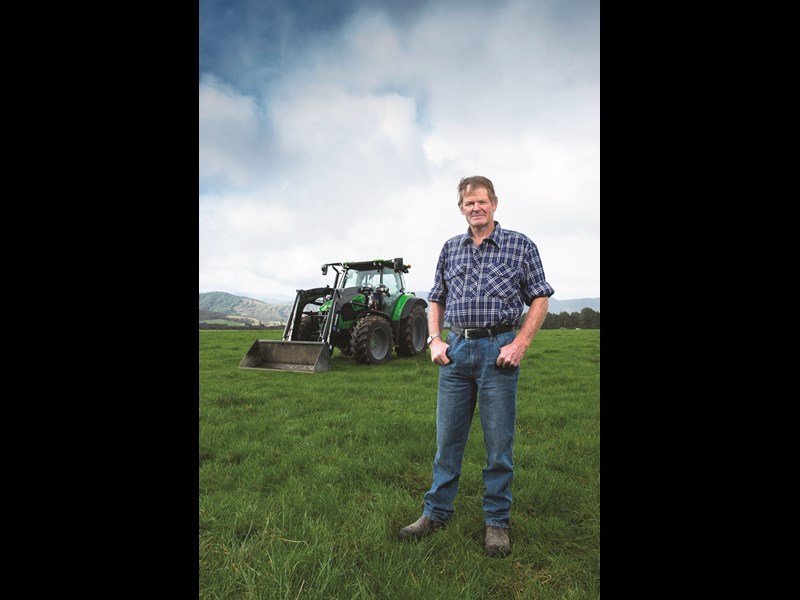 NZ dairy farmer Peter Brooker, who also runs an agricultural contracting business at Maruia on the South Island, says strength and reliability are key factors that keep him coming back to a Deutz.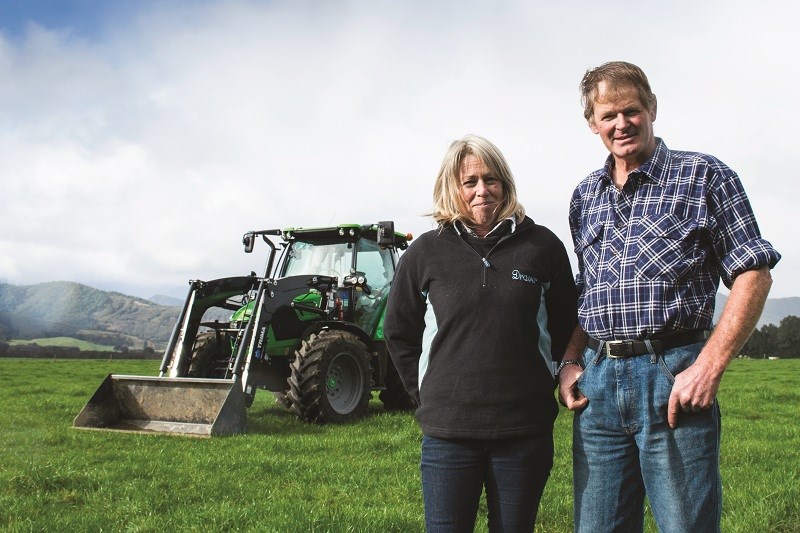 NZ farming couple Margaret and Peter Brooker run an agricultural contracting business alongside their dairy farming enterprise and say they are extremely happy with new 5130 TTV that joins their existing stable of Deutz-Fahr tractors.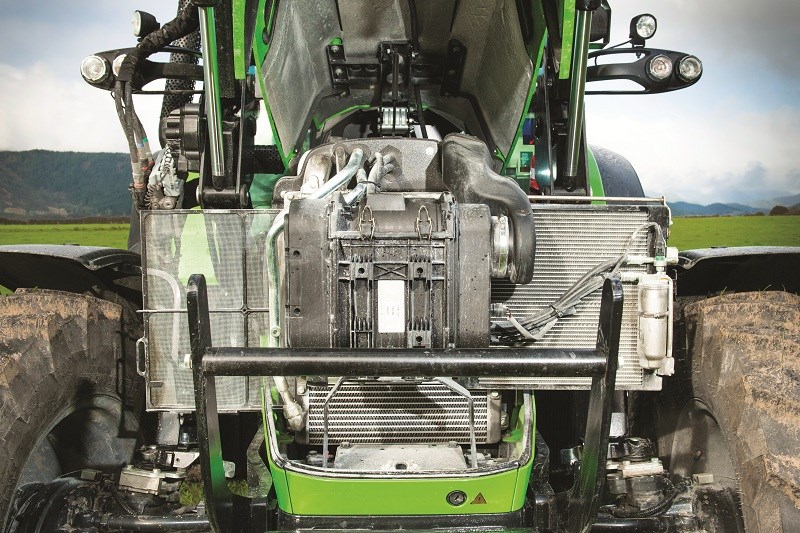 Plenty of space is allocated to the radiator grills and air cleaner assembly for easy access and maintenance.

Subscribe to our newsletter
Sign up to receive the Trade Farm Machinery e-newsletter, digital magazine and other offers we choose to share with you straight to your inbox
You can also follow our updates by liking us on Facebook. 

Graders For Hire | Cranes For Hire | Telehandlers For Hire | Excavators For Hire