REVIEW: Hanmey Trio MD-50 MKII Tracked Tractor Dozer
---
For most Aussie farmers, working the land means various types and sizes of wheeled vehicles — from utes and quads to tractors and sprayers. NFM's Steve Kealy tracks down a unique alternative.
If you work land that's not hard packed, mostly dry and reasonably flat, it might have occurred to you a tracked vehicle would make a lot of tasks easier, quicker and safer.
However, tracked vehicles are expensive, big, heavy, require special training and cost a lot to run and maintain — and anyway, a dozer is good for pushing dirt around, dragging stuff — and, well, that's about it really.
But what if you could have a mid-sized tractor but with tracks instead of wheels; the versatility, ease of operation and adaptability of your regular tractor, but with the extra grip and stability of broad steel tracks?
Thanks to some Aussie lateral thinking and a bit of trans-national collaboration, now you can.
CONTENTS
Hanmey Trio MD-50 MKII: Dozer, Loader and Tractor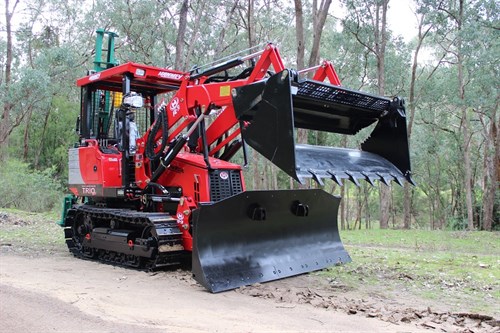 Australian family-owned business Midway Sales who distributes other Asian farm machinery rbands such as Eastwind tractors and Branson tractors have been agents for Hanmey for several years.
The Hanmey Trio MD-50 is unique. It's a purpose-built machine, made in China to Australian design and sold, so far at least, only in Australia.
As it goes into its fifth year of production, the one you see here is the MKII version.
It's designed to be a hybrid, blurring the lines between a simple loader, a tractor and a small dozer, and can be ordered with an array of implements to match pretty well any application.
Aussie requirements saw hefty steel used for the chassis and body panels and to their credit, the Chinese engineers produced what was asked of them. Also specified for the Aussie market were a stout rollover protection structure (ROPS) and falling object protection structure (FOPS).
Essentially a tracked tractor, the Trio drives via steel dozer tracks and it can be ordered with a six-way adjustable blade, a four-in-one bucket and just about anything that can be driven by a power take-off (PTO) and three-point linkage (TPL).
Use of the blade and bucket is an either/or situation. They're both fitted to the Trio for transport, but one or the other needs to be detached and parked so the desired implement can be hooked up to the hydraulics. Swapping over is about a 15-minute job, or less if you do it a lot.
Incidentally, the 0.7 cubic-metre capacity bucket is rated at a nominal 1,000kg load.
Hanmey Trio MD-50 MKII Engine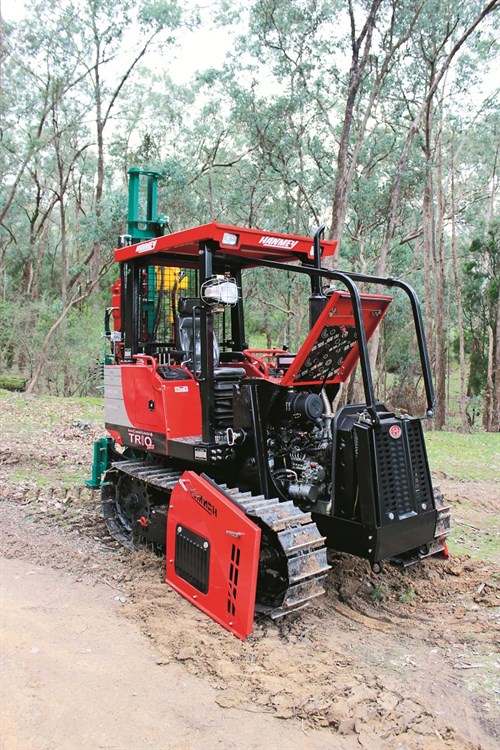 What differentiates the Trio MKII over its predecessor is primarily the use of a 2.2-litre, 4 cylinder turbo-diesel Perkins industrial engine to replace the previous 3.1-litre Chinese-built naturally-aspirated diesel. Other details are quieter temperature controlled cooling fans — as opposed to permanently running fans, a different seat and revised digital instrumentation.
The new engine comes with several benefits — while the power output is nominally the same: 61hp, the Perkins engine delivers much of its peak torque (45.5kW) from idle — so the operator has an easier time of making subtle movements.
It's also much quieter in operation, meaning less workplace noise, making for a more relaxed environment for the operator and anyone else working nearby.
In addition, the Perkins engine is tiny by comparison to the chunky Chinese unit, meaning there's a lot more space under the bonnet, making the service technician's job a lot easier.
Hanmey Trio MD-50 MKII Controls and Cab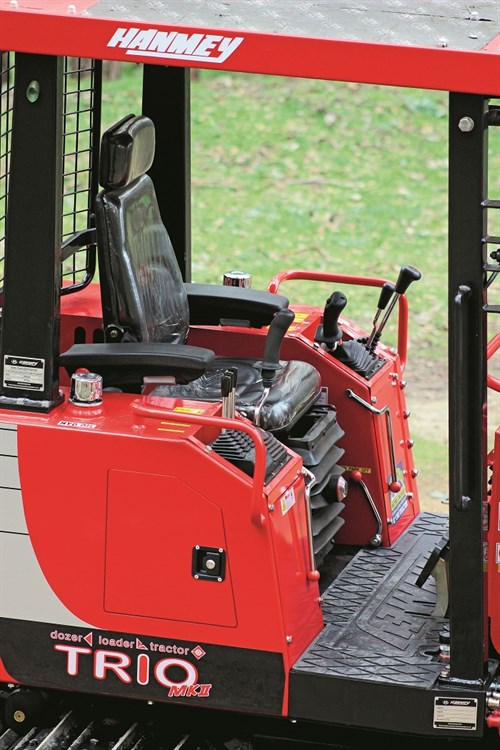 Using the machine isn't for novices — unlike a regular tractor, there's no steering wheel and in terms of operation, the Trio is closer to a dozer — though the six-way blade or the bucket operates via a single joystick, which is intuitive enough.
Steering and braking is by foot like an aircraft and there are two speeds in forward and reverse, with a user-friendly power shift shuttle.
In the cabin, the new style seat offers good support and the flat floor with a heavy rubberised surface is trip-hazard free.
The bucket and blade controlling joystick and lightly sprung hand levers offer linear, progressive control with a hands-free default to zero activity; drop-down lock-out bars also isolate the controls.
Given the Trio might well operate in cold and wet conditions, a glass-wall cabin would be welcomed by many; it's not available without going to larger and very much more expensive machines — which is not to say that with enough demand, Hanmey might be able to offer something in the future.
Hanmey Trio MD-50 MKII Performance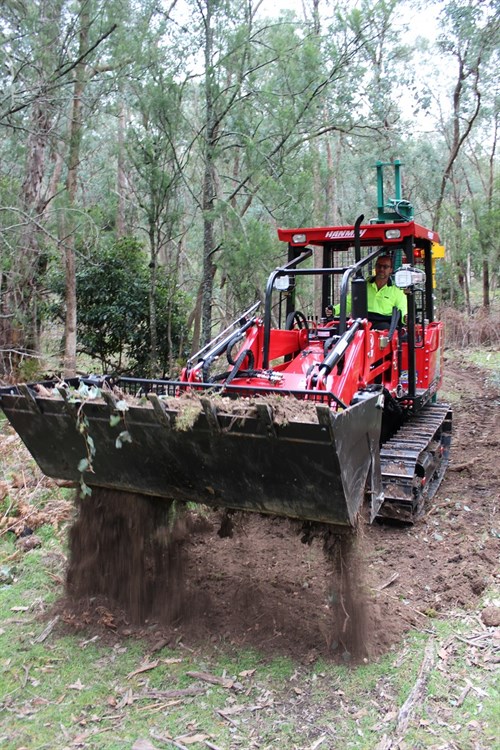 Unlike a wheeled vehicle and typical of a dozer, the Trio isn't especially fast, so travelling any distance between jobs will either require an early start, a lot of patience and a packed lunch, or the ability to load up onto something a bit brisker.
The basic machine weighs in at a not-inconsiderable 4.15 tonnes and the bucket adds another 856kg, the blade a further 553kg. Being a 5 to 5.5-tonne machine, it has special requirements for transportation and won't fit onto the average car trailer — it'll need a flatbed at the very least.
The Trio also won't be suitable for some applications — for example, the steel tracks aren't kind to asphalt surfaces and will snag cracks in concrete workshop floors.
Operating across a slope on less grippy ground can see the 300mm wide tracks side-slipping a bit too — but that's all. There's no toppling over and the leading edge finds traction soon enough.
The machine stands almost 2.6m tall to the top of the FOPS, with a post hammer or backhoe potentially making it taller still. This and the very nature of skid-steer vehicles make delicate manoeuvring in confined spaces harder for the Trio's operator, even though at just 1,600mm wide across the tracks and 2.6m long along the cabin, it's not a huge machine.
The Verdict
At just under $60,000 for the bare machine and then rising as bucket, blades and other equipment is specified, it's undeniably more expensive than similar-sized wheeled machinery, so putting it to work for more hours per year will be vital if it's to pay for itself.
As you see it here, with a bucket, blade and post hammer, the Trio stands in at close to $94,000. So it's a machine that's going to see a lot of work to earn its keep.
Some buyers are single or company contractors who move from job to job in a small or large regional area, performing tasks more effectively or faster than can the land owner with more conventional machinery.
Other buyers are people working land which isn't best served by wheeled vehicles for whatever reason: wet, steep, rocky or loose are all surfaces that favour tracked vehicles.
No matter who buys a Trio, they'll be entering a world of surprising versatility with new possibilities for getting the job done.
Hanmey Trio MD-50 MKII Specifications

Make/Model: Hanmey Trio MD-50 MKII tracked tractor
Engine: Perkins 404D-22T, 4 cylinder diesel, water cooled, four stroke, indirect injection
Engine power @rated rpm:         61hp/45.5kW at 3,000rpm
Displacement:   2.2 litres
Transmission:    Power shift
Speed forward / reverse:             Two forward/two reverse
Brakes and Steering:      Hydraulic assisted foot pedal control, (clutch/brake)
Hydraulic System:            CBHY dual gear pump
Hydraulic Oil Pump:         88l/m at 2,300rpm/17MPa
Total Operating Weight:                5,559kg
MD-50 Tractor Weight:  4,150kg
FL-50 Loader Weight:     856kg
FB-50 Blade Weight:       553kg
PTO:      Yes
Three-point linkage:       Yes — Cat 2
Tracks:  Steel
Power Angle Tilt (PAT) blade: Hydraulic six-way blade with PAT, quick release hydraulic
Blade Capacity:           0.9m3
Front End Loader:            Quick release, self-levelling, four-in-one bucket and lock-out pins
Bucket Lift Capacity:       1,000kg
Bucket Capacity:               0.7 cubic-metres
Blade/Bucket Width:      2,150mm/1,780mm
PTO:      Non-independent
PTO Speed:        540rpm and 1,000rpm
Linkage System:               Downward pressure with float
Linkage System Lift Capacity:      1,900kg
Fuel Tank Capacity:         65-litre diesel
Find tracked tractors for sale.
Look up tracked tractor specifications.
Subscribe to our newsletter
Sign up to receive the Trade Farm Machinery e-newsletter, digital magazine and other offers we choose to share with you straight to your inbox
You can also follow our updates by liking us on Facebook. 

Graders For Hire | Cranes For Hire | Telehandlers For Hire | Excavators For Hire