REVIEW: New Holland T6.160 tractor
---
When it comes to top of the range tractors engines, transmissions and hydraulics are all comparatively similar, so maximising driver comfort has become a major priority in the race to supremacy. Tom Dickson checks out the New Holland T6.
All my life I have not treated the Gippsland area with the respect that I am only just recently discovering it deserves.  
Recently I made the one and a half hour journey east of Melbourne to track down a new tractor and give it a test in the relaxed and easy going environment provided by the rolling hills of Gippsland.
Joined by Alto Motors Trafalgar Tractor Salesman Steve Moore I headed deep into the heart of Gippsland's rich dairy area to drop in at Mark and David Di Sisto's farm.
They have just replaced an aging New Holland TS 110 with the all new T6.160 Auto Command and we aim to find out if all the fuss surrounding New Holland's latest tractor release is warranted. 
Mark and David Di Sisto own and operate their 212-acre (85.8 hectares) property they purchased about 10 years ago and also lease a further 170 acres (68.8ha) from their father.
They are virtually self-sufficient preferring to do all of the feeding, hay and silage production, cultivation and sowing duties themselves.
For this reason they have purchased a tractor many would think is on the large side for a property of this size but it guarantees them the horsepower and weight required on hilly terrain.
CONTENTS
NEW HOLLAND T6.160 ENGINE

The T6.160 utilises common rail fuel injection, Auto Command transmission and selective catalytic reduction (SCR) technology.
The New Holland FPT (Fiat Powertrain Technologies) engine is an electronically controlled common rail, which means it only uses as much or as little fuel the engine requires for a specific task.
The T6.160 has a 4.5-litre, 4 cylinder turbo diesel with Tier 4 rating achieved by incorporating the Eco Blue SCR system.
The rated engine power is 131hp (96.4kW) and maximum engine power is 143hp (105.2kW) at 2,200rpm, but that's only half of it. With engine power management, or Engine Boost, that figure increases to 150hp (110kW) rated engine power and 163hp (119.9kW) maximum power.
The fuel tank volume is a really generous 175 litres so will be more than enough for a long day's work.
The nature of Eco Blue SCR system allows the engine and fuel system to run in a much cleaner fashion. A direct result of minimising fuel and exhaust contaminants means service intervals on the engine have been stretched out to 600 hours.
NEW HOLLAND T6.160 SERVICING AND MAINTENANCE
The configuration of all the engine components is all quite standard. A large dual element spin tube air cleaner is mounted high and very easy to access and clean by simply unlatching three clips.
The front cooling elements are hinged and swing away from the main radiator for simple blowing out. This is ok but I think not quite as good as the system where cooling elements slide out sideways.
A really good feature is the placement of the engine oil dipstick or more importantly its accessibility. Most tractors have a pretty little yellow dipstick that's relatively easy to see but as soon as the frontend loader is fitted you need to be a contortionist to get to it.
On this particular combination of tractor and Howard loader a ten centre meter hole is positioned in the loader mount directly over the dipstick to provide perfect access.
The bonnet is hinged at the rear and lifts completely clear of the engine, possible as good as you could get. Gas struts push the bonnet right to the top then a strap is used to pull it back down.
NEW HOLLAND T6.160 TRANSMISSION
New Holland has chosen to call the electronically controlled continuously variable transmission (CVT) Auto Command.
The Auto Command has four different modes of driving to suit individual tasks undertaken Auto, PTO, Cruise and Manual.
 Auto lets the tractor perform in the most fuel efficient manor; PTO provides constant preselected power take-off speed to implements under varying loads; Cruise simply allows preselected speeds to be stored for use where constant speed is required; and Manual reverts back to a more traditional style of driving but compromises fuel economy.
I've done a complete 180-degree turn on recommending how to get used to driving a CVT. Once I suggested starting in manual mode, now I reckon jump straight to auto because I'm not finding it intimidating.
According to Steve Moore, New Holland's own Auto Command transmission gives full mechanical efficiency under any load be it taxiing between jobs or under full load.
"New Holland's Auto command transmission will select the most efficient gearing for the job at hand without any driver input," he says.
NEW HOLLAND T6.160 CONTROLS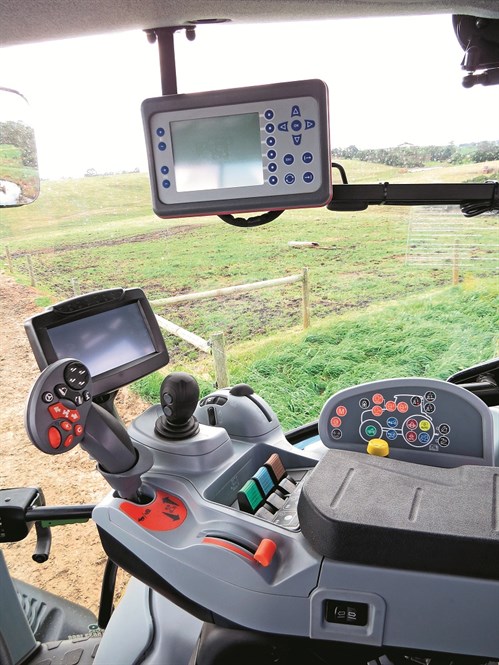 To relay how easy it is I will walk you through the process. First place foot on clutch and turn the key to start the engine. Second move shuttle lever to forward. Third apply pressure to foot pedal and away you go. That's basically all there is to it.
Now it's just a matter of getting used to the options of each step. The foot pedal and the hand lever on the arm rest do the same thing and that you can select different speed ranges. Just take it slow and keep it simple.
A nice feature is revealed while reversing using the hand lever to control movement. When the shuttle is placed in reversed position on most tractors to initiate reverse movement the hand control lever has to be pushed forward, which can be quite confusing.
On the T6.160, the driver pulls the hand controller backwards to initiate movement in reverse. it's a simple compromise that reinforces that New Holland has taken a common sense approach regarding design.
NEW HOLLAND T6.160 CAB
The floor of the cab is made of a really soft spongy type material, which makes it super comfy underfoot. The idea is that it reduces vibrations coming through the floor and into the driver's legs.
New tractors seem to be putting more and more emphasis on improving the cabin space but the T6 is exceptional. When I sit down nothing feels quite right and I'm actually very disappointed.
The vision out is fantastic and is mainly due to the side doors hinging from the rear pillars so the each side is a single sheet of glass with no visual obstruction.
Front end loader work is further enhanced by rolling back the sunroof screen to give a clear view through the roof.
Steve has been promoting the Sidewinder II armrest as one of the best in the industry. Transmission control, hydraulic, linkage and PTO functions are all operated from this armrest attached to the driver suspension seat, so moves with the driver at all times in even the roughest conditions.
The trouble is I can't reach the controls comfortably. Then Steve points to an electronic switch. When I pull back on the switch the whole armrest moves backwards until I stop it in exactly the right place to suit my arm's length.
Now I feel completely comfortable and 100 per cent in control. Tune in the stereo and I'm ready for a long day's work behind the wheel.
NEW HOLLAND T6.160 PTO, LINKAGE AND HYDRAULICS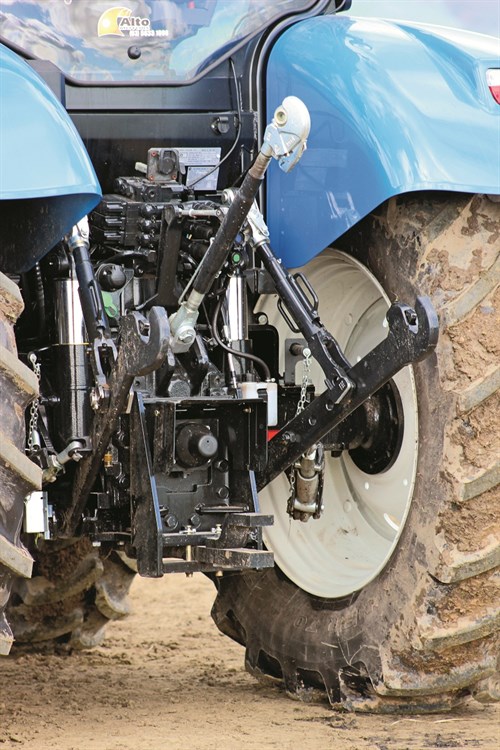 There is nothing special I can tell you about any of these functions that is above the norm or better or worse than any other on the market.
The PTO has three speed options and can be engaged in the cab or via a button on the rear mudguard. Standard is Auto soft start electro hydraulic engagement, Auto PTO stops and starts with three point linkage position.
The Di Sisto's T6.160 is set up with category 3 linkage with hook ends but it should be stated that category 2 is also an option. Rear mudguard control buttons, speed control of lift and drop as well as maximum lift control is standard.
All tractors in the T6 range have a healthy 7,864kg maximum lift capacity at the ball ends. They also all run a closed centre hydraulic system that has a main pump output of 113 litres per minute plus an independent pump dedicated to servicing the steering that delivers 47 litres per minute.
Three sets of electro hydraulic remote valves are fitted at the rear and a further two mid-mount sets are fitted for the frontend loader.
I did find that controlling the front end loader was a little tricky because I just thought the oil flow response was maybe a little sensitive but this can be adjusted to suit individual requirements.
THE VERDICT
I am really happy with what I've seen but Mark Di Sisto uses it every day and he claims he's rapt.
"We are extremely happy to date with our New Holland T6.160 tractor," he says.
"We needed an all-round tractor on our farm for feeding hay and silage, paddock renovations and hay and silage production and the T6.160 provides that. With 160hp [119.9kW] and easy to control Auto Command CVT, it makes operation simple, smooth and time efficient."
In summing up the T6.160 Auto Command tractor is as basic or complex as you want it to be.
For a novice operator this machine is very forgiving with only the basic inputs required to operate, on the other hand for the operator spending long hours in this machine it is extremely comfortable offering less fatigue for the operator.
NEW HOLLAND T6.160 HITS:
Soft cushion floor
Sidewinder II electronic adjustable armrest
Easy to operate CVT
Huge single panel glass doors
Wider fully moulded rear mudguards
Dipstick access
High lift bonnet
NEW HOLLAND T6.160 MISSES:
Frontend loader hydraulics a bit sensitive
NEW HOLLAND T6.160 SPECIFICATIONS
ENGINE:163hp maximum engine power with engine boost, 4.5-litre Eco Blue, 4 cylinder turbo charged   , electronic common rail fuel injection
TRANSMISSION: Auto Command CVT, 50km/m max., four driving modes, three speed ranges
HYDRAULICS: 113l/min pump flow (separate 47l/m steering pump), 3 electro hydraulic valves to the rear / 2 mid mount valves
LINKAGE: Cat 2/3 linkage with hook ends, external linkage control, 7,864kg maximum lift at ball ends
PTO: 540/540E/1,000 in cab shiftable PTO, auto soft start electro hydraulic engagement
CABIN: Comfort ride — cab suspension, Sidewinder — electronic adjust armrest, Horizon — high visibility cab, air-conditioning — Bluetooth stereo
For the full test report, grab a copy of NewFarmMachinery magazine's next issue when it goes on-sale from September 8. Subscribe to the magazine to have it delivered.
Find New Holland tractors for sale.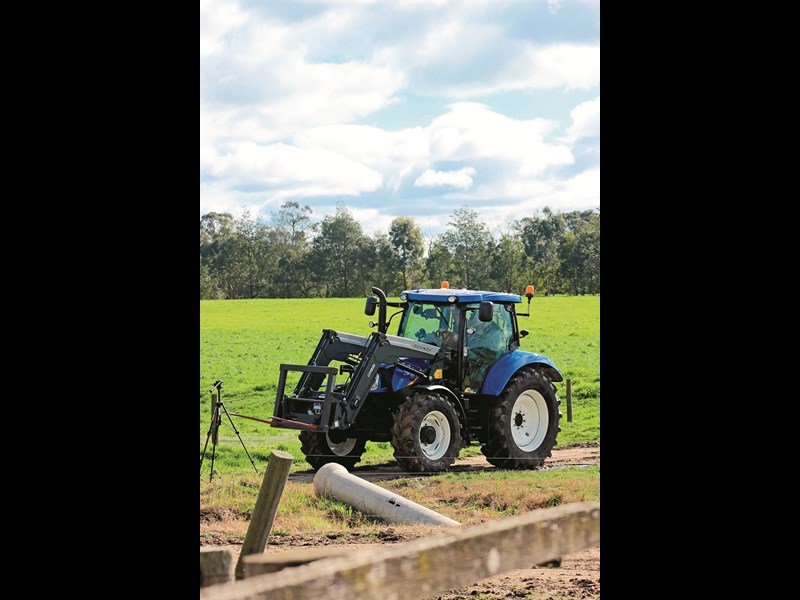 At 160hp the T6.160 has the body weight and grunt to perform most tasks on undulating terrain.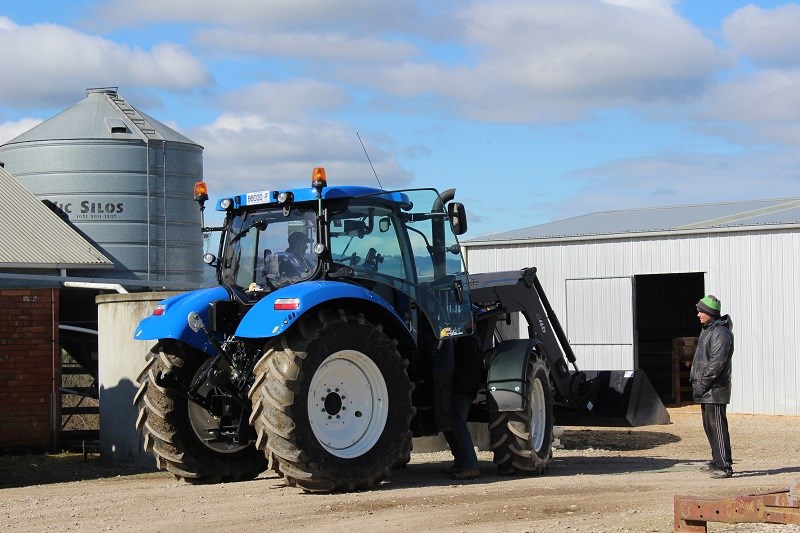 The T6.160 manoeuvres effortlessly around the tight confines of the Di Sisto dairy farm.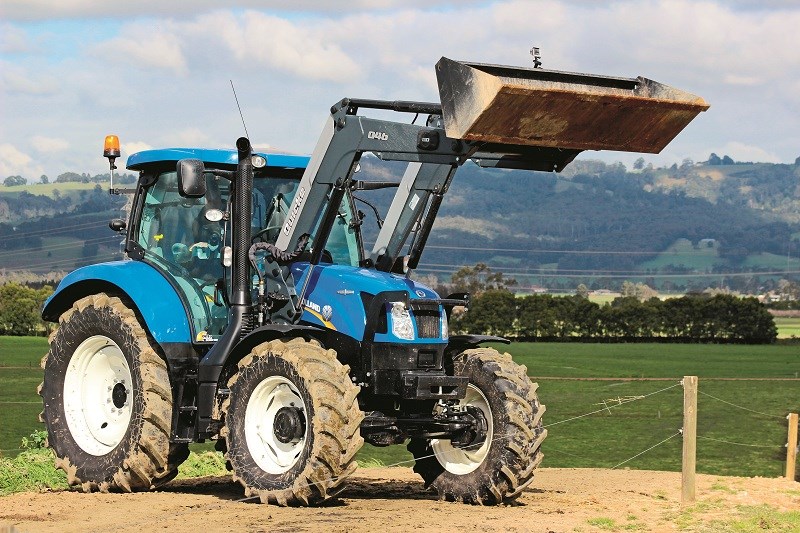 Even with the beauty of Gippslands' rolling terrain forming the backdrop, this Aussie icon looks magnficent.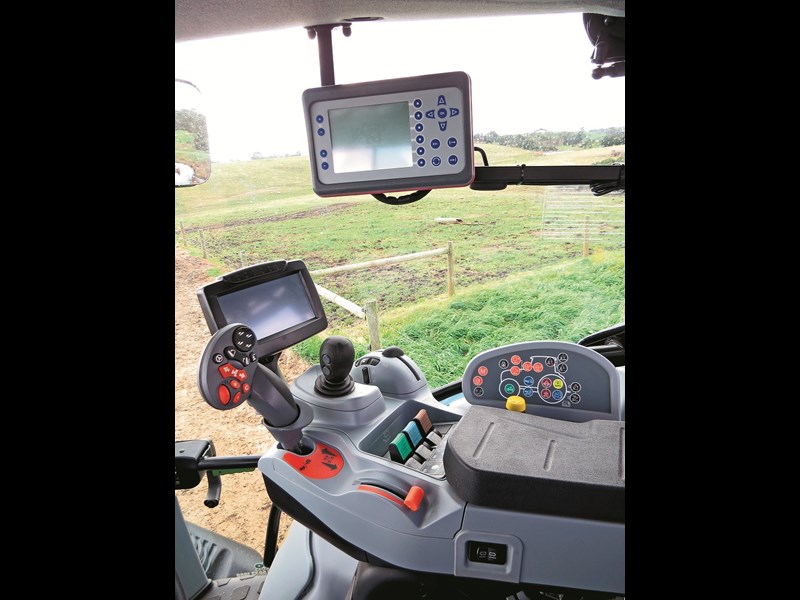 The New Holland Sidewinder — electronic adjustment armrest, with Intellview III display provides the ultimate in driver comfort and control.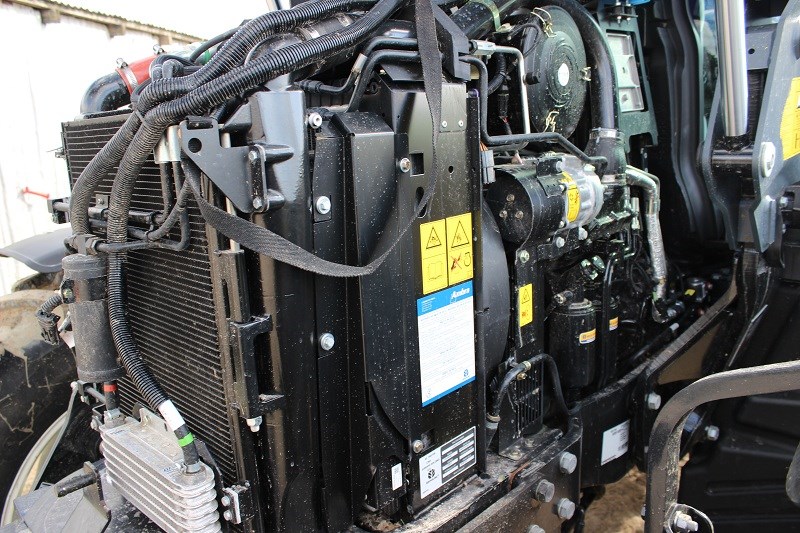 The T6.160 utilises common rail fuel injection, Auto Command transmission and selective catalytic reduction (SCR) technology .The New Holland FPT (Fiat Powertrain Technologies) engine is an electronically controlled common rail, which means it only uses as much or as little fuel the engine requires for a specific task.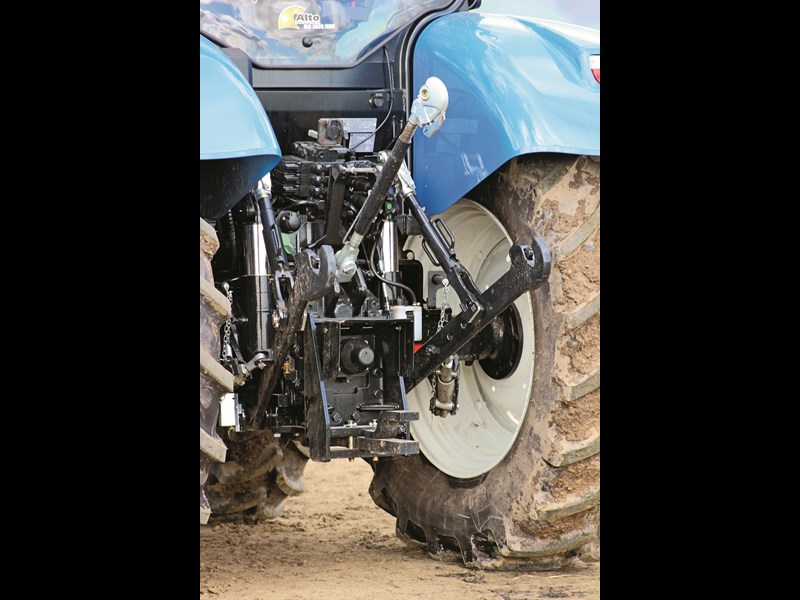 Category 3 linkage with quick hitch hook ends lift a maximum 7,864kg at the ball ends. Both lower links have height adjustable turnbuckles.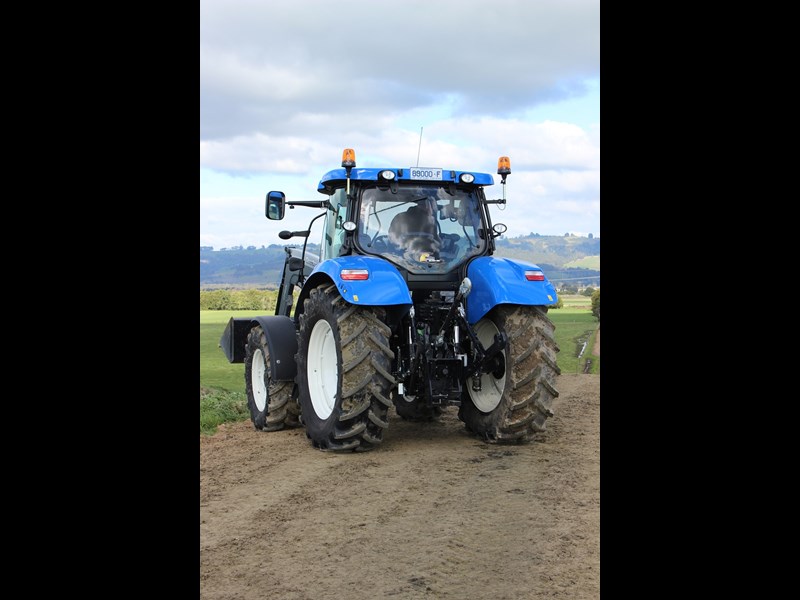 Wider moulded rear mud guards help keep the tractor in pristine clean condition.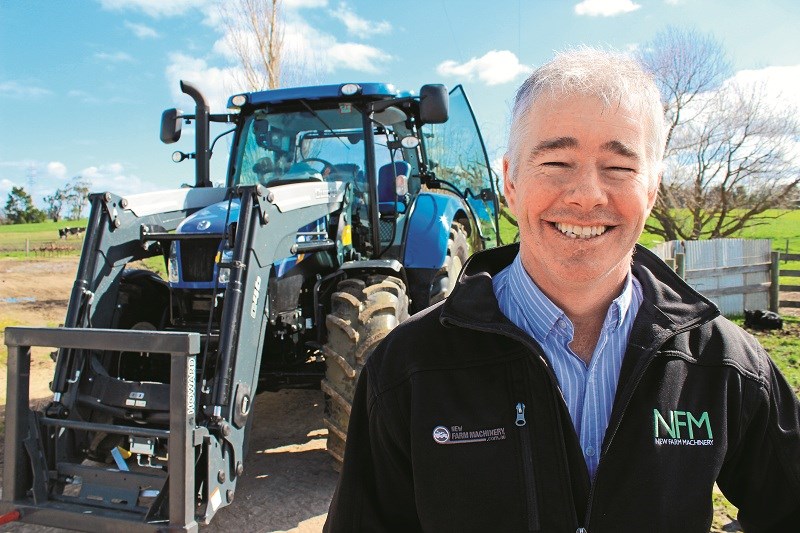 This is how happy Tom Dickson is with the New Holland T6 tractor.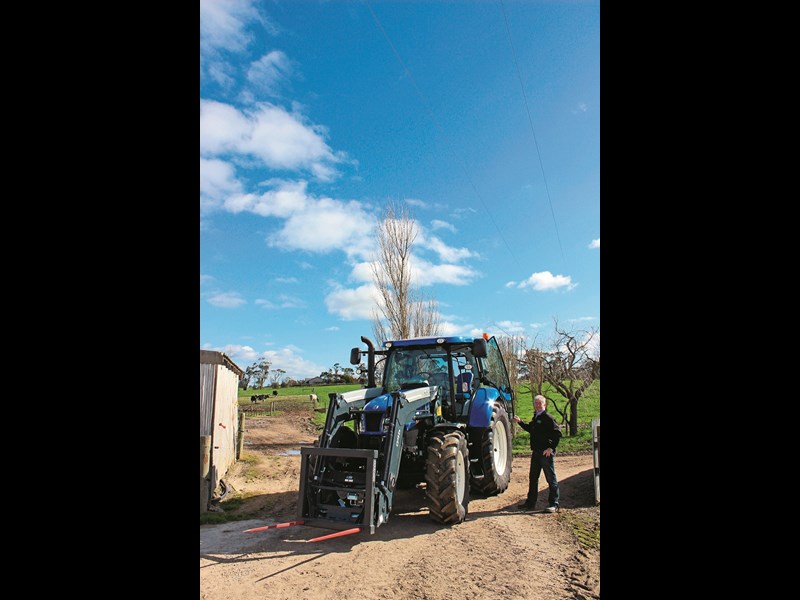 Adding the Howard front end loader trasnforms it into a true all-rounder.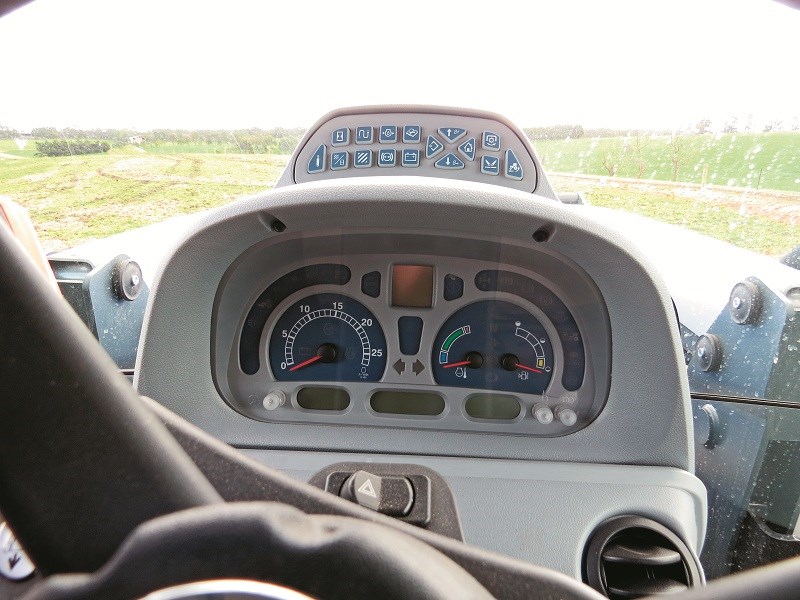 Mounted above the highly visible instrument panel are all the controls for the headland management system.

Subscribe to our newsletter
Sign up to receive the Trade Farm Machinery e-newsletter, digital magazine and other offers we choose to share with you straight to your inbox
You can also follow our updates by liking us on Facebook. 

Graders For Hire | Cranes For Hire | Telehandlers For Hire | Excavators For Hire