REVIEW: Polaris Ute 570 ATV
---
Polaris made the Sportsman Ute 570 for Australasian farmers who are apparently harder on their quads than their American counterparts. Barry Ashenhurst finds out if the Ute really is tougher.
If anecdotal evidence is any indication, your average Australian land owner doesn't do much to mitigate the consequences of premature mechanical failure.
He's not that committed to preventive maintenance in other words, so problems are fixed only when they arise. He's not too worried about driving (or riding) his equipment to the limit. He tows to the rated capacity and beyond.
For that very reason, it is no wonder some off-road vehicle manufacturers come to Australia to prove their products. They would test their equipment in Australia before releasing it on a global market, and upgrade a spec where they thought it would do some good.
The recently introduced Polaris Sportsman Ute 570 is an example. This model was made for Australia and New Zealand, which explains the vernacular name.
CONTENTS
POLARIS UTE 570: THE MACHINE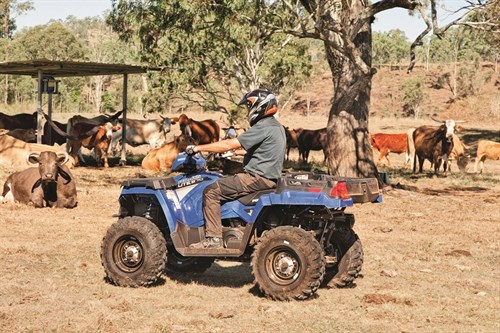 The Ute looked to us like a modified X2 without the pillion seat but we were wrong.
When it comes to wheelbase the Ute is something of a hybrid. It's 6cm shorter than a standard Sportsman 850 but 13cm shorter than the 550 EPS two-seater. Maybe Polaris needed a highly specific wheelbase for an all-terrain vehicle (ATV) with a dump box on the back.
The thing is, when you're on it the Ute doesn't feel any bigger, longer or wider than a standard Sportsman.
To prepare this quad for a hard life among you lot, several mods were carried out. It has got mirrors, indicators and a horn so it could be driven on properties where primary producer registration allows it.  
The ball-joints are now sealed and greasable. The driveshaft and suspension bushings were sealed too, in the hope that our particular brand of bulldust would be less likely to penetrate and grind to powder the critical components sealed therein.   
POLARIS UTE 570 ENGINE AND TRANSMISSION
The Ute got the 576cc Polaris engine, and what a damn fine engine it is. This ATV is fast enough for anyone and its acceleration suits us fine.
But the impressive feature of this engine coupled to this drivetrain —presuming you haven't bitten off more than you can spit out —is that it gives you precise control of the machine on any terrain.
POLARIS UTE 570 CONTROLS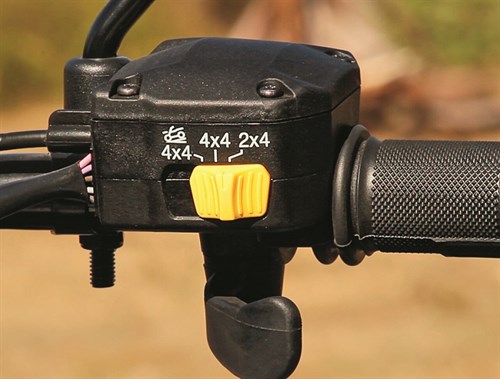 The control layout on the Ute is typical Polaris. Braking is controlled with a single handlebar lever on the left-hand side and a foot brake pedal on the right-hand side. Gauges are unchanged as far as we can see.
One control on the right-hand switch-block manages the two to four-wheel drive transition, and ADC engagement. It's all familiar and, from our ergonomic lookout, minimalist and efficient.
We've banged on about Polaris' four-wheel drive system being the best in the business and it still is.
The machine switches from 3WD to 4WD very quickly, certainly quicker than a Can-Am does, and unlike the Can-Am, you need no throttle to keep the diff lock engaged.
Polaris has also fixed the Auto Descent Control (ADC). The current version works well, though you won't always need it; the Ute has impressive engine braking even in high range without ADC.
Another feature we have to say is damn useful is that the power-steering on this quad is electronic. If you get caught on a nasty hill and have to turn around, not an unheard of predicament I'm sure you'll agree, you can turn the engine off, but as long as the ignition is on, you retain power-steering.
This means you can manoeuvre the quad, and use the brakes, throttle and gear shifter, while walking next to it.
POLARIS UTE 570 ATV PERFORMANCE
In our video review of the Ute above, you can see our chief tester Reg Grant crawling over a jagged boulder field, an obstacle posing no problems for the Ute when controlled by someone with Reggie's sensitivities and eye for the right line.
Gung-ho speed is no use here. What you need is a smooth throttle action, plenty of low down torque, and suspension clearance that enables the quad to get through without gouging metallic chunks from its nether regions.
Not one Asian-made quad ever made it all the way around our test track without damage. The Ute 570: no probs.
POLARIS UTE 570 SUSPENSION AND RIDE QUALITY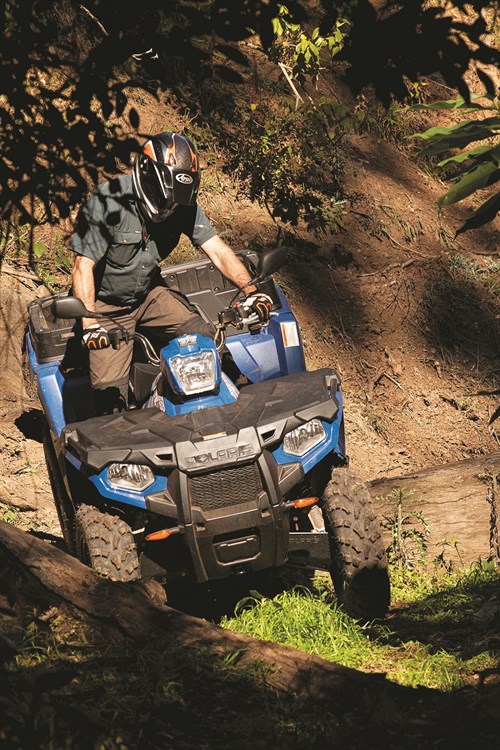 Polaris makes no specific mention of changes to suspension for this Australian model, which has a McPherson Strut up front and dual A-arms down the back.
McPherson Strut assemblies are cheaper to manufacture and of a simpler design so they tend to need less maintenance than dual A-arms and in many cases that's a good thing.
Generally speaking, ride quality is not as plush with a McPherson Strut, and handling less precise. Nevertheless the set-up on the Ute works well.
Ride quality is pretty good and no compromise seems to have been needed to achieve this in a suspension package that handles heavy as well as light loads with no mechanism for rebound or compression adjustment.
THE VERDICT
The Ute 570 retails for $10,000. Since there aren't many full-size ATVs with a rear dump box, and dump boxes are useful, maybe you should toddle down to the nearest Polaris dealer and have a look at Polaris's latest release.
Polaris Ute 570 Hits
All-round usefulness
Great drive system
Comfortable and easy to ride
Polaris Ute 570 Misses
The 570 was a little thirsty
POLARIS UTE 570 SPECIFICATIONS
ENGINE
Type: SOHC 4-stroke
Capacity: 576cc
Fuel management: EFI
Fuel tank capacity: 17 litres
Engine braking system: EBS/4WDC Auto Descent Control
TRANSMISSION
Type: Automatic PVT
Drive system: Polaris On-Demand AWD/2WD
Park brake: In the transmission
RUNNING GEAR
Front suspension: McPherson Strut w/20.8cm travel
Rear suspension: Dual A-arms w/ 26cm travel
Brakes: Hydraulic discs, twoup front, one on the rear.
Front tyres: 25x8-12
Rear tyres: 25x10-12
Wheels: Stamped steel 
DIMENSIONS
Length: 218.4cm
Width: 121.9cm
Height: 121.9cm
Dry weight: 352kg
Clearance: 27.9cm
Dump box dimensions: 96.5 L x 99.1 W x 20.3cm H
Dump box capacity: 180kg
PRICE
$10,000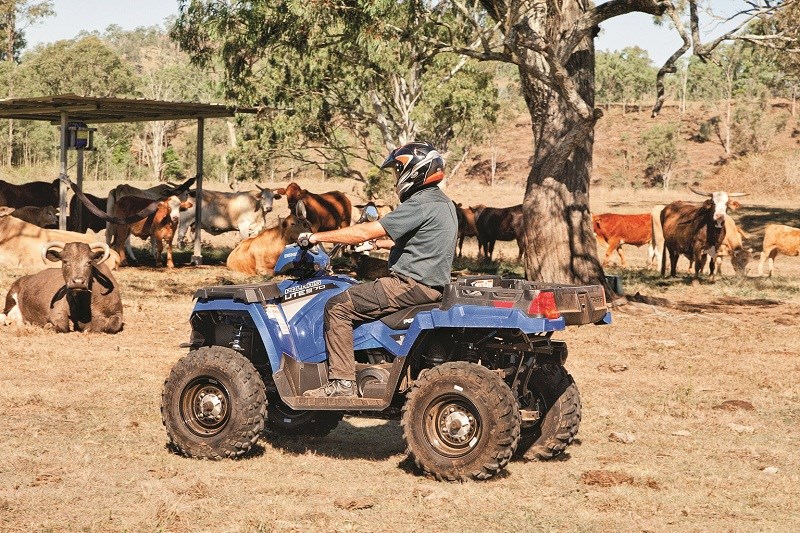 The Polaris Ute 570 ATV have been designed to suit Australians' hard yakka style.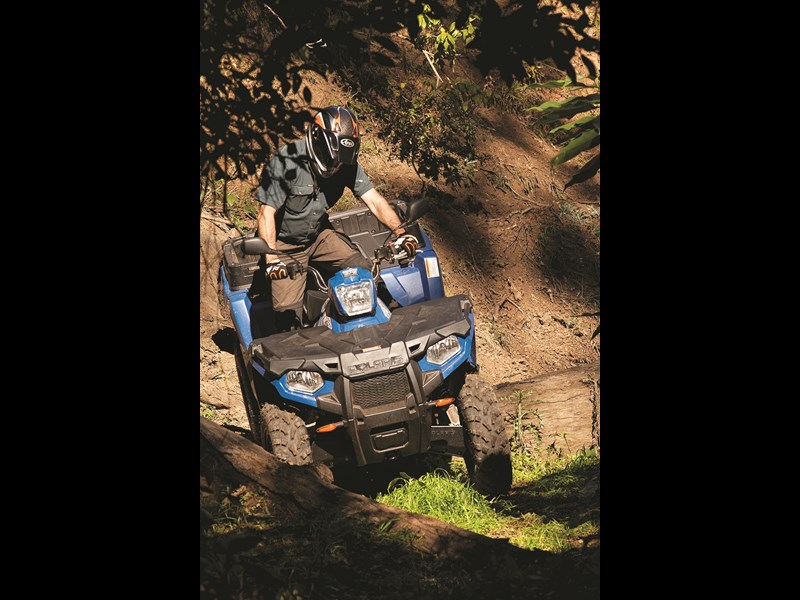 With the best AWD in the business the Polaris has no troubling climbing obstacles. The 576cc engine is a great all-rounder. We found it a little thirsty but you can expect that from a brand new engine.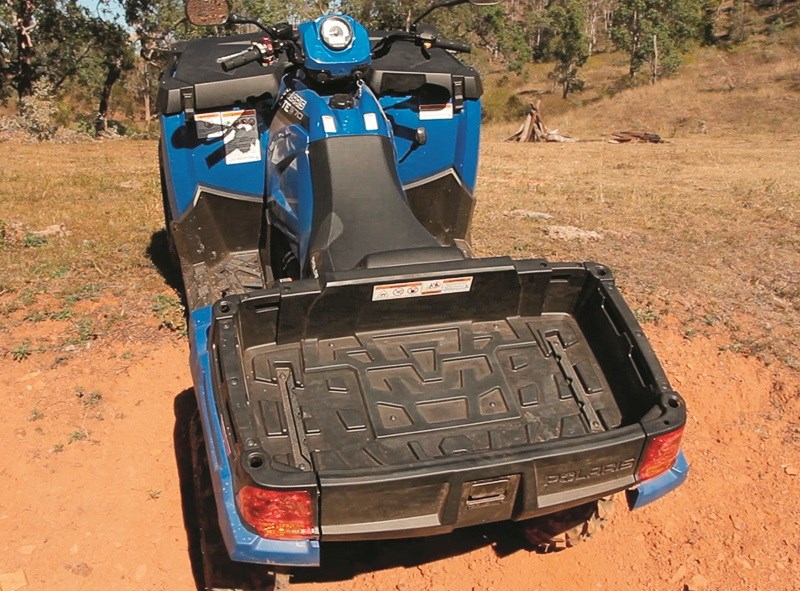 There aren't currently a lot of full-size ATVs with rear dump boxes.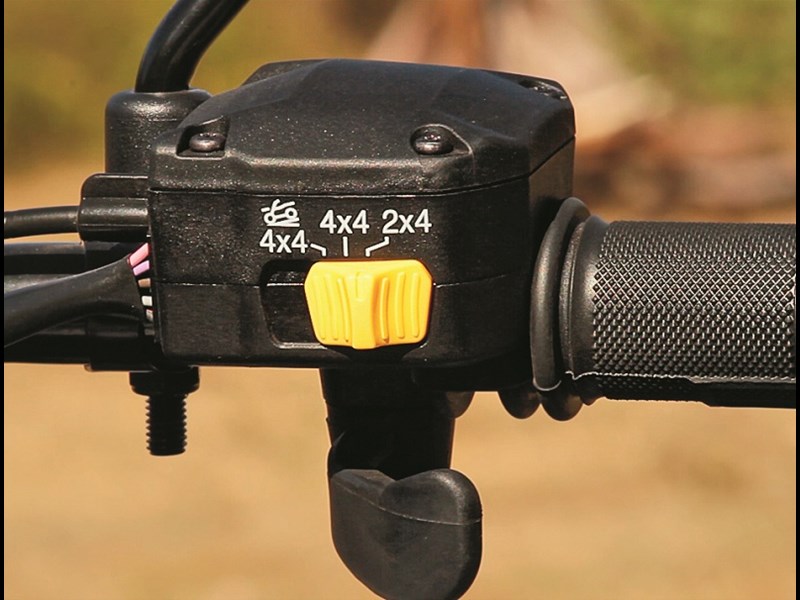 The controls are all familiar and, from our ergonomic lookout, minimalist and efficient.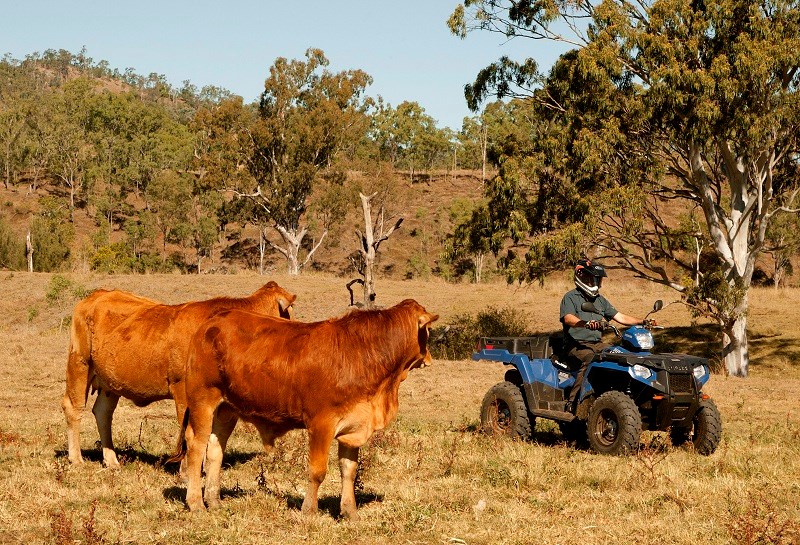 : "Wonder where he's goin," she says. The comfort level is what you'd expect from Polaris and ride quality second to none

Subscribe to our newsletter
Sign up to receive the Trade Farm Machinery e-newsletter, digital magazine and other offers we choose to share with you straight to your inbox
You can also follow our updates by liking us on Facebook. 

Graders For Hire | Cranes For Hire | Telehandlers For Hire | Excavators For Hire