REVIEW: 2014 Land Rover Defender 90
---
The end is nigh for the Land Rover Defender. Matt Wood got his hands on a 2014 Land Rover Defender 90 model for what may be a last look at a classic design.
When the original Series 1 Landy appeared way back in 1948 it was touted as a tough no nonsense go anywhere vehicle.
Nearly 66 years on little has changed from the original brief. Throughout Australia's post-war boom years the little British workhorse played a big part in expanding our agricultural regions.
These days the Defender is still available in long wheel base and short wheel base form and as LWB ute or wagon. The 110-inch (279.4cm) long wheelbase wagon is even available as a seven-seater.
While the rest of the Land Rover and Range Rover line-up has gone ahead in leaps and bounds the Defender has clung to its utilitarian and military roots even becoming a third world mule for non-government organisations in the more troubled parts of our planet.
Like just a few of the automotive icons still in production in this day and age there's no mistaking the shape and profile of a Landy from any distance.
Next year will see the demise of the Defender as we know it. The iconic aluminium box-on-wheels shape will be consigned to the past and you don't have to look very hard to see why.
Contents
Land Rover Defender 90: The Machine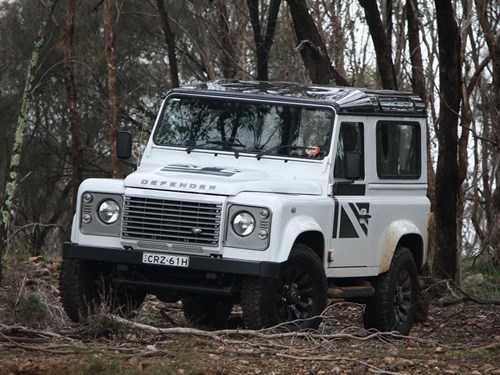 I tend to appreciate some of the more quirky vehicles on the market. It had also been quite a while since I'd even sat in a Land Rover of any kind. Bearing all of this in mind I was keen to get behind the wheel of this the last incarnation of the breed.
The white Defender 90 I plucked out of the dealership had been optioned up with an off-road wheel and tyre package as well as side steps and a rather fetching de-constructed Union Jack sticker job.
It was immediately clear that the Landy would be a bugger of a thing to get in and out of without the side steps, plus they kind of enhanced the whole tough guy look of the four-wheel drive package.
Land Rover Defender 90 Engine and Transmission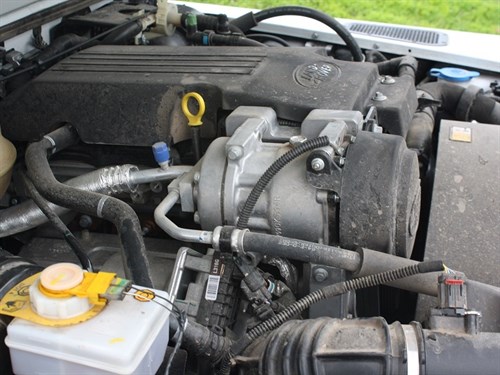 A 2.2-litre turbo-diesel donk now powers the Defender range and puts out 90kW of power and 360Nm of torque.
A 6-speed Getrag manual transmission takes care of the cogs and the now permanent all-wheel drive features a locking centre diff and a true high and low range transfer case.
Land Rover Defender 90 Interior and Comfort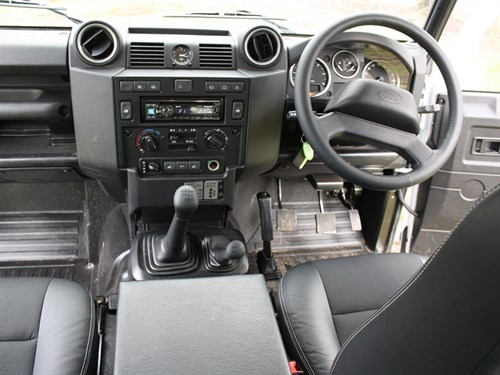 I have to come clean and admit it, within minutes of setting off down the road I was smiling.
I shouldn't have been; I was sitting jammed against the driver's door with a non-adjustable nearly vertical steering wheel in front of me and a ratchet style handbrake lever that was jammed against my left leg.
The gauges and toggle switchgear are either hopelessly outdated or nicely retro depending on your attitude and tastes.
On the upside I had electric windows, air-conditioning, a Bluetooth-enabled stereo system with excellent speakers and two flip down bucket seats in the rear.
As I headed out into the sticks fat raindrops slammed into the flat windscreen only to be slapped away by the multi-speed wipers.
It's just as well that the heater is awesome because there was no shortage of cold draughts whistling in around the rear sliding windows and in the foot well.
Sealing around the doors and windows appeared to be a bit of an issue. At least you know that if it fills with water on a nasty river crossing it will drain out again.   
The Land Rover Defender 90 also happened to be blessed with a turning circle similar to a nuclear submarine. In short, ergonomics are not a Defender's strong point.
If you happen to be on the very large side of things either vertically or horizontally in the physical sense don't even bother.
Anchored to the sides of the cargo area are a couple of flip down bucket seats, which do have a rather temporary look but once flipped down seem comfortable enough, not sure that I'd like to be perched on them for hours on end though.
Land Rover Defender 90 Performance
The short Landy provided a level of engagement from the driver's seat that is rare to come across in a new vehicle these days.
It may not be fast but the four pot diesel does an adequate job of keeping up with traffic and the tranny has a nice smooth shift that belies the rather truck like nature of the rest of the vehicle.
The short wheelbase of the off-roader means that it tends to pitch and buck slightly on the road at both round town speeds and highway speeds.
In the driving rain on waterlogged dirt roads the little off-roader surprised me. Even at speed the Defender remained easy to control on greasy rural dirt, whenever the plucky Brit was tempted to follow the camber of the road surface off into the scrub a bit of opposite lock and a tickle of throttle brought things back into line easily.
When it's time to get serious about climbing some off-road obstacles locking the diff and selecting low range is a bit of a delicate manoeuver.
The easiest way is to keep the vehicle rolling slowly while knocking the diff lock lever sideways and then quickly back towards you to grab low range. When successful you'll be rewarded with the aforementioned clunk.
In low range the Landy feels pretty much unstoppable. The short overhang of the '90s body gives great angle of approach and departure and the short wheelbase makes it getting over obstacles without getting beached a bit easier as well.
I may be stating the obvious but the Defender just feels solid and planted out in the bush. Wading depth is rated at 600mm, which seems a bit shallow these days when compared to some of its competitors but a serious mud basher would be going for a snorkel anyway.
The four-pot diesel feels torquey from idle and pushes the 90 over most terrain quite easily and the smooth shift of the 6-speed tranny adds to the drivability.
In first gear low range the Defender has a tractor like grip and will nearly idle up a cliff face. The 'box's well-spaced ratios are a nice match with the donk and the whole driveline deals with on-road and off-road very nicely indeed.
In fact I was starting to see what all those die hard Land Rover enthusiasts get so wound up about.
The Verdict
I get the feeling that Land Rover are preaching to a converted audience. You buy a Defender because you want one.
The ancient ergonomics have their charm but most buyers are looking for a more plush off-road experience. The very things that give the Defender its sense of individuality are also the reasons for its demise.
Land Rover however, is remaining tight lipped on a replacement though the word is that the Defender badge may live on Defender 90 starts at $42,800 RRP, which makes it a tough call on the value front.
It's no SUV it's a proper off road work horse and Land Rover no doubt feel that there's a bit of prestige to be had from the badge. But at this point in time there's nothing else on the market that's really quite like it.
Land Rover Defender Hits:
Tough old school cool
Off-road capability
Civilised drive train
Land Rover Misses:
Terrible ergonomics, not for the plus sized
Truck-like turning circle
Lack of sealing around doors and windows
Land Rover Defender 90 Specifications
Make/Model: Land Rover Defender 90
Engine: 2.2 Litre common rail turbo-diesel
Power / Torque: 90kW / 360Nm
Transmission: 6-speed manual
Drive: full-time 4WD with locking diff and 2-speed transfer case
Price: from $42,800 RRP
Find Land Rover vehicles for sale on TradeUniqueCars.com.au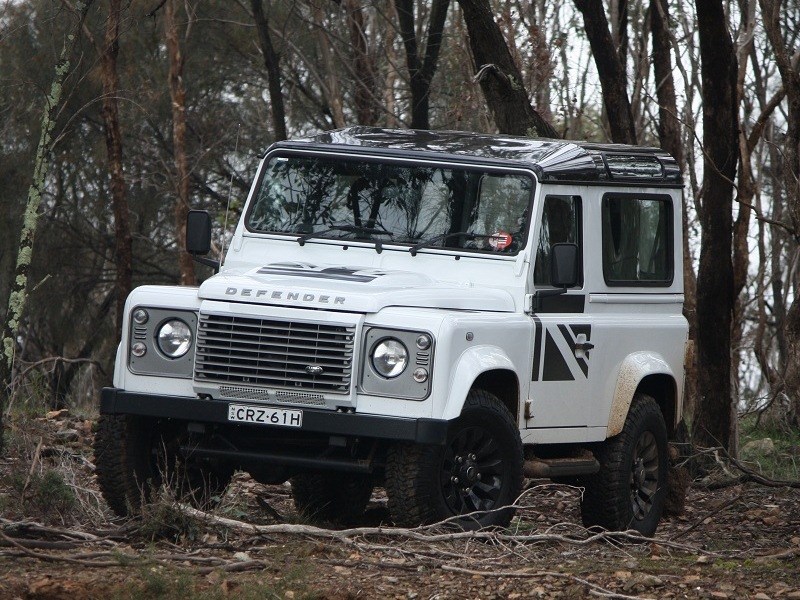 The outline of the Defender is unmistakably Land Rover.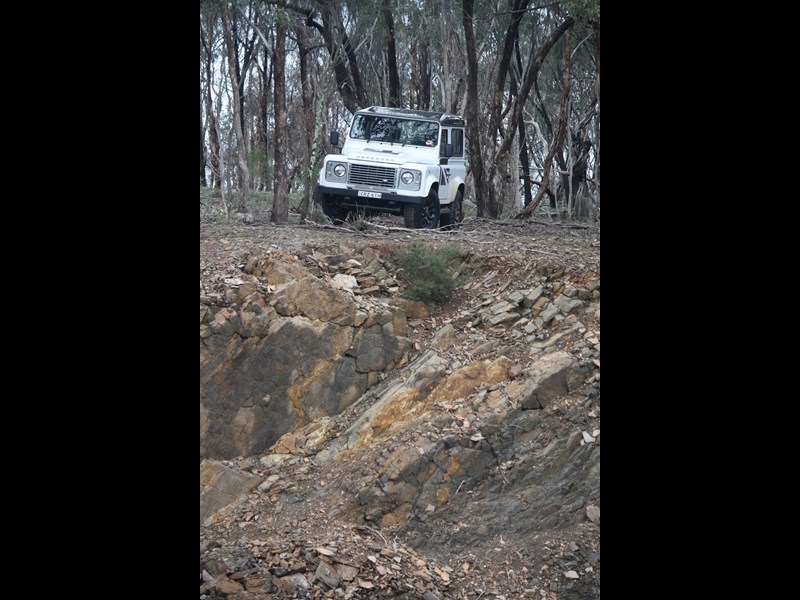 The 90 climbs like a tractor.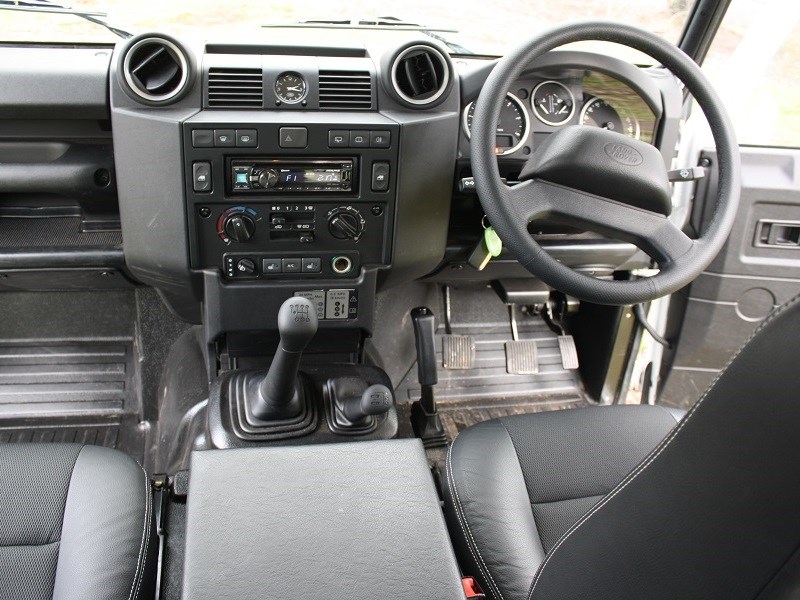 The interior has modernised a tad over the Defender's lifetime. However, it still feels woefully behind the times.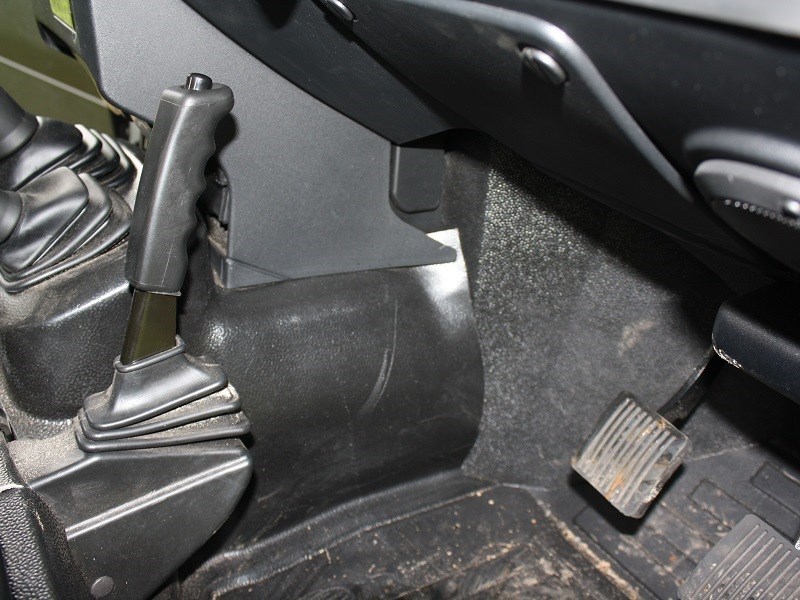 That bloody handbrake location is a pain in the butt. However, you do get used to it after a while.

6-speed gear box with a locking diff and high and low range. There's a knack to engaging low but once you do the little Landy will scale a cliff face.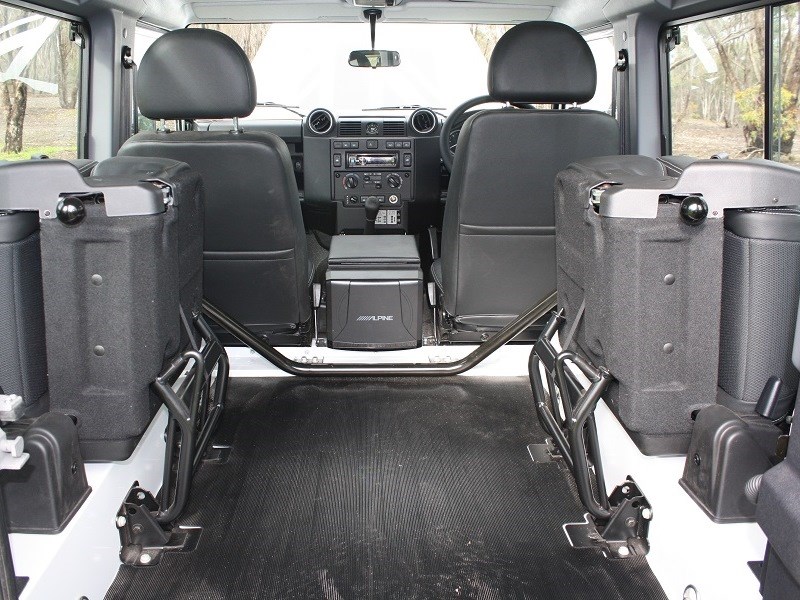 Not exactly plush but functional. No one will enjoy sitting in those rear seats for hours on end but they are handy.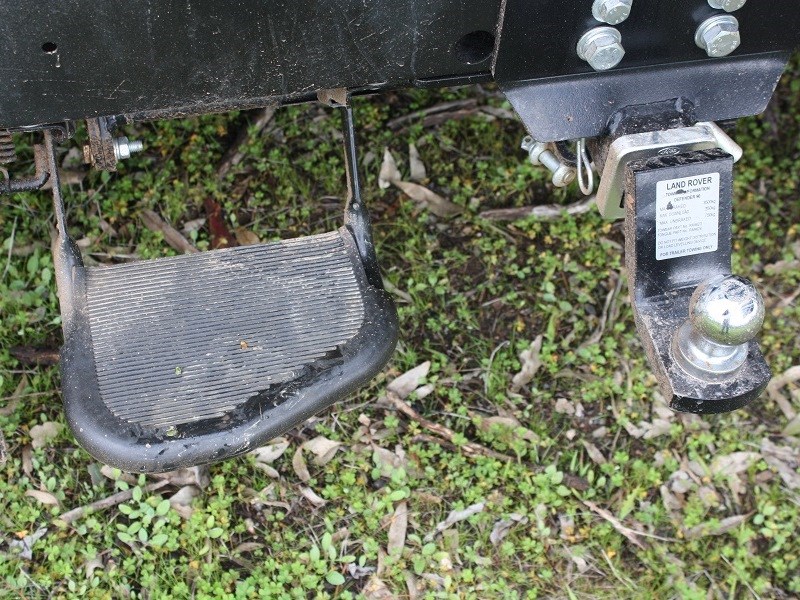 A flip down step makes jumping in and out of the rear cargo area a bit easier.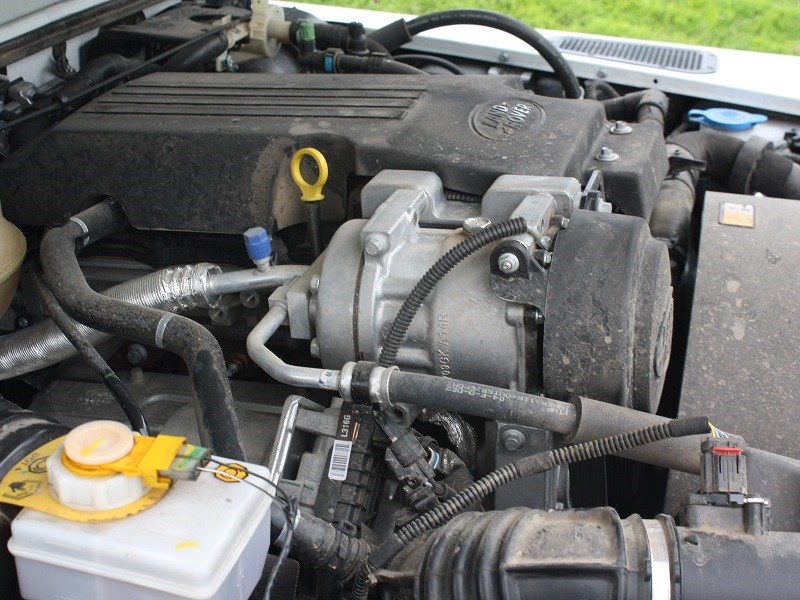 The 2.2-litre engine does a nice job of punting the Defender along either on or off-road.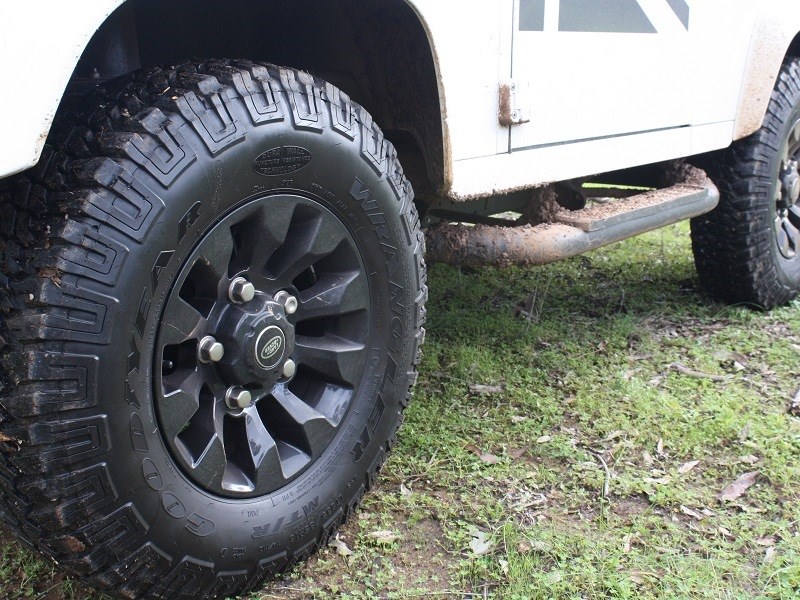 The optional wheel and tyre package give the 90 a bit of brawn and off-road capability. The side steps come in handy as well.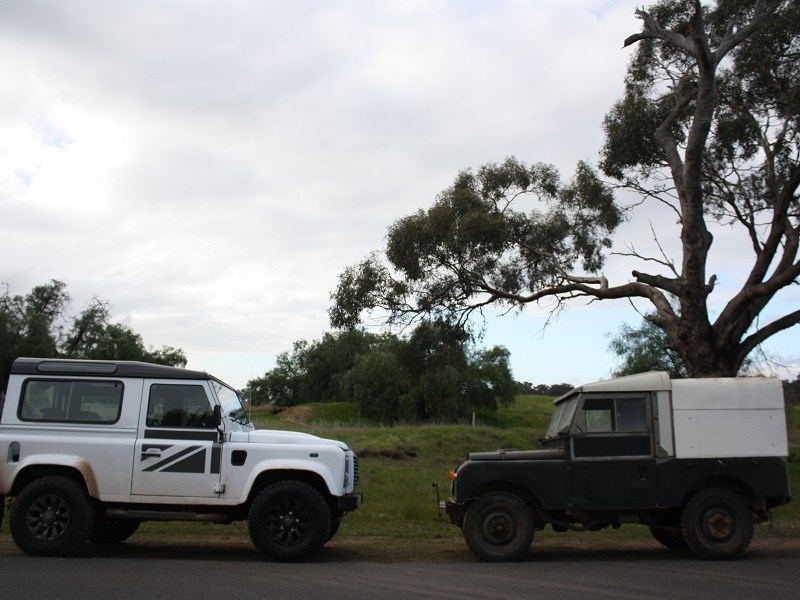 2014 meets 1955.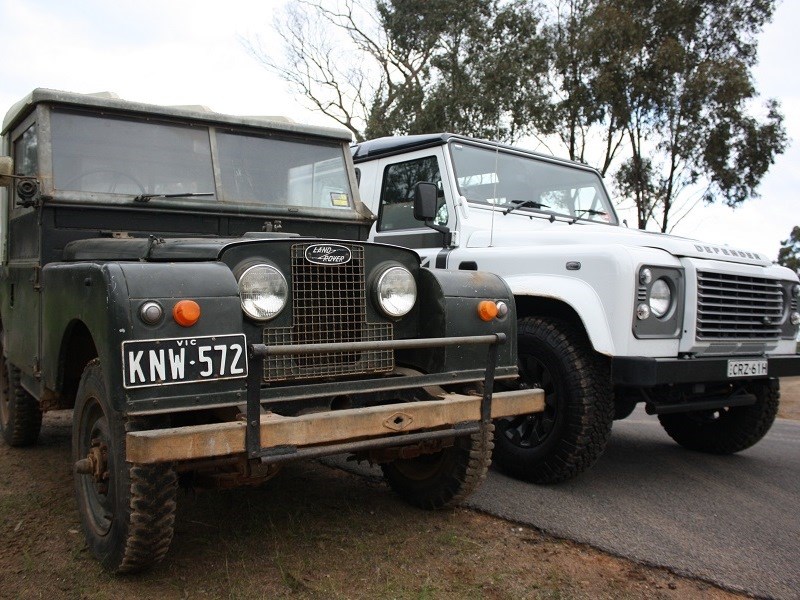 Things may have changed cosmetically over the last 66 years but the design brief has remain the same.

Subscribe to our newsletter
Sign up to receive the Trade Farm Machinery e-newsletter, digital magazine and other offers we choose to share with you straight to your inbox
You can also follow our updates by liking us on Facebook. 

Graders For Hire | Cranes For Hire | Telehandlers For Hire | Excavators For Hire