REVIEW: Arctic Cat Prowler 700 HDX Side-by-side
---
Sporting all the mod-cons, the Prowler 700 HDX is Arctic Cat's latest side-by-side. Barry Ashenhurst plays cattle chess in it.
The side-by-side market in Australia has been growing and that shouldn't be surprising. To anyone with even a brief familiarity with off-road equipment, side-by-sides — and so named because two or three people can sit 'side by side' on the machine's bench seat — have a lot going for them.
Your average North American or Japanese side-by-side is an easy machine to operate. With a dump box on the back it's handy for carrying all sorts of equipment around a rural property.
Apart from a four-wheel drive passenger vehicle such a Toyota LandCruiser or Nissan Patrol, a side-by-side is one of the few ways to safely transport several people and that reality is finally sinking in.
Arctic Cat Australia imports four side-by-side models, a 500 HDX, a 550 XT, a 1000 XTZ, and the Prowler 700 HDX we're looking at here.
Contents
Arctic Cat Prowler 700 HDX Cab and Comfort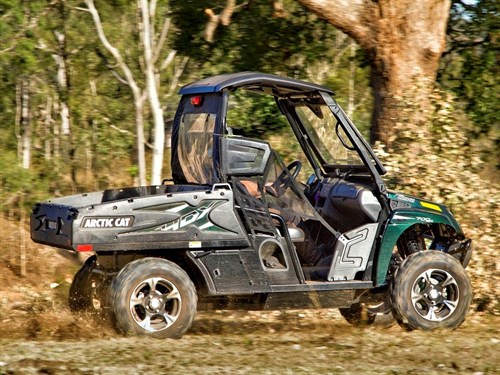 The 700 HDX is a top-of-the-line model with every mod con except ground clearance, which we'll discuss in a moment.
The bench seat has plenty of room for three boofy blokes or even three boofy women.
Side restraints are built in but they're extremely solid objects so treat them with respect. (Fellow machine tester Tom Dickson needed shoulder surgery after slamming into one of the 'shoulder bolsters' on a Polaris Ace.)
One thing we'd criticise about the Prowler is the acoustics produced when you fit it with a roof and a windscreen.
I could put up with this cacophony, for being warm and dry is better than being cold and wet, but shrouding the vehicle in these accessories tends to trap engine noise inside the cab and make progress louder than an oncoming circus.
But to be fair, all side-by-sides fitted with a roof and windscreen suffer the same malady so it's hardly unique to the Prowler.
Arctic Cat Prowler 700 HDX loading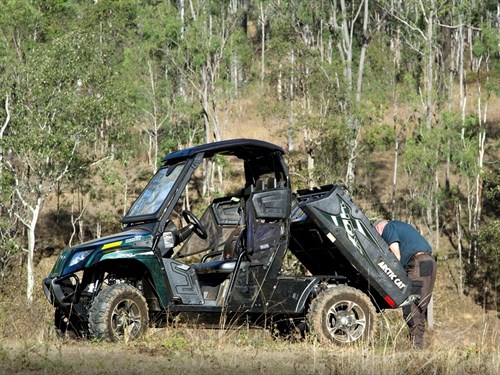 Apart from the obvious dump box, the Prowler has plenty of space to stash equipment. There's a large box under the bonnetand a large storage box on either side of the body.
The dump box tilts manually, and has a rated capacity of 454kg.
A word of warning about emptying that dump box: When you tilt it, don't put your fingers between the box and the body. They will get caught in there and it will hurt.
Other than that the dump box is an excellent tool and one I'm sure you'll find useful as you check on the cattle or fortify your empire's far flung borders against marauding hordes from the north.
Arctic Cat Prowler 700 HDX Ground Clearance
Being a long wheelbase model the HDX 700 isn't all that flash as a rough-terrain vehicle.
You won't have any trouble fording creeks if the water level is reasonable, but you might find the 700 occasionally hung up on humps in the terrain where the belly lacks sufficient ground clearance to clear them.
(Watch the video for an example of the HDX 700's lack of ground clearance in which Reg Grant bellied out over two small humps.)
Arctic Cat Prowler 700 HDX Controls and Ride Quality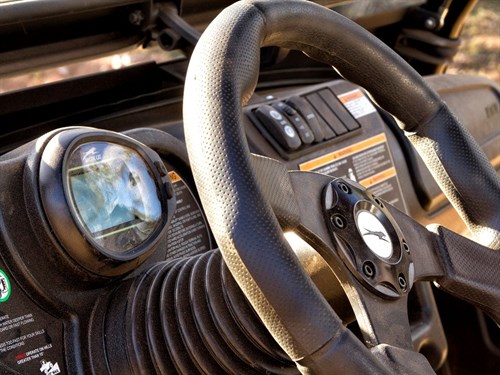 As a photographer I found the unit especially useful. I have to carry a lot of gear everywhere I go, up and down hills with camera bags and tripods, through creeks and rivers, into and out of ravines.
Having a comfortable vehicle to operate from was a real treat for me. Usually I haul my gear around on the rear rack of a quad, or on foot, but would no doubt get the job done in half the time had I reliable access to a Prowler.
The vehicle's civilised features created a positive impression too. You put it in gear by choosing the appropriate slot in the sequential shift pattern — you move the gear lever in other words — then put your foot down and away you go.
Arctic Cat Prowler 700 HDX Brakes and Suspension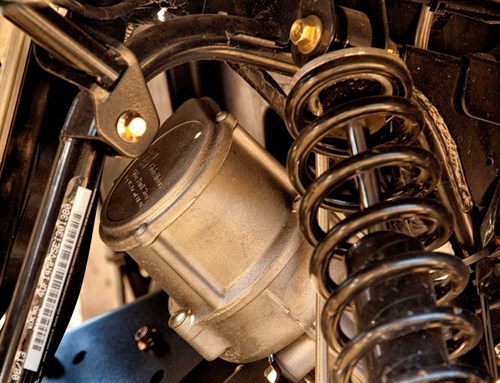 The brakes are strong but have plenty of feel and the power steering is well sorted for off-road use.
Little if any suspension shock is transmitted through the steering wheel to the driver, and when we climbed under the vehicle to have a poke around we noticed that the power steering pump is humongous, way bigger than the dinky little thing Can-Am uses on its Outlander series.
To Helmet or not to helmet
So a question some of you might be asking is whether or not to wear helmets and seatbelts in a side-by-side. With respect to those who don't feel it necessary for whatever reason, my answer would be still be yes and yes.
You should wear a helmet on or in any machine which exposes you to the elements. Besides, you could slam your bonce on a hard object inside the vehicle and suffer head injury if you're not wearing a helmet.
As for seatbelts, if the machine goes over a steep drop and you're inside it, you're safer staying where you are with a seatbelt fastened than trying to bail out.
The Verdict
Apart from the horrendous noise coming from the engine and ricocheting around inside the cab, driving a Prowler HDX is a pleasurable experience.
Ride quality is first rate, and unlike most side-by-sides, or even quads for that matter, the 700 HDX has genuinely adjustable Fox air shocks on the back.
This means you can adjust the shock absorbers to cope with light or very heavy loads in the dump box, and you do it using a simple hand pump with a pressure gauge on the end of it.
If we needed a more capable rough terrain vehicle we'd go for a short wheelbase Prowler, the 550 XT (190.5cm wheelbase) or the 1000 XTZ (also 190.5cm), but all things considered, if you don't need or want special forces capability the 700 HDX is pretty good value for money.
It retails for $20,000, the same price you'd pay for a Yamaha Viking with fewer of the civilising niceties you get with the Arctic Cat.
Arctic Cat Prowler 700 HDX Hits
It looks good
It's well built
It's comfortable
Arctic Cat Prowler 700 HDX Misses
Insufficient ground clearance
Noisy with roof and windscreen (but so is every side-by-side)
Arctic Cat Prowler 700 HDX Specifications
ENGINE
Type: Single overhead camshaft (SOHC) four-stroke
Capacity: 695cc
Fuel management: Electronic fuel injection (EFI)
Fuel tank capacity: 31 litres
TRANSMISSION
Type: Continuously variable transmission (CVT) auto, hi/lo range, reverse and park
Drive system: Two-wheel drive/4WD with front diff lock
RUNNING GEAR
SUSPENSION: Double A-arms front and rear
BRAKES: Hydraulic discs front and rear
TYRES: Front: 26x9-14. Rear: 26x11-14
DIMENSIONS
Length: 327.7cm
Width: 152.4cm
Height: 200.6cm
Wheelbase: 215.9cm
Dry weight: 619.5kg
Price: $20,000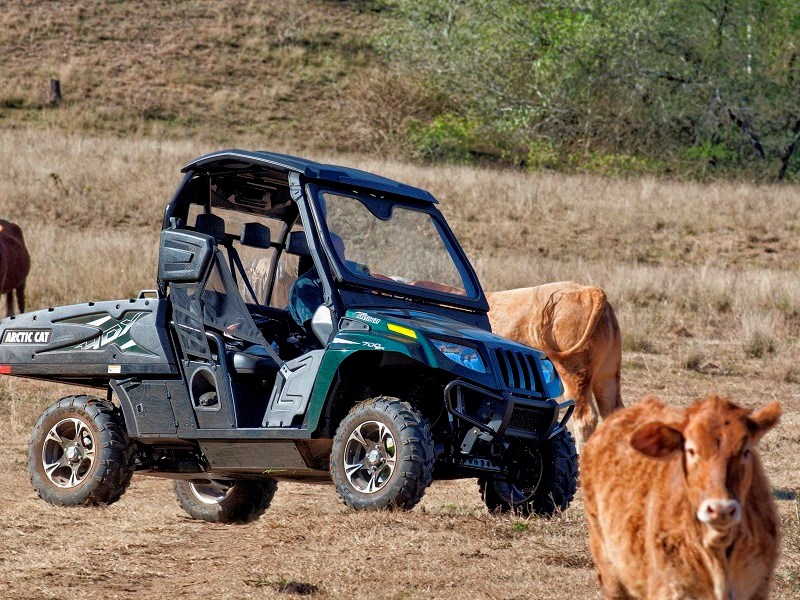 It's not a bad looking thing in a chunky sort of way. The $20,000 price is probably a disincentive for many, but having room for three and a rear dump box can be mighty useful if you're on the go all day.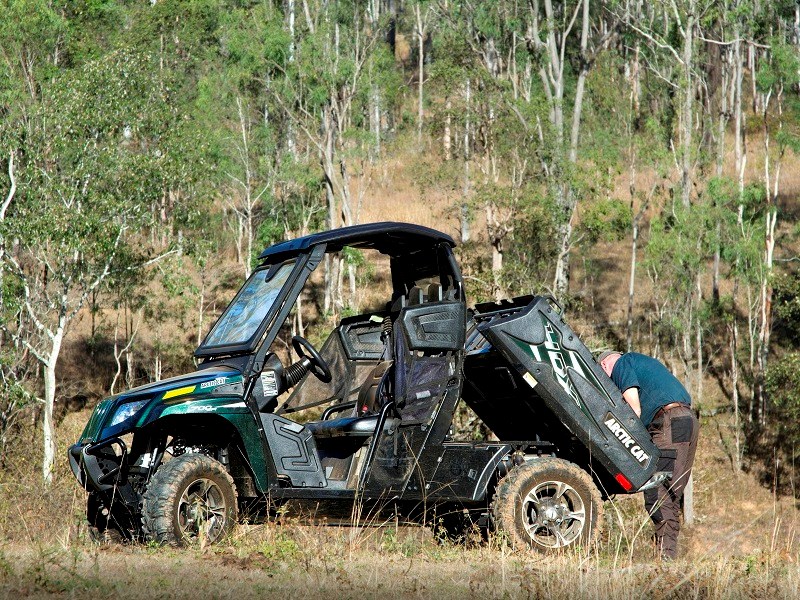 Given their general practicality it's a wonder more farmers don't choose a side-by-side over a regular four-wheel drive quad.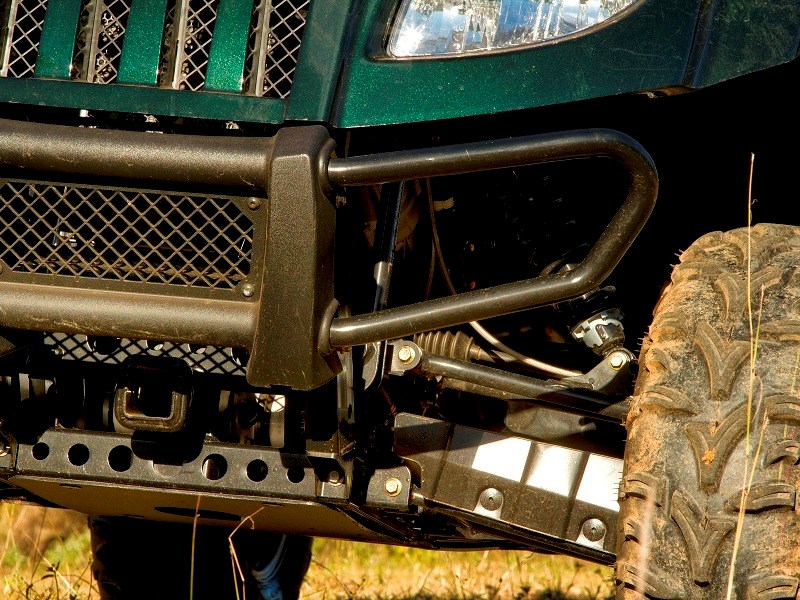 Double A-arms front back give a cushy ride. Fox rear air shocks allow adjustment when toting heavy loads. Ride quality is excellent.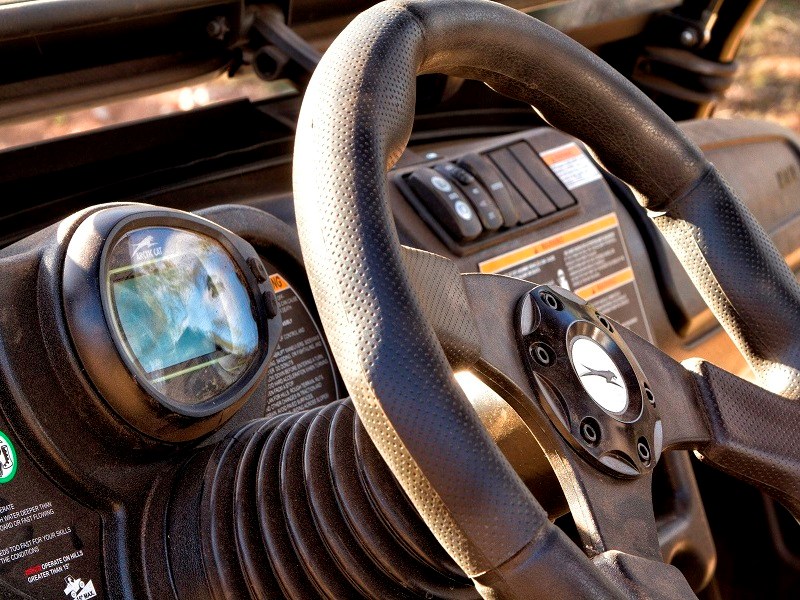 The controls are easy to use, gauges easy to read, and power steering takes the whammy out of every rabbit hole.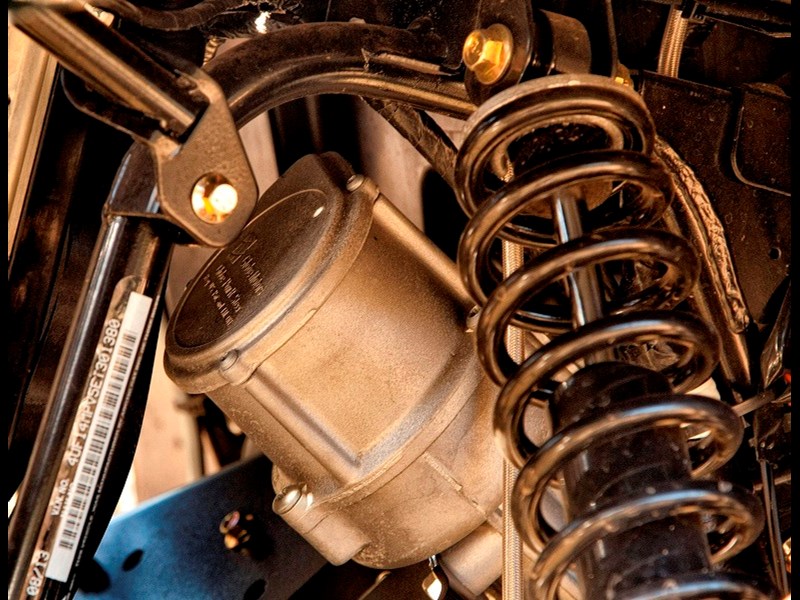 The power steering pump is enormous.

Subscribe to our newsletter
Sign up to receive the Trade Farm Machinery e-newsletter, digital magazine and other offers we choose to share with you straight to your inbox
You can also follow our updates by liking us on Facebook. 

Graders For Hire | Cranes For Hire | Telehandlers For Hire | Excavators For Hire