REVIEW: Claas Xerion 5000 tractor
---
If the new Class Xerion 5000 was a boxer it would fit perfectly into the heavyweight division. Like Muhammad Ali it is big and powerful but at the same time nimble and agile on its feet. Tom Dickson reports from Moree.
The old saying "never underestimate a new player on the field" is very relevant when talking about the new Class Xerion 5000.
The combination of a 524hp (385.4kW) Cat engine and Eccom 5.0 transmission makes the Xerion 5000 the most powerful tractor Claas has ever produced and the highest horsepower tractor with continuously variable transmission (CVT) currently on the market anywhere in the world.
From a distance it resembles many other articulated tractors going round however, it's actually a rigid chassis tractor.
Dealer WJ Matthews sells Claas farm machinery and tractors and is very excited about the latest addition parked in the yard.
It's the only Xerion 5000 in Australia and for the last few months the Moree, New South Wales-based business has been showing it off at field days and conducting demonstrations to interested onlookers in a bid to change perceptions about a high horsepower tractor with a CVT transmission.
"Sales figures won't take off overnight but as farmers come to realise the benefits a CVT transmission offers and subsequent cost savings I am confident the Xerion 5000's efficiency will be too much of an issue to ignore," WJ Matthews Director Jeremy Matthews says.
CONTENTS
Claas Xerion 5000 Engine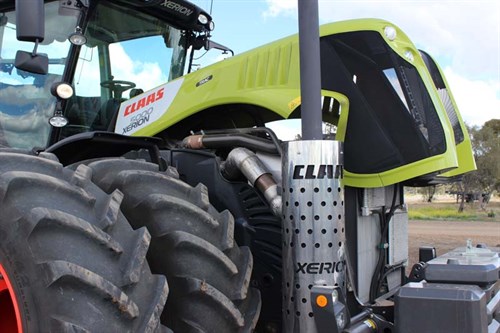 The Xerion 5000 has the reliability of a Caterpillar C13 Tier III diesel engine under the bonnet. Depending on who you talk to you may get different suggestions of what the actual horsepower rating is.
The brochure says that at 2,000rpm it has a rated output of 487hp (358.2kW) and at 1,800rpm the maximum output is 524hp (385.4kW), make of that what you will. "It is what it is."
A 24-volt electrical system guarantees reliability in even the coldest environments and also ensures maximum power to the lighting system.
From the moment I turn the key and fire this 12.5-litre monster to life I can just sense this thing is built to pull. The Caterpillar badge on top of the motor is just about all it takes to instil a sense of confidence in its performance but there is much more to this power plant then first meets the eye.
This is a highly evolved engine and we just have to assume it will deliver the same Caterpillar performance its predecessors have.
Claas Xerion 5000 Transmission
This particular tractor is fitted with an Eccom5.0 CVT and is probably going to attract the most interest for a number of reasons. First it makes the Xerion 5000 the highest horsepower tractor on the market to run a CVT.
Top speed for the Eccom 5.0 is 40km/h in forward and 30km/h in reverse and this is split into road range, up to 40km/h, and paddock range which from memory is about 17km/h.
Like its smaller counterparts the CVT makes this huge pulling tractor an absolute breeze to drive. More importantly it allows the tractor to run at exactly the right revs to achieve maximum performance and economy.
Matthews says performance testing earlier in the year saw the Xerion outperforming rival brands by as much as 25 percent in regards to fuel economy. It doesn't take a rocket scientist to realise this figure alone equates to thousands of dollars in savings every year; and I should imagine will be enough to turn a few heads.
That being said, it is its simple and responsive operation that impresses me the most. All the operation of the transmission can be done from the CMotion multifunction hand lever on the arm rest and if preferred the foot accelerator.
Claas Xerion 5000 Cab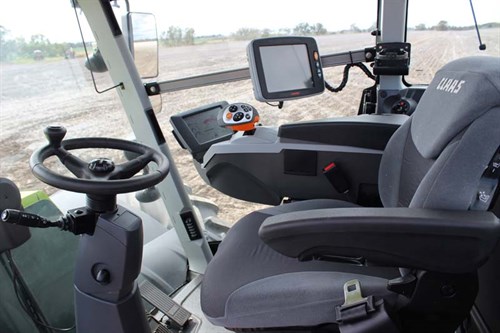 The highlight of my driving experience is the layout inside the cabin of the seat, steering wheel, controls and visibility. Within minutes I am comfortable and ready to take off with confidence.
The cabin of the Xerion 5000 has a very similar configuration and feel to that of a combine harvester. A single post steering column rises from between my feet on the floor and an armrest control unit is attached and moves with the seat.
It only takes a few minutes to fully customise the suspension seat and steering column to suit my personal requirements. The seat can be adjusted in all directions and pivots sideways up to 20 degrees.
Claas has incorporated a very comfy soft floor to minimise vibration and stress on feet and legs. The only object that sits between me and the windscreen is the steering wheel and steering column.
A foot pedal on the floor allows me to pivot the steering column backwards and a pivot point midway along the steering column allows further customisation to the top half of the assembly.
Driver comfort is further enhanced by the very low amount of engine noise coming into the cab even when revs are pushed to higher levels. In fact the cabin seals so well it takes me three attempts to shut the door due to cabin pressurisation.
Other features include the normal stereo, air-conditioning and a fantastic light package.
The cabin suspension is very simple but extremely effective. At the rear of the cab are two adjustable spring shockers that absorb bumps on rough ground. From inside the cab it translates to a gentle rocking motion.
Claas has adopted a feature I have never before seen in a tractor.
The Xerion 5000 cab can be made to perform a 180-degree turn and face the rear in less than 30seconds withthe a push of a button. Usage in this configuration can now be extended to side discharge windrowing, mulching, silage pit compaction and numerous other tasks.
When the cab is rotated the driver has the perfect view of the attachments and importantly all the controls remain unchanged.
Unfortunately the Xerion 5000 we got our hands on hasn't come with this feature but I thought it is well worth mentioning as it is such a unique option extending the usefulness of the tractor.
Claas Xerion 5000 Visibility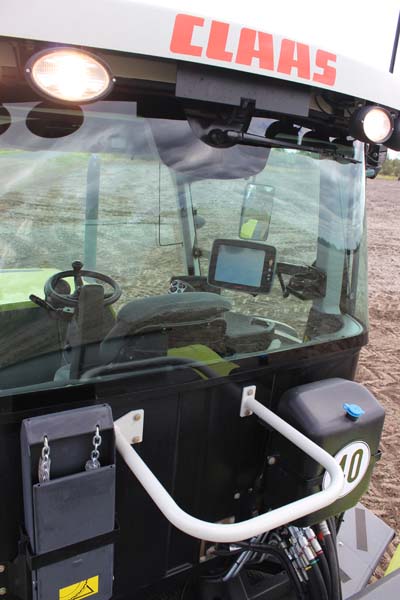 Visibility from the driving position is fantastic; a highlight is the single panel front windscreen that stretches from the floor to the roof.
A wiper is mounted in the centre of the screen and windscreen washers at the top. When turned on it does a full 360-degree turn then back again. This style of wiper means virtually 100 percent of vision can be maintained in heavy rain and dusty conditions.
Visibility of the draw bar from the cabin is the only real disappointment I can find with the tractor or driving experience.
When I say visibility I mean there is absolutely zero. To try and compensate, the Xerion has a camera attached to the rear sending vision of the tow hitch and linkage back to a monitor inside the cab.
It helps but I still think attaching implements may be a bit tricky on your own.
Claas Xerion 5000 Controls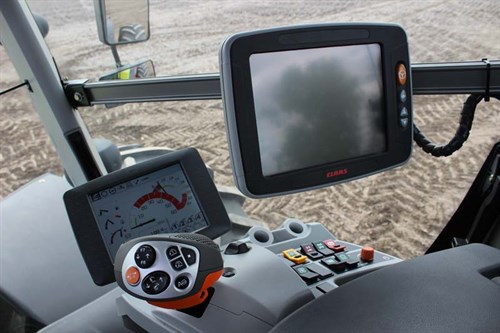 Situated on my right is the arm rest control unit. It contains all transmission, hydraulic, linkage functions and of course houses the CMotion multifunction hand lever and the CEBIS —ClaasElectronic on-Board Information System —the tractor's information screen.
All the other functions of the tractor like linkage, hydraulics, cruise control and auto steer can be programmed into the buttons on the CMotion hand lever to maximise driver comfort and control.
Also mounted on the armrest within good vision of the driver is the CEBIS electronic on-board information system.
The 8.4-inch (20.32cm)colour monitor can be switched between two screens.
Screen one displays ground speed and rpm, travel information, fuel and engine temperature etc.
Screen two covers more complex settings relating to linkage and hydraulic status, oil flows and drop rates and assignment of function keys F1 to F8 on the multifunction control lever. 
Claas Xerion 5000 PTO, Linkage and hydraulics
This particular tractor doesn't have front or rear linkage only rear remotes and a draw bar restricting it more to just pulling.
It does have a rear power take-off (PTO) so would be ideal also for hauling a huge chaser bin equipped with PTO discharge augers.
Claas Xerion 5000 Performance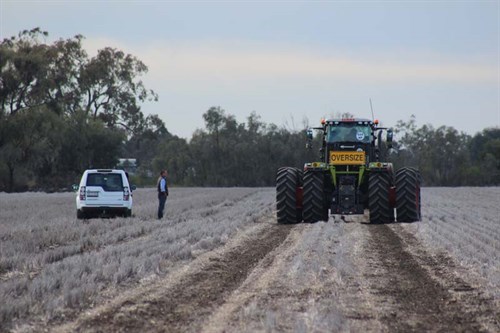 For an extremely large tractor it is extremely responsive and accelerates very quickly and smoothly. The Xerion 5000 effortlessly drags its own weight up to a predetermined speed of 17km/h. I can only assume this will translate to its ability to pull heavy implements as well.
I am also really impressed by the ease with which the Xerion manoeuvres for such a large tractor. Having a rigid frame means it can operate as either a front-wheel steer, rear-wheel steer or four-wheel steer.
To maximise traction and minimise compaction, it can operate in a crab steer configuration and of course to maximise traction is all wheel drive.
The rigid chassis seems to make the Xerion much smoother to operate through twists and turns and over rougher ground.
There is a steering knob mounted on the steering wheel to make tight turning at headlands with one hand a breeze. Just for fun I have it in a full lock left turn then transfer to the right without any drama.
After a bit of circle work the Xerion proves to have an exceptional turning circle and according to the brochure has a turning radius of just 7m.
The Verdict
I think the combination of exceptional fuel economy, a CVT, ease of operation, comfy ride, manoeuvrability, great vision and of course power will quickly draw a lot of attention from broad acre cropping operations and convert to sales of this new generation high horse power performance tractor.
The RRP for this particular tractor is $375,000. It has front weights attached but no linkage. I think if you deduct the yearly accumulative fuel saving from the initial purchase price it is really good value.
Claas Xerion 5000 Hits:
Fuel ecconomy
Air intake system (course dirt separator)
Well layed out comfortable cabin
Good cabin suspension
Visibility
Windscreen wiper blade coverage
Maneouvrability
Steering options
Claas Xerion 5000 Misses:               
Claas Xerion 5000 Specifications
Make/model: CLASS XERION 5000
ENGINE:
TYPE: Caterpillar C13
CAPACITY: 12.5 litres
MAX. HP: 524hp @ 1,800rpm
TRANSMISSION:
CVT Eccom 4.5 hydrostatic-mechanical power-splitting
DRIVE: AWD
HYDRAULICS:
FLOW RATE: 205l/min
VALVES: 7 front, 3 rear
LINKAGE
FRONT: Category 2 dual acting
LIFT CAPACITY: 84Kn
REAR: Category 4 dual acting
LIFT CAPACITY: 136Kn
DIMENSIONS: 7,493mm L x Min. 2,490mm to 3,300mm W
TARE WEIGHT: 17,230 kg
FUEL TANK: 1,000 litres
Don't miss the complete test report in NewFarmMachinery's October issue, out October 6.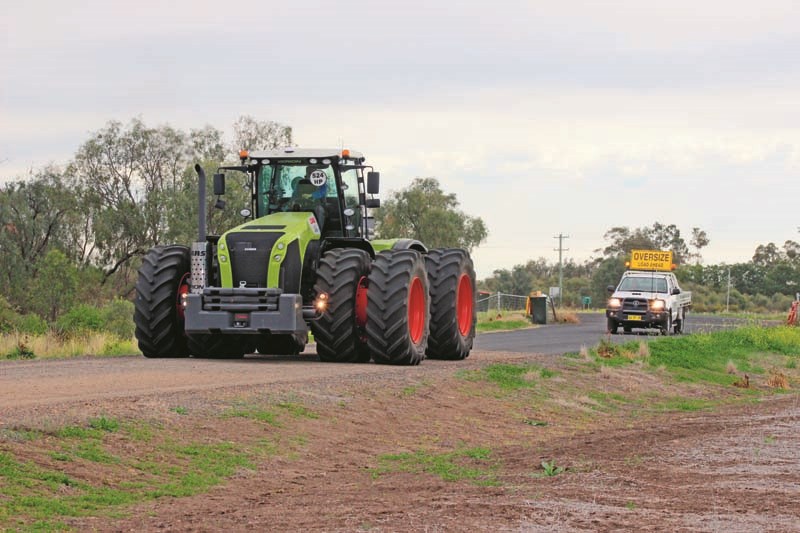 The Claas Xerion 5000 casts an imposing figure on the roads around Moree and requires escort while dual wheels are fitted.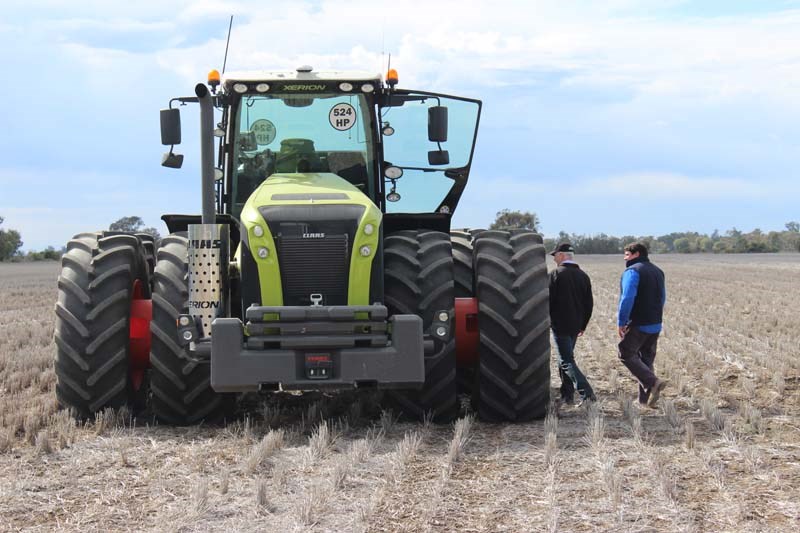 The XERION 5000 looks to be articulated but is actually a 4WD, AWD steering tractor constructed on a rigid chassis.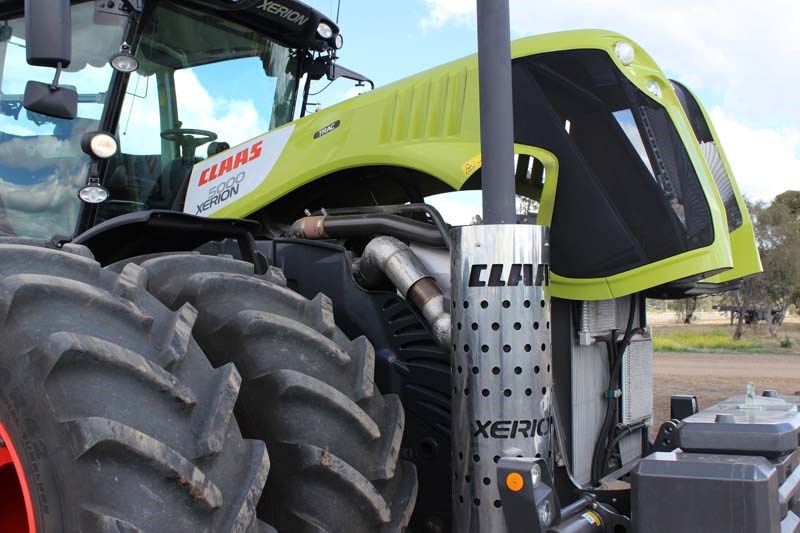 The raised bonnet reveals the complex air filtration system.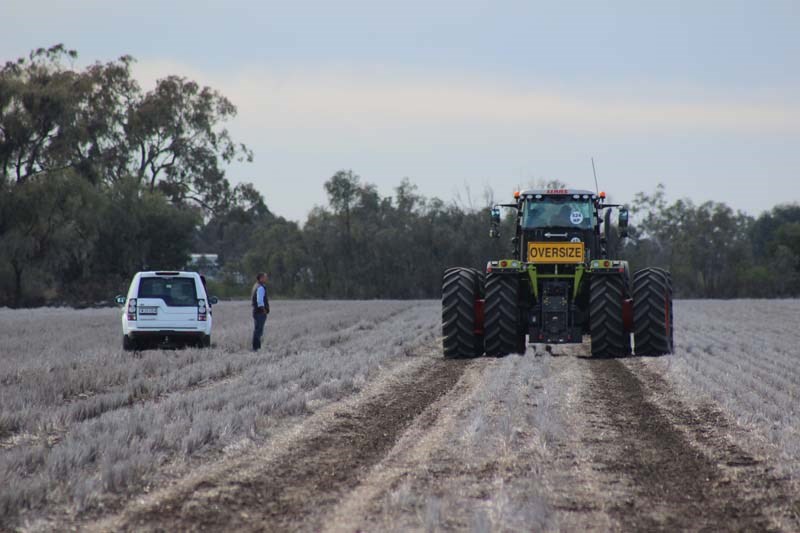 On-board GPS and auto steering allows easy creation of tram tracks in the paddock.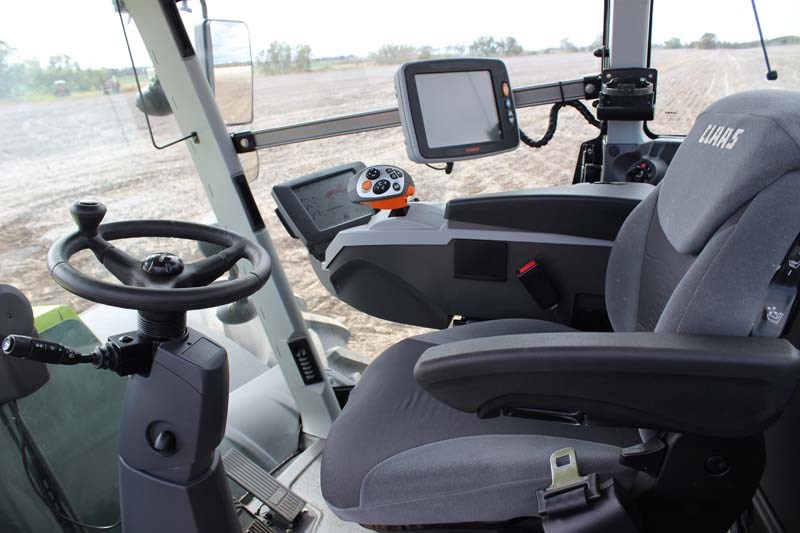 Claas have created a very comfortable and simple work station with the aim of minimising stress and fatigue on the driver.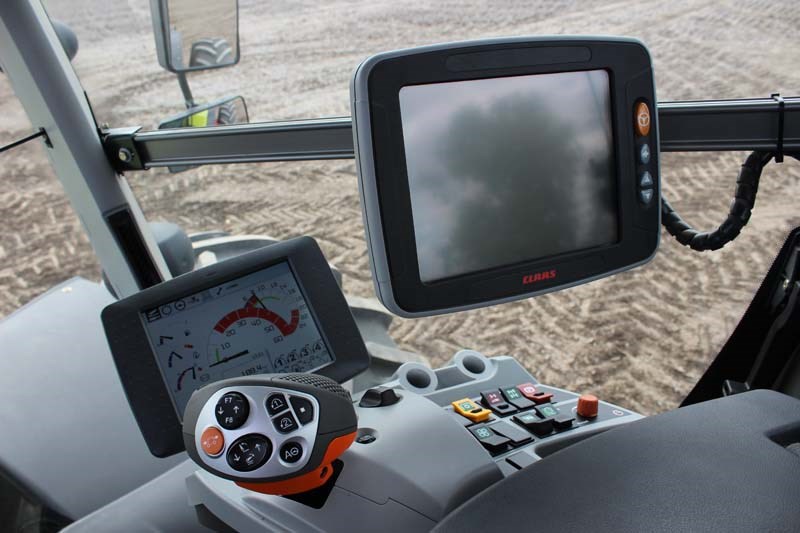 A second monitor is for GPS and auto steer operation.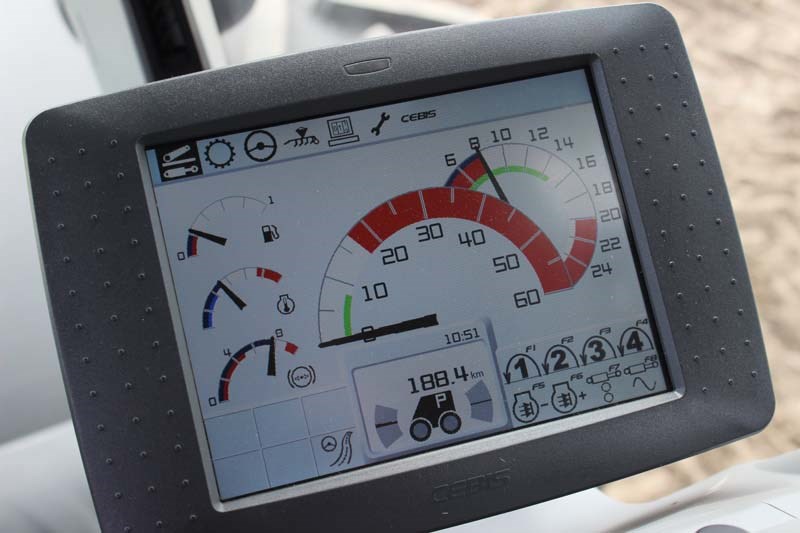 Screen one of two on the CEBIS monitor provides all relevant info regarding engine operation.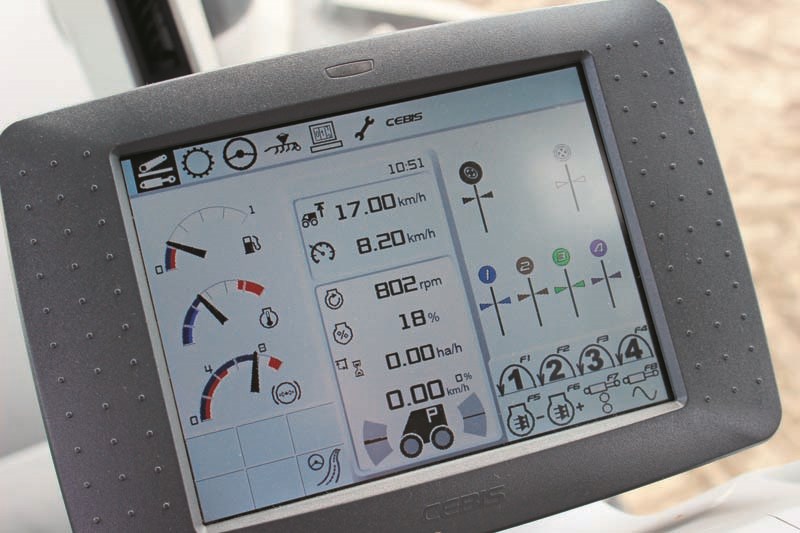 Screen two of two on the CEBIS monitor gives more detailed information about complex settings and operational functions of the Xerion 5000.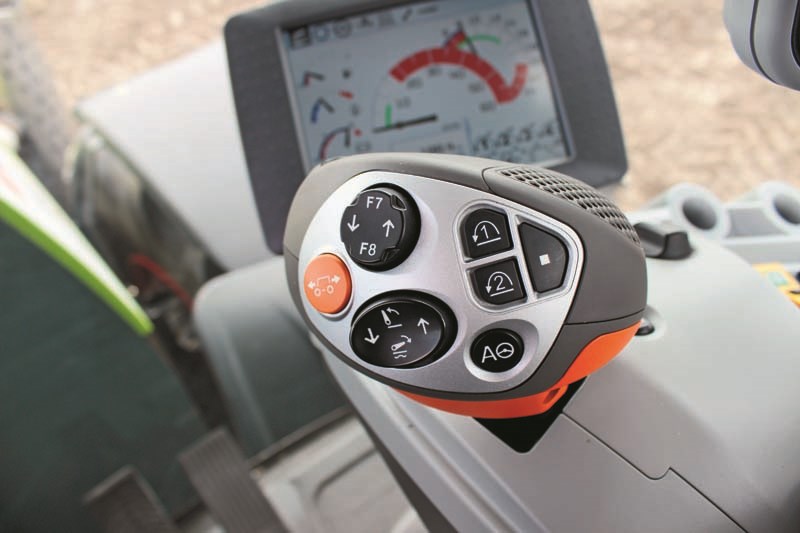 The CMotion multifunction lever provides simple fingertip control of most of the tractors functions, including transmission, hydraulic, linkage and headland management.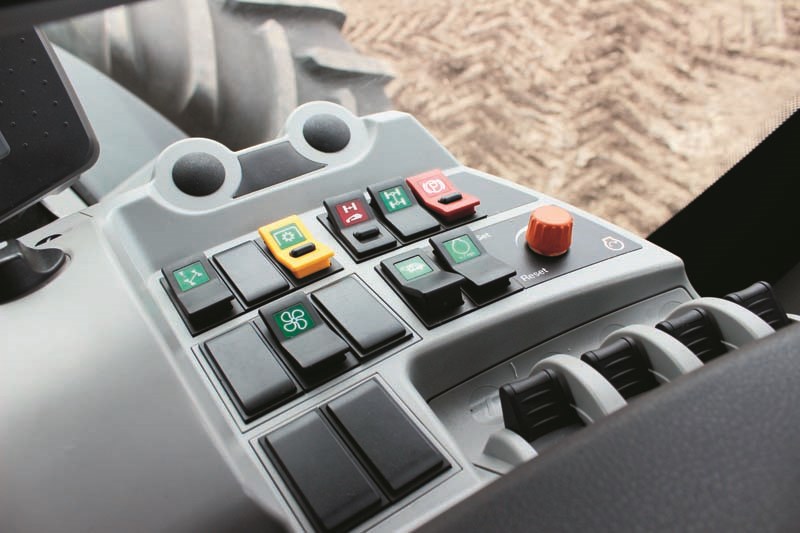 The remaining function switches are conveniently located on the driver's seat arm rest.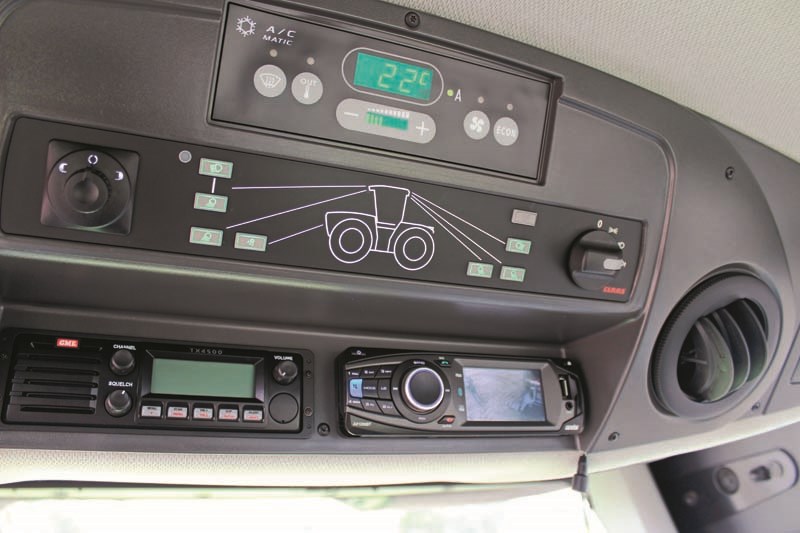 Claas prioritise cabin comfort and have installed a very effective and easy to operate air-conditioning, lights and stereo package.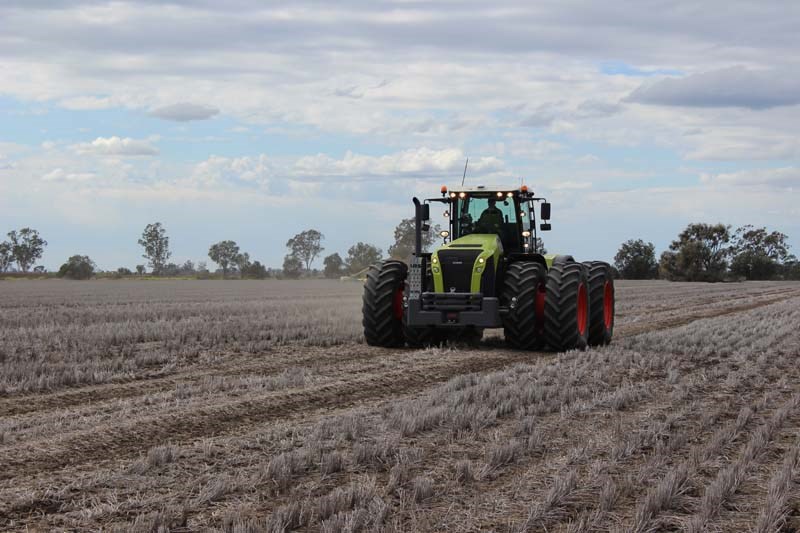 Dual wheels and 4WD means all of the Xerion's 524hp can be put on the ground.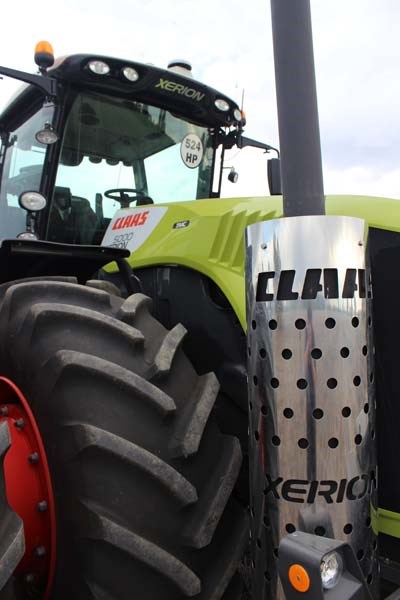 The front mounted exhaust system creates an obstruction to the driver's vision it does help to reduce noise levels inside the cabin.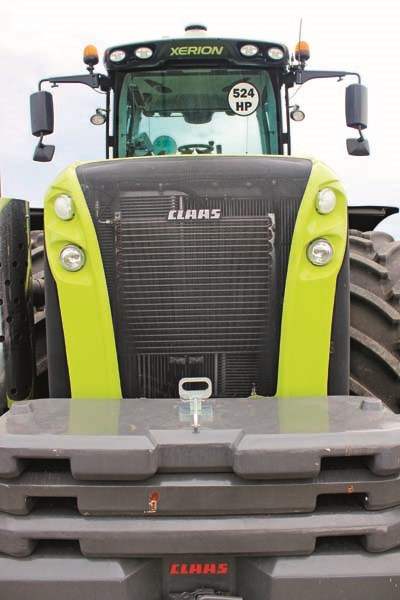 Over 3 tonnes of extra weight can be added to the front to provide maximum traction.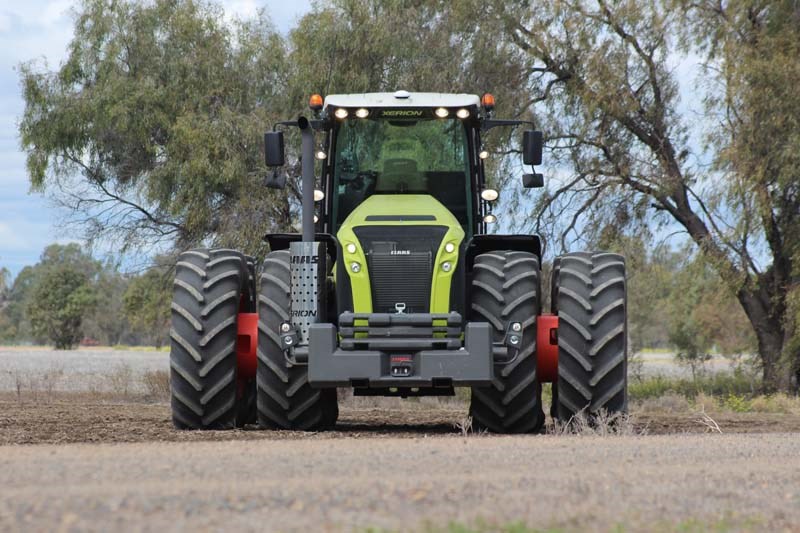 An exceptional light package will allow the Xerion 5000 to work long into the night.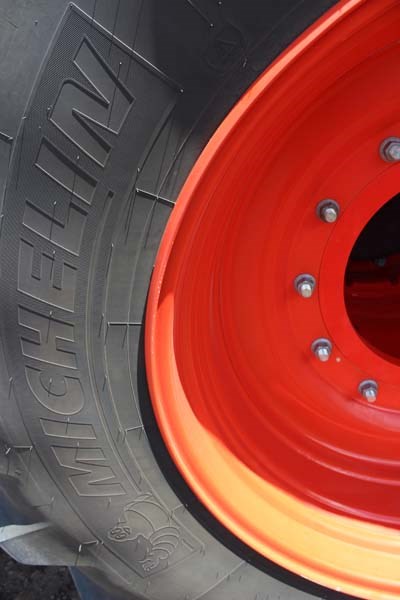 Claas have opted to use Michelin tyres with the hope of maximising traction in the field.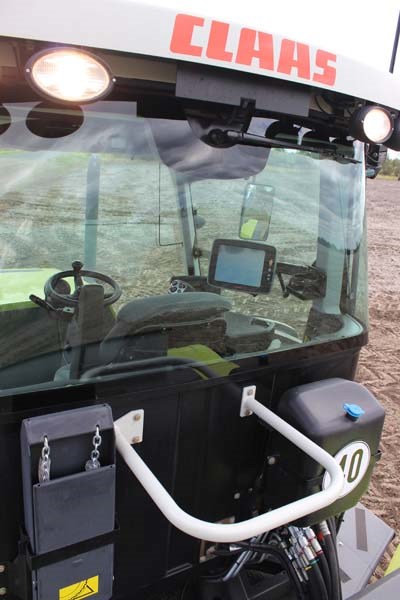 Large glass windows give virtually unobstructed vision in all directions.

Subscribe to our newsletter
Sign up to receive the Trade Farm Machinery e-newsletter, digital magazine and other offers we choose to share with you straight to your inbox
You can also follow our updates by liking us on Facebook. 

Graders For Hire | Cranes For Hire | Telehandlers For Hire | Excavators For Hire